Easy to make and packed with protein and veggies, this Turkey Taco Salad is a meal the whole family will love. It's gluten-free and can be dairy-free and paleo as well. Crunchy romaine is topped with juicy tomatoes, fresh cilantro, and onion and it all comes together with lean turkey taco meat and a creamy cilantro dressing. From there we'll add some crunchy plantain or corn chips plus some extra goodies that take this salad right over the top.
We're huge fans of American-style taco salad around here. And you'll find some variation of it on our table almost every single week! It's crunchy and fresh with plenty of taco flavor all topped with a creamy cilantro dressing.
This turkey taco salad is a variation on the classic version using ground beef that lightens it up a bit making it perfect for the warmer months. Turkey taco meat also works really well for meal-prepping salads for your lunch as well because it's lower in fat.
So I hope you enjoy this lean protein-packed taco salad. And you'll find all my variations along with some dressing substitutions below as well!
Tip #1: When you're pressed for time, use a jarred salsa or store bought refrigerated salsa in place of the fresh tomatoes. Also during the winter months I like to use my Easy Blender Fire Roasted Salsa.
Ingredients & Substitutions
Ground turkey – ground beef and ground pork all work well in this salad, so use whatever you have on hand.
Taco seasoning – you can use whatever your favorite taco seasoning is. I use 2 tbsp of my Easy Homemade Taco Seasoning.
Romaine – is my favorite lettuce to use in taco salads because it's sturdy as well as nice and crunchy. But you can use whatever lettuce you like to use in taco salad.
Tomatoes – cherry tomatoes are my favorite to use because they are usually riper than regular tomatoes, but you can use any tomato you like here.
Cheese – is optional here and can be left out if you're dairy free. We like using jalapeno jack cheese in our taco salad, but grated cheddar is a close second and perfect if you prefer no spice.
Assorted veggies – we like to add diced onion, chopped cilantro, sliced jalapeno, and diced avocado. All of these are great in taco salad, but you don't need to add every single one if you don't have them or don't like them.
Chips – we love plantain chips or corn chips in taco salad, both have great flavor and crunch.
Dressing – the dressing recipe is nice and creamy which is perfect if you need to omit the cheese in this recipe. But since it does rely on a raw egg to be creamy, you can sub in mayo or make my Cilantro Lime Dressing instead.
How to make this recipe step by step
Step 1: I like to start by making the cilantro dressing in the blender. That way the flavors have a bit of time to develop while you make the salad.
Step 2: Next chop up the romaine into bite-sized pieces. Wash the lettuce and spin it dry in a salad spinner.
We like romaine in taco salads, but you can use your favorite crunchy lettuce.
Step 3: Then halve or quarter your cherry tomatoes into bite-sized pieces. You can use regular tomatoes as well chopped up, but cherry tomatoes are the most reliable for the best flavor.
Step 4: Finely dice the onion, and thinly slice the jalapeno if you're using it.
Step 5: When all the ingredients are prepped, break up the ground turkey in a large skillet over medium-high heat.
Then add your favorite taco seasoning or 2 tbsp of my Homemade Taco Seasoning. Cook stirring to combine, add a bit of water if necessary to distribute the taco seasoning.
Step 5: Serve everything family style so each person can assemble their own salad. Or you can toss the ingredients in a bowl with the hot turkey taco meat and salad dressing before serving.
I think taco salads are at their best when you toss the meat together with the salad while the meat is still hot/warm. However, it does mean any leftovers will be soggier because the meat will wilt the lettuce a bit.
Ways to serve this
Try this salad with my Cilantro Lime Dressing instead or my Salsa Dressing from my Loaded Taco Salad to mix things up.
If you go with plantain chips, try and find a brand that is cooked in coconut oil, they seem to be the tastiest option and healthier as well. Corn chips or grain-free corn chips also work perfectly crushed up for this salad. Use whichever option works for you, they all taste good!
FAQ's
What goes well with taco salad?
Try serving a fruit salad alongside your taco salad. Black beans, corn, sour cream, pickled jalapenos, pickled onions, and steamed rice all go well with taco salad. For extra flavor, try my Cilantro Lime Rice.
What can I use instead of ground turkey?
Both ground beef and ground pork work well in place of ground turkey in this recipe. If the ground meat of your choice cooks up with a lot of oil, be sure to drain it off before adding the taco seasoning.
Storing leftovers
To store – store the ingredients separately for 3-4 days.
Make ahead – follow the instructions for making these into mason salad jars. Or you can store each ingredient separately for 3-4 days and make salads as desired.
Reheating – if you store the ingredients separately you can reheat the turkey taco meat gently with a touch of water to keep it from sticking to the pan before adding it to your salad.
To freeze – the cooked turkey taco meat freezes well for up to 3 months in a tightly sealed airtight container.
Tips & Tricks
Mix and match to make this recipe your own, there's no 1 right way to make taco salad! You'll find some additional inspiration with my Loaded Taco Salad recipe which uses ground beef and a salsa dressing. We omit olives in our taco salads because we're not crazy about them, but add them if you love olives. Basically, anything I might not have included that you like, go ahead and add it in!
You can make this taco salad with any ground meat you like. I've made it with ground beef, ground pork, and ground chicken. Be careful with ground chicken because it does have a tendency to get dry easily, and it cooks best in a non-stick skillet.
Dietary Options & Substitutions
Dairy-free – omit the cheese or use your favorite grated dairy-free cheese option.
Paleo & Whole30 – for paleo I omit the cheese and use plantain chips. For Whole30 omit the plantain chips or make your own in addition to omitting the cheese.
How to make this recipe into Meal Prep Turkey Taco Salad Jars
First up you'll want to cook the taco meat so it has plenty of time to cool completely if you're making salad jars.
Next up make the dressing. The recipe calls for a raw egg because you're essentially making a loose mayonnaise base. But you can also just sub in a good quality mayo as well. Or you can try my Cilantro Lime Dressing instead.
Then you'll want to prep the lettuce, salsa or chopped tomatoes, and anything else you'd like in your salad jars
Finally, it's time to layer it all into the jars. I start with dressing, then add the taco meat, salsa/chopped tomatoes, and finally fill the jars with lettuce. This recipe is actually Whole30 if you omit the plantain chips and optional cheese. But if you do want to include them, you'll want to keep them separate. I crush mine upright in the bag, then portion them out into small containers to take alongside the salad jars.
To serve these salad jars, both Tyler and I prefer to turn them over, shake them up a bit, and then dump them out into a bowl to eat. From there you can add cubed ripe avocado and crushed plantain chips.
Tip #2: I like to use ground turkey when I'm making this recipe into salad jars because it's much lower in fat than ground beef, which can have an unappealing texture when slightly cold. However, if you plan on serving this right away, beef works perfectly here!
More Taco-Inspired Recipe Inspiration
I really hope you enjoy this Turkey Taco Salad! If you do get a chance to make this recipe, I'd love to hear from you in the comments. And if you're looking for more fresh meals, try my 70 Light Summer Dinner Ideas.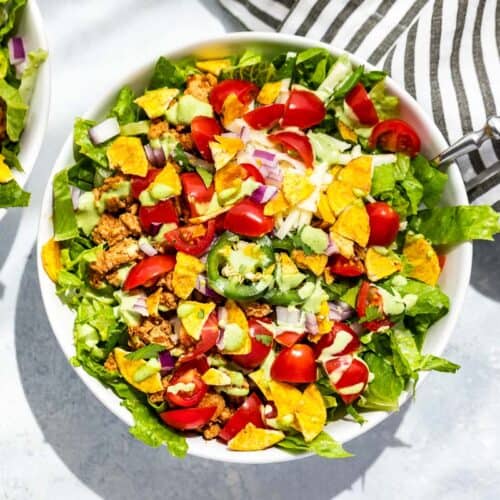 INGREDIENTS
Creamy Cilantro Lime Dressing:
1

raw egg

-

see notes for substitutions

1/4

cup

freshly squeezed lime juice

1

clove

garlic

-

minced

1

tsp

sea salt

-

or to taste

1/2

tsp

black pepper

3/4

cup

avocado oil

-

or neutral oil of choice
Taco Salad:
2

heads

romaine

-

cut into 1/2" pieces and washed (small heads romaine)

2

cups

cherry tomatoes

-

halved or quartered into bite-sized pieces.

1/2

cup

red onion

-

finely diced

1/2

cup

cilantro

-

chopped

1

jalapeno

-

optional, thinly sliced

1

large

avocado

-

cubed

1/2

cup

roughly chopped fresh cilantro

1

pound

ground turkey

-

ground beef, or ground pork

2

tbsp

homemade taco seasoning -

or seasoning of your choice

5

ounce

package plantain chips

-

or corn chips, more or less to taste
INSTRUCTIONS
Make the dressing by adding the egg, lime juice, and garlic to a blender. Blend starting on low, then begin to add the avocado oil in a thin steady stream, increasing the speed as you add the oil.

When all the oil has been incorporated and the dressing is emulsified, add the cilantro and blend until the cilantro is combined, but small bits still remain. Set the dressing aside in the refrigerator until you're ready to serve the salad.

Next, prep all the ingredients listed and add them to a large salad bowl. Or you can keep each ingredient in separate containers to serve family style.

Finally, cook the ground turkey in a large skillet over medium-high heat breaking it up into small bits. Add the taco seasoning and cook stirring just until the spices are well combined. You can add a tbsp or 2 of water if necessary to distribute the spices.

Toss the cooked turkey taco meat together with the salad and dressing. Or serve everything separately family style so each person can assemble their own custom salad.

Serve the salad as desired with plantain or corn chips crushed over the top with any extras you'd like!
Bonus Step
If you made this recipe, please leave a rating/comment. Ratings really help us continue to bring you high-quality free recipes. Rate This Recipe!
NOTES
For the raw egg in the dressing recipe, you can omit the egg and the avocado oil and sub in 1 cup of good quality mayo instead. Or you can make my Cilantro Lime Dressing.
This recipe makes 6 medium servings for dinner or 5 good-sized salad jars. If you're making salad jars, I like to mix the tomatoes, onion, cilantro, and jalapeno together as a 'salsa' mixture to layer into the jars.
To assemble the salad jars, start by portioning the dressing into 5 jars, (a heavy 1/4 cup each) then taco meat, (1/2 cup each jar) top with the 'salsa mixture', and finally romaine, (2 1/2 cups each).
nutrition facts
Calories:
557
kcal
|
Carbohydrates:
31
g
|
Protein:
24
g
|
Fat:
40
g
|
Saturated Fat:
5
g
|
Polyunsaturated Fat:
8
g
|
Monounsaturated Fat:
25
g
|
Trans Fat:
0.03
g
|
Cholesterol:
69
mg
|
Sodium:
608
mg
|
Potassium:
1118
mg
|
Fiber:
9
g
|
Sugar:
5
g
|
Vitamin A:
18815
IU
|
Vitamin C:
31
mg
|
Calcium:
118
mg
|
Iron:
4
mg
This recipe was originally published in 2019 and has been updated in 2023 with new photos, more tips, and more information.