Ultra creamy, this Garlic Parmesan Pasta is the perfect easy comfort food dinner. It's a meatless meal, but you can add chicken or shrimp which both pair well with this pasta. Picture a silky smooth Alfredo pasta but with some depth of flavor from garlic and a hint of fresh parsley. This recipe calls for gluten-free pasta, but it can be made with any pasta of your choice. Fresh pasta makes the perfect indulgence in this recipe.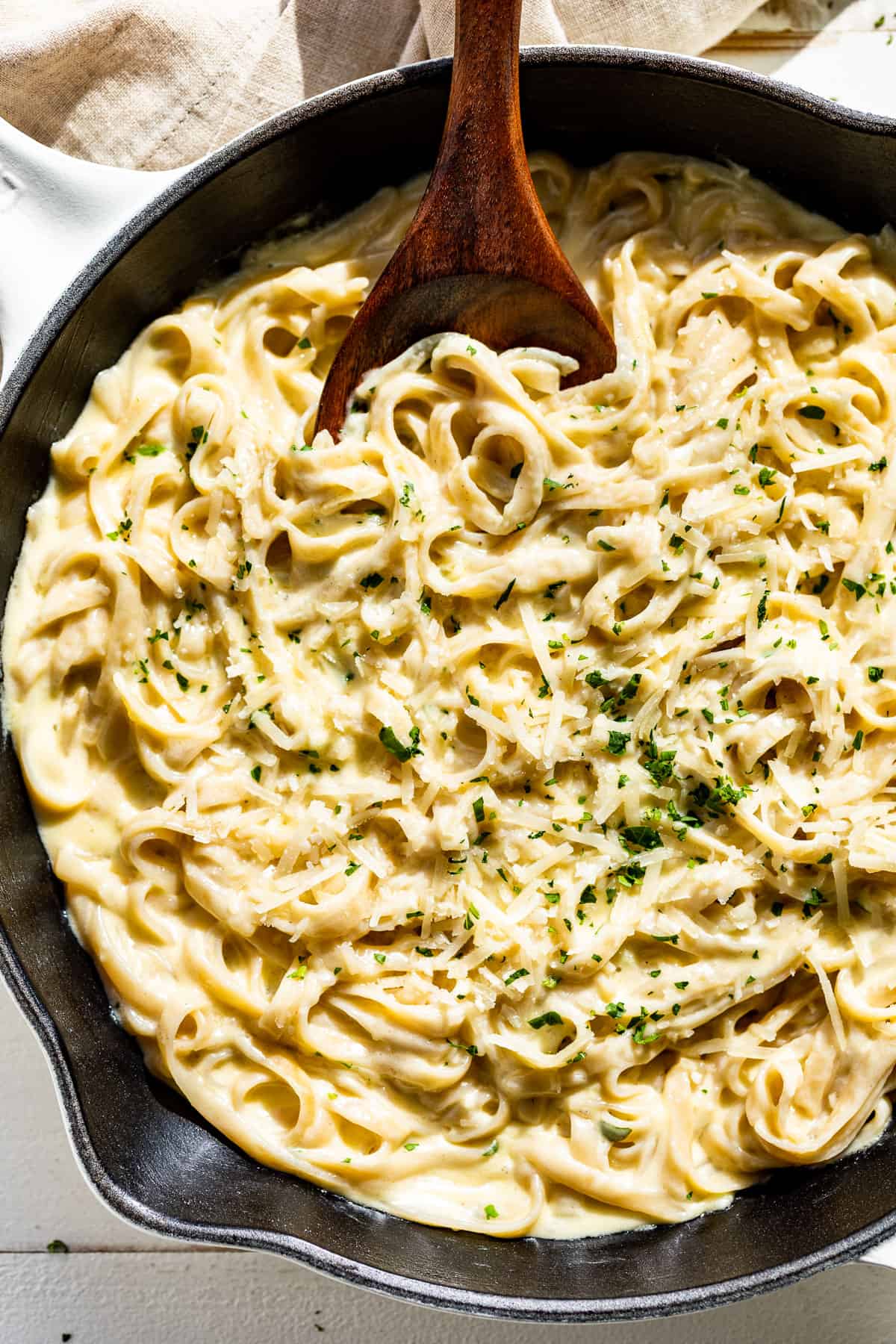 This is one of my favorite 'cozy-up' recipes with restaurant-quality flavor. It's super easy to make and great for everything from weeknight meals to entertaining and at-home date nights.
I usually make this recipe with the simple garlic parmesan flavors, but sometimes it's fun to mix it up with the optional fresh herbs. Rosemary is the perfect winter pairing with this sauce, and fresh basil is my summer go-to.
There are plenty of ways to change things up and make this pasta just a little different each time. And I sure hope you enjoy all the options and variations listed below!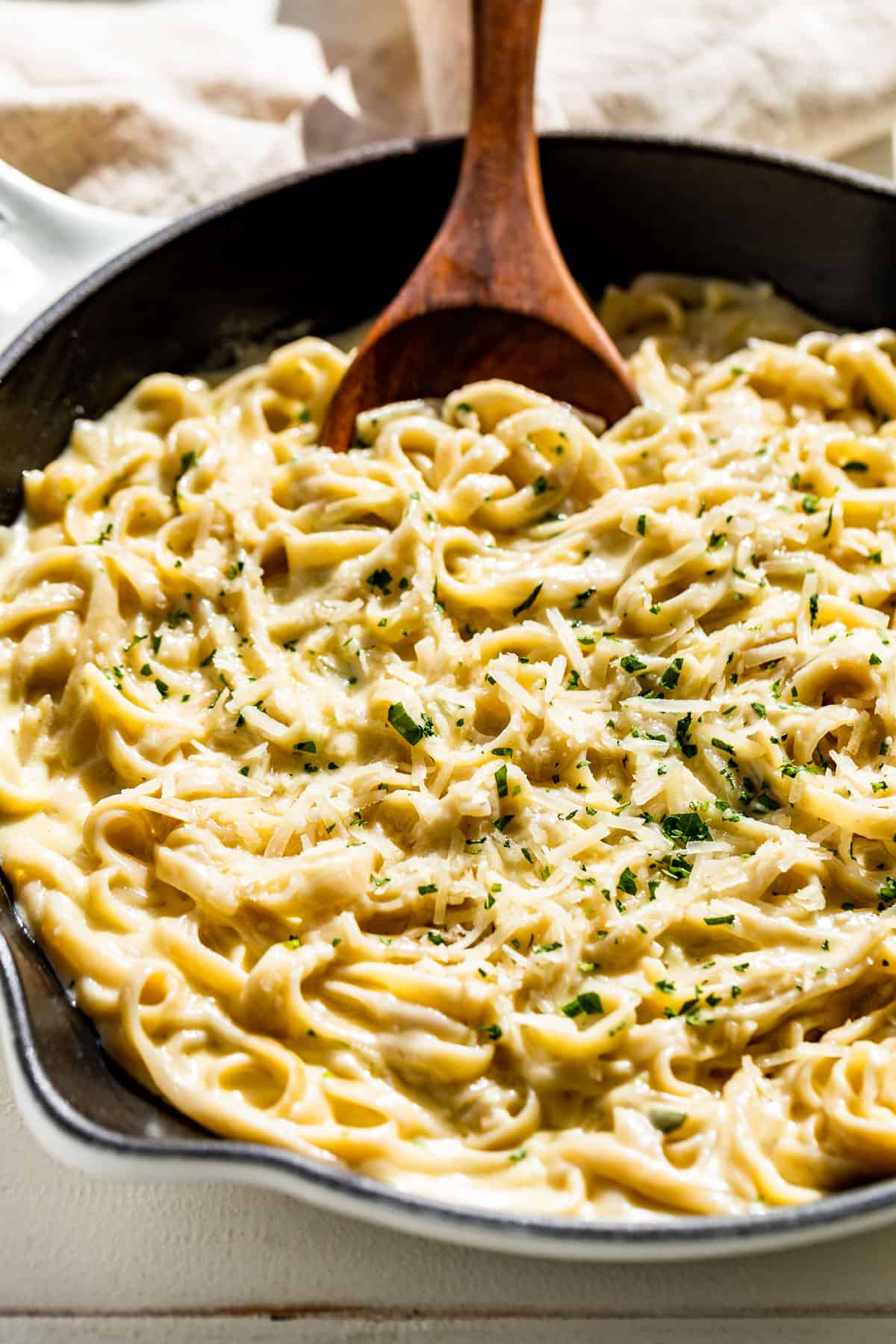 Ingredients & Substitutions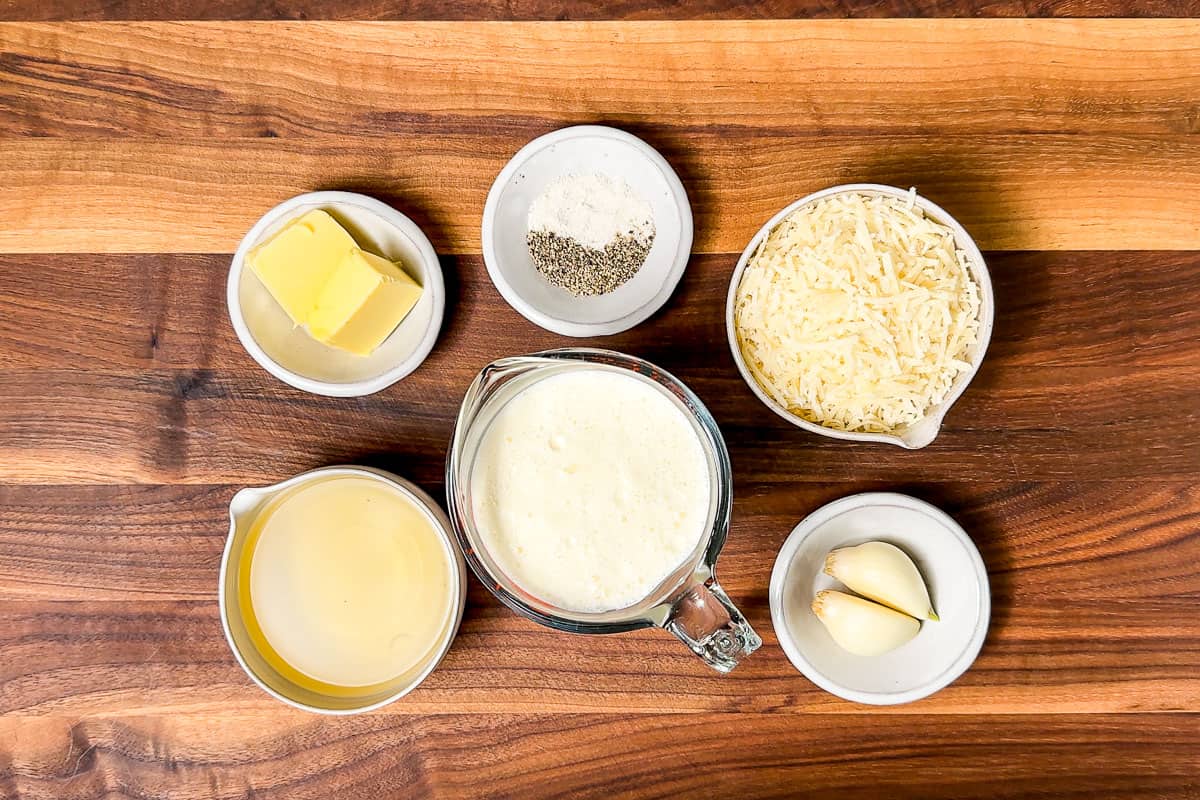 Cream – You want heavy whipping cream with 36%-40% milk fat. I don't recommend half-and-half or milk because they won't thicken up and can curdle when added to the white wine in the pan.
Butter – is used to sauté the garlic and it adds a layer of flavor to the sauce.
Garlic – fresh garlic is worth the extra effort and I don't recommend jarred garlic in this sauce. For easier prep work, try using a garlic press. I don't recommend garlic powder for this recipe, but garlic granules have a nice flavor that you could add to taste, start with 1/2 tsp.
White wine – adds a depth of flavor with a hint of acidity that gives you that restaurant-quality cream sauce. You want a dry white wine here like sauvignon blanc, pinot grigio, pinot gris, etc. Avoid any sweet white wines or full-bodied ones like chardonnay. If you don't want to use white wine, try adding the optional lemon juice listed in the recipe.
Parmesan – freshly grated parmesan is essential for the best flavor in this simple sauce.
Sea salt & pepper – to taste brings out all the best flavor in this sauce.
Pasta – I use 100% brown rice gluten-free pasta, but you can use any kind of pasta you love or that works with your diet. Fettucini and linguine are really nice with this sauce. But all the shapes like penne, farfalle/bowties, fusilli, rigatoni, etc. all work as well.
Reserved pasta water – this is water you scoop out of the pot just before you drain the pasta. Be sure to salt your cooking water well and that will season that pasta. The reserved water is both seasoned and contains starch which makes it the perfect way to thin out your cream sauce if needed once you add the pasta and toss it together.
Optional herbs – I love adding minced fresh rosemary to the pan just after the garlic. But both thyme and sage work as well. This sauce is also very good with fresh parsley or chopped fresh basil added in just before serving.
How to make this Garlic Parmesan Pasta recipe step by step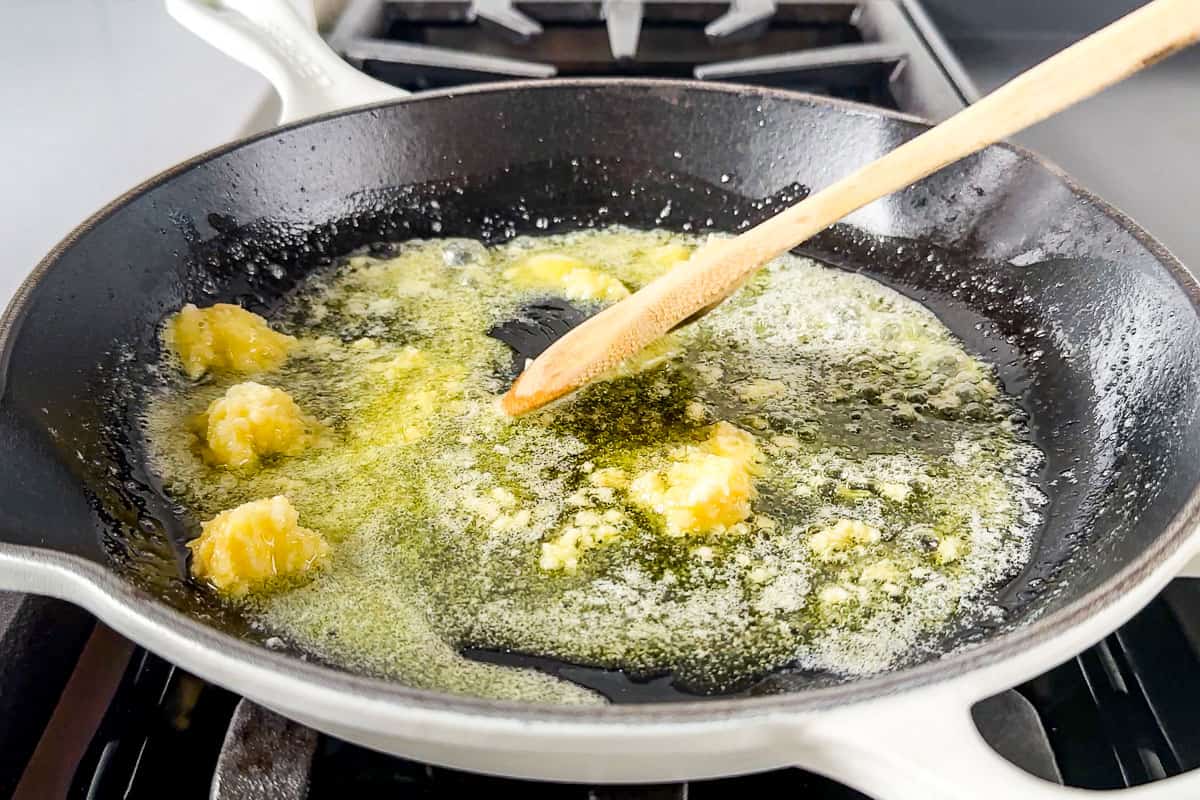 Step 1: Start by bringing a large pot of water to a boil for the pasta. Then melt the butter in a large skillet, add the garlic and cook just briefly over medium heat being careful not to brown the garlic.
Don't worry if you do brown the garlic, if it's not burnt you're still good to proceed with the recipe, the flavor will just be different and stronger.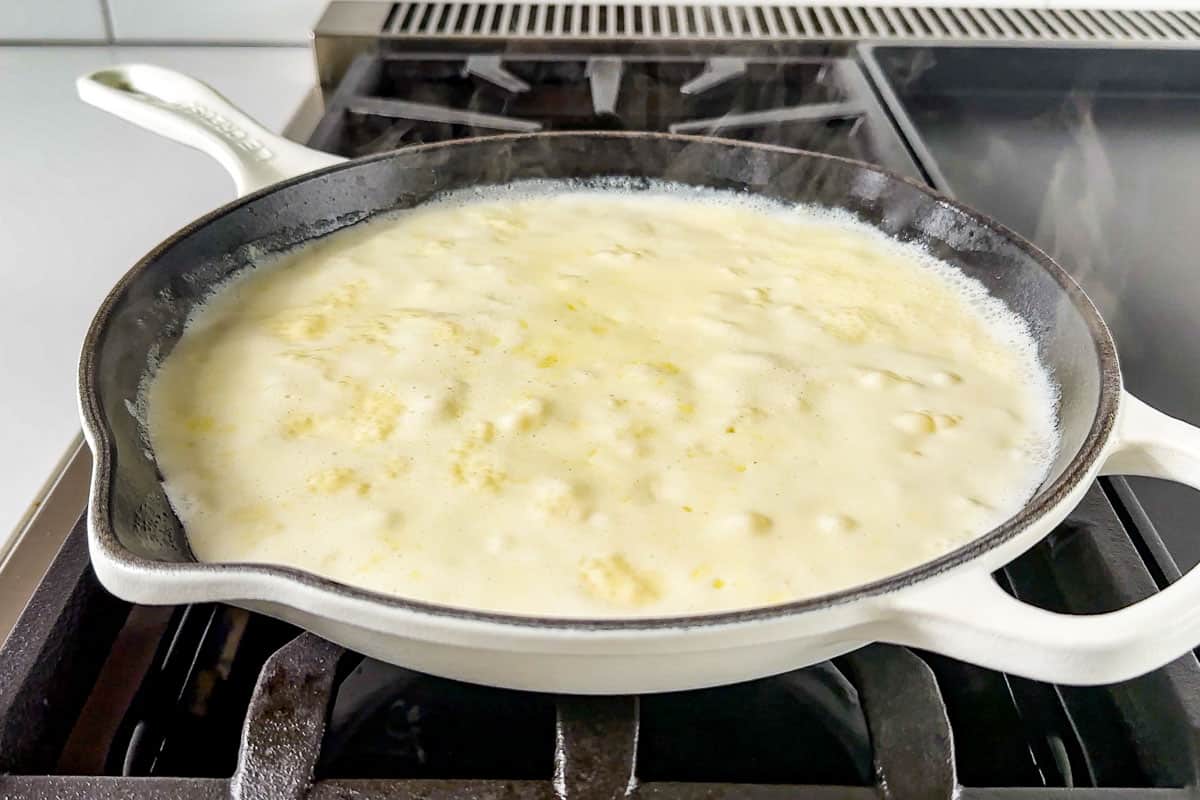 Step 2: Next add the white wine and cook until almost gone before adding the cream.
Bring the cream sauce to a boil being careful not to boil the sauce over the edge. Simmer until the sauce is just thickened and coats the back of a spoon. While the sauce is simmering, cook the pasta in salted water.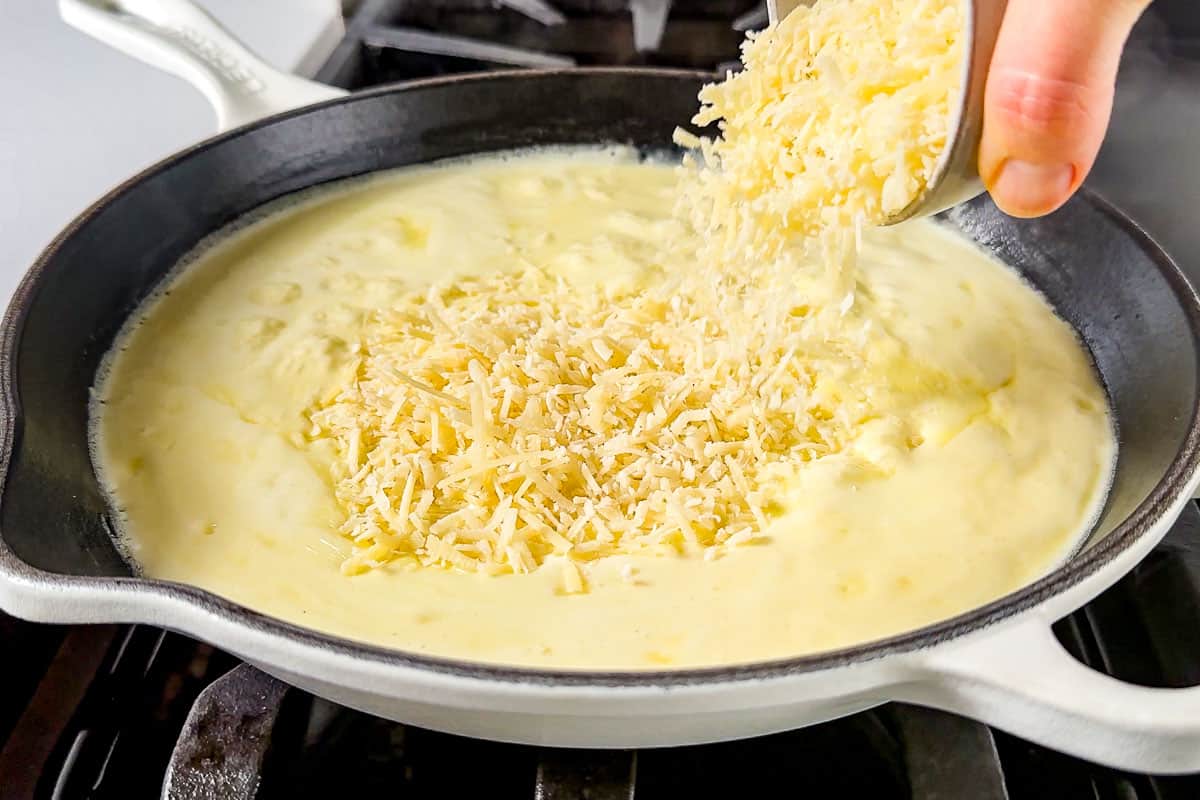 Step 3: When you're ready to toss the sauce together with the pasta, add the parmesan cheese and turn off the heat.
Step 4: Toss the freshly cooked pasta together with the sauce and season to taste with sea salt and pepper. Sprinkle with more parmesan and fresh parsley if desired and serve.
FAQ's
Why is my cream sauce broken, or separated?
A broken cream sauce (or separated) happens when there isn't enough liquid left to keep the fat emulsified. The quickest way to bring the sauce back together is to add a bit more heavy cream. If you don't have cream, try half and half, whole milk, or a touch of white wine or water. Take the sauce off the heat and whisk in just enough liquid to bring the sauce back together.

What type of pasta goes best in this recipe?
Fresh pasta is the ultimate if you want to go all out. I think fettuccini and linguine (think flat pasta shapes) work really well with this sauce. But any of the shapes work perfectly as well like penne, farfalle, fusilli, rigatoni etc.
Storing leftovers
To store – place the leftovers into an airtight container and store them in the refrigerator for 5-7 days.
Make ahead – the sauce can be made ahead up to the point where you add the parmesan and stored it in the fridge for 4-5 days. Simply reheat the sauce when you're ready to cook the pasta and add the parmesan right before you toss it with the pasta.
Reheating – pasta with cream sauce can be tricky to reheat because the sauce will sometimes separate and an unappealing pool of grease forms. You can totally avoid this by reheating your leftovers in a skillet over medium heat adding water as necessary to keep the sauce from separating.
To freeze – you can freeze pasta for up to 3 months in an airtight container, but I personally don't recommend it because it's on the mushy side when you defrost it.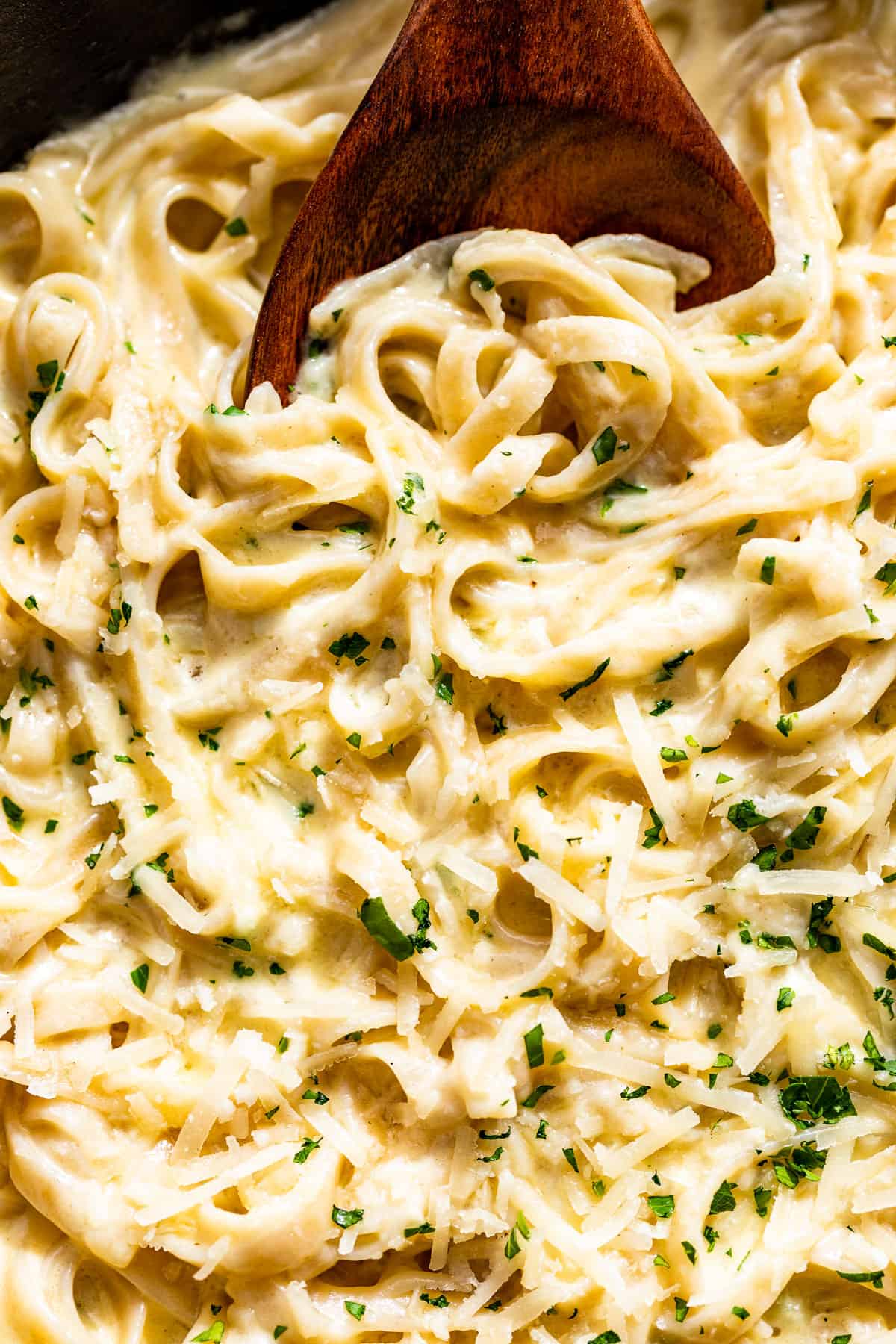 Tips & Tricks
Try not to simmer the sauce down too far where it becomes very thick. If you reduce it too far the sauce will separate and you can read about the fix in the faqs. You want the texture of the sauce to be thicker than straight heavy cream and it will coat a spoon when you dip it into the sauce. At this thickness, the sauce is silky smooth and perfect tossed together with the freshly cooked pasta.
Make this sauce ahead right up until the step where you add the parmesan cheese to make entertaining simpler. Then when you're ready to serve this sauce, heat it up over medium heat until it just simmers, then add the parmesan, season to taste, and serve.
Try not to boil the sauce once you add the parmesan cheese, this can cause the cheese to become grainy in the sauce.
Dietary Options & Substitutions
Dairy-free, Paleo, Vegan, or Vegetarian – try using my Cashew Cream Sauce tossed together with freshly cooked pasta along with some sautéd garlic, fresh herbs, and dairy-free/vegan parmesan if desired.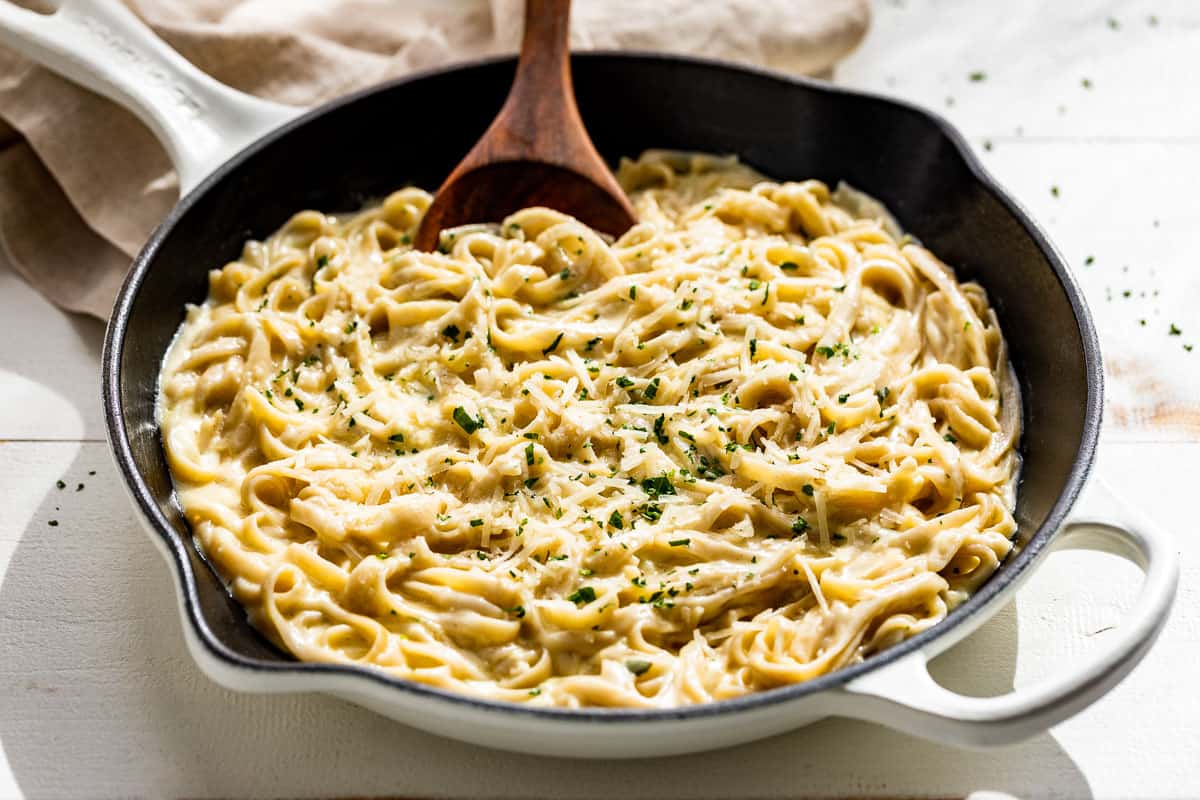 Note: this pasta is based on my Garlic Parmesan Sauce recipe by popular request. It's pretty much identical just served with pasta, so you'll find so many more ways to serve this sauce in that recipe.
More Pasta Recipe Inspiration
I really hope you enjoy this Garlic Parmesan Pasta! If you do get a chance to make this recipe, I'd love to hear from you in the comments.
INGREDIENTS
2

tbsp

butter

2

cloves

garlic

-

minced

1/4

cup

dry white wine

-

see notes

1

cup

heavy whipping cream

1/2

cup

freshly grated parmesan cheese

-

plus more for serving

chopped fresh parsley

-

optional see notes

sea salt and black pepper to taste

12

ounces

100% brown rice gluten free pasta

-

or regular pasta, I love using fettucini and linguine in this recipe.

Optional: fresh herbs to taste 1 tbsp chopped fresh rosemary or thyme added with the garlic, or 1/4 cup chopped fresh basil added in at the end.
INSTRUCTIONS
Start by bringing a large pot of water to a boil for the pasta.

Place a large saucepan over medium heat. When the pan is hot, add the butter and minced garlic. If you use the optional rosemary or thyme, add them here. If you use delicate herbs like basil, add them at the end with the parmesan.

Sauté the garlic just until fragrant, about 30 seconds, then add the white wine to the pan. Bring the mixture to a boil and then simmer until the wine is almost gone.

When the pot of water has come to a boil, salt it well, 1-2 tbsp, and add the pasta. Stir occasionally while boiling to keep it from sticking and cook while you finish the sauce.

Next, add the heavy cream to the garlic mixture, and bring the sauce to a boil, be careful you don't let it boil over. Reduce the heat and simmer just until the sauce coats the back of a spoon and is lightly thickened about 8 minutes.

When the pasta is al dente, reserve 1 cup of the cooking water and drain the pasta. Add the pasta back to the pan and pour the lightly thickened cream sauce over the top, simmer while tossing it together.

Remove the pan from the heat and stir in the parmesan cheese. Add reserved cooking water as necessary to thin the sauce.

Season to taste with sea salt and black pepper and serve the pasta with additional grated parmesan cheese.
Bonus Step
If you made this recipe, please leave a rating/comment. Ratings really help us continue to bring you high-quality free recipes. Rate This Recipe!
NOTES
The chopped fresh parsley adds a fresh flavor and bright color, but I omit it if I use the other optional herbs listed in the recipe.
White wine adds a nice depth of flavor, but if you don't want to use it, try adding freshly squeezed lemon juice to taste after you add the parmesan cheese, about 1-2 tbsp.
nutrition facts
Calories:
413
kcal
|
Carbohydrates:
47
g
|
Protein:
8
g
|
Fat:
21
g
|
Saturated Fat:
13
g
|
Polyunsaturated Fat:
1
g
|
Monounsaturated Fat:
5
g
|
Trans Fat:
0.2
g
|
Cholesterol:
61
mg
|
Sodium:
185
mg
|
Potassium:
58
mg
|
Fiber:
4
g
|
Sugar:
2
g
|
Vitamin A:
765
IU
|
Vitamin C:
1
mg
|
Calcium:
129
mg
|
Iron:
0.2
mg