These Paleo Blueberry Muffins have been a long time favorite now bringing back memories of childhood!
These muffins came about because I received a request on Facebook for a monthly muffin recipe. Throughout the conversation, we determined that maybe a seasonal muffin might be more achievable than one per month. At first I felt a slight panic, I mean with so many flavors to choose from, how do I even get started.
But the panic only lasted for a quick second because I knew right away which flavor I was going to start with – blueberry of course! Blueberry has been my favorite of the muffin flavors since I was little. My mom used to make those boxed mixes (Jiffy – does anyone else remember?) sometimes on the weekends.
Normally she made almost everything from scratch, but on the weekends she would often use a boxed mix because we were usually staying in a camper trailer at my parents roller rink. Yes you read that right, I grew up in a roller rink! (As a funny side note, they had me up and being towed around on skates before I could even walk!)
We lived at least 45 minutes away from the rink, so when it was open (weekends) we would make the drive there, and stay in a camper they had on the property. And if my mom hadn't made something ahead, we'd have boxed muffins for breakfast on Saturday. And of course, blueberry were always my favorite.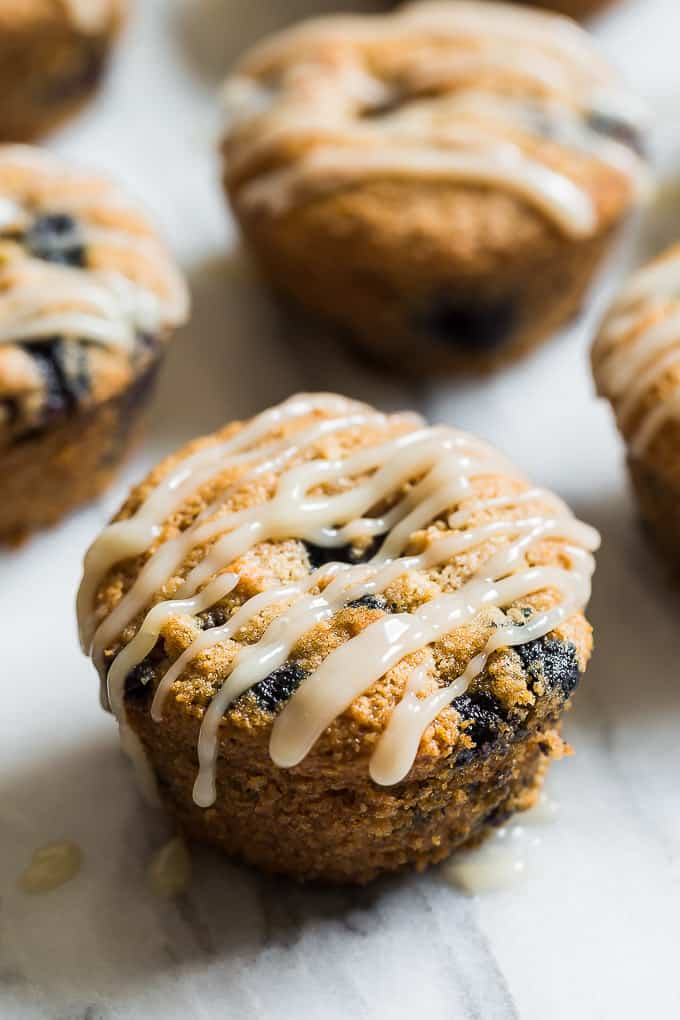 Later when I got older, and started to bake myself, blueberry muffins still remained a permanent favorite. Then I discovered the recipe by Cook's Illustrated which is simply the best fluffy and puffy blueberry muffin on the planet. And from there, that was the only blueberry muffin I ever made after that!
However those fluffy and puffy muffins involve a lot of white sugar and flour. So after giving up wheat, and changing my diet, I felt like I might not ever have a really good muffin again. As you would know if you've ever tried grain free baking and healthier treats, the results can be pretty bad sometimes.
So I was delighted when I managed to make something grain free and naturally sweetened for the first time. And from there I've been recreating favorites ever since. (In case you missed them, I recently made classic Lemon Bars that are better than the childhood ones I remember. But they're completely refined sugar free, and made with whole food ingredients.)
And finally today, I finally have a healthier blueberry muffin that I'm really proud of. No 'health food' tasting muffins around here!
I tested these muffins with both fresh and frozen berries. And while both worked beautifully, the frozen berries do tend to color the batter a bit as they swirl in. But really it's a faint distinction, so just go with whichever you have on hand. If you happen to have huckleberries/wild blueberries definitely use those because they have the best flavor.
How to make these Paleo Blueberry Muffins
Once the dry ingredients are mixed together, the blueberries get mixed in.
And then the wet ingredients are added…
… and portioned into a muffin pan. You can grease the pan, and place the batter directly in, but I found it's much easier to use muffin cup lines in this case. Some of the blueberries will make their way to the outer edges of the muffins, and you'l have to finesse a knife around the edges to get them out. This is pretty much only useful when you want to get pictures of the texture. But muffin liners make everything extra easy.
Once they've baked and cooled a bit…
… it's time for a lemon glaze.
You don't have to glaze them, in fact they're pretty awesome spread with butter. But that lemon factor on top is pretty good!
Print
Paleo Blueberry Muffins
---
Author:

Kari Peters

Total Time:

30 mins

Yield:

1

2

1

x

Diet:

Gluten Free
Description
My favorite childhood classic made healthier with whole food ingredients!
---
2 cups fine almond flour
1/2 cup tapioca starch
2 Teaspoons ground cinnamon
1/2 Teaspoon sea salt
2 Teaspoons baking powder, see notes
1 Teaspoon baking soda
1 Tablespoon lemon zest, see notes
2 cups fresh or frozen blueberries
1/2 cup maple syrup
2 eggs
1/4 cup melted ghee, coconut oil, or butter
1/2 Teaspoon almond extract
2 Teaspoons vanilla extract
Lemon Glaze:
1/4 cup coconut butter
2 Tablespoons freshly squeezed lemon juice
1–2 Tablespoons maple syrup
---
Instructions
Preheat the oven to 350ºF and line a muffin pan with muffin cup liners.
In a medium sized bowl, mix together the almond flour, tapioca starch, cinnamon, sea salt, baking powder, baking soda, and lemon zest. Stir in the blueberries just until combined.
Whisk together the maple syrup, eggs, ghee, almond extract, and vanilla extract until smooth. Pour the liquid mixture into the bowl with the blueberries, and stir just until combined.
Portion the batter out into the 12 muffin cup liners, and bake for 18-20 minutes, or until just puffed in the center, and a toothpick inserted in the middle comes out clean without any batter. When I baked these with frozen berries, it took 24 minutes. This is because frozen berries make the batter cold, and it always will take slightly longer than fresh berries to bake.
Cool the muffins on a cooling rack in the pan for 10 minutes. Then remove the muffins from the pan, and set them on the rack to continue cooling.
Make the glaze by melting the coconut butter in a small saucepan over low heat. When the coconut butter is melted, whisk in the lemon juice, and maple syrup to taste. Drizzle the glaze over the muffins and serve. The glaze never fully sets up like a powdered sugar glaze does.
Freeze any leftover muffins, and reheat in the oven at a low temperature, 200ºF for about 20 minutes to defrost. If the muffins defrost first on the counter, it will only take around 10 minutes to heat them.
Notes
Baking powder can have all sorts of additives, and isn't always gluten free or paleo. To be safe, you can make your own by mixing together 1 part baking soda to 2 parts cream of tartar, and use the mixture right away.
I recommend using a microplane grater for lemon zest because it creates a nice, fine zest without any big chewy pieces in your muffins.
If the glaze separates in the pan or is too thick, simply whisk in a touch more maple syrup. Then whisking constantly add water 1 teaspoon at a time until it comes back together and is the right consistency.
Prep Time:

10 mins

Cook Time:

20 mins

Category:

Baking

Method:

Mixing

Cuisine:

American
Keywords: Gluten Free Blueberry Muffins, Almond Flour Blueberry Muffins, Paleo Muffins, Grain Free Blueberry Muffins