The holiday classic remade with whole food ingredients, these Paleo Pecan Pie Bars are extra delectable. There's no corn syrup in this version, just pure maple syrup, and coconut sugar combining together for a richness of flavor that makes these bars a hit. They're gluten-free, grain-free, and paleo-friendly as well. They also freeze well so you can make them ahead of time too.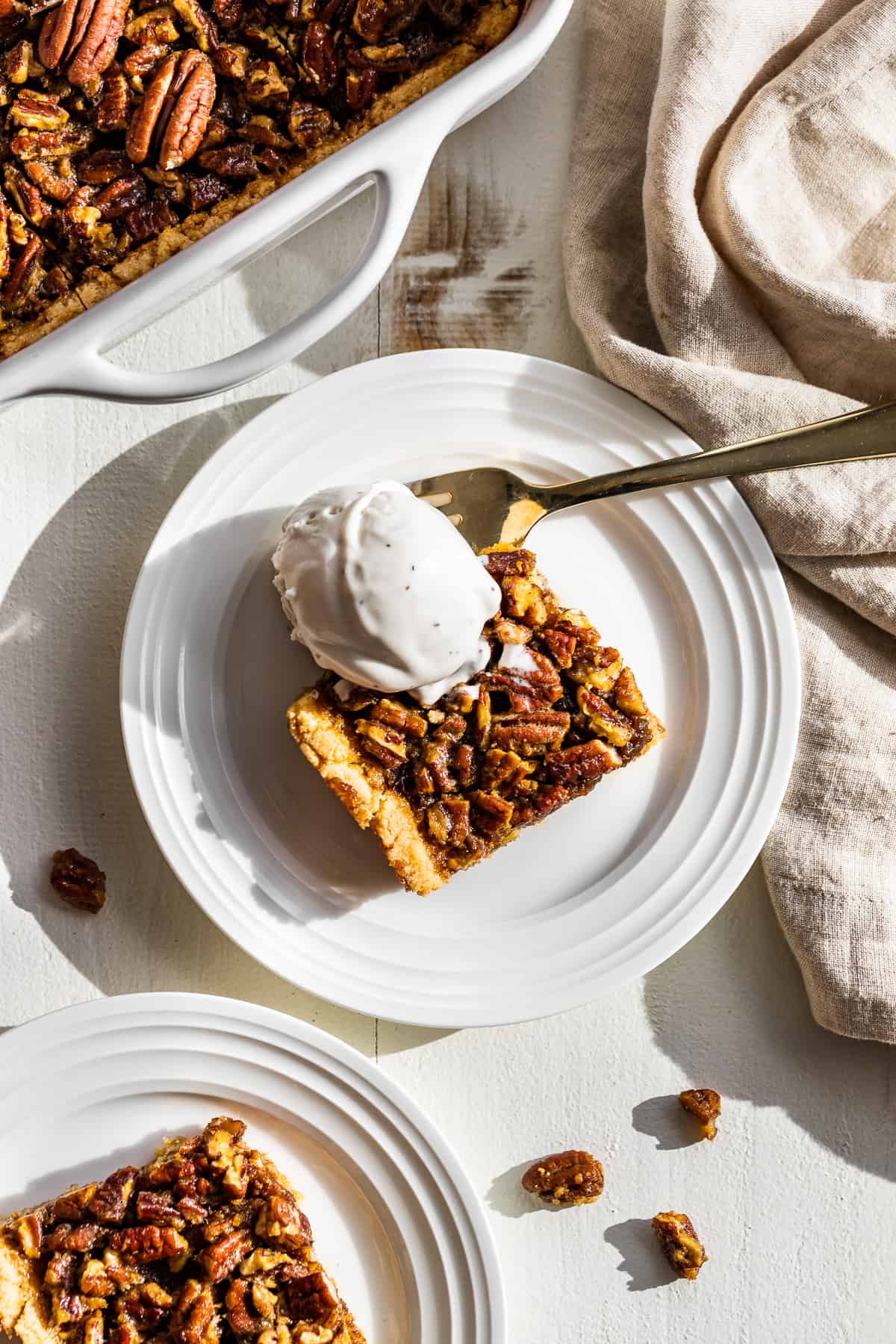 What's your favorite pecan pie memory, and is it a holiday tradition in your house? Pecan pie bars have been a longstanding tradition for us during the holidays. But we serve them for breakfast with scrambled eggs and great coffee!
After all I'm almost always too full after turkey dinner to properly enjoy dessert. So it only makes sense to start moving some of the desserts to breakfast right?! You really get to fully enjoy some dessert when you're not too full. And there's always plenty of pie leftover to have after turkey dinner too.
Pecan pie skeptics say it's too bland and sweet. However, when you use whole food ingredients they're just rich and delectable, with plenty of flavor to go around. Instead of corn syrup, I use Grade B pure maple syrup which adds incredible flavor.
In fact you'll probably never use corn syrup again. I know that's a bold claim, but maple syrup really is that good in pecan pie bars. And when you combine that with coconut sugar, these bars are anything but bland.
Important Note: these pecan pie bars are not low sugar, they are meant to be a treat made with whole food ingredients. You can't lower the amount of maple syrup and coconut sugar without making the filling more 'eggy'. For the silkiest best bars, don't reduce the sweetener! It's one time where I recommend a smaller portion rather than substitutions.
Ingredients & Substitutions
Almond Flour – makes the tastiest shortbread crust and keeps these bars both gluten-free and paleo-friendly.
Tapioca Starch – sometimes called tapioca flour. I combine it with the almond flour to help it hold together. You can also sub in cornstarch or arrowroot.
Butter – or ghee both work here, but I personally don't recommend coconut oil if you don't have to use it because of its strong flavor. I have had several people tell me they used coconut oil and enjoyed it as a dairy-free option.
Eggs – are in both the crust and filling and there really isn't a good substitution in this recipe.
Pecans – raw and unsalted so you can toast them perfectly for the filling.
Coconut Sugar – makes a wonderful flavor with the maple syrup. You can also use brown sugar or even cane sugar, but coconut sugar is my favorite here.
Maple Syrup – I use Grade B pure maple syrup for the deepest maple flavor which is incredible with pecan pie. If you're not fond of maple flavor, try using Grade A amber which also works and has almost no maple flavor.
Vanilla – is essential to round out all the flavors here and add depth to the filling.
How to make this recipe step by step
Step 1: Mix together all the ingredients for the crust until a stiff dough forms.
Step 2: Pat the dough evenly into a 9″x 13″ baking pan with a small 1/2″ rim around the edges.
Step 3: Par bake the crust just until it begins to set, 10 minutes.
Step 4: As the crust bakes, add the coconut sugar, eggs, maple syrup, and butter to a pan. Whisk to combine and cook stirring constantly until a thermometer reads 130ºF. You can also use a double boiler to make sure you don't overheat the filling.
Step 5: Remove the filling from the heat and stir in the pecans and vanilla.
Step 6: Pour the hot filling into the hot freshly par-baked crust and place the decorative pecans on top. Bake until the filling is puffed and jiggles like jello, 15-20 minutes.
Important! Adding the hot filling to a hot crust is super important and everything to the texture of these bars. I cannot stress this enough.
If you pour a hot filling into a warm crust, the filling seeps through a bit and caramelizes under the crust. Don't worry if this happens, the bars are still very tasty. But you can avoid this problem by making sure the hot filling goes into the hot crust. This allows the filling to set up more quickly and not seep into the crust.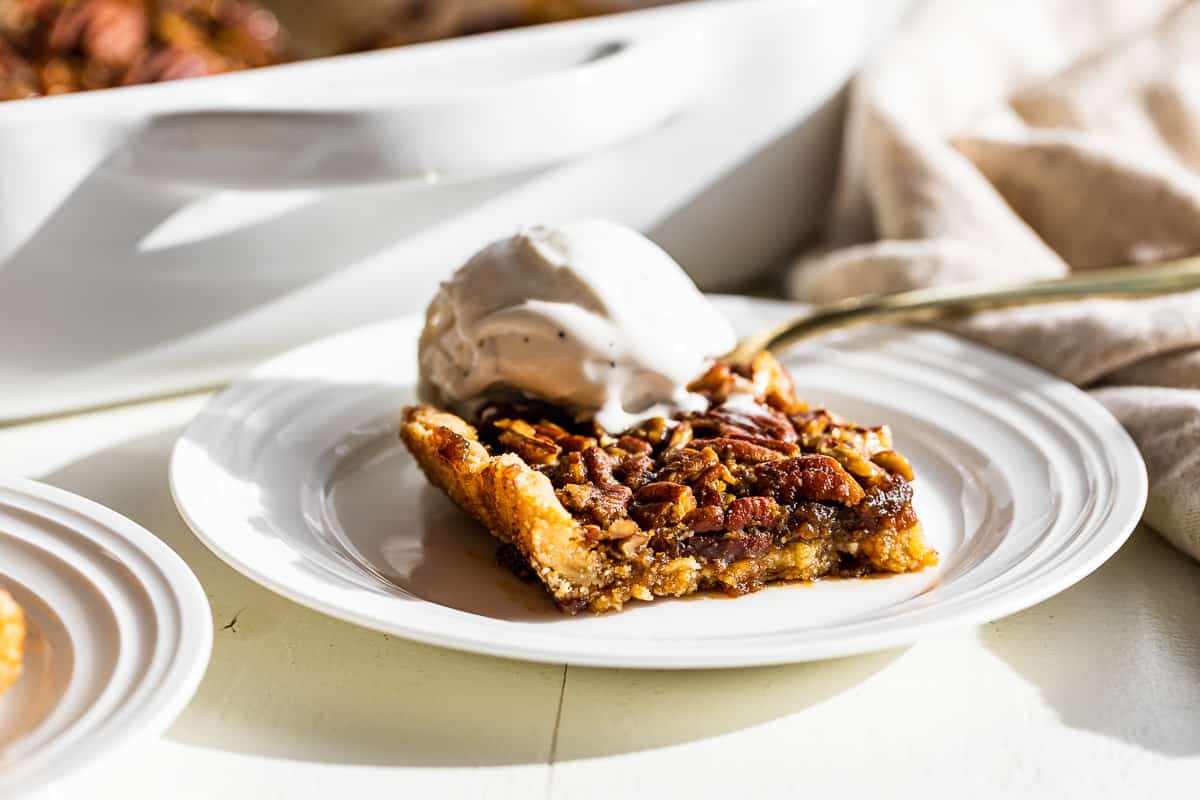 FAQ's
Why does pecan pie stick to the pan?
This is because the filling seeps through the crust. But when you follow my method of cooking the filling to 130ºF, it won't soak through the crust and you won't have this problem. The key is adding a hot filling to the hot crust!
Is this pecan pie healthy?
I wouldn't go that far, but it's a healthier option for pecan pie. It's made with whole food ingredients and natural sweeteners, but it's still a treat.
Can I make these bars ahead of time?
Yes, you can make these the day before which gives the filling to fully set up. Or you can also make these in the morning of a holiday for dessert time.
Storing leftovers
To Store – cool completely, then cover and refrigerate for 3-4 days. (The crust stays crisp for at least 2 days.)
Reheating – pecan pie tastes best at room temperature. But you can lightly rewarm it for 10-15 minutes in a 200ºF oven. Or microwave briefly
To Freeze – pecan pie freezes well tightly sealed for up to 3 months. Thaw overnight in the refrigerator, then bring the bars to room temperature before serving.
Tips & Tricks
My #1 trick is to pour the hot filling into the hot crust as mentioned above. This is everything to the perfect silky texture.
Make sure you start by toasting your pecans, it's easy to forget!
Try these bars with a sprinkling of Maldon flaked sea salt for a super tasty treat.
If you're a chocolate fan, you can always add 1/2 cup chocolate chips here. Sprinkle them on top once you pour in the filling and lightly press them down with the back of a spoon. Be warned, this is a seriously decadent option!
More holiday dessert recipe inspiration
I really hope you enjoy these Paleo Pecan Pie Bars! If you do get a chance to make them, I'd love to hear from you in the comments.
INGREDIENTS
Shortbread Crust:
2

cups

fine almond flour

1/2

cup

tapioca starch

1

stick

salted butter

-

8 Tablespoons, or 4 ounces, melted or ghee for paleo

1

egg
Pecan Pie Filling:
6

tbsp

salted butter

-

3 ounces or ghee for paleo

1

cup

coconut sugar

3/4

cup

maple syrup -

Grade B, see notes

3

eggs

1

tbsp

vanilla extract

2

cups

toasted pecan pieces

7

pecan halves

-

for decorating the top
INSTRUCTIONS
Start by toasting your pecans at 300ºF for about 15-20 minutes, stirring them 3-4 times during the baking. Then preheat the oven to 350ºF.

Mix together all the ingredients for the shortbread crust until a fairly stiff dough forms. Pat the crust as evenly as you can into a 9″x13″ baking dish, making a rim around the edges about 1/2″ to hold the in the filling.

Bake the crust until it begins to set and small cracks begin to form, 10 minutes. Remove the crust from the oven and lower the temperature to 300ºF

While the crust is baking, make the filling by combining the butter, coconut sugar, maple syrup, and eggs together in a double boiler. You can also do this in a saucepan, but be careful not to scramble the eggs in the filling.

Whisk constantly until the temperature of the filing registers 130ºF on a thermometer (see notes), about 10 minutes. Then remove the filling from the heat source, and whisk in the vanilla extract and pecan pieces.

When the crust is done, pour the hot filling over the hot crust, arranging a few whole pecans on the top if desired. It's important to time it so the hot filling goes into the crust right after it comes out of the oven. Then bake the pecan pie bars until lightly puffed in the middle, about 15-20 minutes.

The second baking time will vary according to how hot both the crust and filling are when you put the bars into the oven. The way to tell if pecan pie is done is when it's puffed in the middle, but still jiggles like jello would.

These bars keep really well in the fridge for several days, and they can also be frozen for up to 1 month in an airtight container.
Bonus Step
If you made this recipe, please leave a rating/comment. Ratings really help us continue to bring you high-quality free recipes. Rate This Recipe!
NOTES
You can make the filling without a thermometer, but you have to be really careful not to get the filling too hot, or it will scramble the eggs in the filling, which ruins it. Also if the filling is too cool it will seep below the crust as it bakes. I have made it without a thermometer before, and I just remove it from the heat when it starts to feel hotter than warm, but not so hot as to scorch your finger.
If you're not fond of maple flavor, try using Grade A amber pure maple syrup which has very little maple flavor.
nutrition facts
Calories:
394
kcal
|
Carbohydrates:
29
g
|
Protein:
6
g
|
Fat:
30
g
|
Saturated Fat:
9
g
|
Polyunsaturated Fat:
4
g
|
Monounsaturated Fat:
9
g
|
Trans Fat:
0.4
g
|
Cholesterol:
72
mg
|
Sodium:
124
mg
|
Potassium:
120
mg
|
Fiber:
3
g
|
Sugar:
18
g
|
Vitamin A:
400
IU
|
Vitamin C:
0.2
mg
|
Calcium:
69
mg
|
Iron:
1
mg
This post was originally published in 2016 but has been updated with new information, nutritional facts, and new step by step photos.