It's super simple to make Homemade Hot Chocolate, and it's so much better than a mix! You're really just a few minutes away from a 'coffee shop' worthy mug to cozy up with. As a bonus, homemade hot chocolate is so much richer with chocolate flavor. And you can pile on the whipped cream or marshmallows to your heart's content. Best of all you get to control how much sweetener you want to add.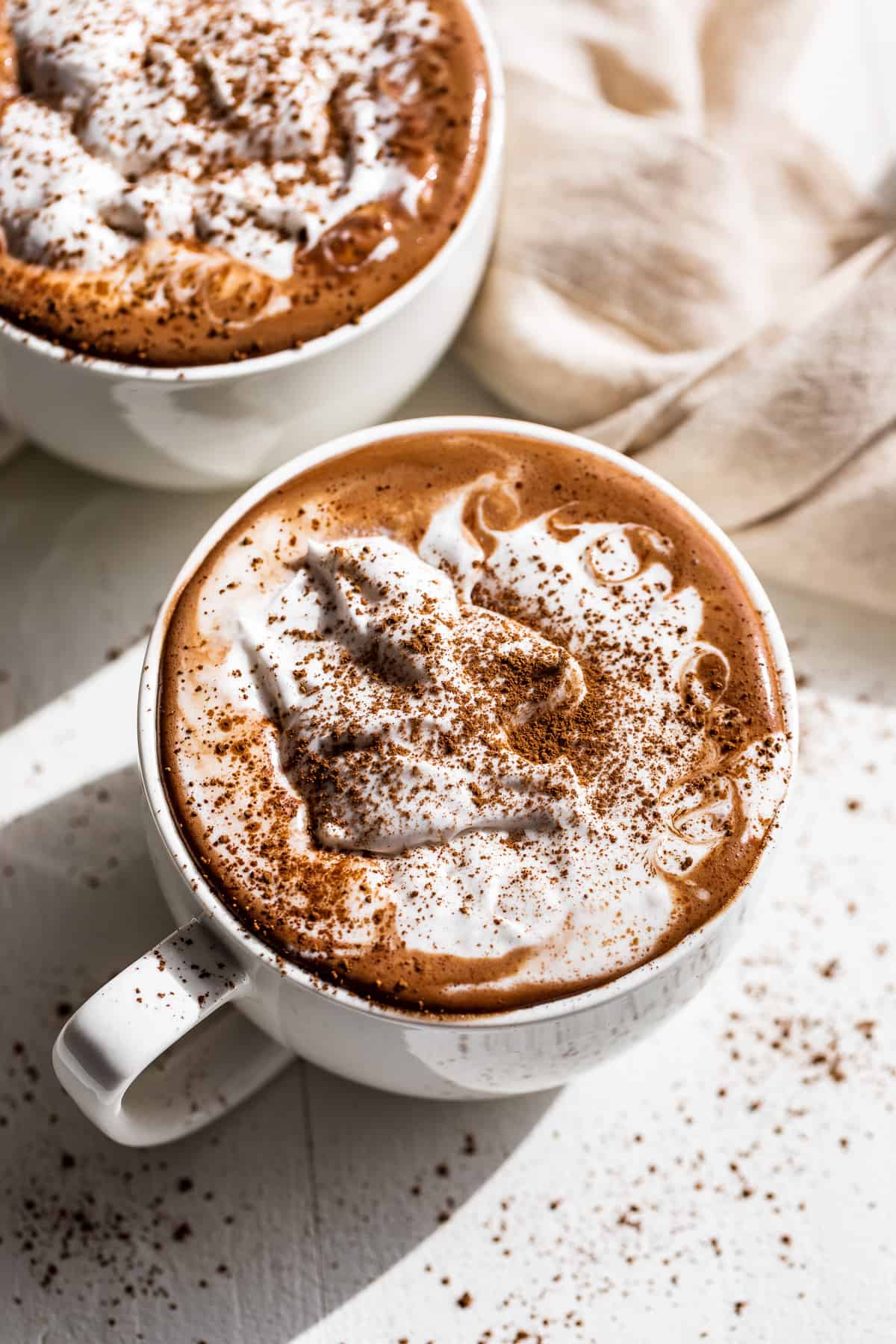 Thick and chocolatey. This hot chocolate is a true treat, and absolutely silky smooth. We love making oversized mugs, especially in the colder months to cozy up with. You'll find 2 ways to make this in the recipe below. First up there's the dairy-free version we make the most often with coconut milk.
And secondly, there's a seriously rich version made with half and half (and heavy cream) if you really want to go all-out holiday-style. Both versions are very creamy and the perfect solution to chocolate cravings. You can't go wrong with either one, so definitely try out both!
We also love 'all the toppings' so you'll find both my whipped cream recipes below to choose from. And if you love to guild the lily like I do, you might even try a drizzle of my Salted Coconut Caramel sauce. No matter how you choose to mix and match, you can't go wrong here!
Ingredients & Substitutions
Cocoa powder – unsweetened cocoa powder makes up the base of the chocolate flavor here. But the best quality you can, and you'll be rewarded with great flavor.
Maple syrup – I like to use Grade A amber for a very light maple flavor that isn't detectable in the finished hot chocolate. You can use honey or any sweetener you'd like here, however, they may add an extra flavor.
Milk – of your choice here works. But I like to go with the richer options like canned coconut milk and half and half for the best texture. Boxed coconut milk or almond milk do work, but the hot chocolate won't be as rich or thick.
Vanilla – is perfect for bringing out even more chocolate flavor.
Semi-sweet chocolate – I like to use the Alter-Eco brand 70% chocolate bars in my hot chocolate for the deepest chocolate flavor. But I've also used semi-sweet chocolate chips as well. They work perfectly but are a bit more sweet.
Sea salt – just a touch really brings life to the chocolate flavor.
Toppings – go all out with whatever you like! My favorite is whipped cream and a sprinkling of cocoa powder. But marshmallows and extra syrups like caramel or chocolate are nice too. Also don't forget sprinkles, they're so much fun on hot chocolate.
How to make this recipe step by step
Step 1: Start by mixing the maple syrup into the cocoa powder until all the lumps are gone. A whisk can be helpful here.
Step 2: Add your choice of milk and bring the mixture barely to a simmer over medium heat, whisking/stirring constantly.
Step 3: Next turn off the heat and stir in the vanilla, sea salt, and chocolate. Continue to whisk/stir until completely mixed together. Pour the hot chocolate into mugs.
Step 4: Pile on the whipped cream and sprinkle with a touch of cocoa powder before serving.
FAQ's
What's the difference between hot chocolate and hot cocoa?
Hot chocolate is generally much creamier and richer as well as having chocolate added in. Hot cocoa is usually on the sweeter side and made with cocoa powder.
What's the best kind of chocolate to add to hot chocolate?
I like to add semi-sweet chocolate, 50-65% as a crowd pleaser. But for a darker flavor I also use the Alter-Eco 70% sea salt bar which is beyond delicious here!
What does hot chocolate go best with?
We love to serve it as dessert all by itself. But it's also so good with savory breakfasts as well.
Storing leftovers
To Store – place in a sealed container and refrigerate for up to 4 days.
Reheat – rewarm over low to medium heat until the desired temperature is reached. If you have a frother or espresso machine, you can also steam this hot chocolate.
Tips & Tricks
Use the best quality chocolate and cocoa powder you can, the flavor really is that much better!
Make the hot chocolate ahead and refrigerate. Then use a frother or steamer function on an espresso machine to reheat your hot chocolate. It makes it even smoother and like what you'd get in a coffee shop.
Try blending the hot chocolate, (carefully!) after you've melted the chocolate. This makes for a super smooth texture as well.
I really hope you enjoy this Homemade Hot Chocolate! If you do get a chance to make this recipe, I'd love to hear from you in the comments. And if you love coffee shop drinks, you might like my Salted Caramel Pumpkin Chai Latté.
INGREDIENTS
1/4

cup

cocoa powder

-

unsweetened

4

tbsp

maple syrup -

I used Grade A amber

4

cups

milk of choice

-

or 1 can full fat coconut milk plus 2 cups water, see notes

pinch

of sea salt

2

tsp

vanilla extract

1/2

cup

chopped semi-sweet chocolate or dark chocolate
Toppings:
Marshmallows

Sprinkles or cocoa powder
INSTRUCTIONS
Whisk together the cocoa powder and maple syrup until no lumps remain. Start with less maple syrup, and add to taste at the end.

Add the milk of choice and bring the mixture barely to a simmer over medium heat whisking constantly.

Remove the pot from the heat and stir in the vanilla, sea salt, and chopped chocolate. Whisk constantly to combine. Or carefully blend in a blender.

Ladle or pour into mugs, and top with any and all toppings to enjoy!
Bonus Step
If you made this recipe, please leave a rating/comment. Ratings really help us continue to bring you high-quality free recipes. Rate This Recipe!
NOTES
My top recommendations are whole milk, half and half, and canned coconut milk mixed with water. You can use almond milk or any other milk you'd like, but they won't be quite as creamy.
The nutrition facts were calculated without the whipped cream or marshmallows.
nutrition facts
Calories:
340
kcal
|
Carbohydrates:
41
g
|
Protein:
11
g
|
Fat:
16
g
|
Saturated Fat:
11
g
|
Polyunsaturated Fat:
0.4
g
|
Monounsaturated Fat:
2
g
|
Cholesterol:
30
mg
|
Sodium:
120
mg
|
Potassium:
638
mg
|
Fiber:
3
g
|
Sugar:
32
g
|
Vitamin A:
398
IU
|
Vitamin C:
0.1
mg
|
Calcium:
397
mg
|
Iron:
1
mg