Enjoy all the diner burger flavors at home with these easy to make In and Out Burger Lettuce Wraps! They're loaded up with juicy burger patties brushed with mustard, caramelized onions, tomatoes, pickles, and of course the famous burger sauce as well. These are naturally gluten free with a dairy free and Whole30 option that's low carb friendly as well. So now you can enjoy this fast food chain favorite even if you don't live anywhere near and In and Out!
These burgers are so good, they will haunt your thoughts… no doubt about it! As the title suggests, they're inspired by the famous In and Out burger chain that started in California.
I've heard nothing but how awesome their burgers are, but I'd never had one before 2017. And to this day I've only had In and Out twice ever! So of course I need to have an at home version so I can enjoy these all the time. In fact, in the summer months we eat these at least 1x per week.
I order mine as a lettuce wrap without the bun, so I thought I'd make an at home version the same way. According to the locals, you definitely need to order your hamburger animal style. From what I've worked out, this means with a lettuce bun, caramelized onions, and of course the secret sauce. All in all, nothing but delicious savory flavor.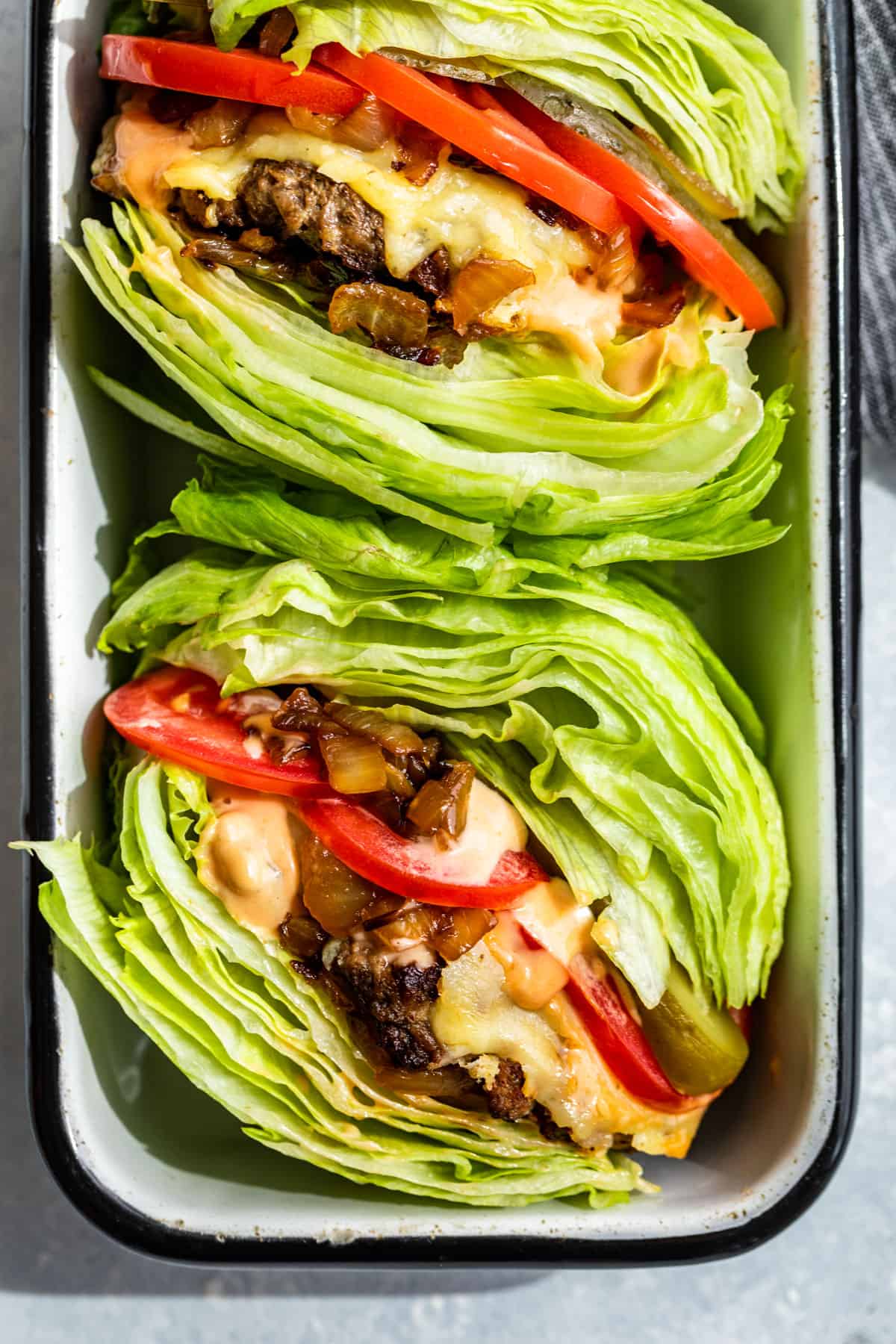 Watch how to make In and Out Burger Lettuce Wraps
Ingredients & Substitutions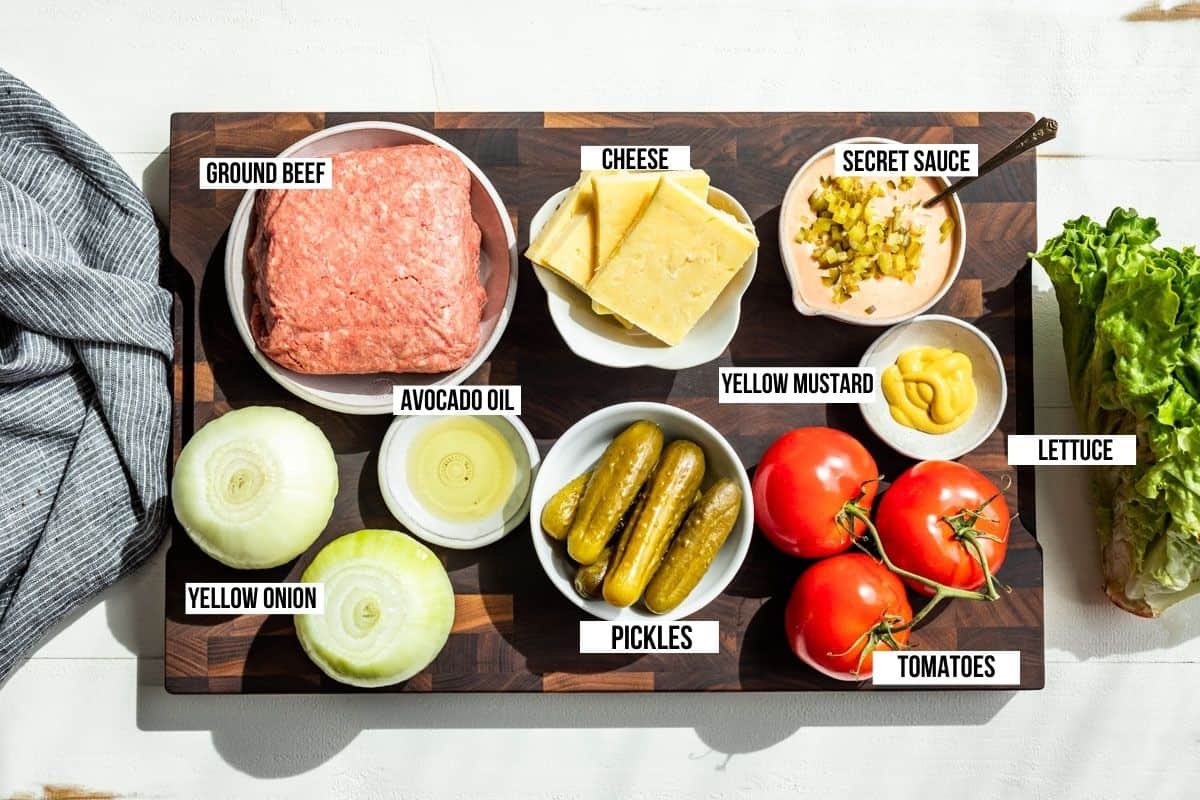 Ground Beef – is formed into 4 patties and grilled to place on the lettuce. Of you can also cook it on the stove top, breaking it up into small bits and make a burger bowl instead.
Yellow Mustard – smeared on one side of the burger and seared is a must for true In and Out flavor.
Sliced Cheese – we love aged cheddar because it adds so much flavor, but any cheese you love on a burger is perfect here. You can also omit the cheese for Whole30 or use your favorite dairy free cheese as well. Or you can use the classic slices of American cheese.
Yellow Onions – are cooked low and slow to create the caramelized onions that are a classic on animal style In and Out Burgers. Low and slow is everything to get the perfect flavor, you can't rush this process by turning up the heat. Perfectly caramelized onions take 25-30 minutes which gives you time to prep and cook everything else while occasionally stirring the onions.
Lettuce, Tomatoes, & Pickles – lettuce for the wrap and tomatoes and pickles for topping. Feel free to omit or add any toppings you love here. I use iceberg or green leaf lettuce for the wrap, but you can use spring mix, romaine, or butter lettuce if you make this into a burger bowl.
Secret Sauce – is made with mayonnaise, ketchup, and pickle relish. I make mine with sugar free ketchup and diced pickle in place of the relish, then add a touch of maple syrup to taste. You can also leave out any kind of sweetener to keep this burger wrap Whole30.
How to make this recipe step by step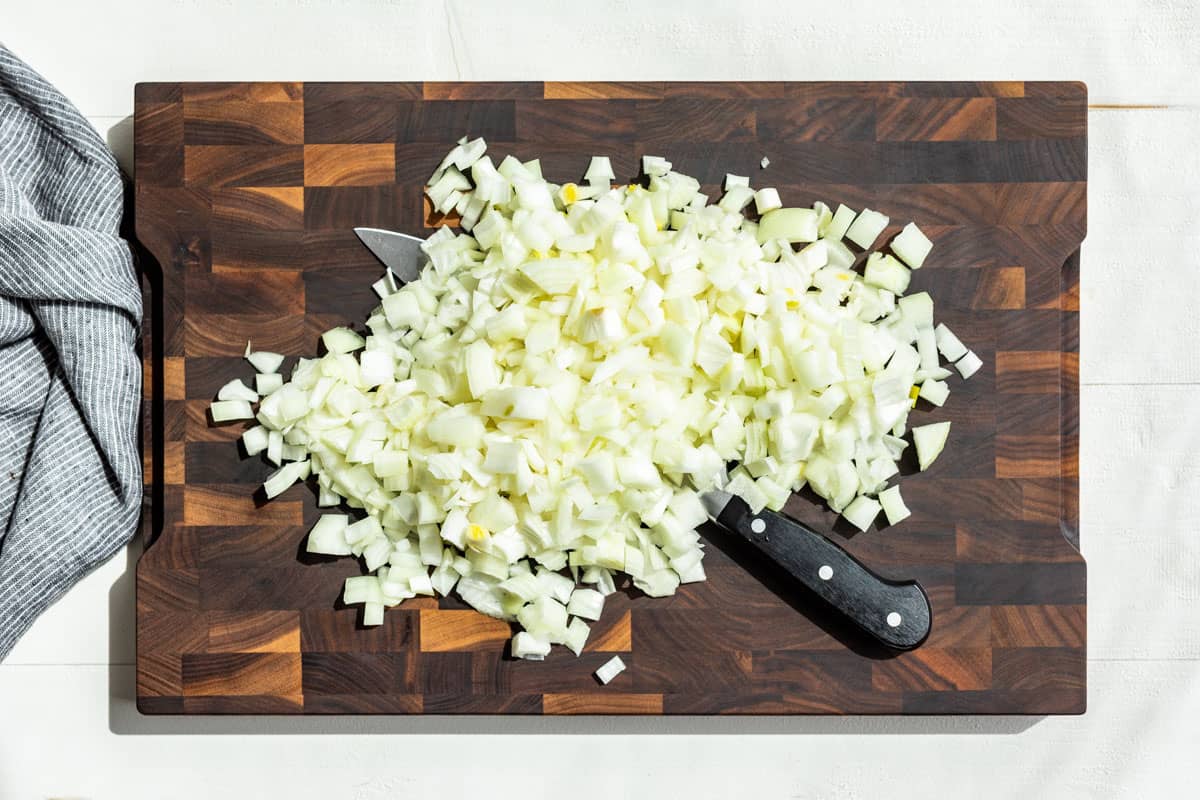 Step 1: Start by dicing the onions and get them cooking right away, they take 25-30 minutes to cook properly.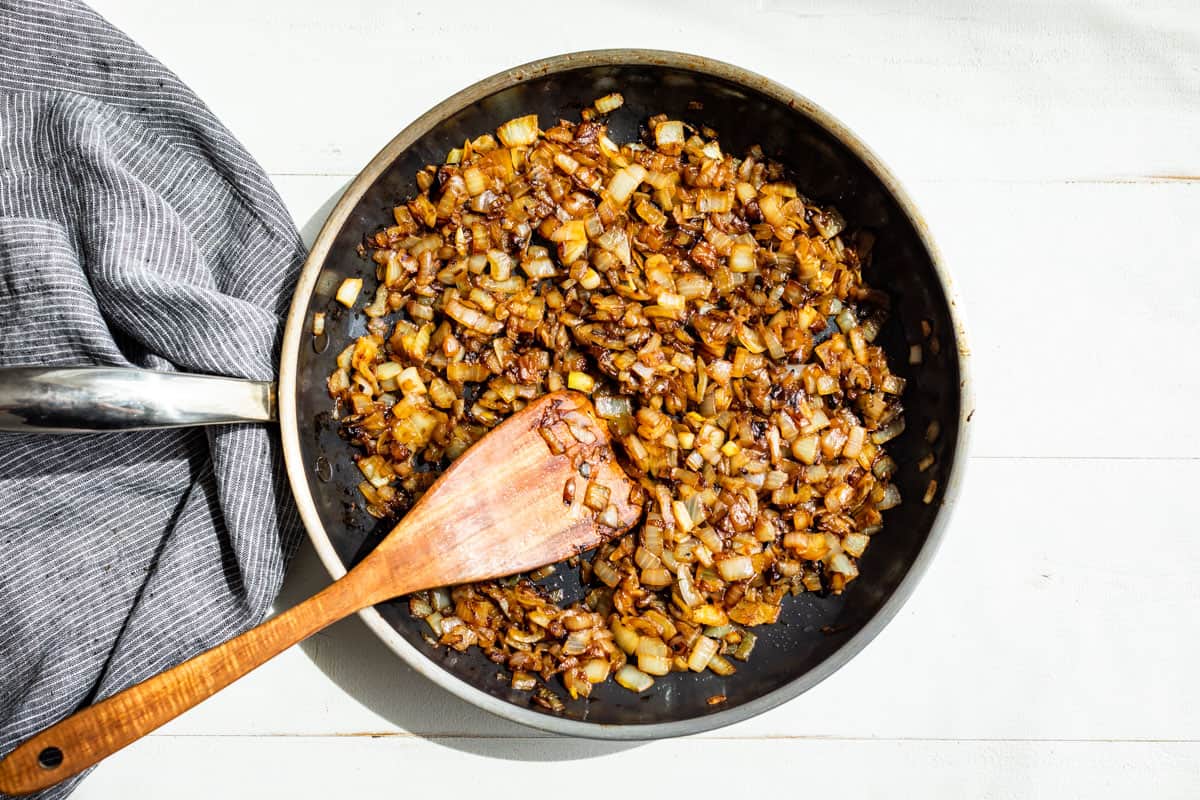 Step 2: Cook the onion starting on medium-high heat, then as the onions start to become translucent, turn the heat down to low or medium-low. Stir every few minutes as they slow turn a deep golden brown and caramelize. Turn the heat up or down to maintain a slow browning process.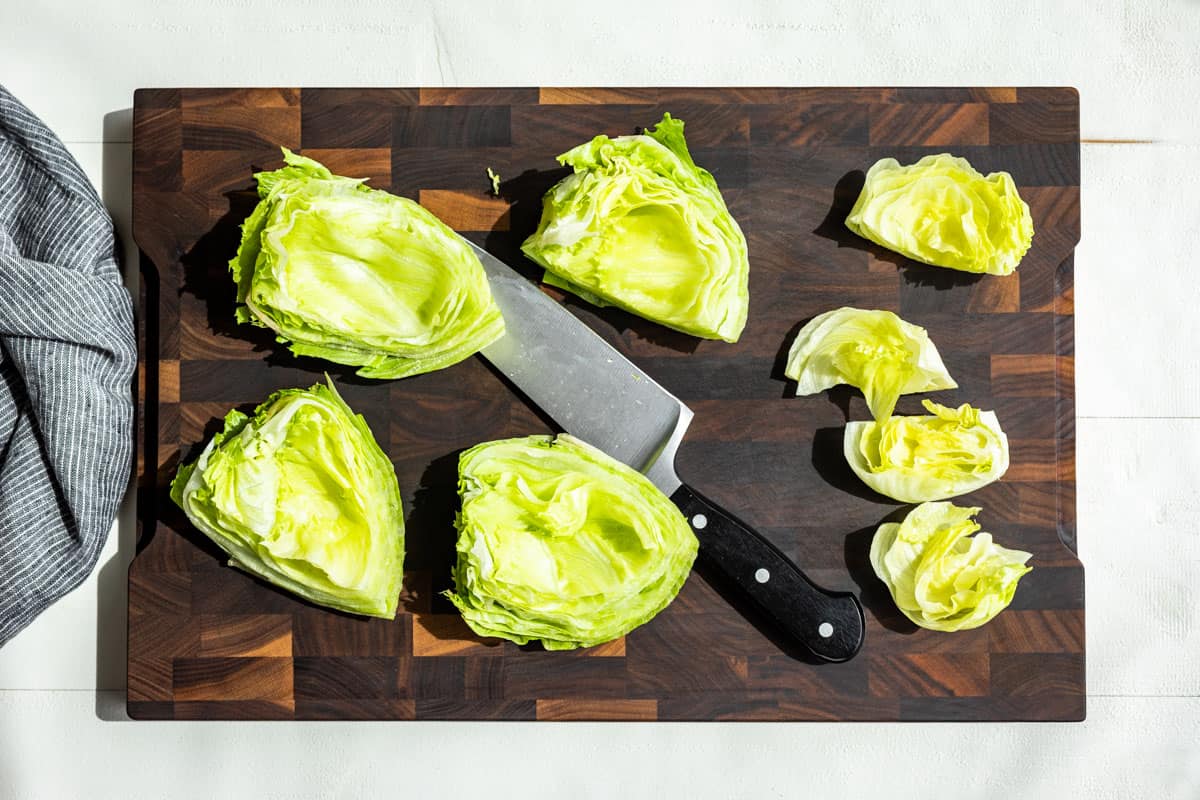 Step 4: Next Quarter the iceberg lettuce and remove the inner core to create 2 buns. Or you can also use several leaves from green leaf lettuce as a wrap or slice up the lettuce into bite sized pieces and make a burger bowl instead.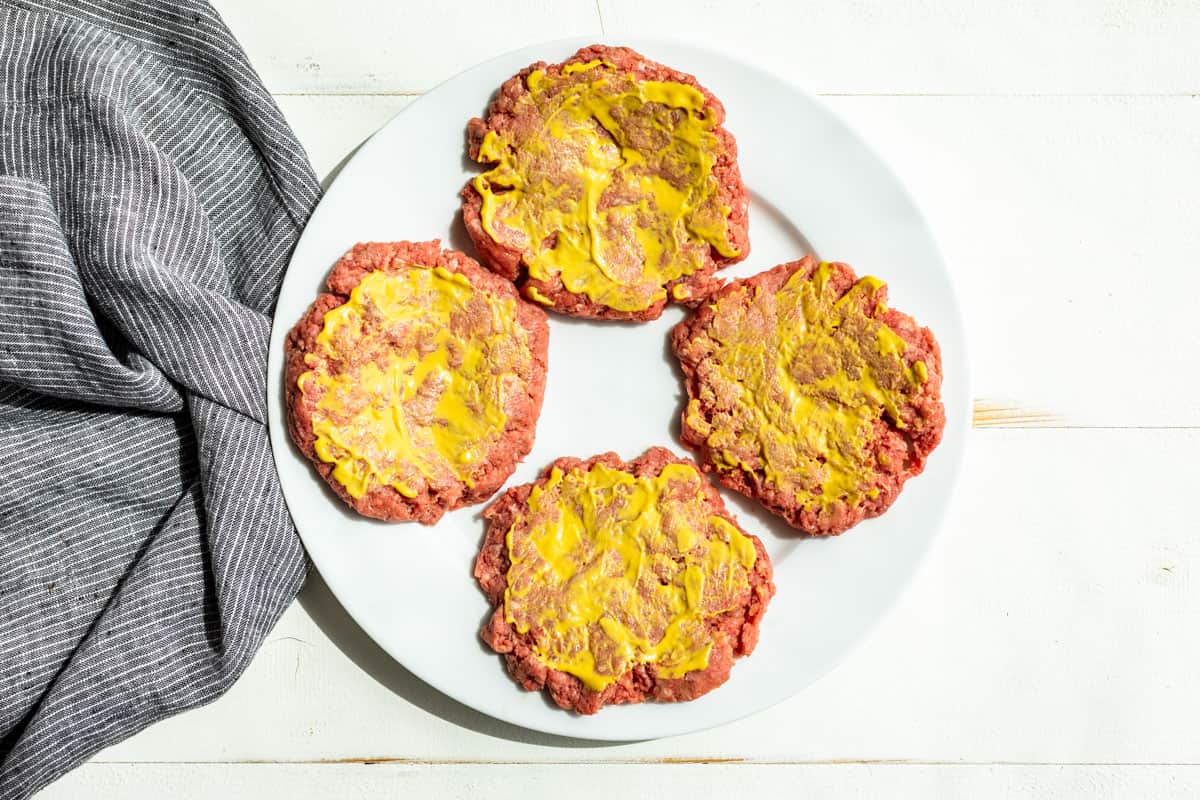 Step 5: Form the ground beef into 4 patties and smear the mustard evenly on one side of each burger.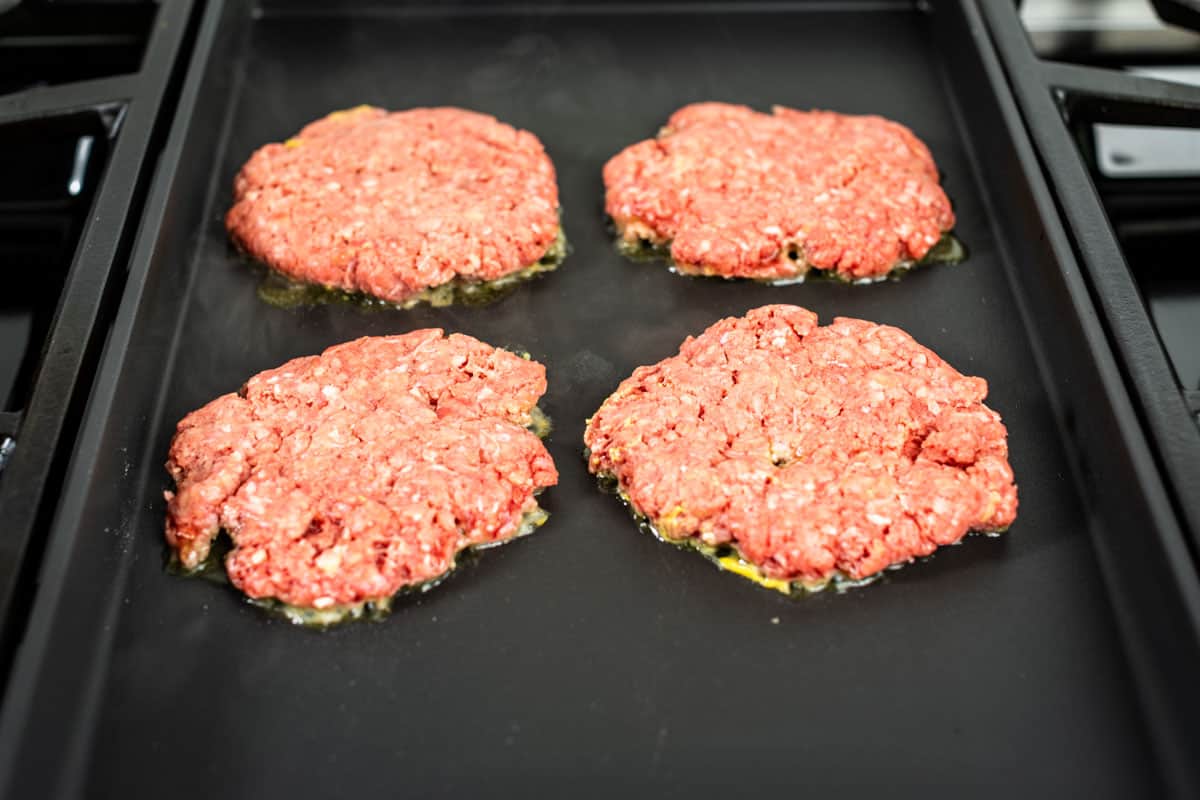 Step 6: Sear the beef patties mustard side down until the burgers are ready to turn. Then flip the burgers and add the optional slice cheese. The cheese will melt well on a grill over medium heat. But if you're using a griddle, partially cover the burgers with a heat proof lid to help melt the cheese.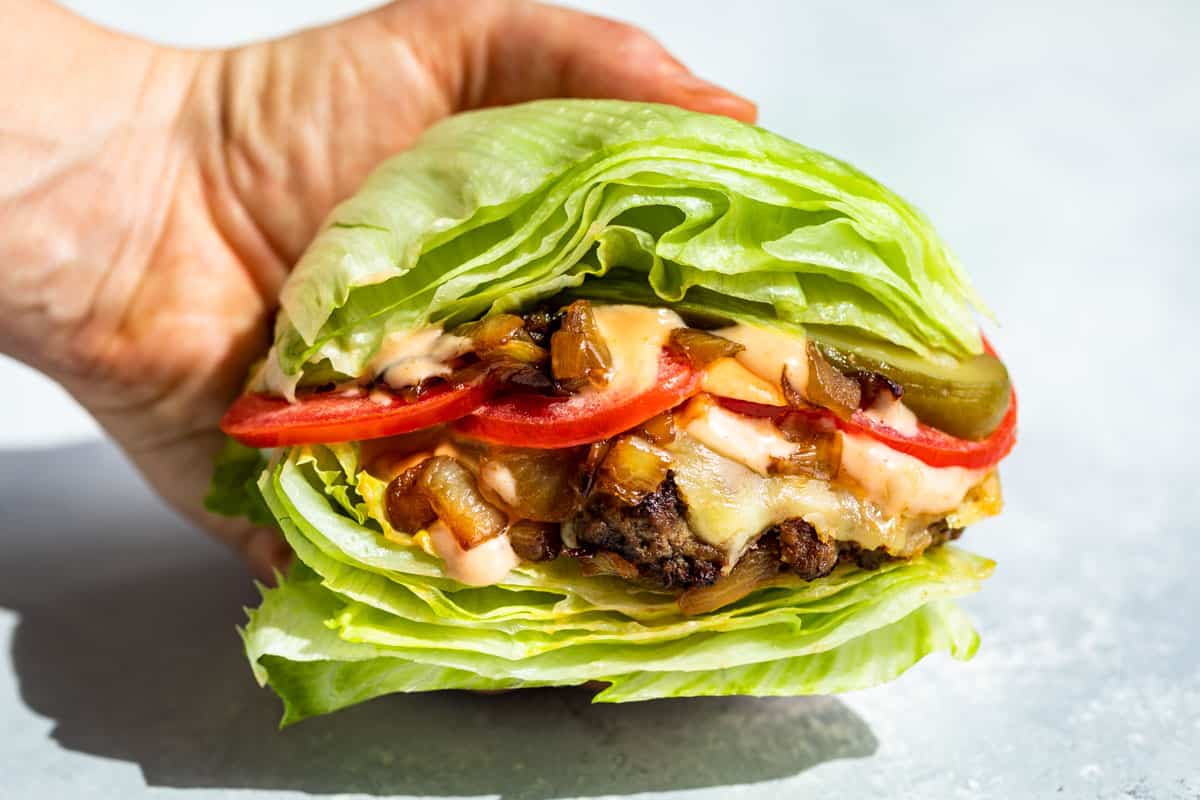 Step 7: When the burgers are finished, place a patty on one of the iceberg buns and top with all the toppings and plenty of sauce before adding the top iceberg bun. Or pile everything into a bowl and dive in!
Ways to serve this
As mentioned above, we often cut up the lettuce into bite sized pieces and make this recipe as a bowl meal rather than a wrap. It's much easier to eat and you can pile on more sauce this way. It also allows you to use just about any kind of lettuce you might have on hand.
Add some oven fries or grilled potatoes to the mix for a 'burger and fries' combo.
Finish with my Coconut Ice Cream or Coconut Lime Ice Cream in a cone for the classic summertime meal.
FAQ's
Can I use ground turkey or chicken in place of the ground beef for these burgers?
Yes the but the flavor will be much lighter and be careful not to overcook the turkey burgers. If you choose ground chicken, be sure to grease the grill very well or use a touch of oil on a griddle if using to make sure they don't stick.
How do I make these In and Out Burger Wraps Whole30?
Omit the cheese and be sure to use sugar free ketchup and pickles as well. I make my own homemade avocado oil mayonnaise but you can also use a quality brand like Chosen Foods.
Storing leftovers
To store – place any leftovers into separate containers and refrigerate for up to 4 days.
Reheat – I reheat extra burger patties by placing them in a small skillet with 1-2 tablespoons of water. Cover and steam until warmed through and the water disappears. Or you can microwave as well.
Freeze – the burger patties and the caramelized onions can be frozen in an airtight container for up to 6 weeks. Place in the fridge overnight to thaw before reheating.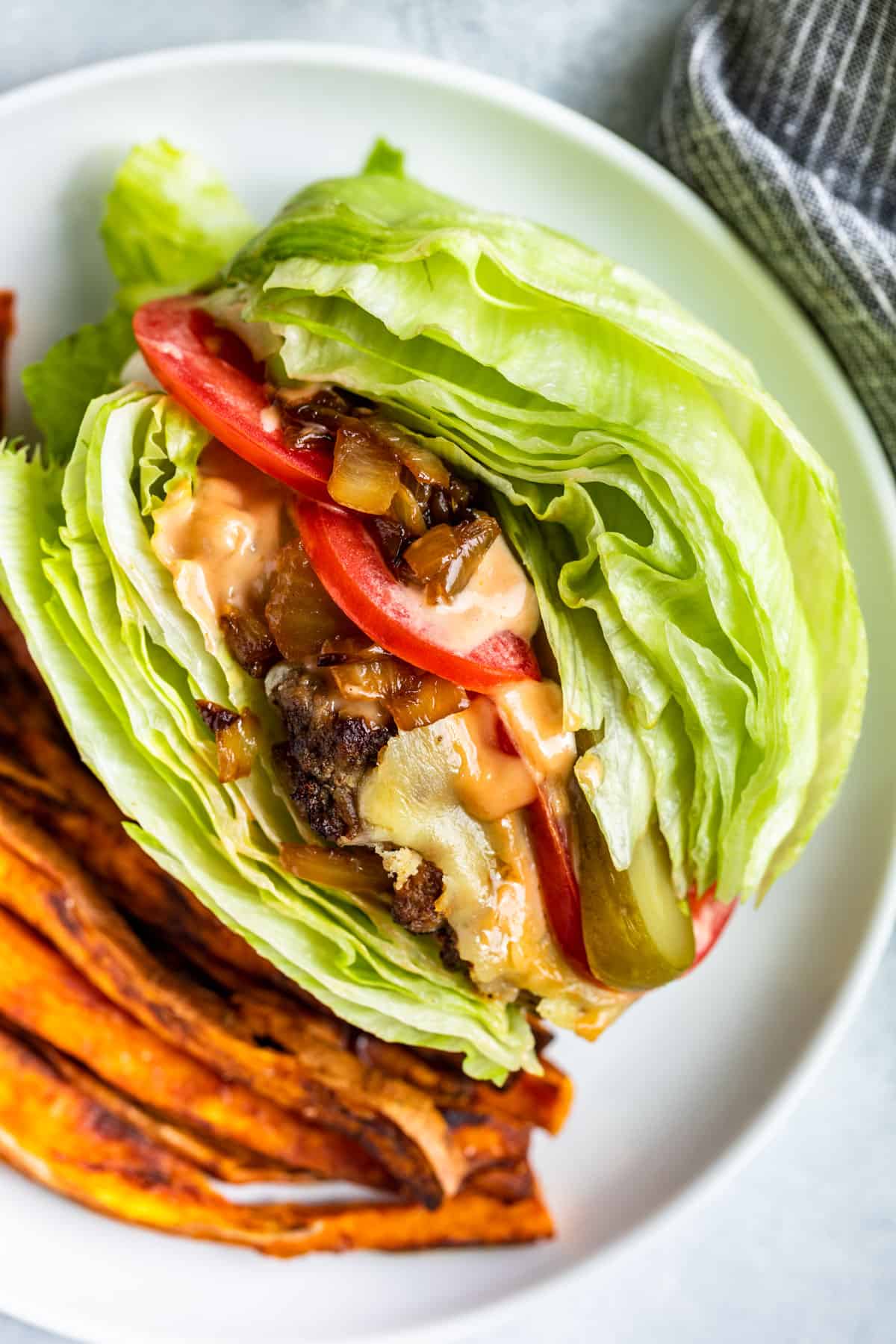 Tips & Tricks
To help keep the cheese 'mess' off your grill place a large cast iron skillet on the grill next to where you grill the patties. Then when it's time to flip the burgers place them into the preheated skillet and top with cheese. If you have a skillet smaller than 10″ you'll need to use 2.
Caramelized onions freeze well, so make a double or triple batch in a large pan and freeze the extra to make your next burger night even easier. Or if you're short on time, slice the onions and grill them with the burger patties for grilled onions instead. This is still tasty but never quite as good as the caramelized version.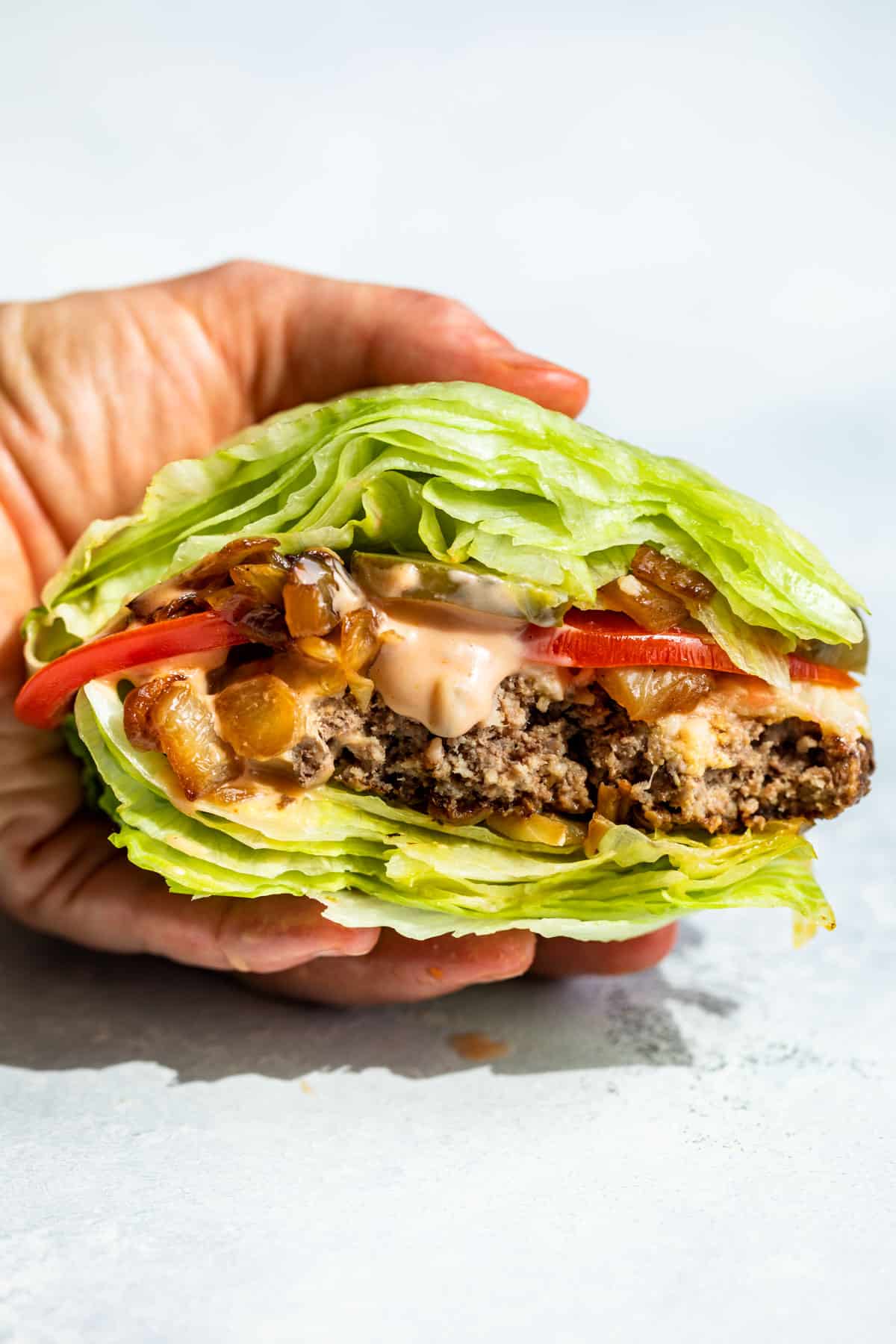 Summer dinner recipe inspiration
I really hope you enjoy these In and Out Burger Lettuce Wraps! If you do get a chance to make this recipe, I'd love to hear from you in the comments. And if you love burger bowls, try my Cheeseburger Salad with Secret Sauce Dressing or these Aloha Teriyaki Burger Bowls.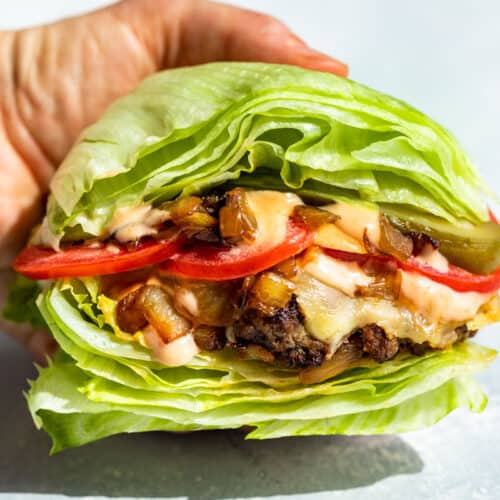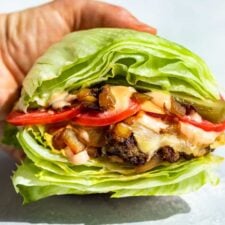 In and Out Burger Lettuce Wraps
---
INGREDIENTS
Caramelized Onions:
2

yellow onions

1

tbsp

avocado or olive oil

Sea salt to taste
Burgers:
1

pound

ground beef

-

shaped into 4 patties about 3/4″ thick

4

slices

cheddar cheese

-

see notes, omit for dairy free and Paleo

8

leaves

green leaf lettuce

-

washed and dried, or 2 small heads iceberg if preferred

2

tomatoes

-

sliced, 10 ounces

4

dill pickles

-

thinly sliced

2

tsp

yellow mustard
Secret Sauce:
1/4

cup

mayonnaise

-

I like avocado oil mayo

2

tbsp

ketchup

-

we use sugar free ketchup

1

tbsp

pickle relish

-

or minced dill pickle for sugar free

1/2

tsp

white wine vinegar

Optional: maple syrup or coconut aminos to taste
INSTRUCTIONS
Start by heating a large pan 10″ or larger over medium heat. While it heats prepare the onions by dicing them 1/2″ or cutting them into half moon slices.

Add the oil to the heated pan along with the sliced onions, and cook over medium or medium-low until the onions become softened and browned, about 20-30 minutes. Season to taste with sea salt and set the onions aside. You will have about 1 cup of caramelized onions.

Preheat the grill or griddle over medium heat until it reaches a steady temperature of 350-400ºF. While the grill heats prepare the burger ingredients and mix together your choice of secret sauce recipes.

For the burgers, divide the yellow mustard equally between the 4 patties, about 1/2 teaspoon per patty and spread it in a thin layer over one side of the burgers. You want to grill the mustard side down first.

Grill the burgers for 6-10 minutes per side depending on desired doneness, adding the optional cheese slices halfway through the cooking time when you flip the burgers.

When the burgers are done to your liking, serve them right away with all the toppings and secret sauce.
Bonus Step
If you made this recipe, please leave a rating/comment. Ratings really help us continue to bring you high-quality free recipes. Rate This Recipe!
NOTES
We really like sliced cheddar on these burgers. If you want to be extra authentic, buy a yellow cheddar, but be sure it's not chemically dyed but colored naturally.
The nutrition information is calculated with a 2 ounce slice of cheese on each burger and the sauce divided into 4 servings.
Secret sauce tends to be sweet, so you can add a bit of maple syrup to taste if you like.
nutrition facts
Calories:
497
kcal
|
Carbohydrates:
13
g
|
Protein:
27
g
|
Fat:
37
g
|
Saturated Fat:
12
g
|
Polyunsaturated Fat:
8
g
|
Monounsaturated Fat:
14
g
|
Trans Fat:
1
g
|
Cholesterol:
100
mg
|
Sodium:
950
mg
|
Potassium:
734
mg
|
Fiber:
3
g
|
Sugar:
7
g
|
Vitamin A:
3006
IU
|
Vitamin C:
17
mg
|
Calcium:
206
mg
|
Iron:
3
mg
This recipe was originally published in 2017 but has been updated with new photos, and lots more tips and information in 2022.