Summertime food at its best! This Grilled Chicken Caprese is super easy to make and packed with flavor. It's also a one-and-done dinner thanks to the added grilled zucchini. Everything is cooked on the grill, so there's virtually no cleanup and only a few minutes of prep work. It's popular with both kids and adults, and even better it's an easy showstopper for entertaining as well.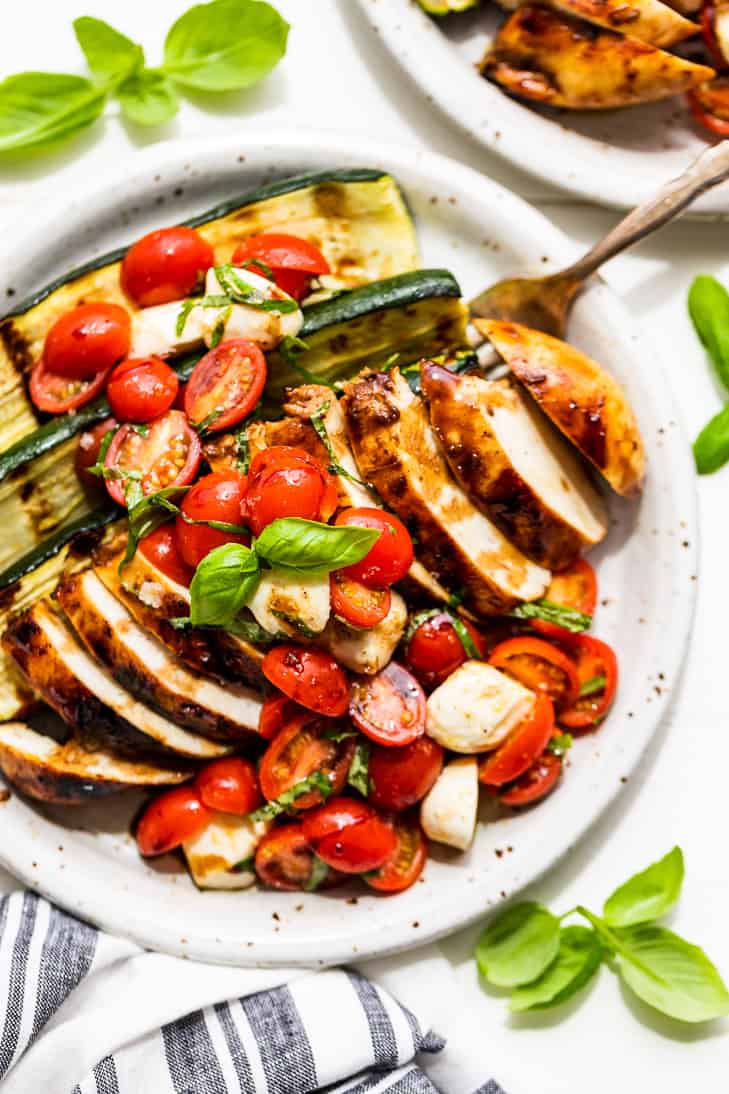 Is there anything better than vine-ripe tomatoes so full of flavor they're bursting at the seams, (sometimes quite literally)? I never get enough homegrown tomatoes. Their season is so short, and the flavor is incomparable.
Not that I don't buy out-of-season tomatoes or anything, (because I do, but they just can't compare!). I just really appreciate the real thing when I have it. And… as a side note when you are buying out-of-season tomatoes, cherry tomatoes always have the most flavor and best texture.
One of my favorite ways to celebrate tomato season is the classic Caprese Salad. This time I've taken my usual recipe, and transformed it into a topping for a simple grilled chicken with some garden zucchini.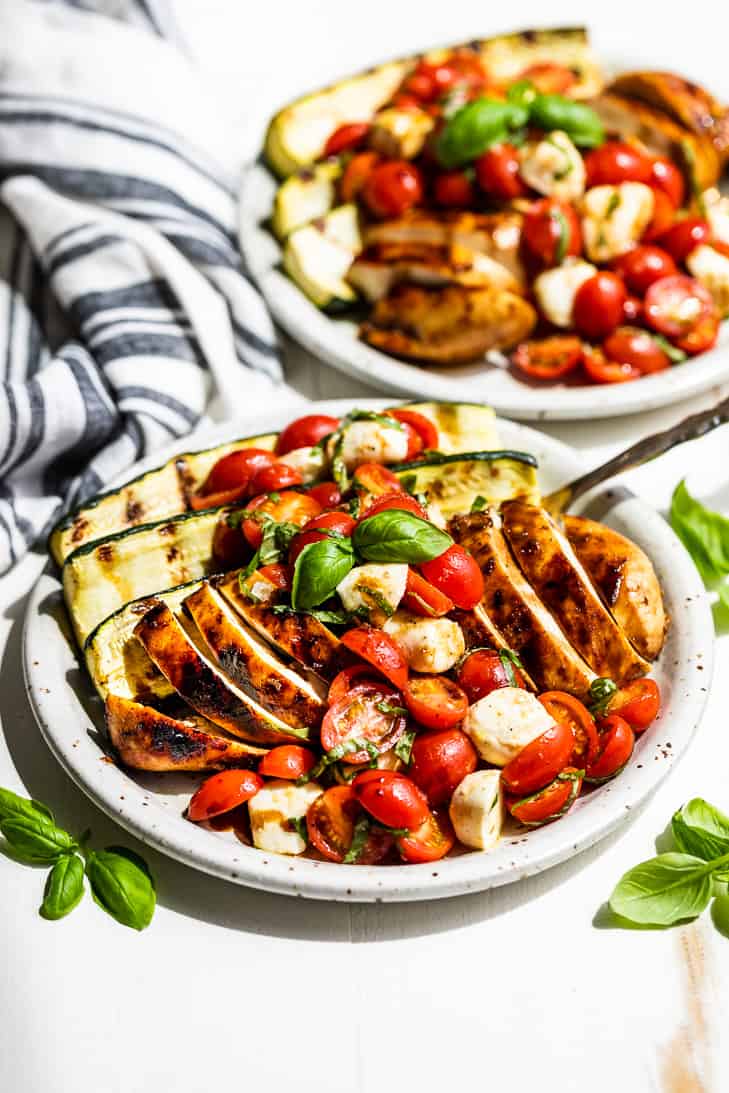 Watch how to make Grilled Chicken Caprese
And can we talk zucchini for a minute? We're finally getting to that stage where the zucchini is taking over the garden. I mean it's sending out vines in all directions, and they're all bearing fruit. If you're having similar 'problems' be sure to check out my zucchini post below!
Do you have too much zucchini too? Check out my 35 Healthy Zucchini Recipes or my 5 Ways to Use Up Large Amounts of Zucchini!
But… back to the topic at hand. This simple meal with minimal prep and all the best flavors of summer has quickly become a household favorite. With all the bright colors, it makes for a great presentation if you're having company over. But true to my usual style it's so simple you could make it on a weeknight.
Now let's jump in and make this recipe step by step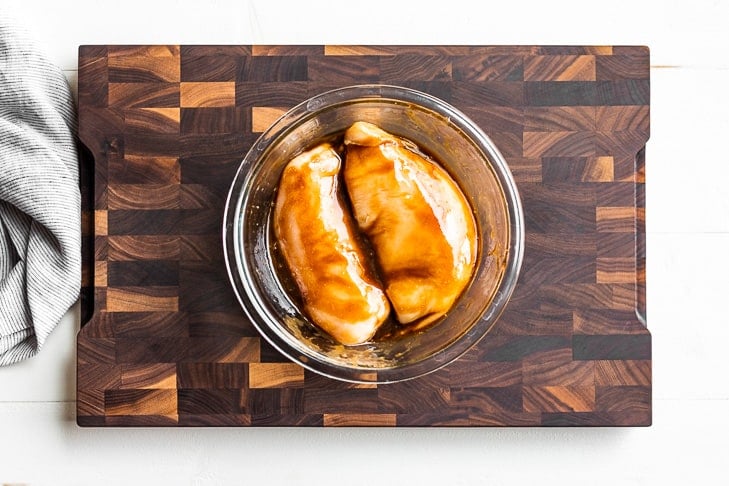 Step 1: I like to marinate the chicken overnight for the best flavor. But I also tried it out with a 2 hour marinade and that worked as well. It's really important to control the heat when you're grilling chicken that's been marinated.
If the grill gets too hot the chicken will burn before it cooks all the way through.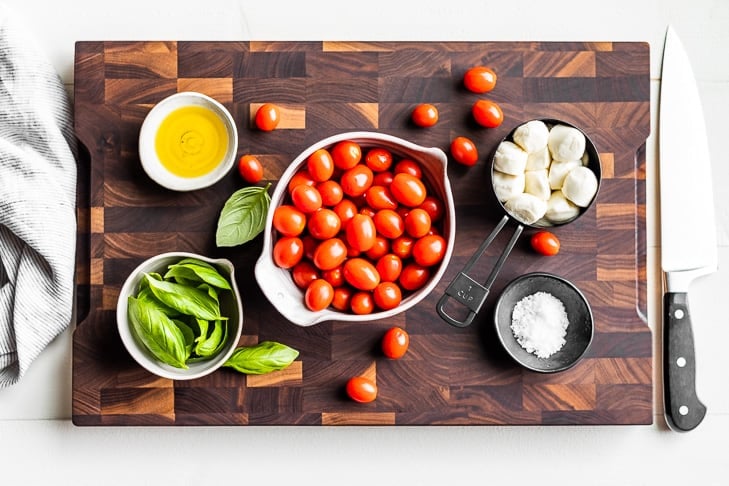 Step 2: I always like to let my Caprese salad 'marinate' a bit before serving it. I just think it tastes a bit better once the olive oil has had a bit of time to soak in.
You can also add the chopped basil if the salad topping is only sitting for 15 minutes or so.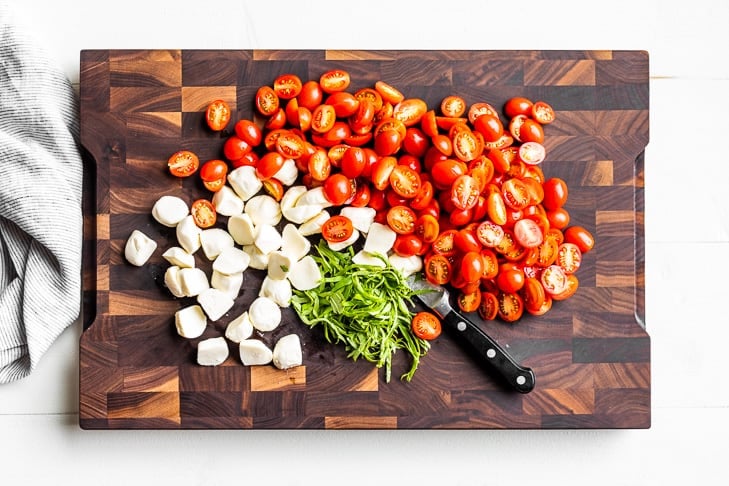 But if you're storing it in the fridge for any length of time be sure to add the basil before serving (it has a tendency to turn brown quickly). I also like to cut the mini mozzarella pearls in half for more bites of mozzarella.
Another quick tip is to make sure the salad is at room temperature for serving because the flavor will be much more intense. In the ideal world, the tomatoes would never set foot inside the refrigerator and just go straight from sun-warmed to salad!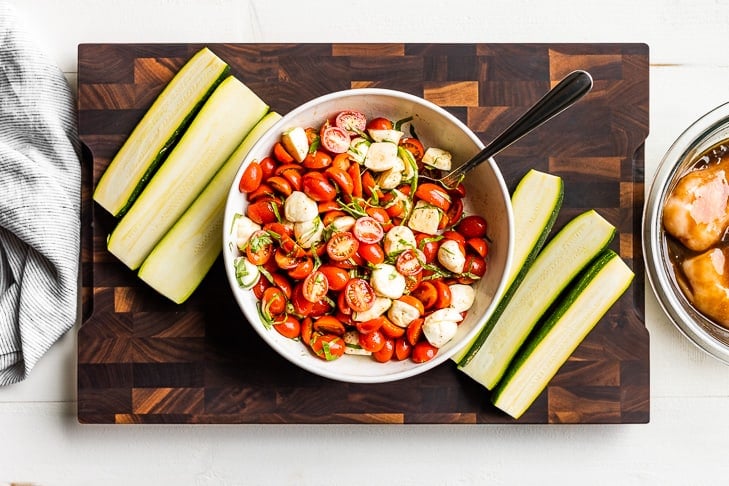 Step 3: After you've mixed together the Caprese salad, set it aside and preheat the grill, then slice the zucchini in half.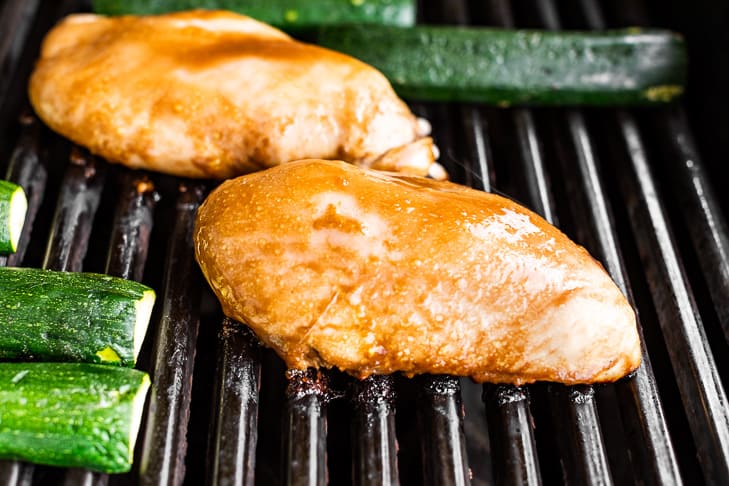 Step 4: Grill the chicken and zucchini over medium to medium-high heat until the chicken is ready to turn over, about 8-12 minutes depending on size.
Also if your zucchini is on the small side, it might be ready to turn in as little as 5-6 minutes.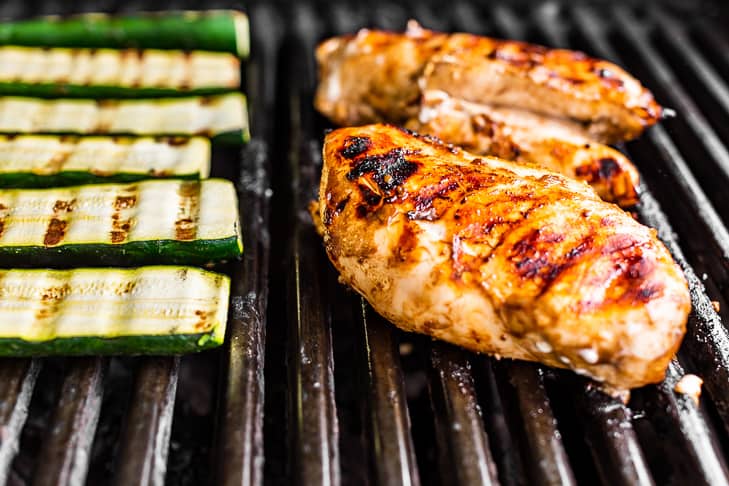 Step 5: After turning the chicken and zucchini, grill until the zucchini is tender and the chicken is done about 8-10 more minutes.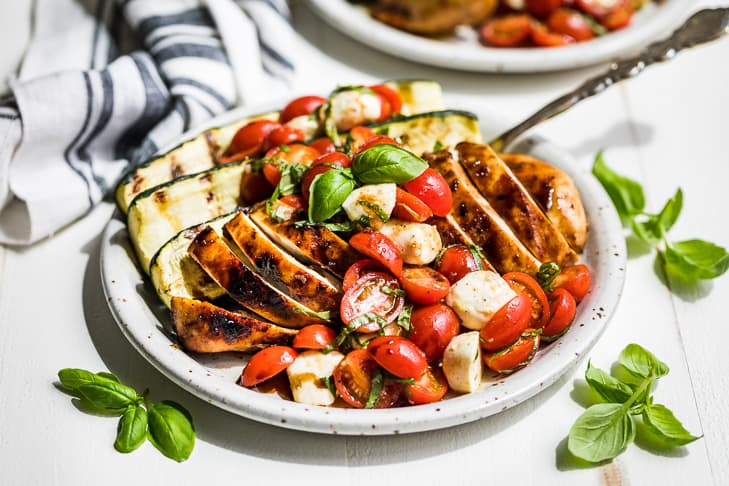 Step 6: Serve everything family-style, or slice the chicken and plate with the Caprese salad and zucchini. For a final flourish, I like to drizzle the whole plate with a balsamic reduction and a sprinkle of flaked finishing sea salt.
If you're interested in making your own balsamic reduction, I gave a quick run down on my Watermelon Feta Spinach Salad.
Tips & Tricks
If you can't find mozzarella balls, get any fresh mozzarella available and cut it up into bite-sized pieces.
When you can, marinate the chicken overnight for the deepest flavor. You can also use chicken thighs here, just be aware they cook faster.
Make sure your grill is clean and oil the grates to make sure the chicken doesn't stick. If your grill is well-seasoned and clean, you shouldn't need to worry about it. Also, it's important to keep the temperature within range of what I've listed so the chicken cooks through without burning on the outside.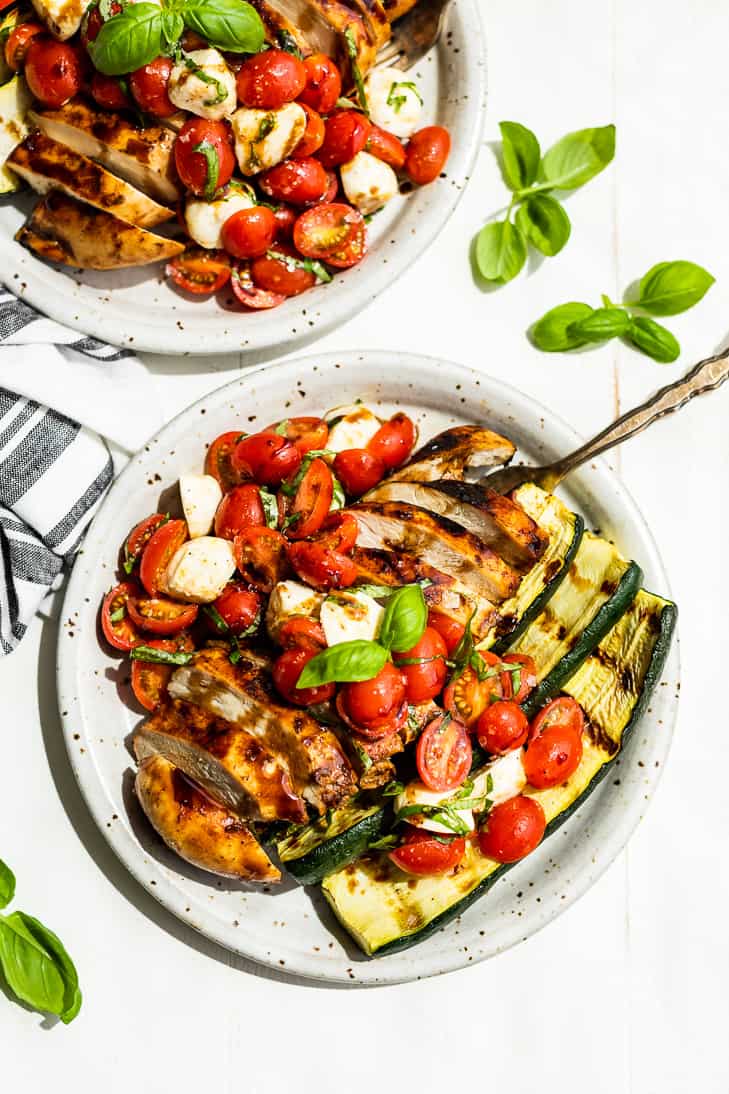 The little finishing touches make a dish seem special, (and they really add to the flavor). But it only takes a couple of extra seconds to achieve a gorgeous restaurant-worthy plate! I really hope you enjoy this super simple summer meal.
And if you do get a chance to make it, I hope you'll leave me a comment/rating below. I always love hearing from you here! And if you're looking for more fresh meals, try my 70 Light Summer Dinner Ideas.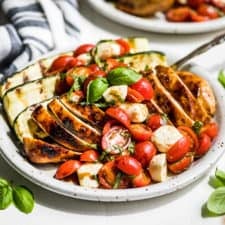 INGREDIENTS
Balsamic Grilled Chicken:
1.5

pounds

boneless skinless chicken breasts

-

2-3, see notes

2

tbsp

extra virgin olive oil

2

tbsp

balsamic vinegar

1

tbsp

maple syrup -

I used Grade A

1/2

tsp

sea salt
Caprese Salad Topping:
1

pound

of cherry tomatoes

-

halved equaling 4 cups

6

ounce

fresh mozzarella pearls

-

drained and halved

1

tbsp

extra virgin olive oil

8

large leaves of basil

-

1/4 ounce

Flaked finishing sea salt to taste

Balsamic reduction or balsamic vinegar
Optional:
For the grilled zucchini I used 8 ounces per person for a total of 2 pounds. Slice off both ends and split in half down the middle.
INSTRUCTIONS
Place the chicken breasts in a glass container and add the marinade ingredients. Mix everything together well, cover and refrigerate overnight or at least 2 hours.

After the chicken is marinated, preheat the grill over medium high heat.

While the grill heats prepare the Caprese Salad Topping by mixing together the cherry tomatoes, mozzarella pearls, and olive oil.

Slice the basil by stacking all the leaves together. Then roll them up and slice them as thinly as possible to create a chiffonade. Mix the basil into the salad and let it sit while the chicken cooks.

When the grill temperature has reached 400ºF, place the chicken on the grill and immediately lower the heat to medium. Discard any leftover marinade.

Grill for 8-10 minutes or until the chicken loosens up from the grill and is easy to turn over. Continue cooking for another 8-10 minutes or until the chicken is no longer pink in the center. The cooking time will always vary depending on the size of your meat.

When the chicken is done remove it from the grill and let it set for a couple of minutes on a cutting board. Slice the chicken and serve it topped with the Caprese Salad. Drizzle the whole plate with balsamic reduction and sprinkle to taste with the finishing sea salt.
Bonus Step
If you made this recipe, please leave a rating/comment. Ratings really help us continue to bring you high-quality free recipes. Rate This Recipe!
NOTES
Mozzarella balls/pearls are tiny balls of mozzarella sometimes called by their Italian name, Bocconcini. If they're not available you can substitute any good quality fresh mozzarella cut or torn up into small bite-sized pieces.
I usually grill the chicken breasts whole, then cut them in half to make 4 servings. You can also use 4 small chicken breasts, or cut 2 large chicken breasts in half lengthwise and reduce the cooking time.
nutrition facts
Calories:
480
kcal
|
Carbohydrates:
18
g
|
Protein:
48
g
|
Fat:
25
g
|
Saturated Fat:
6
g
|
Polyunsaturated Fat:
2
g
|
Monounsaturated Fat:
9
g
|
Trans Fat:
0.02
g
|
Cholesterol:
124
mg
|
Sodium:
553
mg
|
Potassium:
1500
mg
|
Fiber:
3
g
|
Sugar:
14
g
|
Vitamin A:
1101
IU
|
Vitamin C:
69
mg
|
Calcium:
221
mg
|
Iron:
2
mg
This post was originally published in 2015 but has been updated with new photos, new tips and information, and nutritional facts.