This Strawberry Cheesecake Ice Cream is the ultimate summery ice cream flavor! This recipe is easy to make and comes together in just minutes in the blender. It's loaded with fresh strawberry flavor which combines so well with cheesecake flavor. It's naturally gluten-free, the perfect crowd-pleaser for a backyard bbq, and kids go crazy for it! You'll also find some tips below for how to make this dairy-free as well.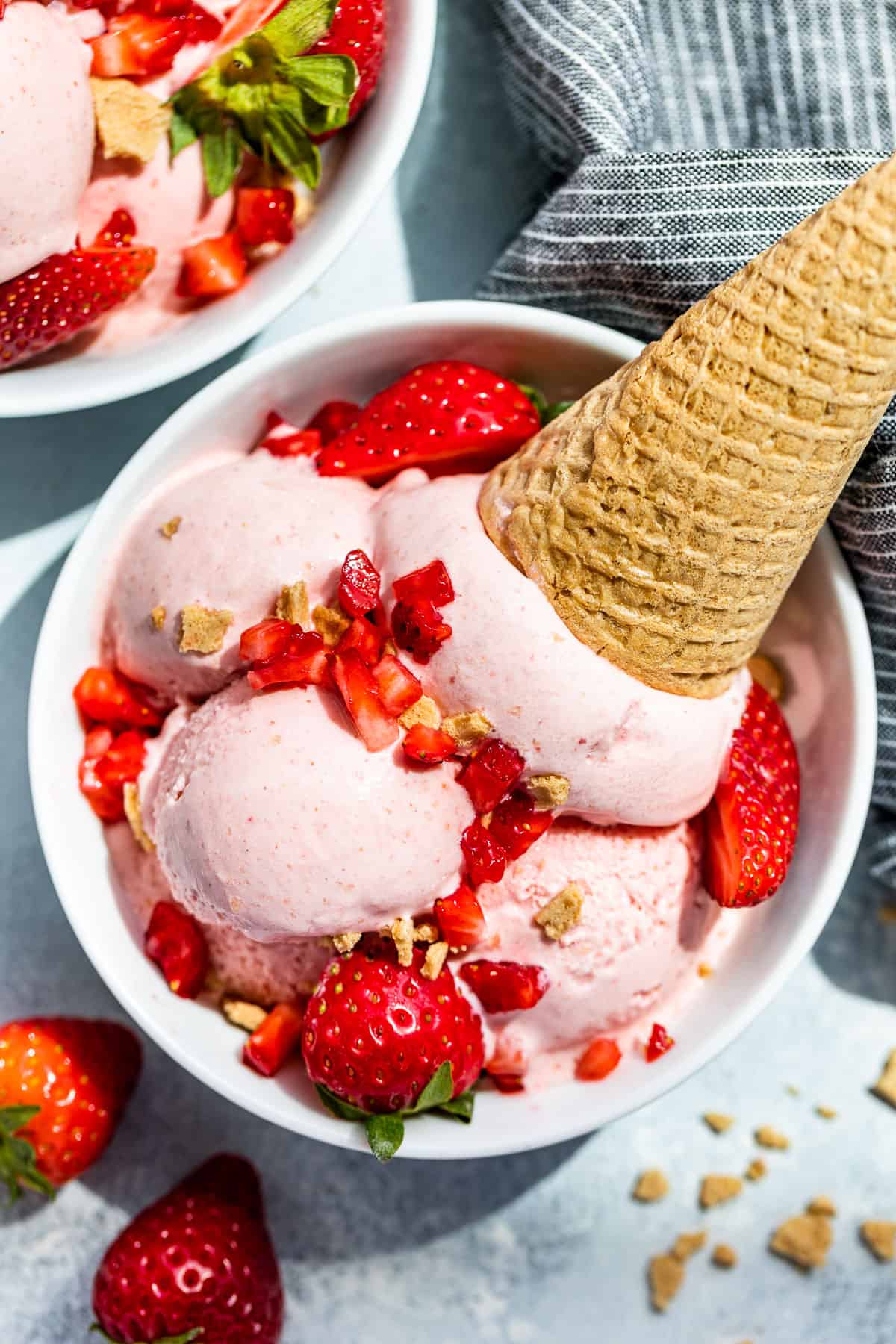 I wait all year long for fresh ripe strawberries, and then I eat as many as humanly possible. And today we're combining two of my favorite desserts – cheesecake and strawberries.
Local fresh berries have to be one of the most elemental pleasures of summer. Perfectly sun-warmed, sweet, and juicy: there's nothing quite like them.
I like nothing better than to sit down with a big bowl and eat until I can't eat anymore. (Then repeat this day after day until strawberry season is over)! But once you've had your fill, you'll most definitely want to make this homemade ice cream.
This strawberry cheesecake ice cream is what's called 'Philidelphia style' which means there's no custard base made with eggs. This means it's super quick and easy to make, perfect for hot summer days.
But you can also make this with frozen berries to extend those summer vibes throughout the year!
Ingredients & Substitutions
Cream cheese – full-fat cream cheese is what gives you both great texture and the 'cheesecake' flavor in this ice cream.
Heavy cream & Half and half – heavy whipping cream has 36%-40% milk fat and half and half is 10.5%-18% milkfat. The combination of the 2 listed in the recipe makes the perfect ratio for super creamy ice cream.
Sweetener – I use either honey or Grade A amber maple syrup in this ice cream. Honey has a more prominent flavor and needs to be liquid to mix in properly. Grade A amber maple syrup has a more subtle flavor and is easy to mix in. I wouldn't sub in cane sugar because it won't dissolve properly. Instead, try using sifted powdered sugar to taste.
Strawberries – both fresh and frozen strawberries work in this ice cream. You want berries that are ripe because the most flavorful. If you use frozen strawberries, allow them to defrost first so they blend well together with the other ingredients.
Vanilla – adds depth of flavor and enhances the cheesecake flavor.
Sea salt – just a touch is essential to bring out all the best flavors in this ice cream.
How to make this recipe step by step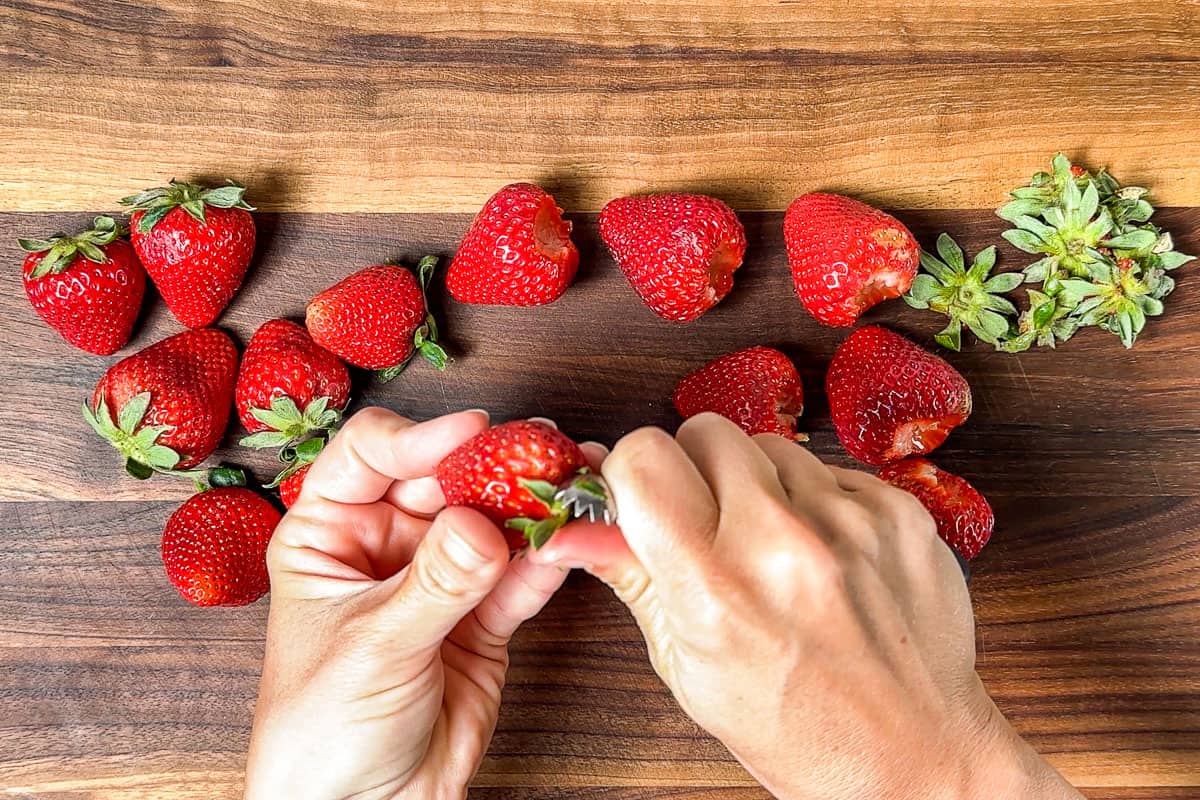 Step 1: Start by washing and hulling the fresh strawberries. Or if you're using frozen strawberries, allow them to defrost first.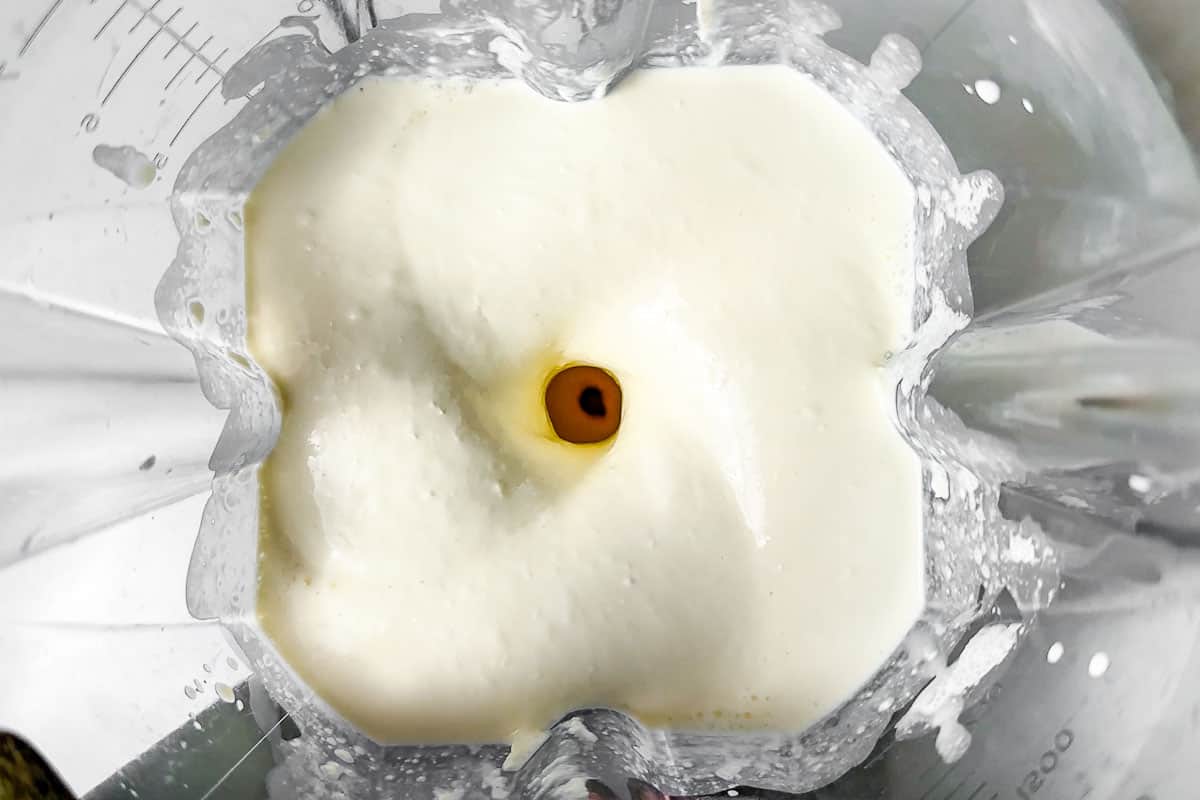 Step 2: Start by blending the softened cream cheese with the heavy cream and half and half. When this mixture is smooth, add the honey with the motor running on low so it doesn't clump together. You don't need to worry about this if you use maple syrup.
Step 3: Next add the strawberries and blend again just until smooth.
Chill the ice cream base mixture until it's cold before freezing it in your machine. If you add a room-temperature ice cream base to an ice cream machine the ice cream machine will melt before it can fully freeze your ice cream base.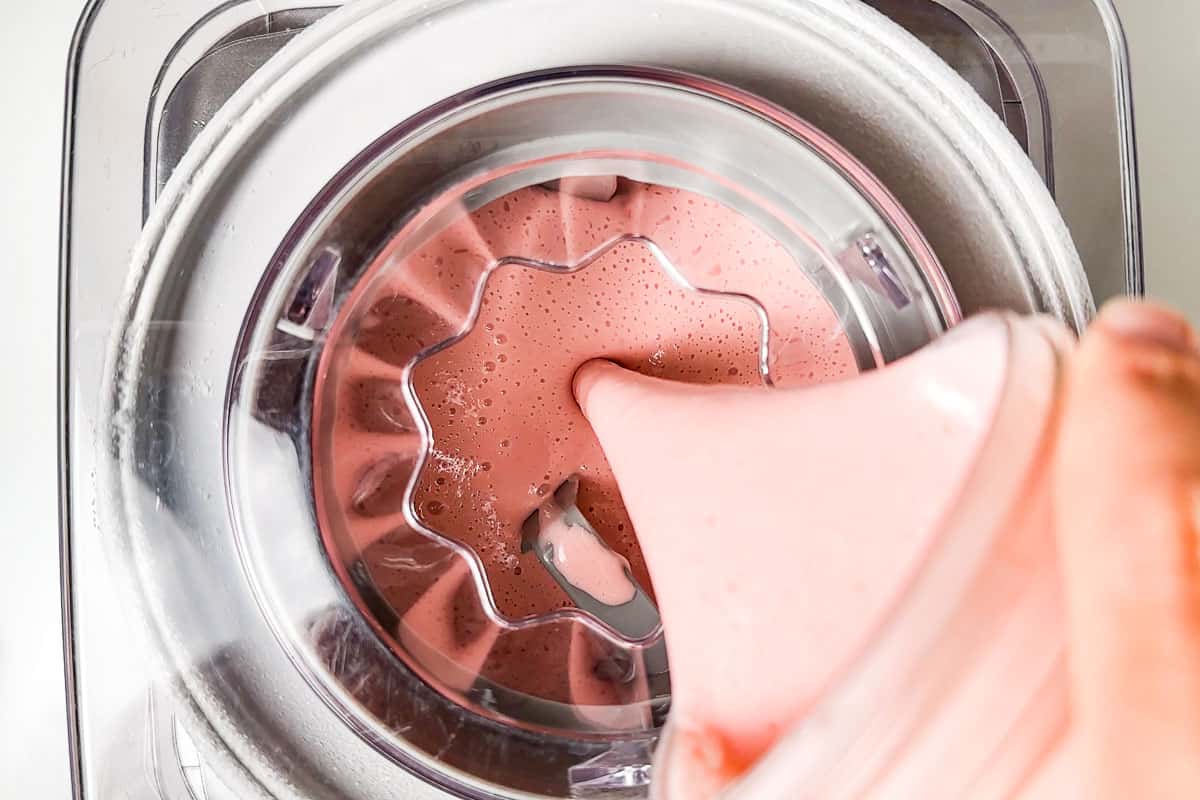 Step 4: When the ice cream base is chilled, pour the ice cream mixture into your ice cream maker to freeze.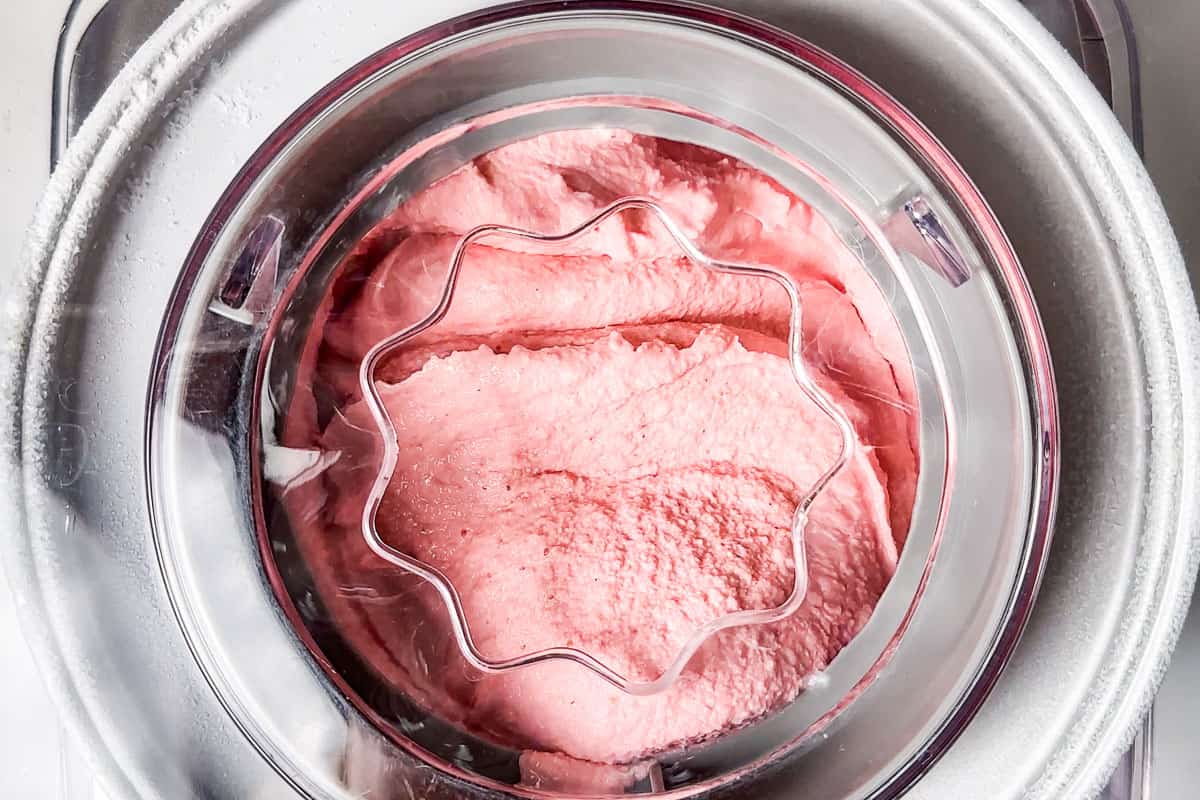 Step 5: Freeze according to the manufacturer's instructions. When the ice cream base has turned to a soft serve texture as pictured above, it's done.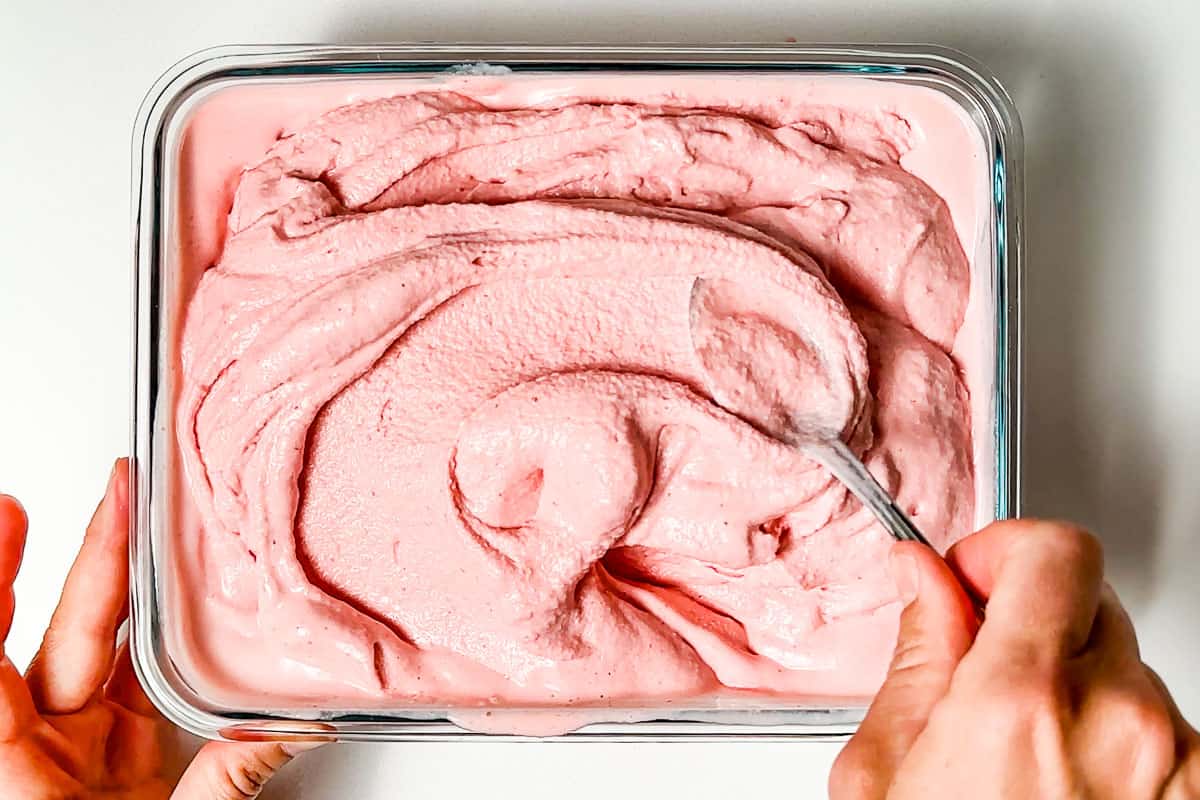 Step 4: Remove the ice cream from the ice cream maker and transfer it to a freezer-safe container. Freeze for 3-4 hours for a firmer texture.
Bonus points – stir the ice cream every 30 minutes as it freezes to break up any crystallization for a smoother texture.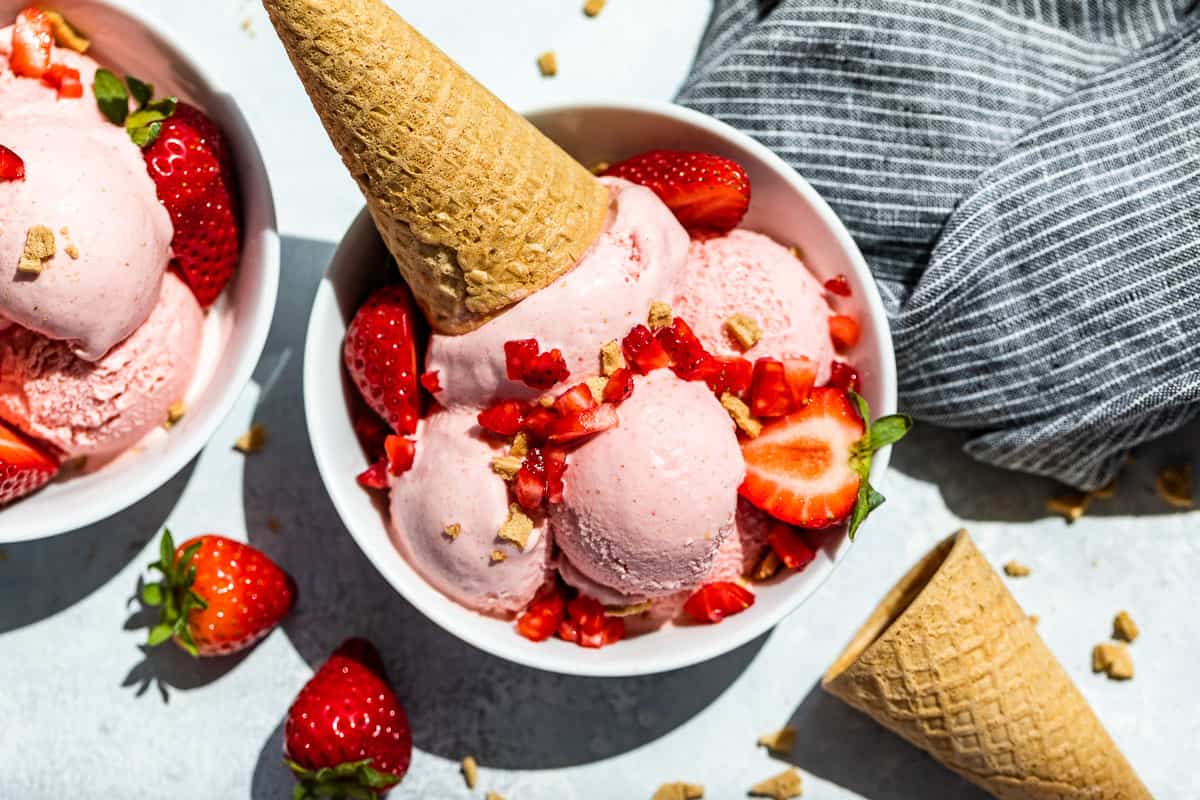 Ways to serve this
For the full cheesecake effect, serve scoops of this ice cream with a waffle cone or graham crackers crumbled over the top.
More fresh strawberries are also really good with this ice cream. Or try this with my Strawberry Compote or a strawberry sauce.
This ice cream makes a great filling for my ice cream tart recipes. Try it in my Chocolate Cherry Ice Cream Tart recipe in place of the ice cream called for and top it with fresh strawberries instead of cherries. Or try it in my Salted Caramel Ice Cream Tart. Add the strawberry cheesecake ice cream to the tart crust without swirling in the caramel sauce. Then when you're ready to serve top the ice cream tart with fresh strawberries and drizzle with caramel sauce.
FAQ's
What can I substitute for heavy cream in this ice cream recipe?
The amount of heavy cream and half and half called for makes the perfect amount of milkfat for creamy ice cream. I don't recommend substituting anything for the heavy cream or half and half for the best results.
How can I make this recipe dairy free?
You can use dairy-free cream cheese and sub in canned coconut milk for the heavy cream and half and half. It will be slightly less creamy and I recommend serving the dairy-free version at a softer texture. It will be rock hard fully frozen.
Storing leftovers
To store – place any leftover ice cream into a freezer-safe container and freeze for up to 1 month.
Make ahead – ice cream is the perfect make-ahead recipe. This ice cream does freeze to a very firm texture, so I recommend removing it from the freezer to the fridge for about 45 minutes before serving. It works great to do this right before you're ready to sit down for dinner. For the ultimate creamy texture, make this ice cream the day you're going to serve it about 3-4 hours before.
Tips & Tricks
Graham crackers would be the most traditional flavor pairing for cheesecake, but I use waffle cones because they're easy to find gluten-free and I usually have them on hand. But feel free to use whatever works best for you. Crushed vanilla or chocolate cookies are also good. I also like to add the crumbled waffle cone over the top right as I'm serving it rather than mixing it in. The mix-ins will get soft as they sit, and I prefer it to be nice and crunchy.
Don't be tempted to try and reduce the fat in this recipe in any way or it will compromise the texture. The same is true with the sweetener, it's essential for a softer ice cream.
You can also use raspberries, blackberries, or blueberries in this recipe. If you use raspberries or blackberries, you'll need to strain out the seeds with a fine mesh sieve after you blend the ice cream base.
Dietary Options & Substitutions
Dairy-free, Paleo, Vegan, or Vegetarian – Use dairy-free cream cheese, and sub in canned coconut milk for the heavy cream and half and half. The ice cream will be slightly less rich and should be served with a softer texture as it's rock hard when fully frozen.
You could also make one of the dairy-free ice creams listed below or check out my Inspired Ice Creams e-book for even more dairy-free ice cream recipes.
More Ice Cream Recipe Inspiration
I really hope you enjoy this Strawberry Cheesecake Ice Cream! If you do get a chance to make this recipe, I'd love to hear from you in the comments.
Strawberry Cheesecake Ice Cream
---
INGREDIENTS
8

ounce

cream cheese

-

full fat, softened

1

cup

half and half

1

cup

heavy cream

4

cups

strawberries

-

1 pound, washed and hulled

1/2

cup

honey

-

liquid at room temperature, or 3/4 cup Grade A amber maple syrup

1

tbsp

vanilla extract

pinch

sea salt

1

lemon

-

juiced
Toppings:
waffle cones or graham crackers

-

to crumble over the top

fresh sliced/diced strawberries
INSTRUCTIONS
Place the cream cheese, half and half, and heavy cream in the blender. Blend just until smooth.

With the motor running at low speeds add the honey in a drizzle until completely combined so it doesn't clump.

Add the strawberries, vanilla, sea salt, and freshly squeezed lemon juice and blend again until smooth.

Place the mixture in the refrigerator until chilled, 3-4 hours.

Pour into a 2-quart ice cream maker and freeze until the mixture thickens enough to hold on a spoon and is a soft-serve texture.

You can serve the ice cream immediately, or transfer it into a bowl and freeze for 3-4 hours until it's firmer.
Bonus Step
If you made this recipe, please leave a rating/comment. Ratings really help us continue to bring you high-quality free recipes. Rate This Recipe!
NOTES
You can also use frozen strawberries. Let them defrost and keep the juices before adding them to the blender.
The nutritional facts were calculated without the toppings.
nutrition facts
Calories:
448
kcal
|
Carbohydrates:
38
g
|
Protein:
6
g
|
Fat:
32
g
|
Saturated Fat:
20
g
|
Polyunsaturated Fat:
2
g
|
Monounsaturated Fat:
8
g
|
Cholesterol:
97
mg
|
Sodium:
157
mg
|
Potassium:
330
mg
|
Fiber:
2
g
|
Sugar:
33
g
|
Vitamin A:
1249
IU
|
Vitamin C:
67
mg
|
Calcium:
128
mg
|
Iron:
1
mg
This recipe was originally published in 2013 and updated in 2023 with new photos and more tips and information.