Summer flavor in just 15 minutes, this Strawberry Compote is perfect paired with ice cream, yogurt, or cheesecake. You can make this recipe year-round with either fresh strawberries or frozen strawberries. That way you can enjoy the abundant summer strawberry flavor all the time. This sauce is simple to make and can be customized to use just about any fruit you have on hand from peaches to pineapple, raspberries, or blueberries.
With vibrant color and summer flavor, you'll love this 15-minute wonder of a sauce. Compotes are super simple to make and because of that, it's pure strawberry flavor.
You'll find all sorts of ways to serve this strawberry compote below. So you may find yourself making a batch each week because it keeps really well and pairs with so many things.
We especially love it with Greek yogurt and my Homemade Granola for simple breakfasts. Fruit compotes are thinner in consistency than fruit sauce. So you'll find my tips on how to thicken it if desired, or you can my Berry Sauce recipe with strawberries instead.
Ingredients & Substitutions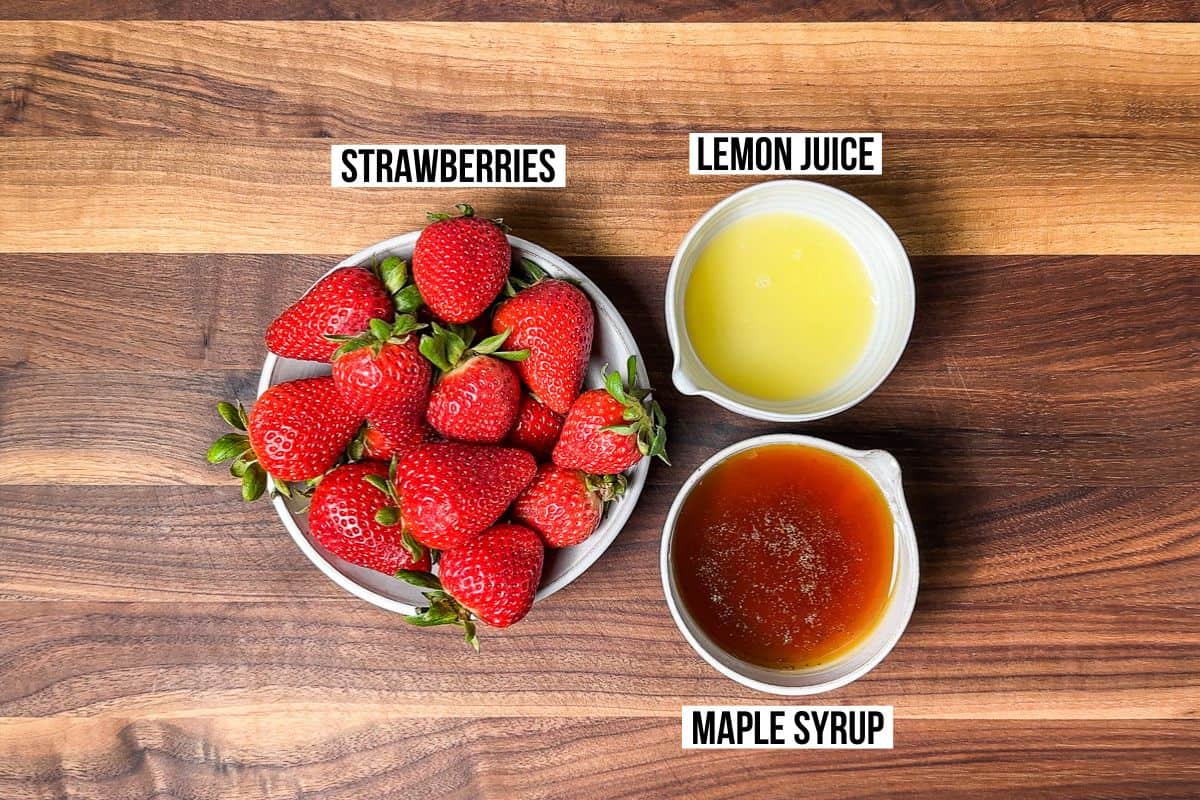 Strawberries – both fresh strawberries and frozen strawberries work in this recipe, so use what you have and what is in season. You can also use other berries or fruits in this recipe, refer to the recipe notes.
Sweeteners – I like to use Grade A amber maple syrup or honey in this recipe as a natural sweetener. But you can also use cane sugar or agave nectar as well.
Lemon Juice – freshly squeezed lemon juice adds depth of flavor to this sauce.
Optional – I like to add a touch of vanilla extract which isn't very traditional in fruit compotes, but I feel like it adds a nice depth of flavor.
How to make this recipe step by step
Step 1: If you're using fresh strawberries, start by washing them well. If you're using frozen strawberries, it's easiest to make this recipe if the strawberries are thawed.
Step 2: If your strawberries are fresh, hull the berries with a pairing knife or huller.
Step 3: Next quarter up the strawberries so they break down nicely in the compote. If you're using garden fresh strawberries rather than store-bought you can add them to the pan whole because they are ripe enough to break down on their own.
If you make this sauce with frozen strawberries, you may need to mash them up a bit as they simmer since they usually come frozen whole.
Step 4: Add the strawberries and choice of sweetener to a saucepan or pot and bring the mixture to a simmer. Simmer until the strawberries soften and the sauce is lightly thickened about 10 minutes.
Step 5: Stir in the fresh lemon juice and optional vanilla extract. You can see in the picture there are still chunks of strawberries with a slightly thickened sauce. If you desire a thicker sauce, try adding the optional thickener to the recipe.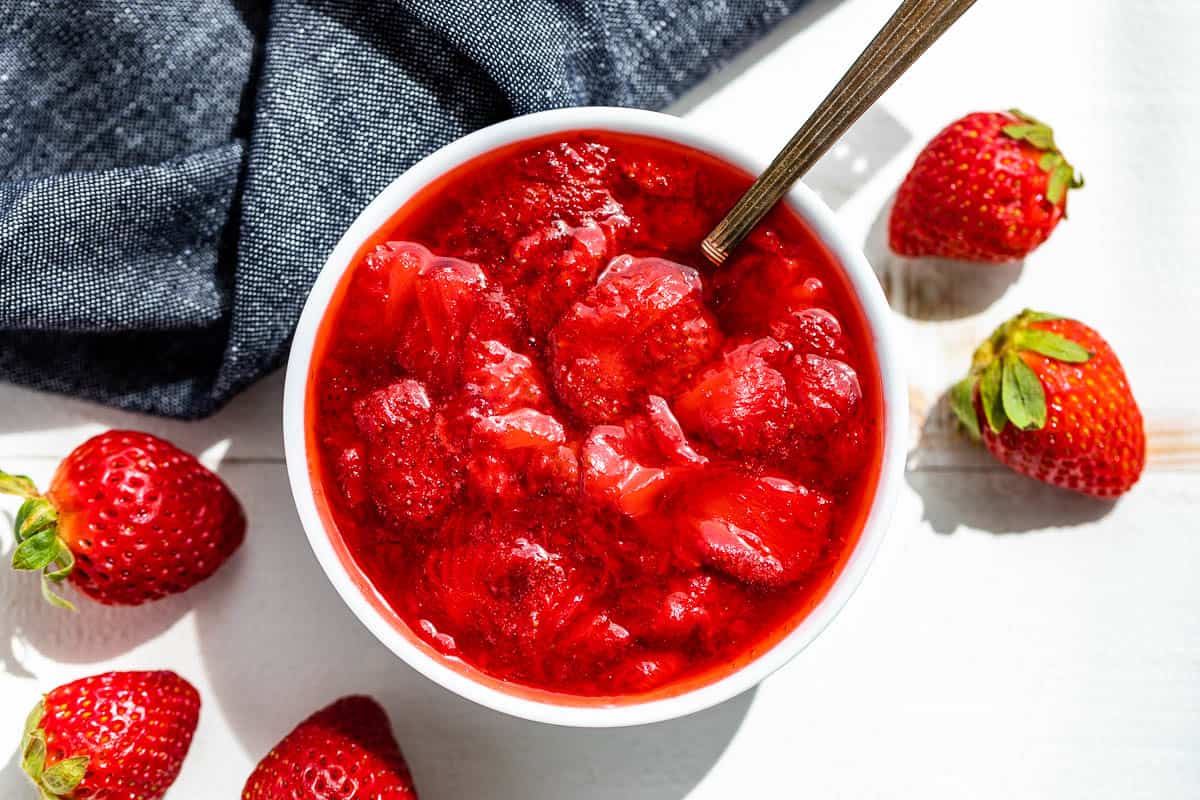 FAQ's
What is the difference between a fruit compote and a fruit sauce?
A fruit compote is simmered down until the sauce is slightly thickened. Whereas a fruit sauce is thickened with cornstarch.
How can I thicken a fruit compote?
You can follow the recipe notes for how to make a cornstarch slurry and thicken the fruit compote to the thickness you desire. Technically compote does not contain cornstarch and is meant to be slightly thinner than a sauce, but feel free to make this recipe your own. If you do thicken a compote with cornstarch then you can call it 'Strawberry Sauce'.
What is a compote and where did compote come from?
Compote is a dessert that is believed to have originated in France. Traditionally it was pieces of whole fruit simmered in a simple syrup, sometimes with spices added. My compote recipe uses cut up berries to speed up the cooking time.
Storing leftovers
To store – place the leftover strawberry compote in an airtight container and store it in the refrigerator for up to 1 week.
Make ahead – this compote keeps well so you can definitely make it ahead for whatever you might be serving it with.
Reheating – add the compote to a saucepan and heat over medium heat stirring until heated through.
To freeze – this recipe freezes really well. Place the finished strawberry compote into an airtight container and freeze for up to 3 months. Defrost in the fridge overnight.
Tips & Tricks
Try this recipe with any other berry or fruit. You will find each fruit will be a slightly different thickness, berries in particular contain differing amounts of pectin so they won't thicken the same. You can follow the thickening tips if you desire a thicker sauce.
Compotes are not as thick as a fruit sauce. They are thick with fruit with slightly thickened sauce around it. The compote will thicken a bit more when cooled, but if you desire a thicker sauce, try the thickening tips.
If you use frozen strawberries in this recipe, you may need to mash them up a bit as the sauce simmers to help them break down.
Dietary Options & Substitutions
Vegan or Vegetarian – use maple syrup for vegan rather than honey.
Sweeteners – maple syrup, honey, cane sugar, and agave nectar all work here in this recipe. We prefer natural sweeteners like honey or maple syrup but they do add a light flavor to this compote. For the purest strawberry flavor, use cane sugar to taste.
More strawberry dessert recipes
I really hope you enjoy this Strawberry Compote! If you do get a chance to make this recipe, I'd love to hear from you in the comments.
INGREDIENTS
1

pound

strawberries

-

fresh or frozen, see notes

2

tbsp

maple syrup -

honey, cane sugar, or agave nectar, use more or less to taste

1

tbsp

lemon juice

-

freshly squeezed

1

tsp

vanilla extract
INSTRUCTIONS
Wash, hull, and quarter the strawberries. Add them to a large saucepan along with the maple syrup or sweetener of choice.

Bring the mixture to a boil stirring occasionally then lower the heat to simmer briskly and allow the sauce to reduce.

Simmer the compote until the strawberries soften and break down and the sauce coats the back of the spoon, about 10 minutes. It will be slightly thickened but not as thick as a fruit sauce.

Remove the compote from the heat and stir in the lemon juice and vanilla. Serve hot, warm, or refrigerated.
Bonus Step
If you made this recipe, please leave a rating/comment. Ratings really help us continue to bring you high-quality free recipes. Rate This Recipe!
NOTES
If your berries are fresh wash and hull them. If you use frozen berries, this recipe works best if you defrost them first. You also may need to mash them a bit as they simmer to help them break down.
Remember the compote will thicken slightly as it cools. If you want the compote to be thicker you can mix together cornstarch and water until smooth and add just enough to thicken it to your liking as it simmers. If you thicken with cornstarch, it's 'technically' called a 'sauce' instead.
nutrition facts
Serving:
0.5
cup
|
Calories:
67
kcal
|
Carbohydrates:
16
g
|
Protein:
1
g
|
Fat:
0.4
g
|
Saturated Fat:
0.02
g
|
Polyunsaturated Fat:
0.2
g
|
Monounsaturated Fat:
0.1
g
|
Sodium:
2
mg
|
Potassium:
201
mg
|
Fiber:
2
g
|
Sugar:
12
g
|
Vitamin A:
14
IU
|
Vitamin C:
68
mg
|
Calcium:
29
mg
|
Iron:
0.5
mg