Rich with a balance of bright tomato flavor, this easy Tomato Cream Sauce can be made in less than 20 minutes from start to finish. It's really good served with chicken, shrimp, fish, or pork, but it's especially indulgent when tossed together with freshly cooked pasta. It's naturally gluten-free with 2 dairy-free options listed as well. This sauce is so easy to make and incredibly tasty, you may never buy jarred sauce again. It's made with a handful of ingredients and is perfect for a busy weeknight, or impressive enough for entertaining.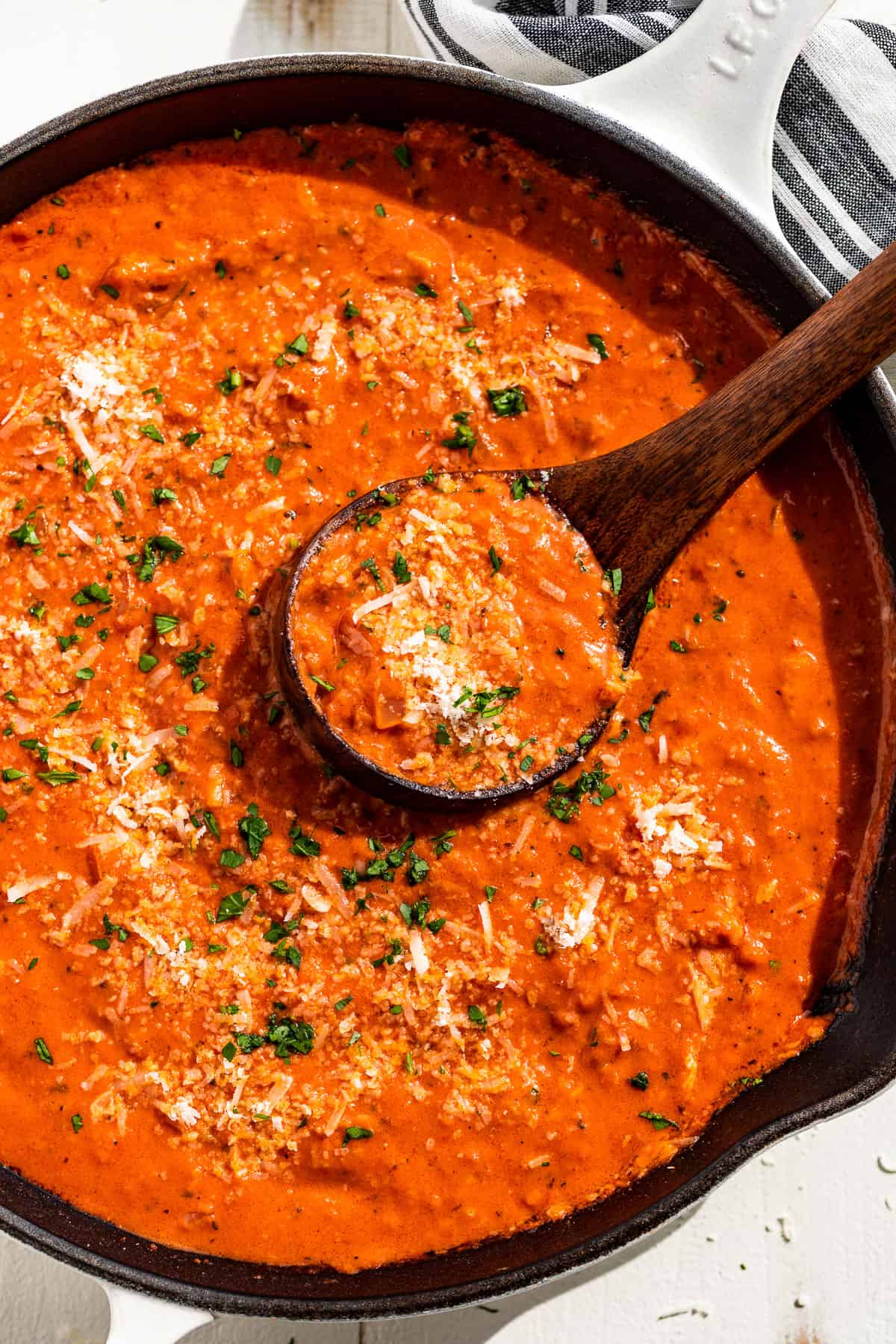 Tomato cream sauce is a kitchen basic in our house. It's quick to make and so versatile. All in all, it's one of those back-pocket pantry staple types of recipes you'll find yourself coming back to over and over again.
Tomato cream sauce is sometimes also called Italian Pink Sauce or Rosé Sauce. It combines the best of a classic red sauce (marinara) and the best of the classic white sauce (alfredo) into a 'pink' sauce. It's made with simple ingredients, and it comes together in less than 20 minutes!
It's not as rich as a cream sauce thanks to the bright tomato flavor, so I find it the best of both worlds. We love it over protein, but it also makes a great easy meal to toss it together with pasta, pure comfort food.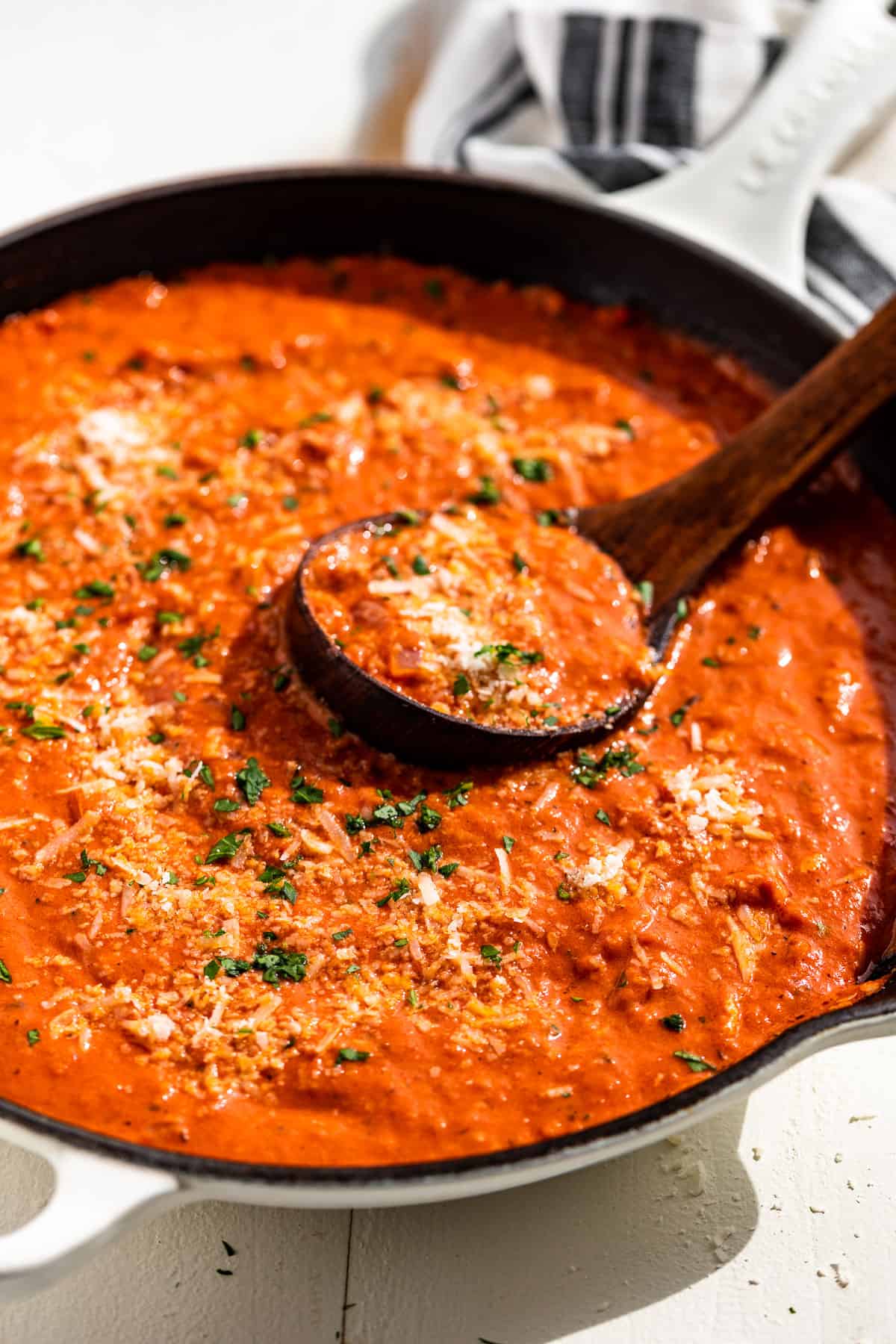 Ingredients & Substitutions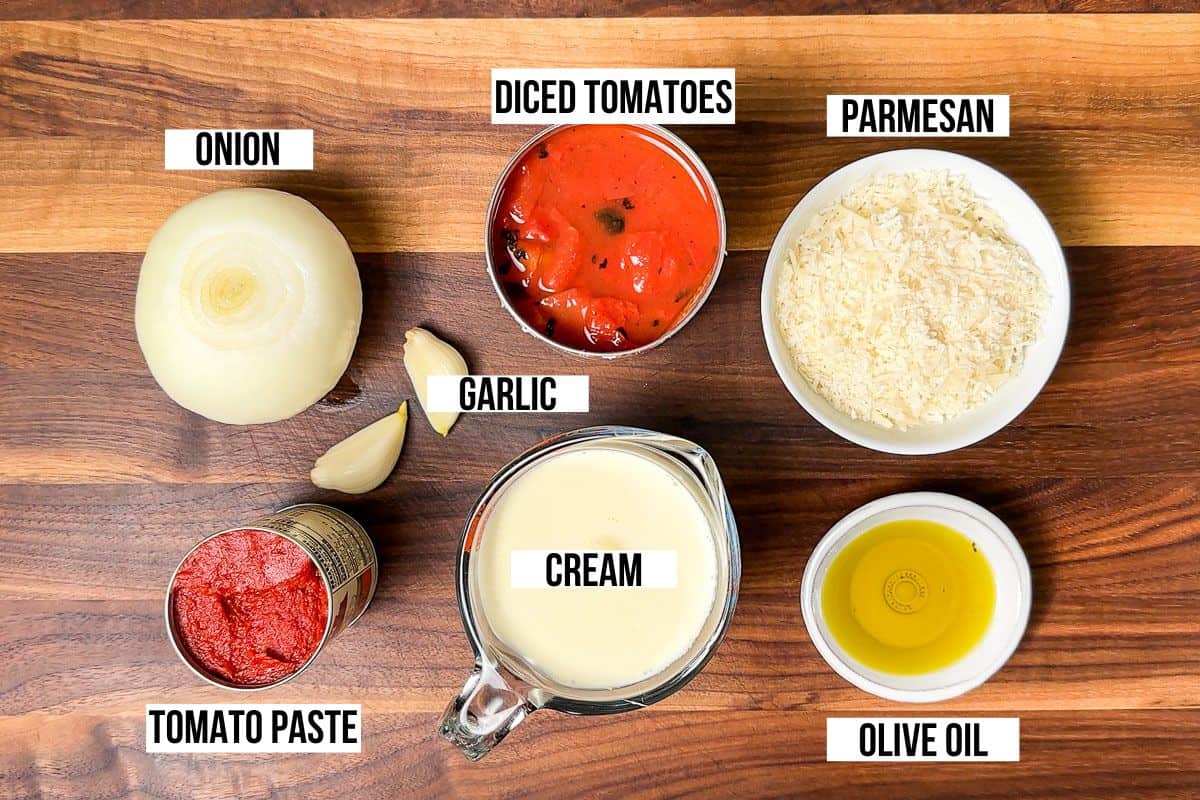 Diced tomatoes – both regular diced tomatoes and fire-roasted diced tomatoes work well in this sauce. I find diced tomatoes make a much better-tasting sauce than using canned tomato sauce. It's definitely worth needing to blend them up! Use the best quality tomatoes you can for the best flavor. Both Muir Glen or San Marzano tomatoes are a good choice.
Tomato paste – is like a concentrated tomato flavor, and it's what allows you to make this sauce in just a few minutes. Tomato paste is like a very dense tomato sauce, this means you don't have to simmer down the sauce to evaporate excess liquid.
Onion & garlic – diced onion and minced garlic give this sauce depth of flavor, definitely don't skip them.
Olive oil – just a touch is needed to cook the onion and garlic, but you could also use butter as Marcella Hazan does in her famous tomato sauce.
Heavy cream – is what makes this a tomato-cream sauce. You want heavy whipping cream with 36%-40% milk fat. I don't recommend half and half or milk because it will give you a thinner sauce without very much creaminess. For a dairy-free option, try whisking in dairy-free cream cheese after you take the sauce off the heat. Kite Hill cream cheese is perfect in this sauce, but you could also use 1 cup of unsweetened coconut cream as well.
Parmesan cheese – adds a lot of flavor to the finished sauce, especially if you decide to serve it with pasta. But you can omit it for dairy free, or use a dairy-free parmesan.
How to make this recipe step by step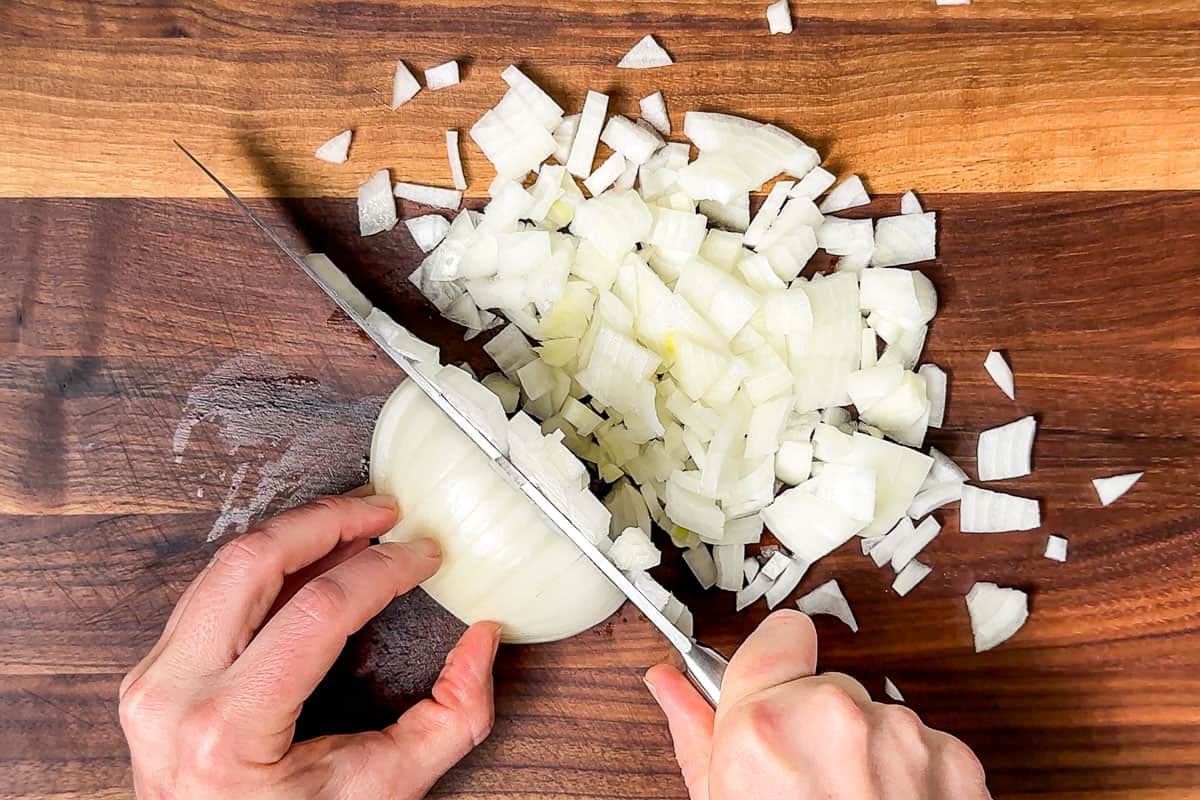 Step 1: Start by finely dicing the onion and mincing the garlic. I like to use a garlic press to speed things up.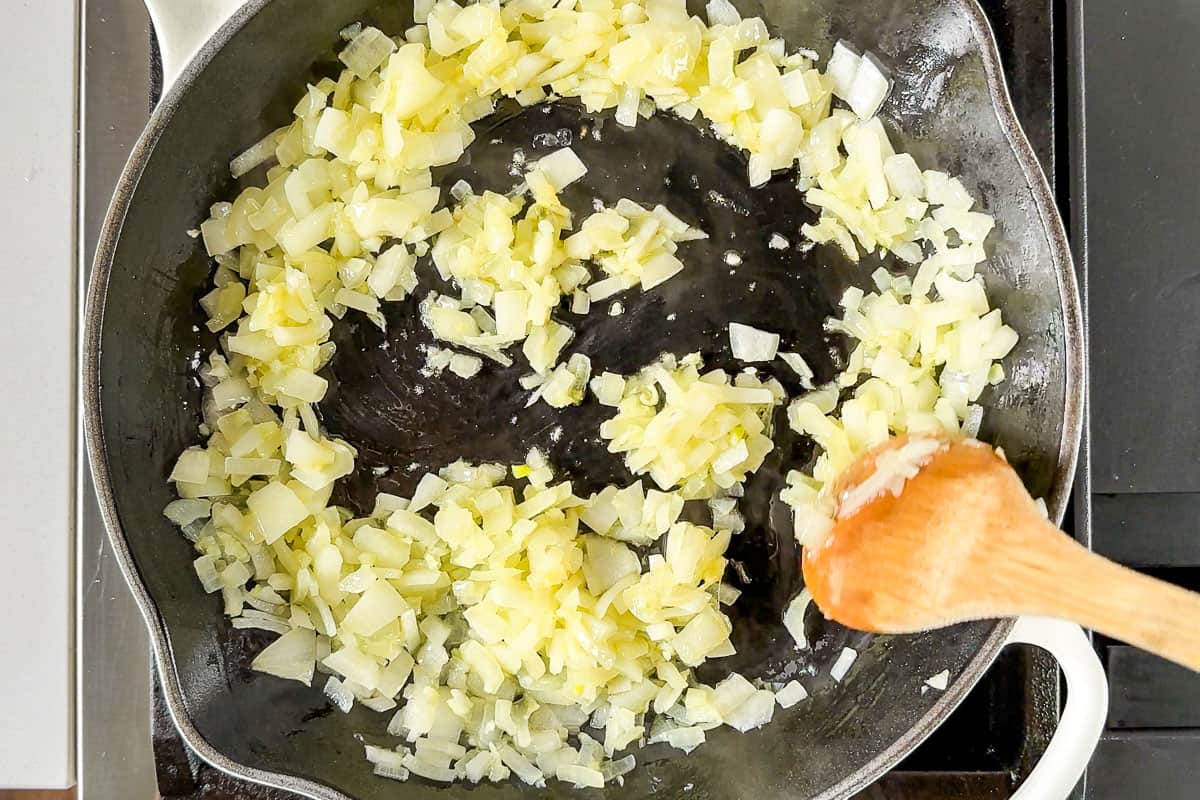 Step 2: Next sauté the garlic and onion together with the olive oil in a large skillet (at least 10″) until tender and golden. Keep the heat low enough to allow the onion to soften without getting browned. This will vary depending on your stove between low and medium heat.
Browning the onion competes with the tomato flavors in this simple sauce, but don't worry if your onion gets brown, the finished sauce is still going to be good. We're just talking subtleties here!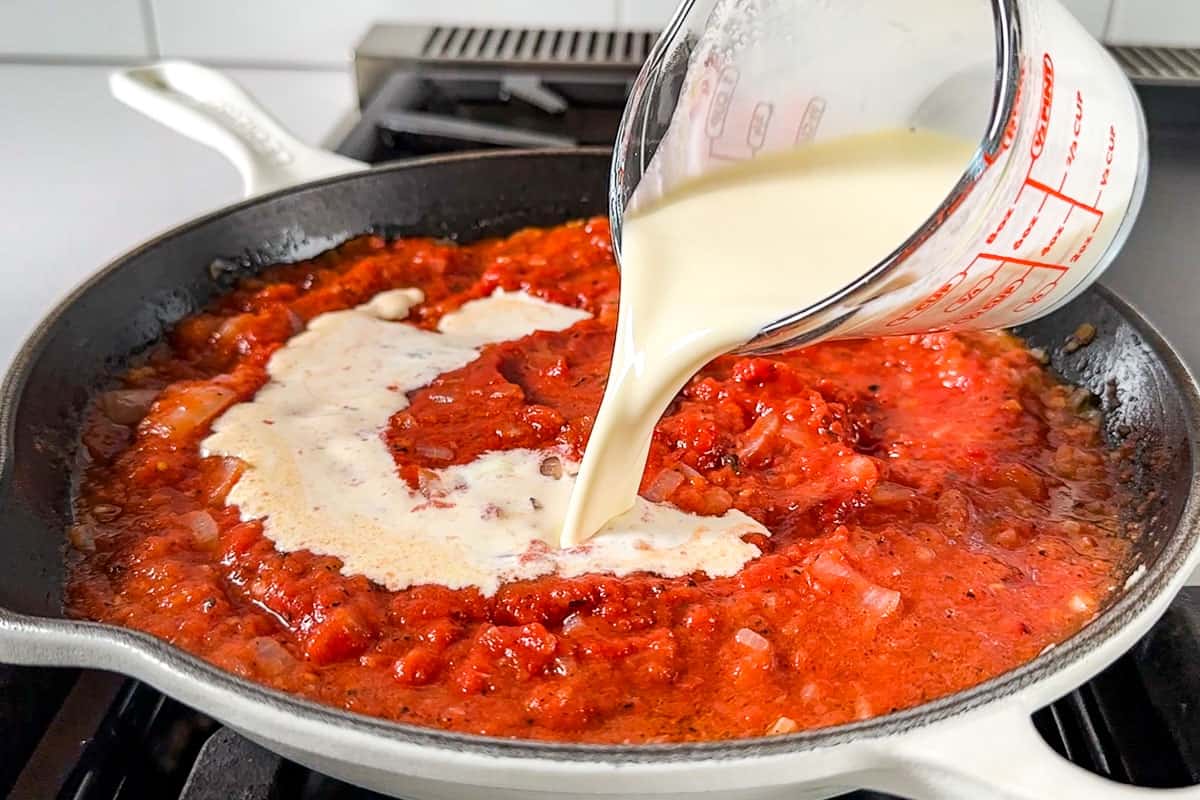 Step 3: Then add the blended diced tomatoes along with the tomato paste. Mix to combine, then add the heavy cream and mix to combine again.
Another reason to use heavy whipping cream is milk has a tendency to curdle when you add it to something acidic like tomato sauce. But heavy whipping cream will not curdle in this sauce.
Step 4: Simmer the sauce over low heat until the flavors are combined, about 8-10 minutes.
Try not to stir the sauce much after you bring it to a simmer. The thinnest liquid rises to the top and creates a layer that helps to prevent splattering.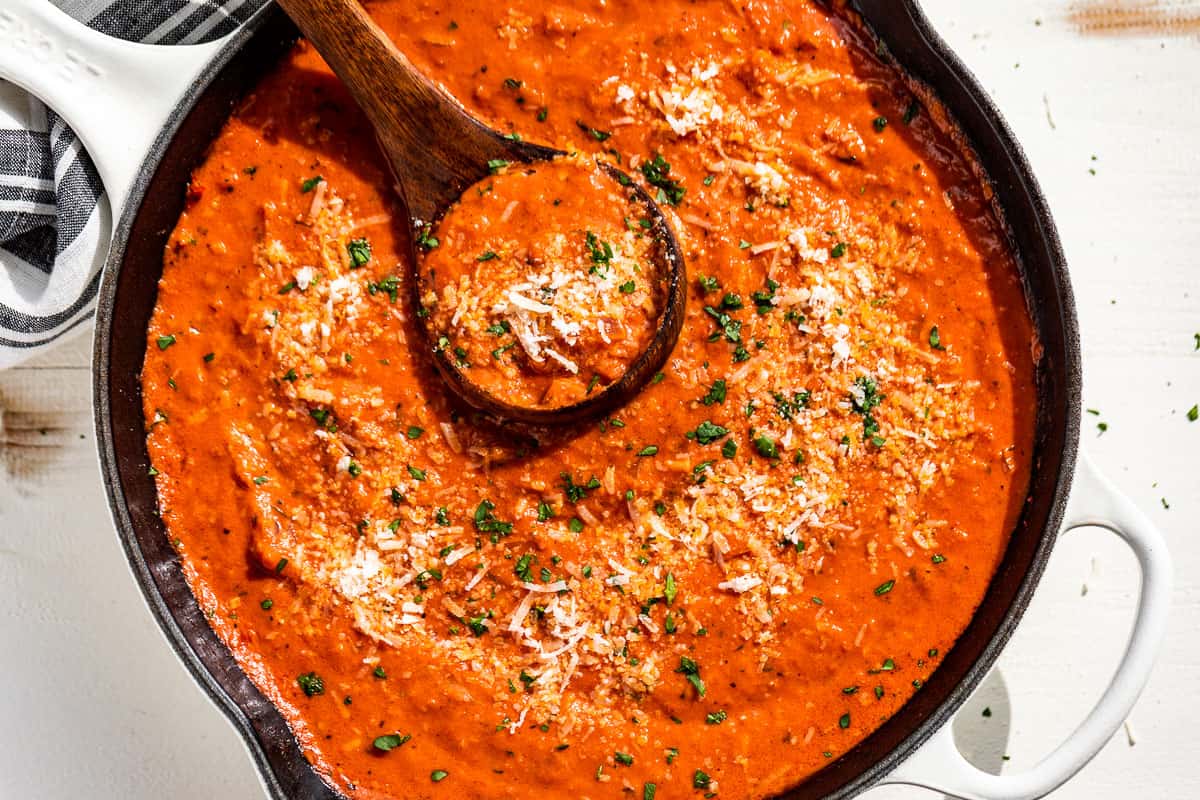 Ways to serve this
Our favorite way to serve this tomato cream sauce is to toss it together with freshly cooked pasta! Tomato cream sauce pasta is so tasty as a meatless meal sprinkled with extra parmesan and chopped fresh basil or parsley for a pop of color.
Add a side of protein to the tomato cream pasta. Or toss 1 pound of cooked shrimp or cooked diced chicken together with the tomato cream pasta.
Serve this sauce with your favorite protein. We love this sauce with chicken, shrimp, fish, and pork.
For a veggie side dish, try a simple salad like my Easy Green Salad, Strawberry Spinach Salad, or Apple Spinach Salad. For cooked veggies, try my Perfect Roasted Asparagus, Roasted Broccoli, or my stovetop Sautéed Green Beans.
FAQ's
Can you use milk instead of cream in tomato sauce?
I don't recommend using milk in tomato sauce because it can curdle in acidity. Heavy whipping cream has a high milk fat percentage which allows it to easily be added to tomato sauce without the risk of curdling.
Can I add cream to store-bought jarred tomato sauce?
Yes, you can definitely add cream to store-bought jarred tomato sauce, it makes a great shortcut! You'll need to simmer it to thicken it enough to properly coat it with pasta. Also, your average-sized jar of tomato sauce paired with cream will make enough sauce for at least 1 pound of cooked pasta.
Will half and half curdle in tomato sauce?
Yes, half and half will curdle when you add it to tomato sauce. You want to use heavy whipping cream that's at least 36%-40% milk fat.
How do I fix a broken tomato sauce?
Add 2-4 tbsp of water and whisk the sauce back together over low heat. A tomato sauce will break when there's not enough moisture left after being simmered too long. Adding a bit of liquid back will fix it. You can also add additional heavy cream to this sauce. A quick note: a broken sauce is different from a curdled one. There's no good fix for a curdled tomato cream sauce, that's why you want to use heavy whipping cream.
Storing leftovers
To store – place any leftover sauce into an airtight container and store it in the refrigerator for 3-4 days.
Make ahead – this sauce reheats well, so you can make it ahead if desired. Just remember that leftovers don't keep as long.
Reheating – place any leftovers into a small skillet or saucepan and reheat over low heat until heated through. Parmesan will become grainy if it's heated over high heat or boiled. You can reheat this in the microwave, but be careful not to overheat it because the sauce will break.
To freeze – this sauce freezes well, place it into an airtight container and store it in the freezer for up to 3 months.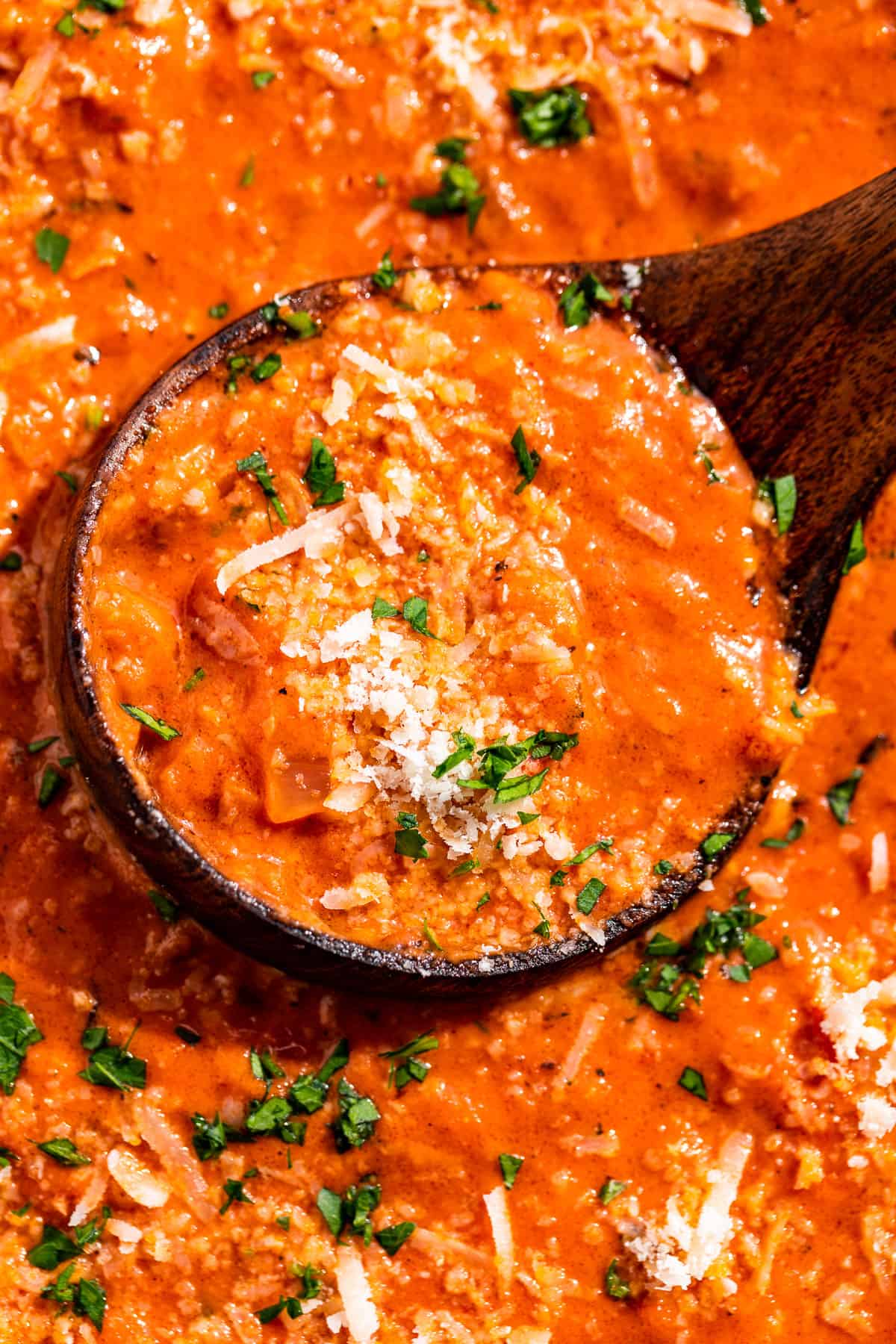 Tips & Tricks
Try this sauce with fire-roasted diced tomatoes for a different flavor, and try it with regular diced tomatoes for a lighter pure tomato flavor. This creamy tomato sauce is all about the tomato flavor so I don't like to add strong dried herbs like Italian seasoning. However, the fresh herbs described next are very tasty but definitely not necessary.
Fresh herbs are really good in this sauce. Try 1 tsp chopped fresh thyme or rosemary added in just after you cook the onion. Or for a lighter flavor, try fresh basil or parsley added in right at the end. Basil is our personal favorite, it's a classic combo you just can't beat.
Freshly grated parmesan really does taste better, and the texture is better as well. This sauce is simple in flavor and really benefits from the better-quality parmesan.
If you have leftover sauce, you can thin it out with a bit of chicken stock to create a cream of tomato soup for lunch the next day!
This is the perfect sauce to pair with any dry pasta shape I can think of, but we particularly like it with linguine or fettuccine. For shapes, try this sauce with rigatoni, penne, farfalle (aka bowties), or fusilli. Extra tip: just before you drain the pasta, measure out a cup of pasta water to thin out the sauce as necessary when you toss it together with the cooked pasta.
Try adding some red pepper flakes for a bit of heat. Or you can make this with 1/2 cup dry white wine added in just after the onions and garlic. Let the wine simmer until almost all of it is evaporated, then add the tomato and cream to the pan. White wine gives a depth of flavor that makes it taste like a fancy restaurant dish. Either way, you make this, you'll have a restaurant-quality meal with minimal effort.
Dietary Options & Substitutions
Dairy-free / Paleo / Vegan / Vegetarian – my favorite dairy-free option is to swirl in dairy-free cream cheese, (like Kite Hill) to taste after the sauce is done cooking. Or you can use the Vegan Alfredo Sauce option in place of the heavy cream along with dairy-free/vegan parmesan cheese or omit the cheese altogether. You can also use the coconut milk option.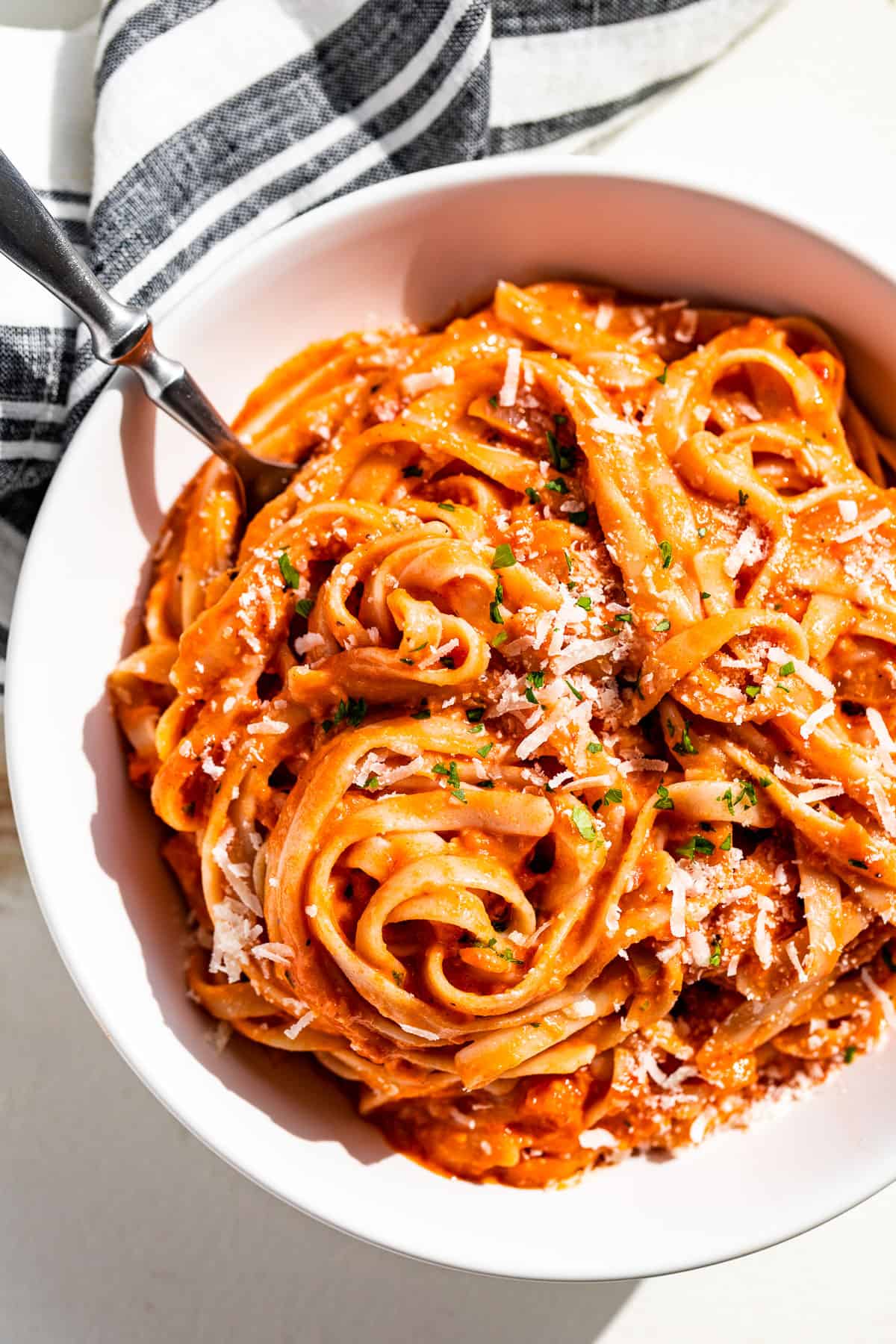 More Sauce Recipe Inspiration
I really hope you enjoy this Tomato Cream Sauce! If you do get a chance to make this recipe, I'd love to hear from you in the comments.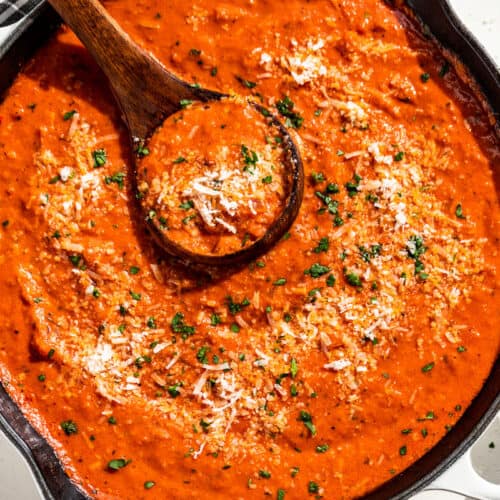 INGREDIENTS
1

tbsp

olive oil

2

cups

onion

-

finely diced, 1 small

2

cloves

garlic

-

minced

14

ounce

can diced fire roasted tomatoes

-

or regular diced tomatoes

6

ounce

can tomato paste

1

cup

heavy whipping cream

-

see notes for dairy free

1/2

cup

freshly grated parmesan

1/2

tsp

sea salt

-

or to your taste

black pepper to taste

2

tbsp

parsley or basil

-

chopped
Serve with:
1

pound

freshly cooked pasta, chicken, shrimp, fish, or pork

-

see notes

additional grated parmesan and chopped fresh basil if desired.
INSTRUCTIONS
Start by dicing the onion and mincing the garlic.

Preheat a large skillet (10") over medium-high heat. When the pan is hot, add the olive oil along with the onion and garlic. Lower the heat to low or medium-low and cook until the onion softens about 3-5 minutes.

Blend the diced tomatoes in a blender until mostly smooth. Pour the blended tomatoes into the skillet and add the tomato paste.

Mix together until smooth, then add the heavy cream and stir to combine again. Bring the sauce to a simmer, and cook until the flavors meld and the sauce has thickened 8-10 minutes. Stir as little as possible so the liquid layer on the top is undisturbed, it helps to prevent splattering.

When the sauce is done, season to taste with sea salt and pepper. Stir in half of the parmesan cheese then sprinkle the remaining amount over the top and garnish with chopped fresh parsley or basil.

Serve this sauce with your choice of protein or freshly cooked pasta.
Bonus Step
If you made this recipe, please leave a rating/comment. Ratings really help us continue to bring you high-quality free recipes. Rate This Recipe!
NOTES
For some dairy-free options, you could add 1 cup of unsweetened coconut cream in place of the heavy cream. Or simmer the sauce adding a touch of water or chicken broth as necessary, then whisk in some dairy-free cream cheese when the sauce has finished cooking. You can also use 1 cup of my Vegan Alfredo Sauce in place of the heavy cream.
Gluten-free pasta comes in 12-ounce packages which works really well with this amount of sauce and 1 pound of cooked protein tossed together. It's a bit too much sauce if you toss it with just pasta
If you're using regular pasta which comes in 1-pound packages, this is the perfect amount of sauce. However, you may need to add a touch more cream to 'make more sauce' if you also add 1 pound of protein to the pasta.
The nutrition facts are calculated for the sauce only, adding pasta, protein, or extra cheese is separate.
nutrition facts
Calories:
252
kcal
|
Carbohydrates:
16
g
|
Protein:
6
g
|
Fat:
19
g
|
Saturated Fat:
11
g
|
Polyunsaturated Fat:
1
g
|
Monounsaturated Fat:
6
g
|
Cholesterol:
52
mg
|
Sodium:
679
mg
|
Potassium:
430
mg
|
Fiber:
3
g
|
Sugar:
8
g
|
Vitamin A:
1466
IU
|
Vitamin C:
14
mg
|
Calcium:
146
mg
|
Iron:
2
mg