Better than Chipotle? We most definitely think so, and you'll soon see this Chipotle Chicken (Chipotle Copycat recipe) is beyond flavorful. I was inspired by the flavors of the famous Chipotle chicken for their burrito bowls. But in this recipe, you'll find it has all the flavors of Chipotle but amped up a little bit which turns out to be the tastiest chicken!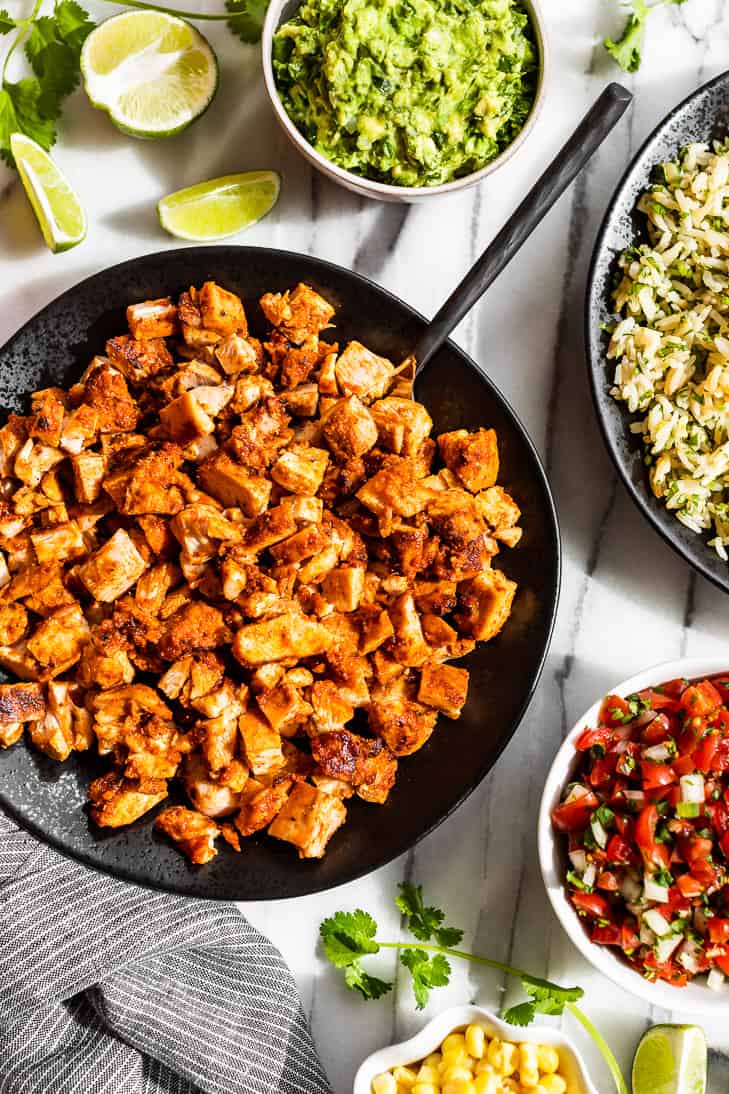 We eat some sort of burrito bowl or taco bowl at least once a week year-round! You can change up all sorts of things, and so the combos are absolutely endless. The ingredients for burrito/taco bowls are also easy to make ahead for meal prep which is right up my alley.
This Chipotle Chicken is a prime example because it's so easy to meal prep and reheats well. You can also just make it and serve it right away, but I can't recommend it enough to make a double batch.
Once it's all chopped up, you can build a bowl to take for lunch the next day. Or it's also perfect in a Mexican inspired salad. I love having some made-up ahead of time in the freezer for super busy days too.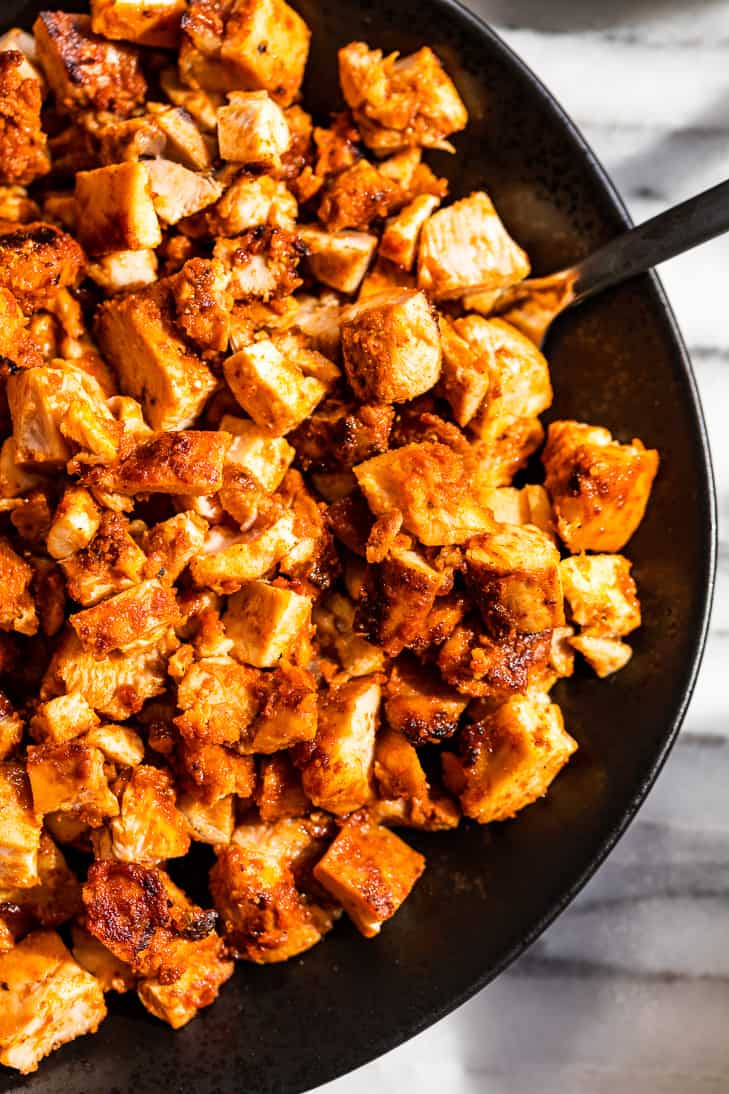 Ingredients & Substitutions
Chicken thighs – are standard with Chipotle's famous chicken, and I would recommend them for sure. Chicken breasts would be ok but you'll need to adjust the grilling time. Also, chicken thighs are thinner so they end up being a better choice for this marinade. The marinade really sinks into the chicken thighs, whereas with chicken breasts there's more meat that doesn't get flavor from the marinade.
Onion & garlic – fresh onions and garlic make up the base for this adobo marinade.
Tomato paste – to keep this recipe sugar-free, we're switching things up from their classic recipe by using either tomato paste or sugar-free ketchup. Chipotle's chicken uses chipotle in adobo, (which often isn't gluten-free) that you can buy in cans at the store. Instead, we're using our own ingredients to simulate the same flavors here.
Chipotle – chili powder combined with either the tomato paste or sugar-free ketchup makes a great substitute for the chipotle in adobo that's commonly used in chipotle chicken recipes. This also means we're able to keep this recipe 100% sugar-free!
Ancho chili powder – is also classic in chipotle chicken. You can usually find this in a regular grocery store since McCormick now sells it. But you can also order it online as well as using regular chili powder.
Smoked paprika – Isn't at all traditional in chipotle chicken, but stay with me here because it's so good! It adds to the smokey flavor of the chipotle without adding any more heat.
Oregano & cumin – are also classic ingredients and add the perfect amount of balance to the different chili flavors here.
Avocado oil – is what I'm using here as an oil but you can use any cooking oil you like to use. Avocado oil is my preferred healthy fat to use and it has a wonderful buttery flavor too. Oil is really useful in this marinade because it helps to keep the chicken from sticking on the grill.
Vinegar or lime juice – I've used both white wine vinegar and lime juice with great results either way. The touch of acid really rounds out all the flavors here.
Fun fact: Adobo comes from the Spanish word Adobar which means to marinate meat in a flavorful mixture usually including vinegar, paprika, oregano and garlic.
Now let's make this recipe step by step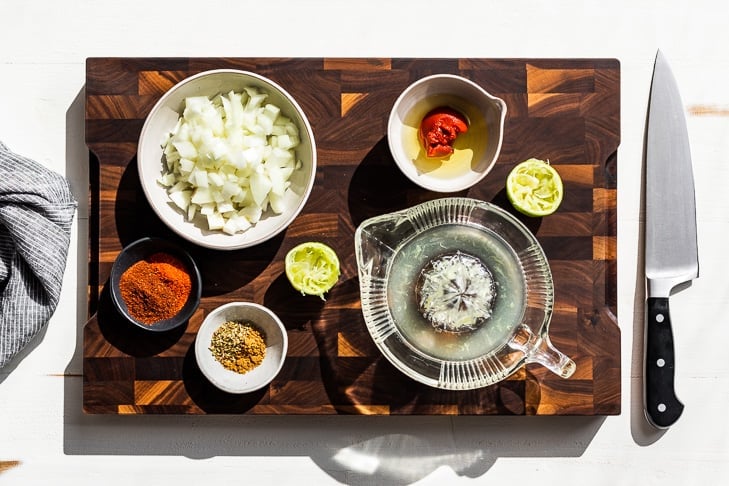 Step 1: Prep all of the ingredients for the adobo marinade. Measure out your spices, dice the onion, mince the garlic, and juice the lime.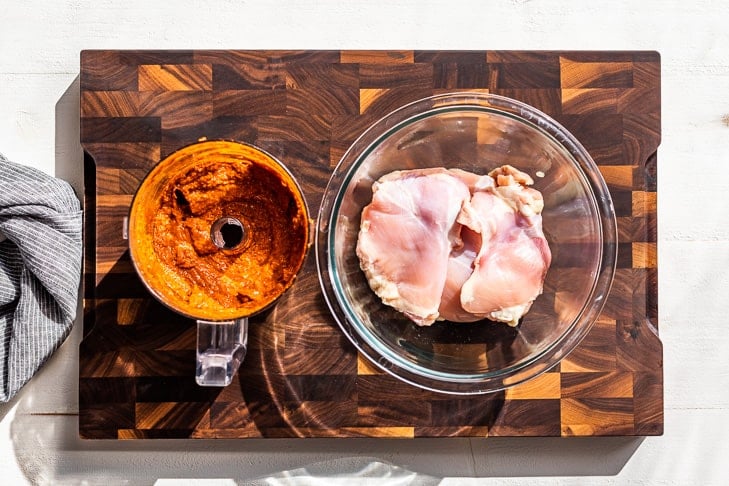 Step 2: Place all the adobo ingredients into a mini food processor and process until smooth.
Tip 1: I love using a mini food processor for marinades and such. But if you don't have one, you can use the smaller insert to a larger food processor. I have also made this adobo marinade in a blender but it was a bit of a pain. I had to use the tamper to keep pushing it down and had to stop to scrape it down several times.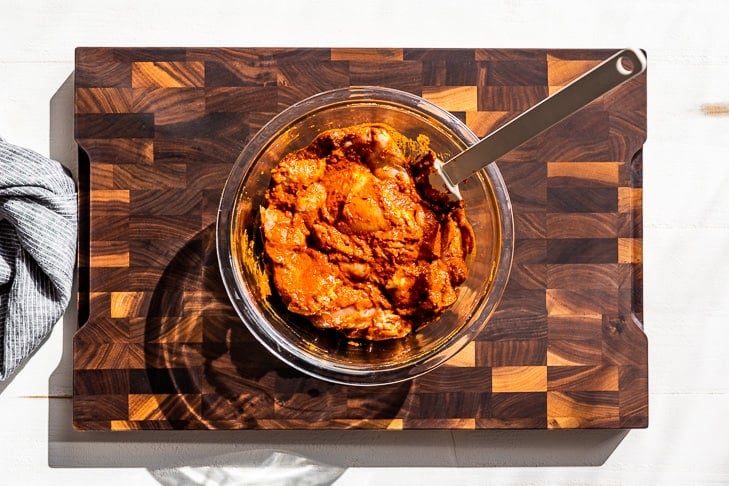 Step 3: Mix the adobo marinade with the chicken thighs.
Cover, and refrigerate for at least 1 hour or overnight for the best flavor.
Tip 2: I like to use a nonreactive bowl like the glass pyrex in the above photo. They're easy to clean, non porous, and when you have a marinade with acid in it, you don't want to use metal. Foods with acid can react with metal bowls and throw off the flavor.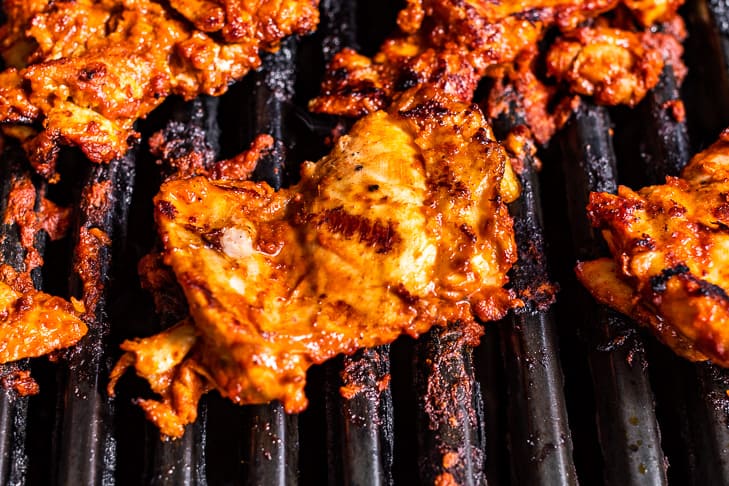 Step 4: Grill the marinated chicken thighs over medium heat, (maintaining a temperature around 400ºF). Chicken thighs take about 6-8 minutes on the first side and 4-5 minutes on the second side.
You'll know the chicken is ready to turn when it easily loosens from the grill. You can also use a grill pan or sauté them in a pan on the stove if you don't have a grill.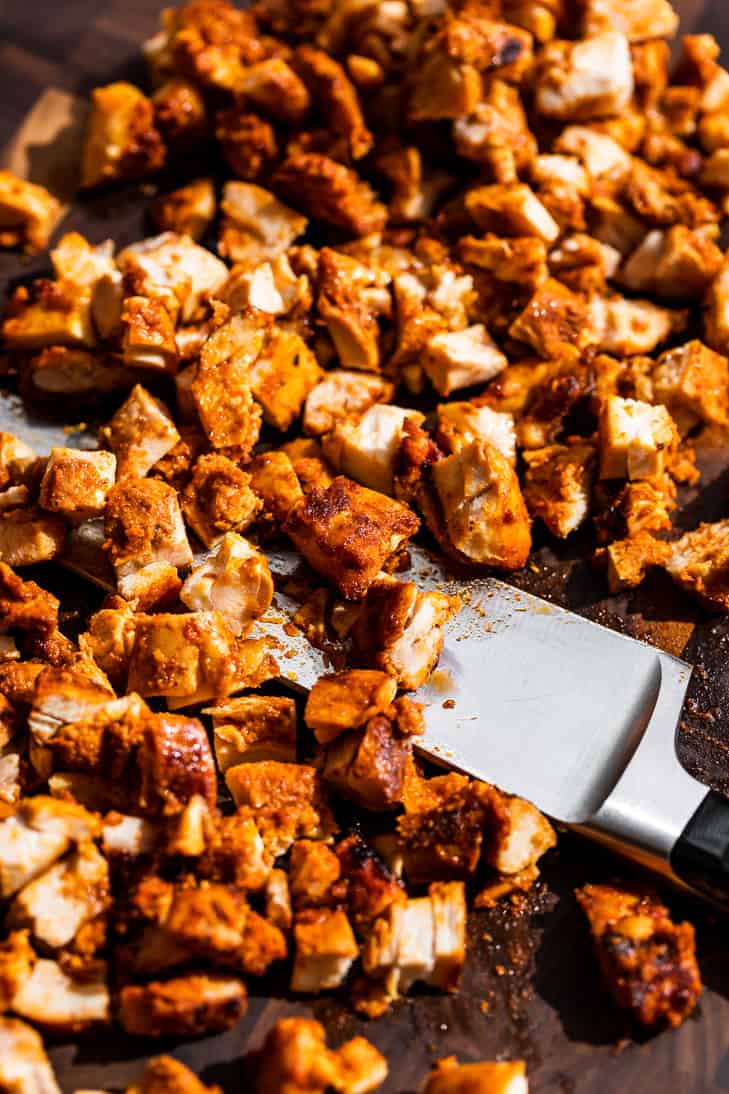 Step 5: Let the chicken cool slightly and chop it into bite-sized pieces before serving.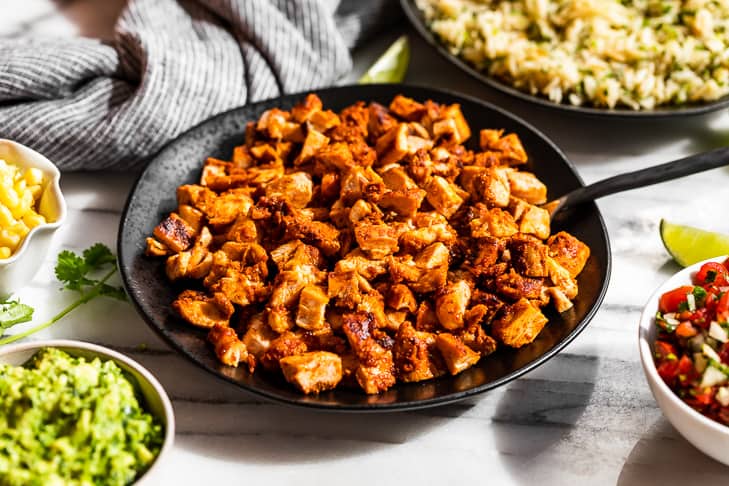 Extra toppings we love on Mexican-inspired bowls
This chipotle chicken is also great in tacos, try it instead of the shrimp in my Shrimp Tacos! And of course, load them up with pico de gallo and guacamole.
Storing leftovers
To Store – place any leftovers into an airtight sealed container and refrigerate for up to 4 days.
Reheat – in a small skillet with a touch of water over medium-high heat stirring constantly until warmed through. Or you can microwave it.
To Freeze – place into a sealed container and freeze for up to 3 months. Thaw overnight in the refrigerator and reheat.
I really hope you enjoy this Chipotle Chicken, it makes the best taco bowls! And if you do get a chance to make it, I hope you'll leave me a comment/rating below. I always love hearing from you here! Also for lots more Mexican inspired recipes, head over to the recipe index.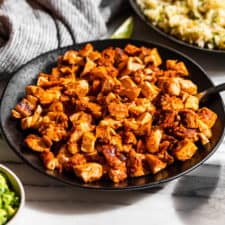 Chipotle Chicken (Chipotle Copycat Recipe)
---
INGREDIENTS
4

boneless skinless chicken thighs

-

1 1/2 pounds
Adobo Marinade:
1/3

cup

minced white onion

1

clove

garlic

-

minced

1

tbsp

tomato paste

-

or sugar free ketchup

2

tsp

chipotle chili powder

-

1 teaspoon for mild

2

tsp

ancho chili powder

1

tsp

smoked paprika

1

tsp

dried oregano

1

tsp

ground cumin

1/2

tsp

sea salt

2

tbsp

avocado oil

2

tbsp

fresh lime juice

-

or white wine vinegar
INSTRUCTIONS
Place all the ingredients for the adobo marinade into a mini food processor or the small insert to a regular sized food processor. 

Process until the marinade is mostly smooth, scraping down the sides as needed. 

Place the chicken thighs in a non-reactive bowl and pour the adobo marinade over the top. Mix to thoroughly combine, then cover and refrigerate for at least 1 hour, but overnight is best for the most flavor.

When you're ready to cook the chicken, preheat the grill over high heat. I like to lightly oil the grill before preheating it just to make sure the chicken doesn't stick.

When the grill is hot, place the chicken thighs on the grill and lower the heat to medium. You want to maintain a temperature around 400ºF.

Grill until the chicken easily comes loose from the grill, 6-8 minutes. Turn the chicken and cook until done in the center, about 5-6 more minutes.

Let the chicken cool slightly, then chop into bite sized pieces and serve with your favorite burrito bowl or taco bowl fixings.
Bonus Step
If you made this recipe, please leave a rating/comment. Ratings really help us continue to bring you high-quality free recipes. Rate This Recipe!
nutrition facts
Calories:
191
kcal
|
Carbohydrates:
3
g
|
Protein:
22
g
|
Fat:
10
g
|
Saturated Fat:
2
g
|
Polyunsaturated Fat:
2
g
|
Monounsaturated Fat:
5
g
|
Trans Fat:
0.02
g
|
Cholesterol:
108
mg
|
Sodium:
339
mg
|
Potassium:
369
mg
|
Fiber:
1
g
|
Sugar:
1
g
|
Vitamin A:
640
IU
|
Vitamin C:
3
mg
|
Calcium:
29
mg
|
Iron:
2
mg