This Cilantro Lime Rice is a Chipotle Copycat that tastes far and above better than the restaurant version! It's simple to make at home and perfect paired with any Mexican-inspired meal. We love using it in both taco bowls and burrito bowls.
This rice is the perfect flavor-packed base to make just about any taco bowl or burrito bowl of your dreams. In all seriousness though, we love using either sweet potatoes or steamed rice for a base to build any Mexican-inspired bowl, (find all my recipes linked below).
However, adding the cilantro-lime combo to steamed rice just takes it right over the top. And you might find yourself eating Mexican bowls every night for dinner for weeks. It's been the case in our house for the past few weeks! This rice is just so tasty, that you'll find yourself wanting to make it quite often.
And while I mostly make this for Mexican recipes, it doesn't need to be limited to that. The cilantro-lime combo goes so well with other cuisines as well, particularly Asian recipes. So definitely try this rice out with my Healthy Orange Chicken or my Teriyaki Sheet Pan Salmon!
Ingredients for this Cilantro Lime Rice
Avocado oil – is what I like to use as a neutral cooking oil to sauté the onion and garlic. You can use olive oil or any cooking oil you'd like here.
Onion & Garlic – briefly sautéed together add a nice savory and flavor backdrop to the finished rice.
Rice – I use long-grain white rice here, usually Jasmine because I have a large bag of it. But any long-grain white rice including Basmati is really tasty here. The liquid amounts in this recipe have been formulated for white rice only. But you can use brown rice and adjust the liquid and cooking time according to how you would normally cook brown rice. The liquid to brown rice ratio is 2:1 and the cooking time is usually double at around 45 minutes. All the flavors here work perfectly with brown rice as well if you choose to go that route.
Water or broth – I prefer water in this recipe rather than chicken broth because I feel like it keeps the cilantro lime flavors clean and not slightly muted with the flavor that broth adds. But I have used both, so I would suggest figuring out which way you prefer because it's just a matter of personal taste.
Cilantro – chopped fresh cilantro adds so much flavor when it's mixed in at the end of the cooking time. Try to use mostly leaves with the smallest amount of stems possible. But if you really hate cilantro, you could always make this recipe without it and call it 'Lime Rice'. The lime flavor is fantastic in rice if you really despise cilantro!
Lime zest – is what makes the magic happen in this recipe because it gives an intense flavor to the rice.
Fresh Lime juice – underscores the flavor of the lime zest and adds a bit of bright flavor to the finished rice.
Let's make this recipe step by step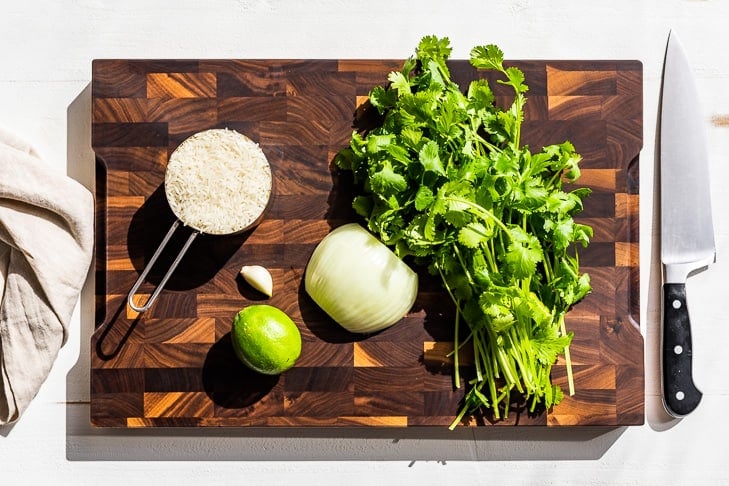 Step 1: Prep the ingredients. Start by washing the cilantro.
I like to use a salad spinner to dry off any excess water before chopping it.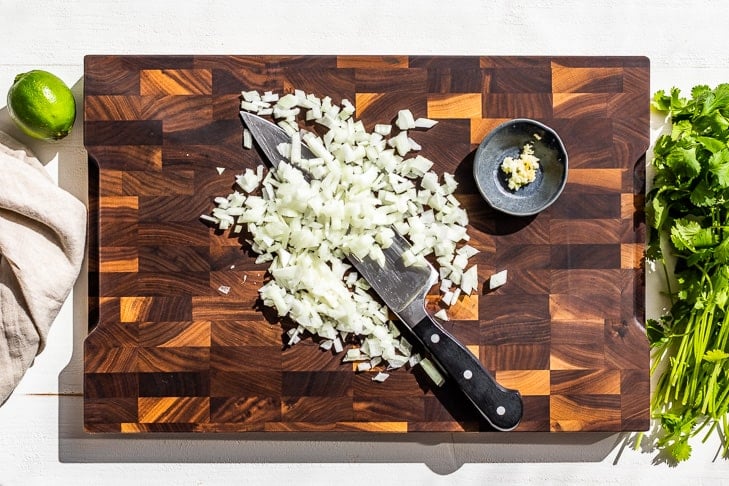 Step 2: Mince the garlic and finely dice half an onion.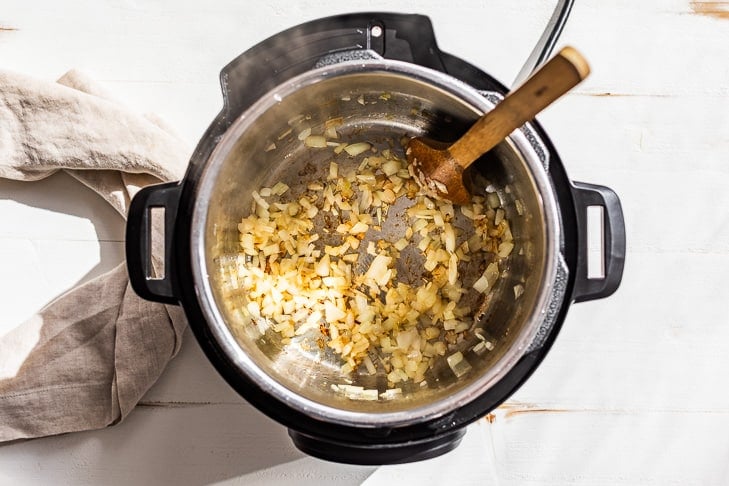 Step 3: Heat the Instant Pot on the sauté setting or place a pan on the stove on medium heat. Add the oil and sauté the garlic and onion until softened and lightly browned like the above photo.
That touch of brown caramelization adds an enormous amount of tasty flavor to the rice as it cooks. I like to use an Instant Pot for any rice recipe I make because it acts like a rice cooker, and the texture always turns out perfectly.
Step 4: Add the rice and water to the pan or Instant Pot. Then for the Instant Pot, select the 'rice' button and it will do the rest.
For the stove top, bring the rice to a boil, then cover and lower the heat to maintain a simmer.
Important Note: The recipe below indicates how much water to use for the Instant Pot vs. the stove top. The Instant Pot ratio is 1:1 and stove top is 1:1.5 rice to water.
Step 5: While the rice cooks, chop the cilantro, zest the lime, then juice it.
Step 6: When the rice is done cooking, add the cilantro, lime zest, and lime juice to the rice.
Fluff the rice to break it apart and mix to combine. Then season to taste with sea salt, stir to combine, and serve!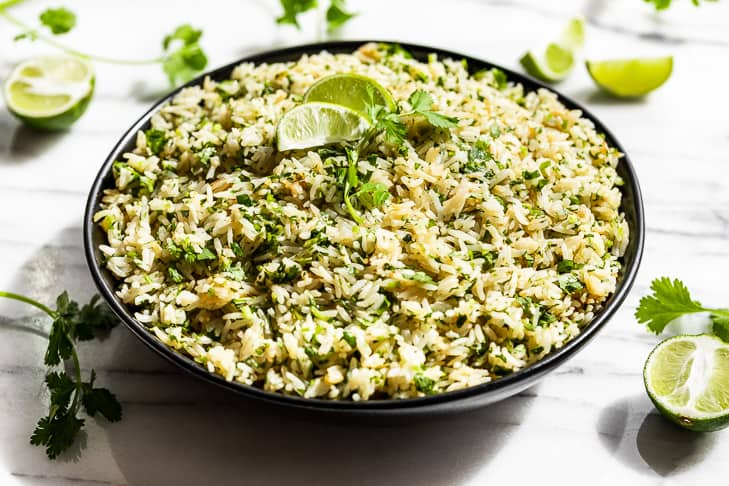 Ways to serve this
Make a burrito bowl with this rice by adding my Chipotle Chicken, Carnitas, or Beef Barbacoa.
It also goes well with my Sheet Pan Chicken Fajitas, Slow Cooker Salsa Beef, Shrimp Fajitas, or Instant Pot Salsa Chicken.
From there add some toppings like Pico de Gallo, Guacamole, grated cheese, and sour cream.
Add some extras like black beans, pinto beans, and corn.
For dairy-free toppings try my Vegan Queso or Cilantro Lime Dressing.
When tomatoes aren't in season try my Fire Roasted Salsa, Mango Salsa, or Pineapple Salsa.
Storing leftovers
To store – place any leftovers into an airtight container and refrigerate for up to 5 days.
Make ahead – this rice is best made fresh, but you can reheat it as directed below. The cilantro will turn browner and the flavor isn't quite as fresh, but we do make this ahead to reheat and make into quick burrito bowls throughout the workweek.
Reheating – add the leftovers to a small pan with a touch of water and heat covered just until the water evaporates and the rice softens. You can also add it to a small skillet along with any leftover meat you may have made. Add 1-2 tbsp of water and cook over medium heat until heated through. You can also microwave until heated through.
This Cilantro Lime Rice is part of my 'build a bowl' series
Choose as many of the above recipes as you'd like to mix and match and create a taco bowl or burrito bowl. You can also add all sorts of toppings like corn, black beans, grated cheese, and sour cream.
I really hope you enjoy this Cilantro Lime Rice recipe, it will add amazing fresh flavor to your Mexican dinners! And if you do get a chance to make it, I hope you'll leave me a comment/rating below. I always love hearing from you here! Also for lots more Mexican inspired recipes, head over to the recipe index.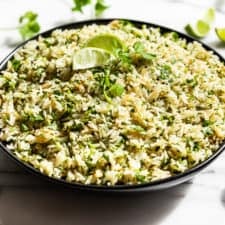 Cilantro Lime Rice (Chipotle Copycat)
---
INGREDIENTS
1

tbsp

avocado oil

1/2

cup

white onion

-

finely diced about 1/2 onion

1

clove

garlic

-

minced

1

cup

long grain white rice

-

I use Jasmine rice, basmati rice also works

1

cup

water for Instant Pot or 1 1/2 cups water for stove top

1/2

cup

chopped fresh cilantro

-

about 1 small bunch

1

lime

-

zested and juiced, (about 2 tablespoons lime juice)

1/2

tsp

sea salt
INSTRUCTIONS
Preheat the Instant Pot on the sauté function until hot. Then add the avocado oil along with the onion and garlic. Sauté until softened and lightly browned, 2-3 minutes.

Add the rice and 1 cup of water to the Instant Pot. Place the lid on the Instant Pot and set the valve to 'seal'. Select the 'rice' function and allow the Instant Pot to complete the cooking time and release naturally. This takes about 20 minutes with the cooking and release time.

While the rice is cooking, prep the cilantro, lime zest, and lime juice. When the rice has finished cooking, mix the cilantro, lime zest, and lime juice into the rice and season to taste with sea salt. 

Serve immediately with your favorite Mexican dinner.

For the stove top, sauté the onion and garlic over medium high heat until softened and browned. Then add the rice and 1 1/2 cups water. Bring to a boil, then cover and lower the heat to maintain a simmer.

Cook on low until the rice has absorbed the liquid, about 10-15 minutes. Turn the heat off and allow the rice to steam with the residual heat for another 10 minutes. Then add the cilantro, lime zest, lime juice and season to taste with sea salt.
Bonus Step
If you made this recipe, please leave a rating/comment. Ratings really help us continue to bring you high-quality free recipes. Rate This Recipe!
NOTES
Store any leftovers in an airtight container for up to 5 days.
We like to reheat the leftover rice with any leftover meat we have from making burrito bowls. The moisture from the meat helps to soften the rice again.
nutrition facts
Calories:
143
kcal
|
Carbohydrates:
27
g
|
Protein:
2
g
|
Fat:
3
g
|
Saturated Fat:
0.3
g
|
Polyunsaturated Fat:
0.4
g
|
Monounsaturated Fat:
2
g
|
Sodium:
197
mg
|
Potassium:
75
mg
|
Fiber:
1
g
|
Sugar:
1
g
|
Vitamin A:
96
IU
|
Vitamin C:
5
mg
|
Calcium:
17
mg
|
Iron:
0.4
mg