Full of flavor and oh-so-creamy, Chipotle Aioli is the perfect dipping sauce. Or try it with your next Mexican-inspired dinner to add a bright pop of lightly spicy flavor. This sauce is gluten-free and the perfect dairy-free option to add to your next taco night. Enjoy this aioli with simple dinners like grilled chicken and veggies, or pair it with my Chipotle Chicken Burrito Bowls.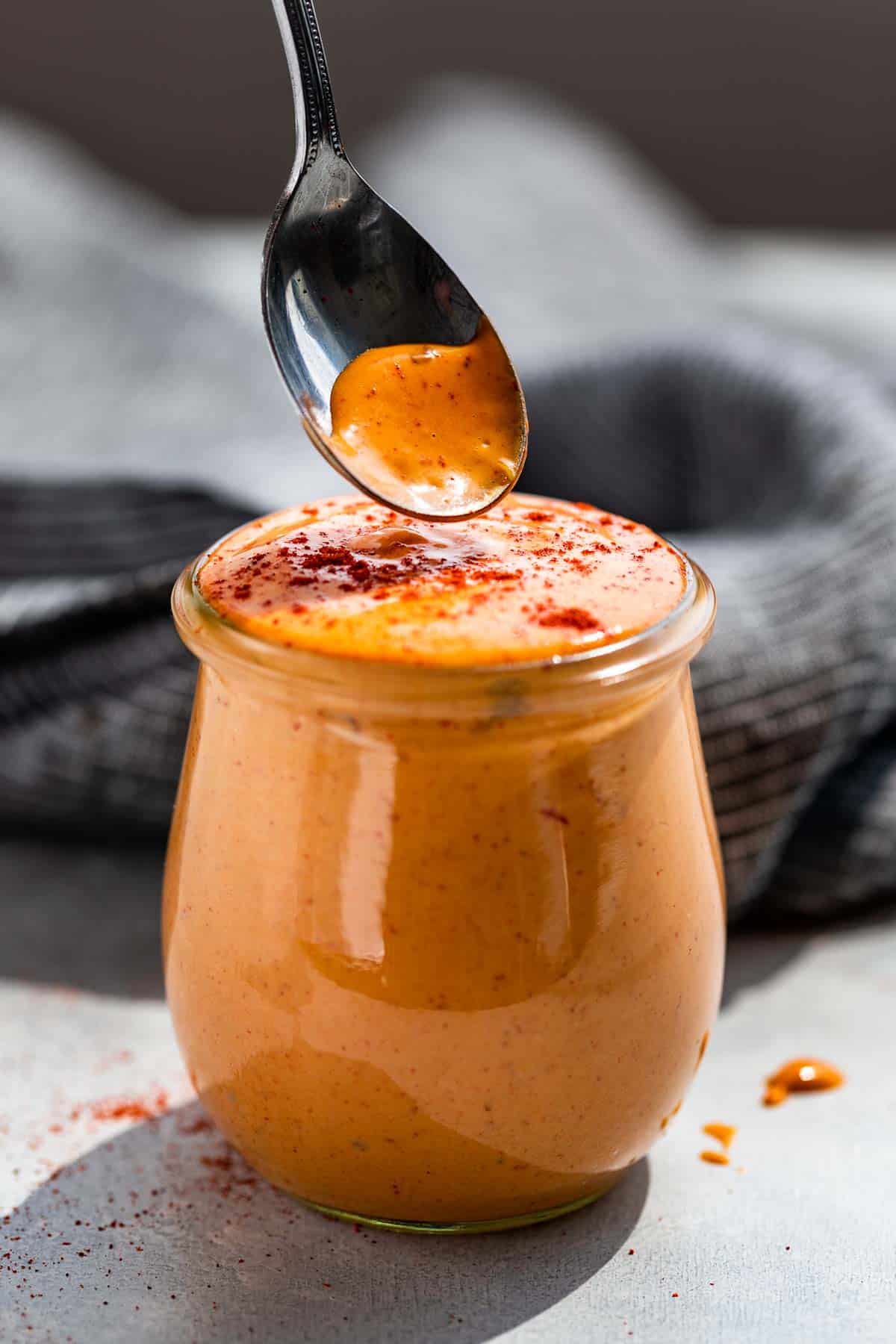 My obsession with chipotle aioli started at a tiny burger stand in the Calgary Farmer's Market over 10 years ago. And ever since my first taste of this creamy lightly spicy sauce, I've been finding all sorts of ways to eat it!
If you're a fan of chipotle chili flavors as well, I know you'll find all sorts of ways to use this in your kitchen too. There's the classic combo with fries or sweet potato fries.
But this sauce is also really good drizzled over Mexican-inspired bowls. Or use in in a burger or as a dipping sauce for grilled veggies.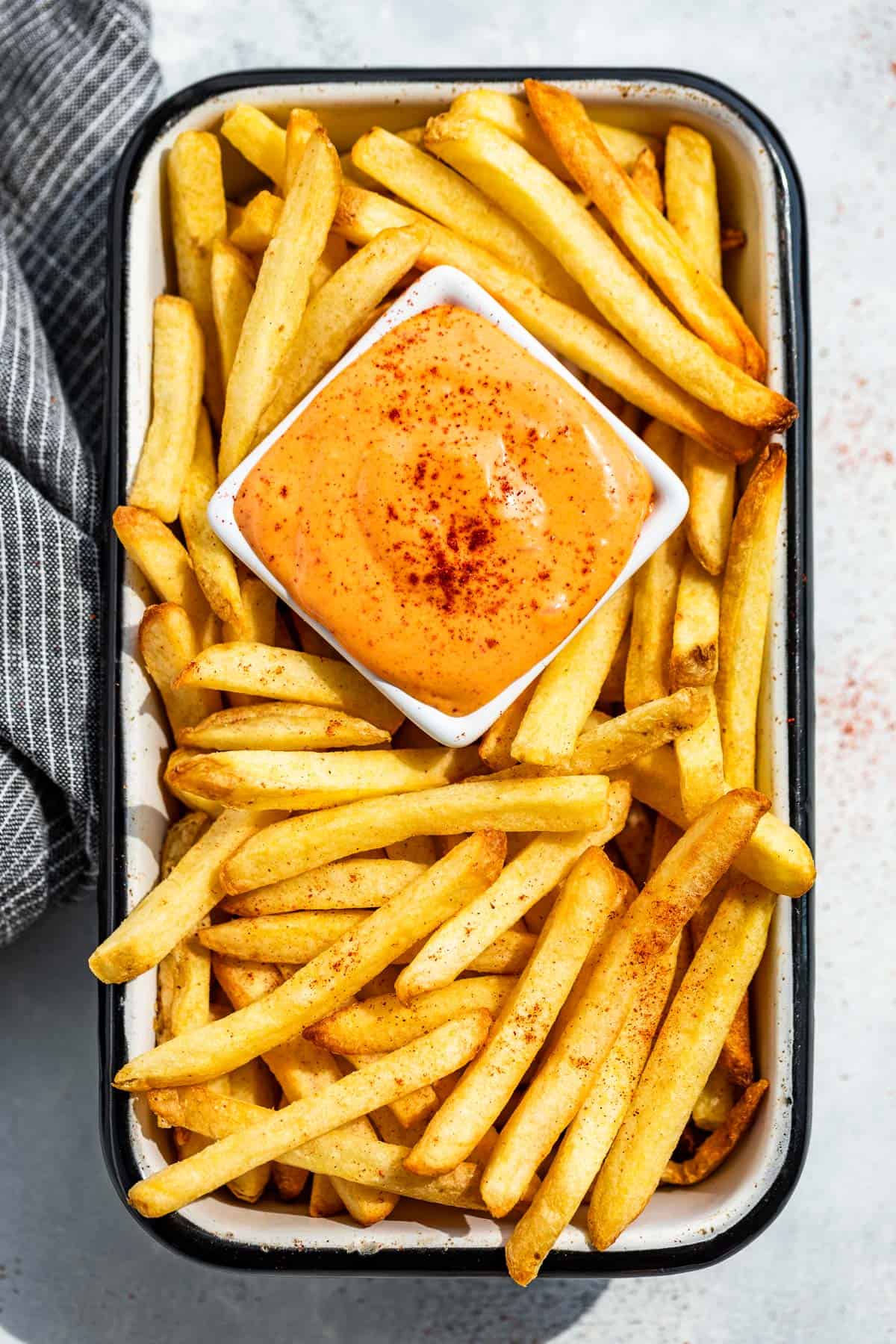 Ingredients & Substitutions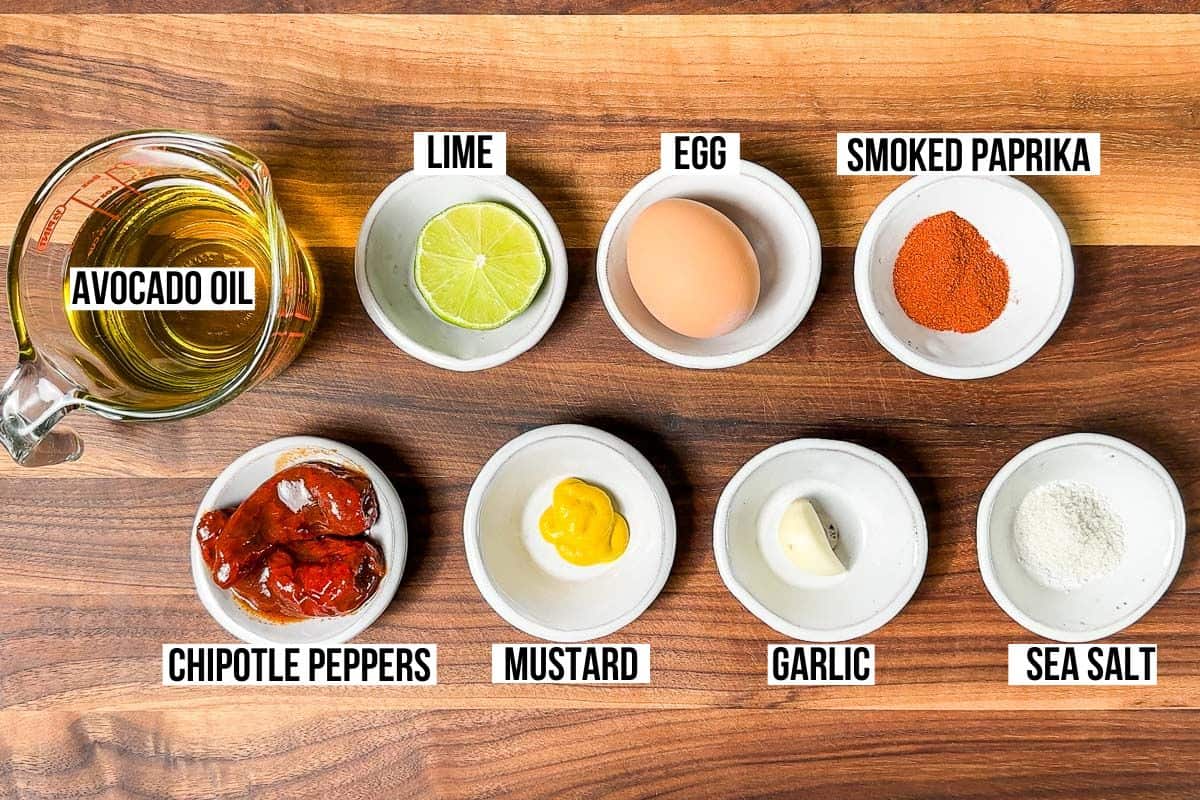 Egg – is what emulsifiers the oil to make a homemade avocado oil mayo. You can also use your choice of good-quality mayo and add the spices to it. But there really is no comparison between the homemade avocado mayo and store-bought, so it's worth trying it at least once!
Lime juice – adds a nice flavor touch paired with chipotle, but you can also use white wine vinegar if you don't have lime juice on hand.
Chipotle in adobo – you can find cans of these chipotle peppers in adobo sauce in the ethnic food aisles of the grocery store. Also, be sure to check the labels, chipotle in adobo isn't always gluten-free. They have a bit of sugar, etc., so you can add chipotle chili powder to taste instead. I usually use 1 tsp chipotle chili powder, but you can use more or less to taste. Chipotle in Adobo has a deeper flavor than the chili powder and is a bit tastier here.
Mustard – both Dijon mustard and yellow mustard work in this recipe, so use whatever you have. I do tend to lean more towards the more subtle flavor of Dijon.
Garlic – again adds depth of flavor and makes this sauce an aioli.
Smoked paprika – is my own secret ingredient for the best-tasting chipotle aioli. Smoked paprika adds to that smokey chipotle pepper flavor without adding any more heat. This way you get a very flavorful sauce without it being so spicy!
Avocado oil – or any neutral-tasting oil you like can be used to make your mayo base here. Avocado oil is extra tasty in this aioli because of its buttery flavor. You can usually find budget-friendly avocado oil at Costco in larger containers rather than the higher-priced small bottles at the grocery store.
How to make this recipe step by step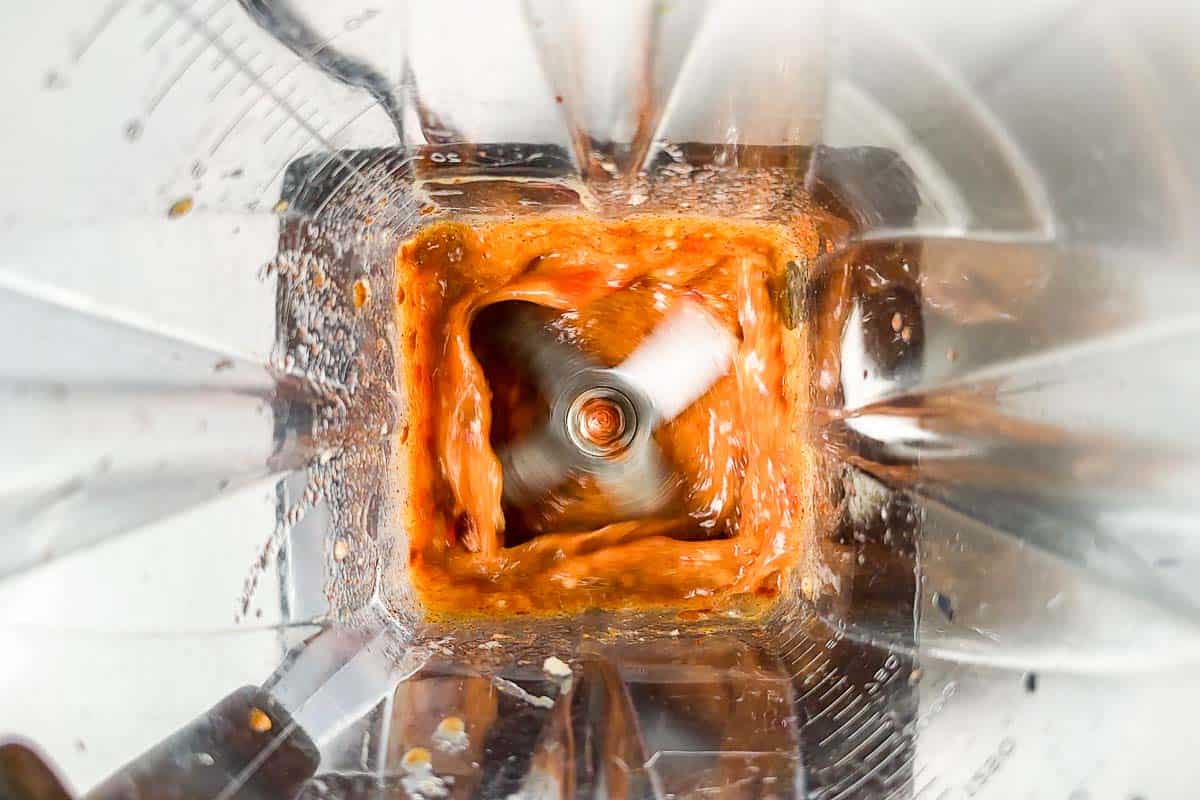 Step 1: Start by adding the egg, lime juice, garlic, chipotle chilis, smoked paprika, mustard, and sea salt to a blender container. Blend to combine.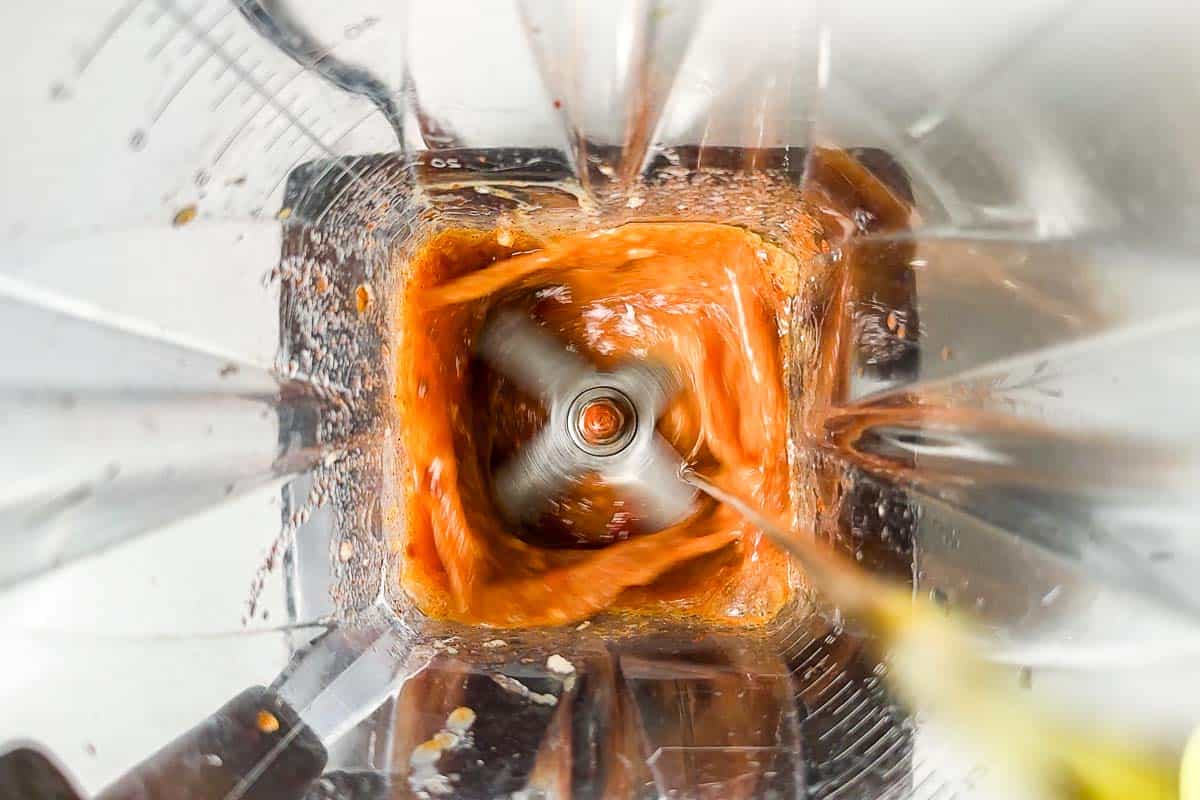 Step 2: Then with the motor running at low speeds, add the avocado oil in a thin steady stream.
Don't rush this process! As long as you add the oil slowly waiting for it to emulsify as you go, this recipe is foolproof.
However, if you accidentally rush this and the mayo breaks, refer to the tip section below for my method that always brings the mayo back together.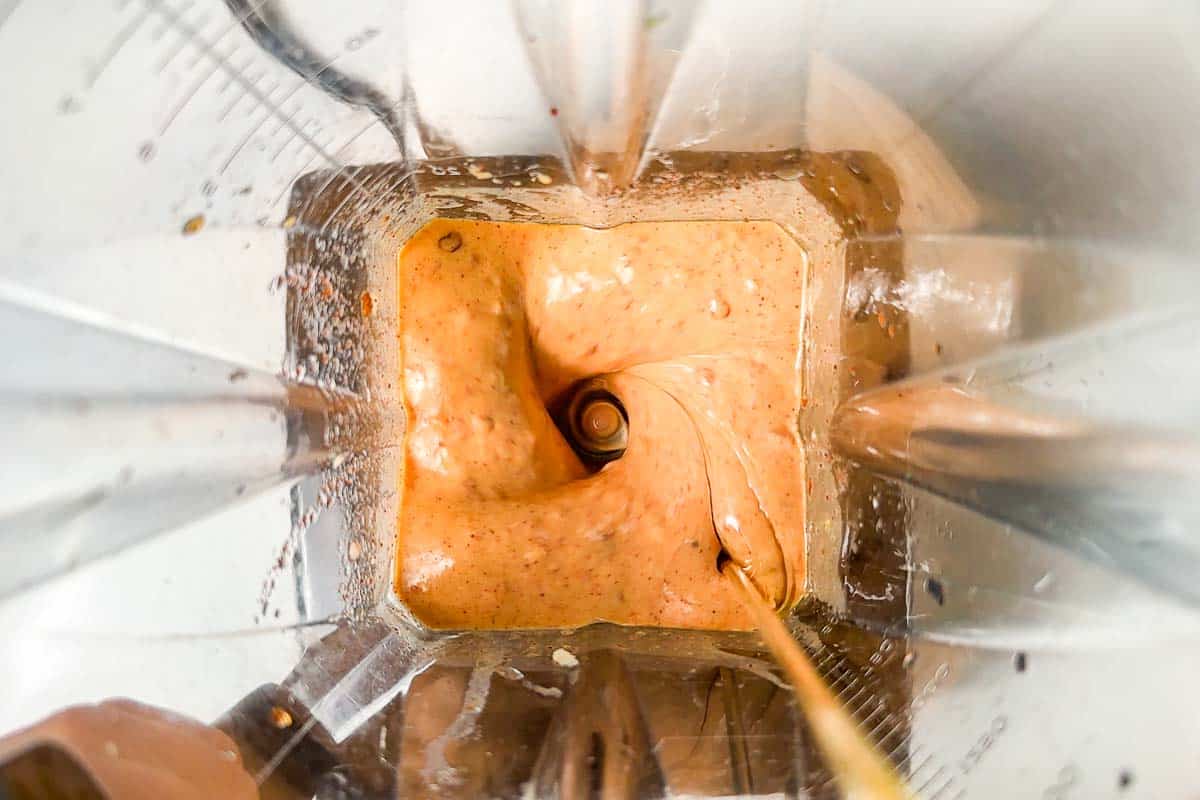 Step 3: Keep the motor running and continue to add the rest of the avocado oil until it's all combined and the sauce becomes thick and creamy.
Serve right away or refrigerate for up to 4 days.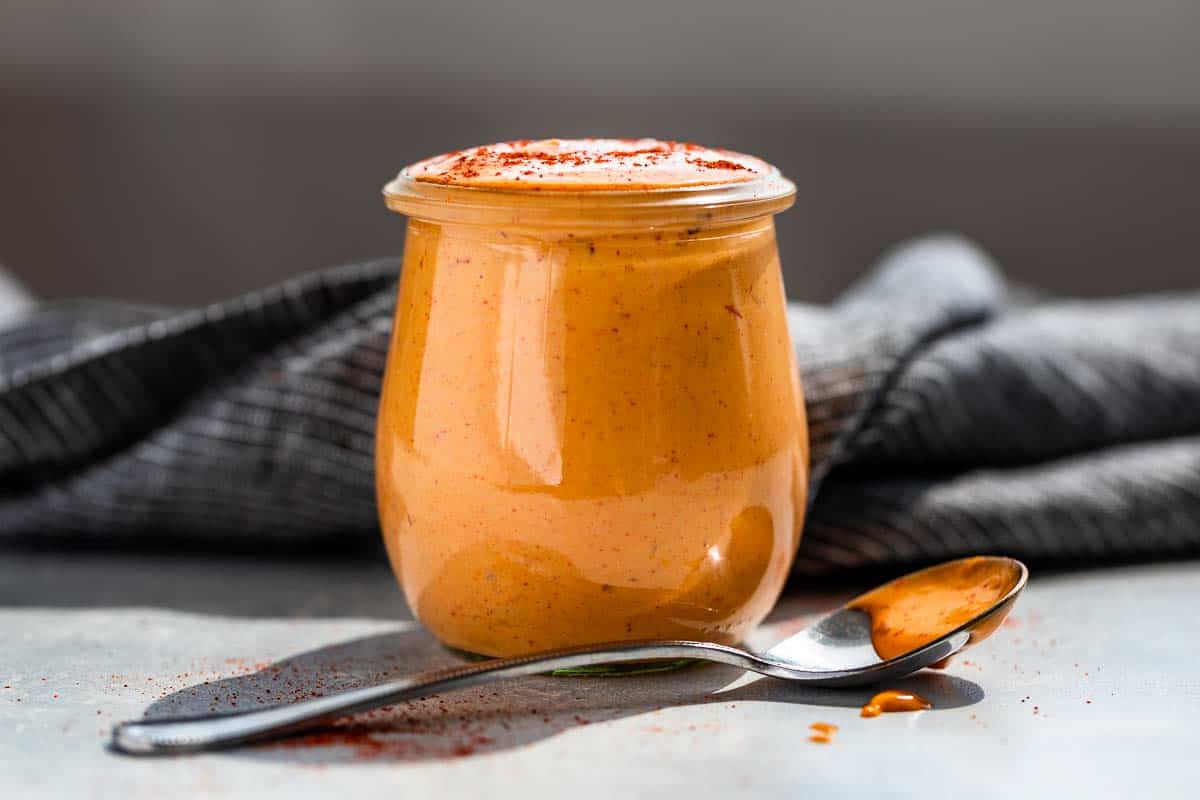 Ways to serve this
Serve this as a dipping sauce for all your favorite things like French fries, and sweet potato fries. Or try it as a dip for Grilled Vegetables. Our favorite way to eat in the summer is to grill up some veggies + protein and serve them with this chipotle aioli. So good and so simple!
Try this aioli on your next burger or on sandwiches. It's really great on my In and Out Lettuce Burgers instead of the sauce listed in the recipe.
Try it in place of the mayo for your next Tuna Salad or Chicken Salad. It's also tasty in my Curried Chicken Salad in place of the curry mayo dressing. The chipotle pairs well with the mango, cilantro, and chicken in that salad, just add lime juice to taste and omit the dressing listed.
Try this with any Mexican meal you love. It's great on fish or shrimp tacos as well as any burrito bowl. And because it's creamy, it's the perfect substitute for dairy in any Mexican burrito or taco bowl.
FAQ's
What is the difference between chipotle aioli and chipotle mayo?
Garlic is the key difference between a Chipotle aioli and a Chipotle mayo. That being said, both names are often used interchangeably without regard to the 'technical' differences!
What can I use instead of raw egg in this aioli recipe?
You can use a good quality (avocado oil) mayo in place of the raw egg and avocado oil. From there add the garlic, chipotle, spices, etc., and refrigerate for at least 1 hour to let the flavors develop. Store-bought mayo won't make quite as good of a sauce, but it's still really tasty.
Storing leftovers
To store – place any leftovers into an airtight container and refrigerate for up to 4 days. If you use store-bought mayo as the base this sauce will keep up to 1 week.
Make ahead – this chipotle aioli can be made ahead and the flavor keeps getting better. Just keep in mind it only keeps up to 4 days if you want to make it ahead.
Repurposing – make a tuna salad, egg salad, or chicken salad with any leftovers. Or you can add just enough fresh lime juice to make a salad dressing and take it for your next day's lunch over a Mexican bowl or salad.
Tips & Tricks
The mayo base for this chipotle aioli truly is foolproof and never breaks if you don't add the oil too fast. However, things happen! I don't bother with the usual tricks of adding warm water etc. I've never found them to work.
Instead, pour the broken chipotle mayo base into a container that pours well. Then add another egg to the blender container. Secure the lid and blend at lower speeds (3-5 on a Vitamix). Through the hole in the lid, drizzle the broken chipotle mayo mixture into the new egg very slowly until it's completely combined, thick and creamy.
This method has worked with every single batch of broken mayo I've ever had, so I hope it will become a staple fix for you too! And again I've never broken a batch of mayo/aioli unless I was rushing. Just keep the oil drizzling in slow enough that the mixture emulsifies and you won't need a fix! It's all about a balance between how fast you add the oil and how fast the blender is running. If you're not blending fast enough for the speed you're adding the oil, you're guaranteed a broken mayo/aioli. Better to take a little extra time until you get the hang of it!
Dietary Options & Substitutions
Paleo – use the option for 1 teaspoon of chipotle chili powder rather than the chipotle in adobo.
Vegan or Egg Free – use a vegan mayo in place of the homemade mayo.
Gluten-free – check the label for Chipotle in adobo to make sure you're buying a gluten-free brand. You can also use the paleo option with chipotle powder if you can't find gluten-free chipotle in adobo.
More Sauce Recipe Inspiration
I really hope you enjoy this Chipotle Aioli! If you do get a chance to make this recipe, I'd love to hear from you in the comments.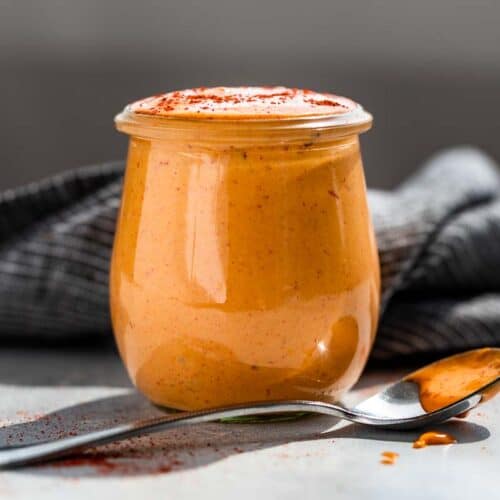 INGREDIENTS
Mayonnaise:
1

egg

-

left at room temperature for 30 minutes

2

tbsp

lime juice

-

freshly squeezed

1

clove

garlic

-

minced

1

tsp

Dijon mustard

-

or yellow mustard

1

tbsp

chipotle chile in adobo

-

(from the can) see notes

1

tsp

smoked paprika

1/2

tsp

sea salt

-

to taste

3/4

cup

avocado oil

-

olive oil, or neutral tasting oil
INSTRUCTIONS
Add all the ingredients except the avocado oil to a blender container.

Blend on low speeds to combine.

Then with the blender running on low speeds (3-5 on a Vitamix) add the avocado oil in a thin drizzle slowly. Allow the oil to emulsify as you add so your aioli doesn't break.

Keep adding the oil very slowly until it's gone and the chipotle aioli is thick and creamy. Add more chipotle in adobo if desired and season to taste with sea salt if more is needed.

Serve immediatly or refrigerate for up to 4 days.
Bonus Step
If you made this recipe, please leave a rating/comment. Ratings really help us continue to bring you high-quality free recipes. Rate This Recipe!
NOTES
Add the chipotle in adobo to taste, you can always start with less and work up. Also if you can't find the chipotle in adobo cans, try adding 1 tsp of chipotle chili powder instead.
This recipe makes 1.25-1.5 cups of chipotle aioli. To make half this amount, try using store bought mayo as a base and add the rest of the ingredients except the sea salt.
nutrition facts
Serving:
2
tbsp
|
Calories:
128
kcal
|
Carbohydrates:
1
g
|
Protein:
1
g
|
Fat:
14
g
|
Saturated Fat:
2
g
|
Polyunsaturated Fat:
2
g
|
Monounsaturated Fat:
10
g
|
Trans Fat:
0.002
g
|
Cholesterol:
14
mg
|
Sodium:
107
mg
|
Potassium:
13
mg
|
Fiber:
0.2
g
|
Sugar:
0.2
g
|
Vitamin A:
104
IU
|
Vitamin C:
1
mg
|
Calcium:
4
mg
|
Iron:
0.1
mg
This recipe was originally published in 2013 and updated in 2023 with new photos, more tips, and more information.