'We began with the best of intentions.' I've seen this sentence used several times in literature, and it always gets me – don't we all begin with the best of intentions only to discover the process is much more than we thought? So often a good idea fails to reach the level of reality because the original intention was flawed in it's conception (i.e. unreal expectations)!
If one sentence could describe my life that would probably be it, but it's really not as negative as it might initially sound. I'm overly enthusiastic about pretty much everything, so it's only natural that my expectations of what I can get done in a day or how much I can experience on my time off tends to be a little skewed. And… while I'm trying to temper that a bit, I'll never be sorry about trying to do too much!
This recipe comes from just such a situation, stemming from my unrealistic expectations. We went to dinner in a great Italian restaurant in Calgary called Mercato where I had big plans for all the things we were going to taste. Needless to say we ran out of steam halfway through my planned menu, and had to scrap our plans for the third course. But it all worked out in the end because I came home with all sorts of inspiration for some at home versions of the things we tasted, and the things we missed!
Fat asparagus spears work best for this recipe because it's easier to wrap a strip of prosciutto around each spear individually. Usually the best place to find fat asparagus spears is locally grown from your farmer's market.
As with all super simple recipes, the quality of your ingredients really counts – especially when there's only 2!
When you wrap the prosciutto around the asparagus, overlap the last bit at the top and press the end against the other layer of prosciutto. This helps it stick together and hold while it's grilling.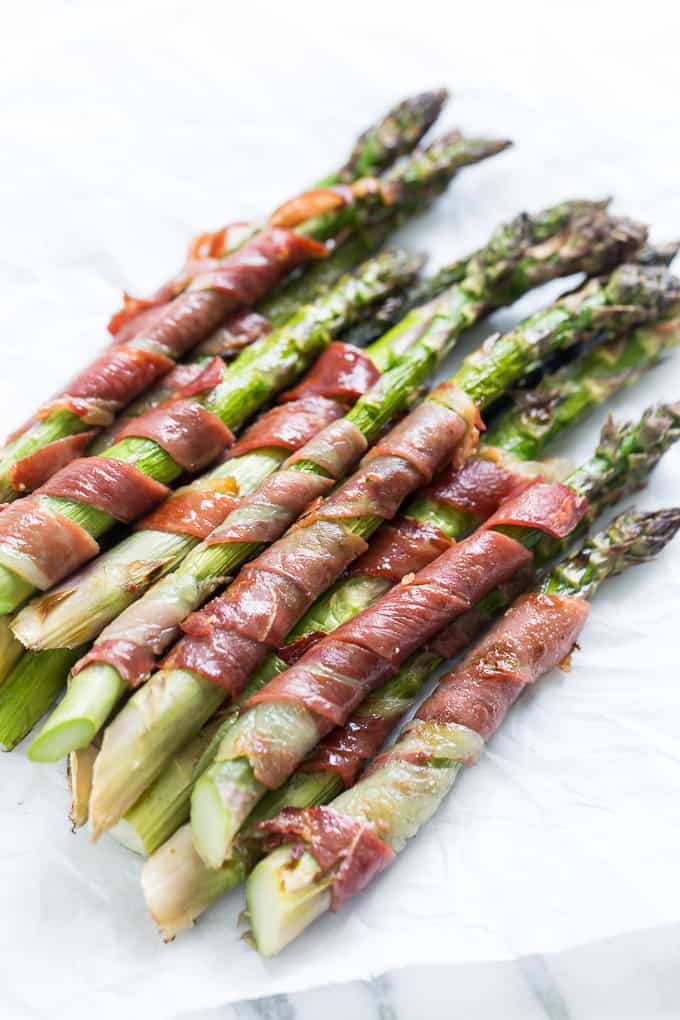 You can serve this dish as a side, but it's also good enough to be the star of the show. The first night I made this, the 2 of us ate the whole pound as a main course with a side of perfectly ripe French cheese slathered on crackers (so good and so simple)! The second time I made this, I served it with Tuscan Style Steak and Garlic Butter Sautéed Mushrooms to mimic the third course we missed while dining in Calgary. And lest you think we live in a gastronomic wonderland, I'll let you in on a secret, more often than not we eat reheated leftovers pieced together out of the fridge, and save the fine dining for the weekends!
Print
Grilled Prosciutto Wrapped Asparagus
---
18

–

22

fat asparagus spears, about

1

pound

4 ounces

sliced prosciutto, around 112 grams
---
Instructions
Preheat the grill over medium until the temperature is a steady 300ºF – 350ºF.
While the grill preheats, start wrapping the prosciutto around the asparagus spears. For the prosciutto, I cut the slices into 1/2″ strips lengthwise, and then wrapped each strip around a spear of asparagus. Secure the ends by overlapping the last two layers and pressing them together with your fingers. The prosciutto sticks together really well once it's pressed together.
Once you've wrapped all the asparagus with prosciutto strips, lay them crosswise to the grill slats, and lower the heat to medium low. It's important to keep the temperature between that 300ºF- 350ºF range so that you don't have any flare ups.
Cook the asparagus for 6-8 minutes or until just tender. As the asparagus cooks rotate it 2-3 times to grill all the sides.
When the asparagus is cooked serve it immediately! I think it's best hot off the grill, but it's also really good at room temperature so it would make a good picnic item.
Notes
I've included both the ounces and the grams for the prosciutto because depending on the deli you're ordering from they use different measurements, and it's no fun doing a last minute calculation in your head!
Prep Time:

10 mins

Cook Time:

8 mins