All your favorite things about Antipasto Platters combine into this super tasty Italian Chopped Salad! Fresh crunchy lettuce and juicy tomatoes pair perfectly with cubed cheese and slivered salami. From there, depth of flavor is added with roasted red peppers, olives, and pepperoncini. All in all this salad is a meal unto itself and perfect paired with your favorite Italian pasta dinners, or anything from the grill as well.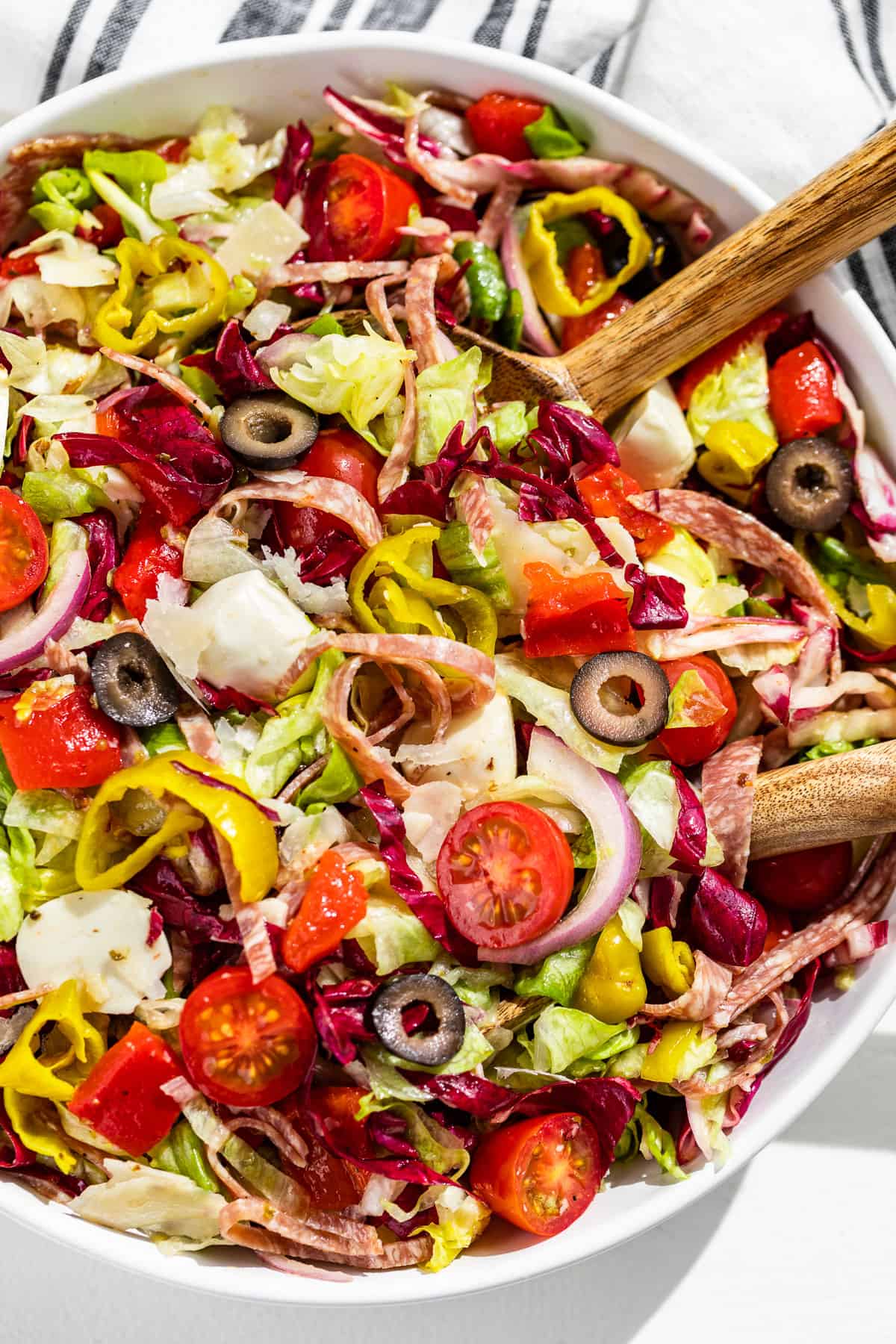 We love this salad so much that it can be hard to make anything else, (besides my Caesar Salad I suppose)! It's based on the famous salad from Nancy Silverton from Pizzeria Mozza in LA. And that is probably why it's also sometimes referred to as the LA chop.
We ate at Pizzeria Mozza a few years back and I've been wanting to make an at-home version of this salad ever since. I've also been a long-time fan of Nancy Silverton's work and would encourage you to check out her cookbooks. I have a sourdough starter I grew based on her La Brea Bread book that's almost 20 years old now and her recipes just keep giving!
I've made a few changes to her original recipe and would definitely recommend you change this salad up to suit your tastes as well. You'll also find my dietary notes below for how to make this dairy-free or customize it to fit the seasons.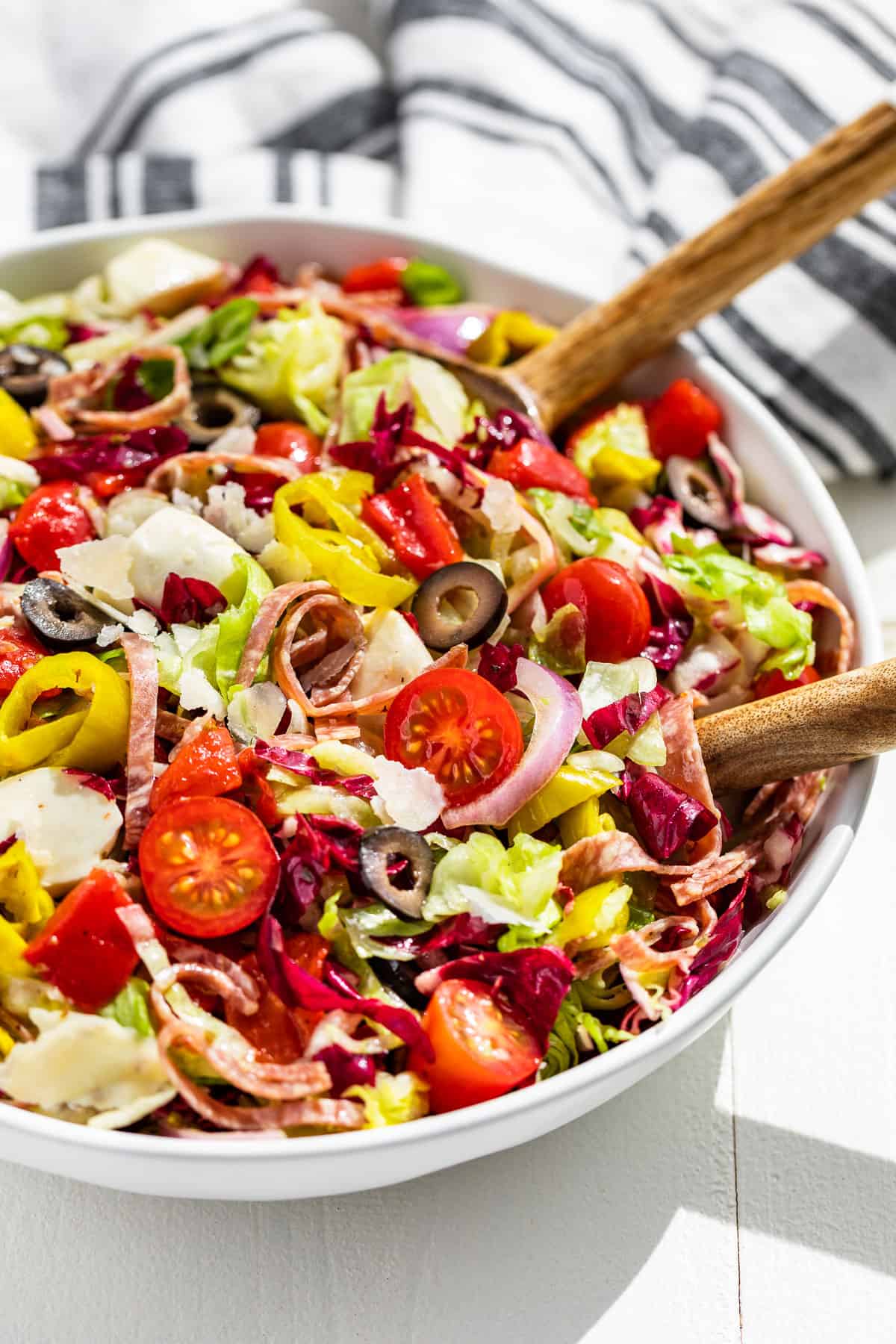 Ingredients & Substitutions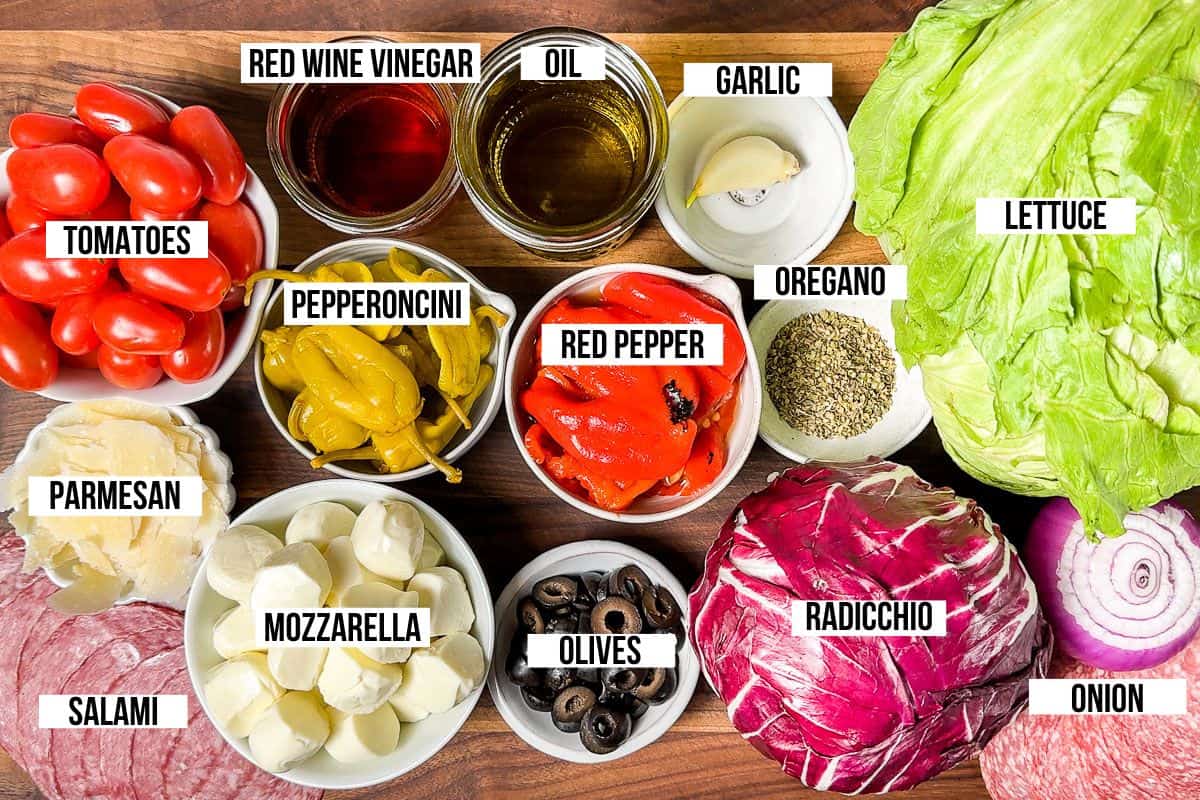 Lettuce – iceberg lettuce is traditional in this salad for its refreshing crunch, but romaine lettuce would be my second choice.
Radicchio – is part of the chicory family and adds both nice color contrast and a slightly bitter depth to this salad. It can be expensive at times, so I recommend leaving it out when it's not affordable, or adding some chicory from a box of spring mix instead.
Tomatoes – cherry tomatoes are my favorite to use because they're the most reliable for quality of flavor and hold up well in this salad. You can also leave them out when they're not in season. Chopped cucumber is sometimes included in this salad, but I only add it when I have lots on hand in the summer.
Salami – I like to use Genoa salami for its savory flavor that isn't overwhelming. Once in a while, it's nice to mix things up with a spicy salami.
Cheese – I like to use a mix of 2 cheeses in this salad. In the summer months, I use halved mozzarella balls, sometimes called mozzarella pearls, and grated parmesan cheese. In the colder months, I sub in cubed Provolone cheese for the fresh mozzarella.
Canned veggies – I use a mix of roasted red pepper and pepperoncini in my salad and usually leave out the traditional olives, but you can customize them to your taste.
Onion – slivered red onion adds a lot of savory flavor to this salad, you could also use thinly sliced shallot. Yellow and white onions are a bit too forward in this salad, but you could reduce the amount if you don't have a red onion.
Dressing – the dressing is a red wine vinaigrette made up of extra-virgin olive oil, red wine vinegar, garlic, and oregano. This salad traditionally has a lot of oregano in it. I've reduced it a bit, but I do find a large amount tastes really good, so don't shy away!
How to make this Italian Chopped Salad recipe step by step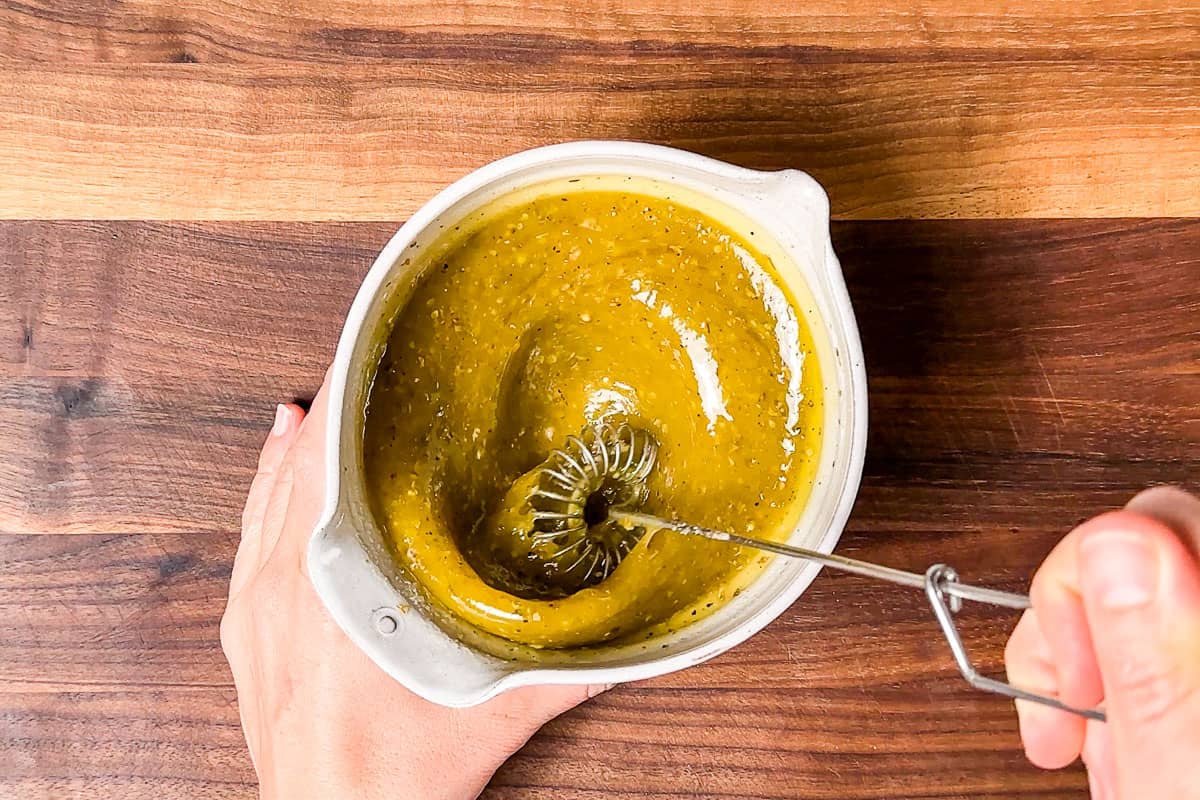 Step 1: Start by whisking together the vinaigrette in a medium-sized bowl. The dressing will separate as it sits, simply whisk it back together before serving. You can also shake the dressing together in a mason jar as well.
The reason you want to make it right away is so the dried oregano flavor has time to develop while you make the salad.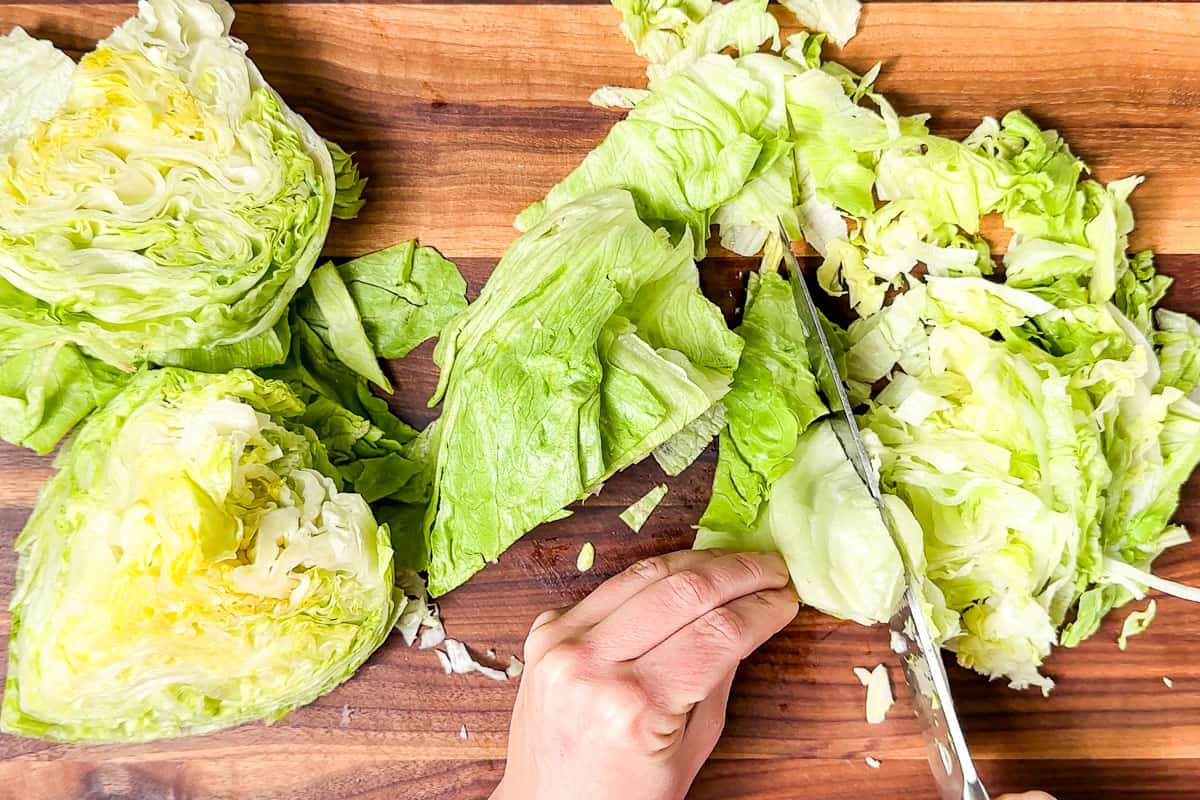 Step 2: While the dressing sits, chop up the lettuce into bite-sized pieces and use a salad spinner to wash it.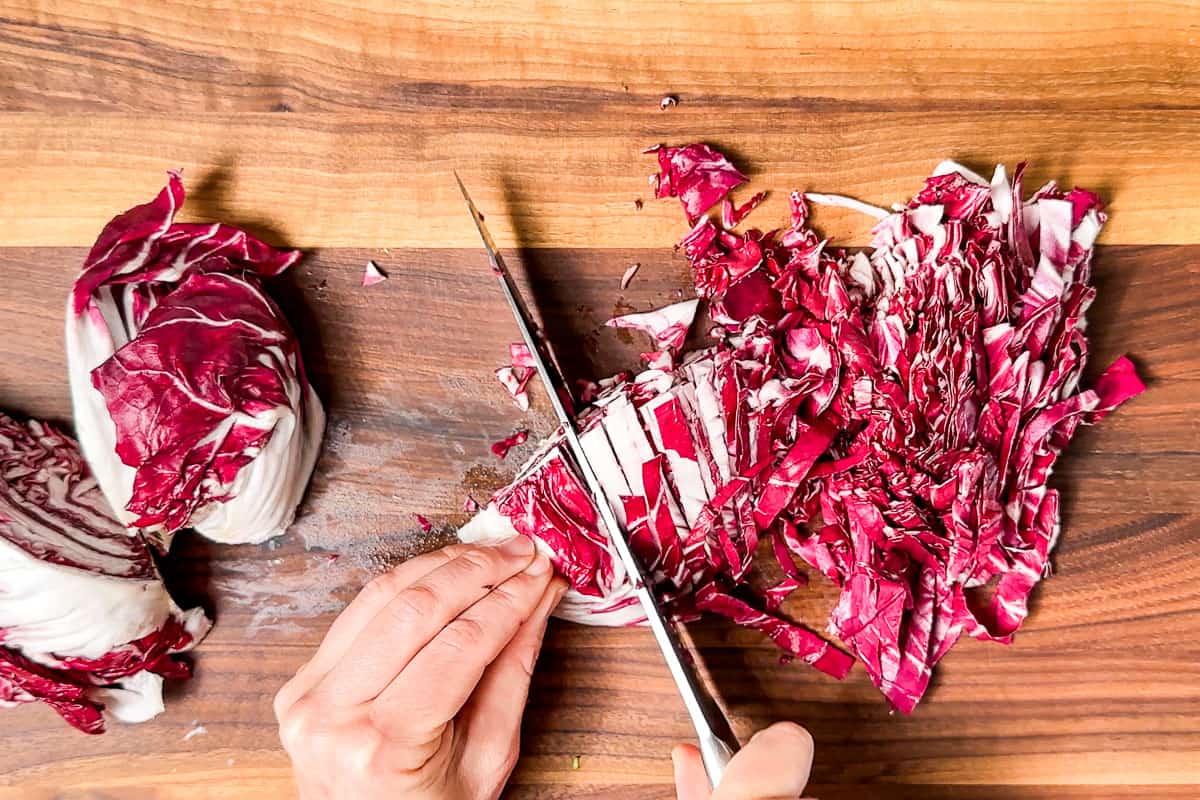 Step 3: Thinly slice up the radicchio if you're using it and use a salad spinner to wash and spin it dry.
Add it with the lettuce into a large serving bowl. Finish cutting up the rest of the veggies you're using and add them to the serving bowl as well.
Step 4: Thinly slice the sliced salami into ribbons. You want to make sure there's salami in almost every bite of salad.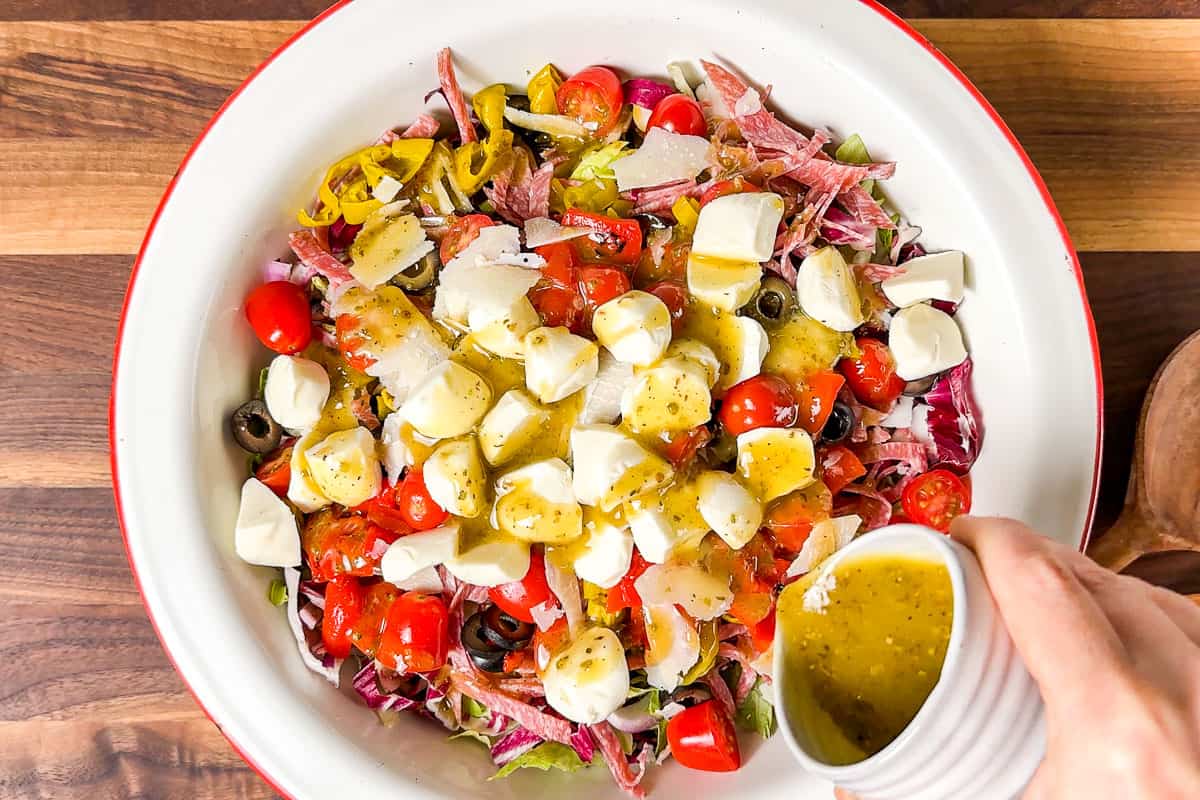 Step 5: Once you've chopped up all the ingredients and added them to a serving bowl, toss the salad with the oregano vinaigrette before serving. Or you can serve the salad and dressing separately if desired.
By this point you'll know why it's called the 'LA Chop' there's definitely a lot of chopping, but it's so worth it!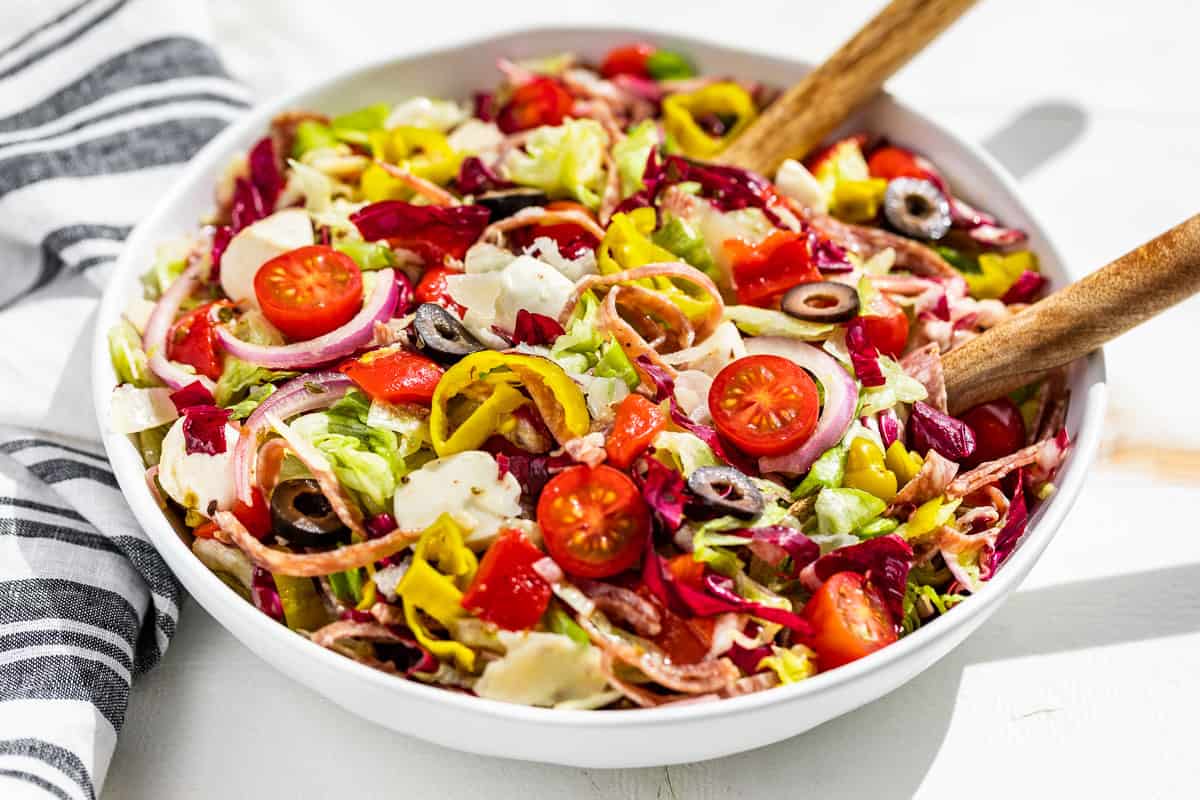 FAQ's
What is an Italian Chopped Salad made of?
The base of an Italian chopped salad is made up of iceberg lettuce and radicchio. Then all sorts of antipasto ingredients are added like cheese, salami, pepperoncini, roasted red peppers, olives, and tomatoes. It's traditionally served tossed together with an oregano red wine vinegar dressing.
What can I use in place of the fresh mozzarella?
Cubed provolone works perfectly in this salad and is in many traditional recipes. I like to use provolone in the winter months and fresh mozzarella in the summer months if it's available.
Storing leftovers
To store – store each of the salad ingredients separately for 3-4 days. If you toss the salad together without the dressing it will keep refrigerated for 1-2 days. If you toss it with the dressing, it will keep refrigerated until lunch the next day, but it will be a bit soggy, (we've never minded though).
Make ahead – you can make the dressing ahead and refrigerate it for up to 1 week. Let it come back to room temperature before using. The ingredients for the salad can be prepped and stored separately for 2-3 days as well before tossing together.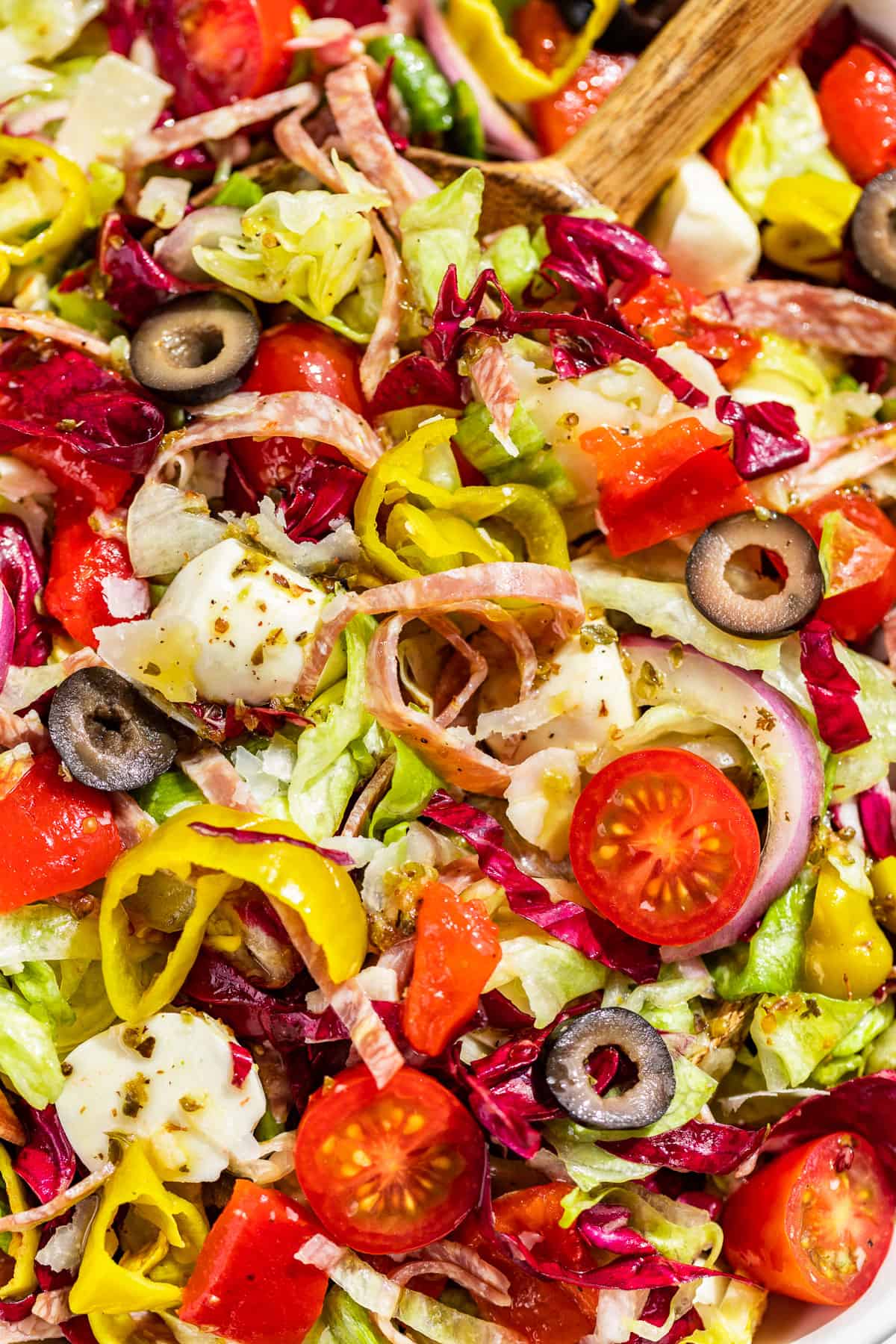 Tips & Tricks
Customize this salad according to your tastes, omit or add anything that sounds good to you with these flavors. This salad traditionally has chickpeas in it, but we prefer it without. So taste and adjust until you're crazy about this salad.
Making the dressing first is really important so the dried oregano has time to marinate its flavors into the dressing. I also like to rub it between my thumb and pointer finger as I add it to the bowl to help it release flavor.
You don't have to make this salad with every single ingredient each time, I often omit what I don't have and it's still tasty.
Fresh basil is the perfect addition to this salad whenever you have it on hand. In the summer, I add it by the handfuls when my pots of basil are producing lots!
If you're not crazy about oregano, try my Homemade Italian Dressing instead.
Dietary Options & Substitutions
Dairy-free – omit the cheese for dairy-free, and there are still plenty of flavors to go around.
Paleo – omit the cheese and be sure there are no additives in the salami you choose.
Seasonal – omit the tomatoes when they're not in season and use jarred veggies like roasted red pepper and pepperoncini.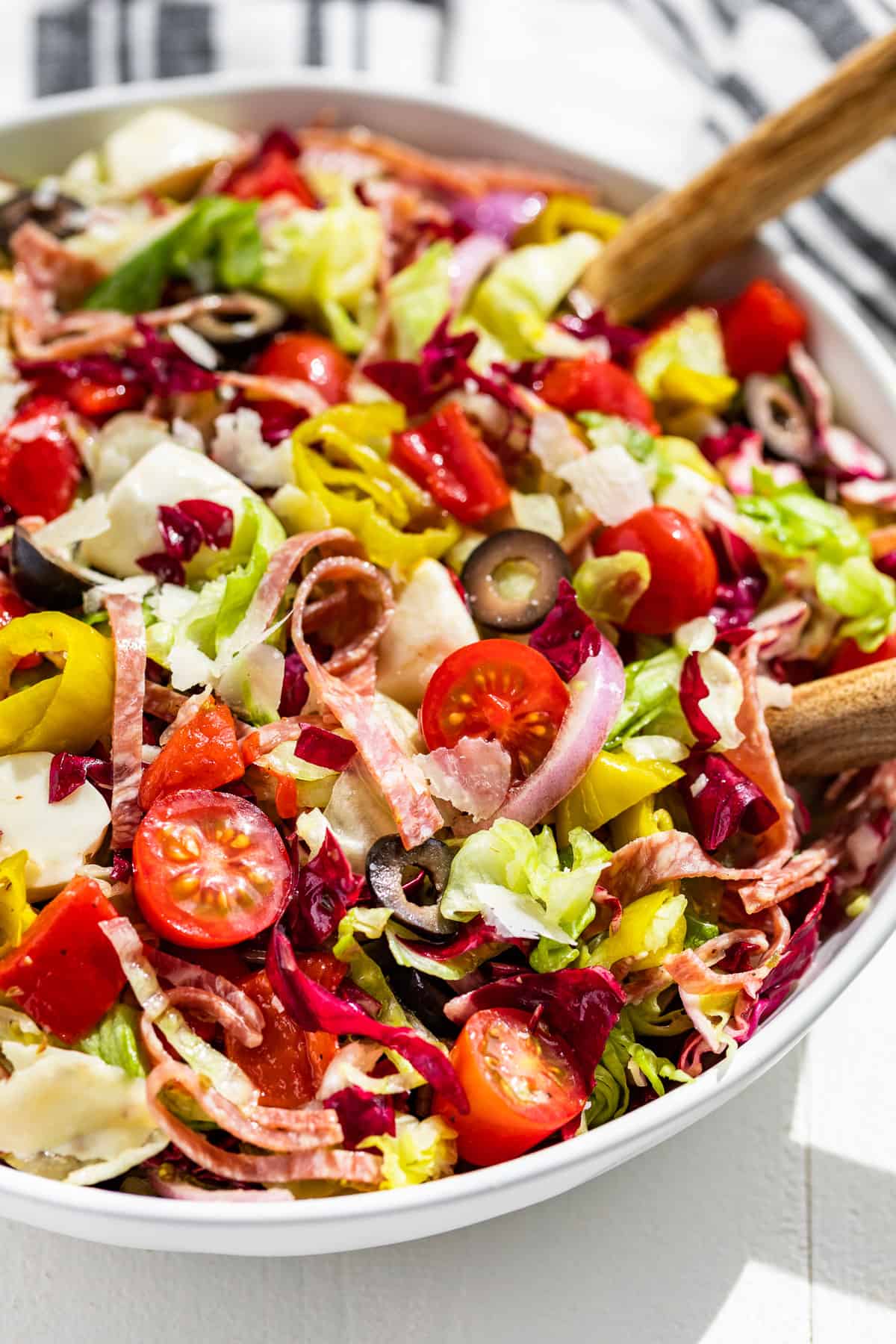 More Salad Recipe Inspiration
I really hope you enjoy this Italian Chopped Salad! If you do get a chance to make this recipe, I'd love to hear from you in the comments.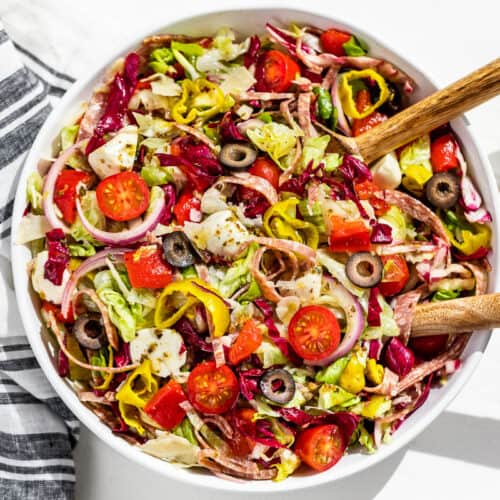 INGREDIENTS
1

head

iceberg lettuce

-

about 8" in diameter, washed and thinly sliced

1

small

radicchio

-

washed and thinly sliced

2

cups

cherry tomatoes

-

halved

1/2

small

red onion

-

thinly slivered

1/4

cup

pepperoncini

-

thinly sliced, I use up to 1/2 cup to taste

1/2

cup

roasted red peppers

-

diced

1/4

cup

sliced black olives

1

cup

mozzarella balls

-

called bocconcini, halved or quartered, or fresh mozzarella in bites sized pieces, see notes

1/2

cup

parmesan cheese

-

freshly grated

6

ounces

Genoa salami

-

thinly slivered, about 1 cup
Dressing
1

clove

garlic

-

minced

1

tbsp

dried oregano

1/4

cup

red wine vinegar

3/4

cup

extra virgin olive oil

sea salt and pepper to taste
INSTRUCTIONS
Start by whisking together the vinaigrette in a medium-sized bowl. The dressing will separate as it sits, simply whisk it back together before serving.

Prep each ingredient listed for the salad and add it to a large serving bowl. You can prep and store these ingredients separately for up to 2 days or so.

When you're ready to serve the salad, whisk the dressing back together and toss it with the salad. Season to taste with sea salt if needed and serve. Or you can serve the dressing and salad separately.
Bonus Step
If you made this recipe, please leave a rating/comment. Ratings really help us continue to bring you high-quality free recipes. Rate This Recipe!
NOTES
I sometimes sub in 1 cup of small cubes of provolone cheese for the fresh mozzarella.
When cherry tomatoes aren't in season omit them and use more roasted red pepper and pepperoncini to taste. You can also add 1 cup of diced cucumber and a handful of chickpeas if desired.
The measurements for each salad ingredient can be added or reduced to your taste.
nutrition facts
Calories:
476
kcal
|
Carbohydrates:
9
g
|
Protein:
14
g
|
Fat:
43
g
|
Saturated Fat:
10
g
|
Polyunsaturated Fat:
4
g
|
Monounsaturated Fat:
26
g
|
Cholesterol:
34
mg
|
Sodium:
1056
mg
|
Potassium:
488
mg
|
Fiber:
3
g
|
Sugar:
4
g
|
Vitamin A:
880
IU
|
Vitamin C:
26
mg
|
Calcium:
214
mg
|
Iron:
2
mg