Super tender and oh-so juicy, this baked Pork Tenderloin is really easy to cook, and so versatile. Garlic and herbs combine together to create a flavor combo everyone loves. I've also included my other variations in the recipe below so you can endlessly change it up.
This super tender pork tenderloin is great for a dinner party or for a family dinner. It's easy to make, but it also looks gorgeous laid out on a serving platter. Get ready for a melt-in-your-mouth tender full of flavor roast, and it's a guaranteed crowd-pleaser.
It's also a really great budget-friendly option for the holidays. We love celebrating with my Beef Tenderloin, but there's no doubt it costs quite a bit. So making this simple juicy pork tenderloin is also a great way to entertain guests, without the same price tag.
Ingredients & Substitutions
Pork Tenderloin – usually they come weighing about 1-ish pound each, but you can use a meat thermometer to make sure it's not overcooked. The pork tenderloins I used here were 1.25 pounds each, so they do vary a bit. There isn't a direct substitute for pork tenderloin, but you can use my garlic herb mixture on pork loin, pork chops, and chicken. Just adjust the cooking time accordingly.
Butter – ghee, dairy-free butter, or olive oil all work here to create a nice coating to keep the pork tenderloin juicy as it roasts.
Garlic – is used in all my variations below to add flavor no matter which herb or spice mix you pick.
Seasoning – I love using Italian seasoning and Herbs de Provence with garlic butter. But you'll also find some of my other favorites below like Ethiopian Berbere spice mix, Cajun seasoning, Greek seasoning, or even lemon pepper.
Sea salt & pepper – add flavor as the meat roasts.
How to make this recipe step by step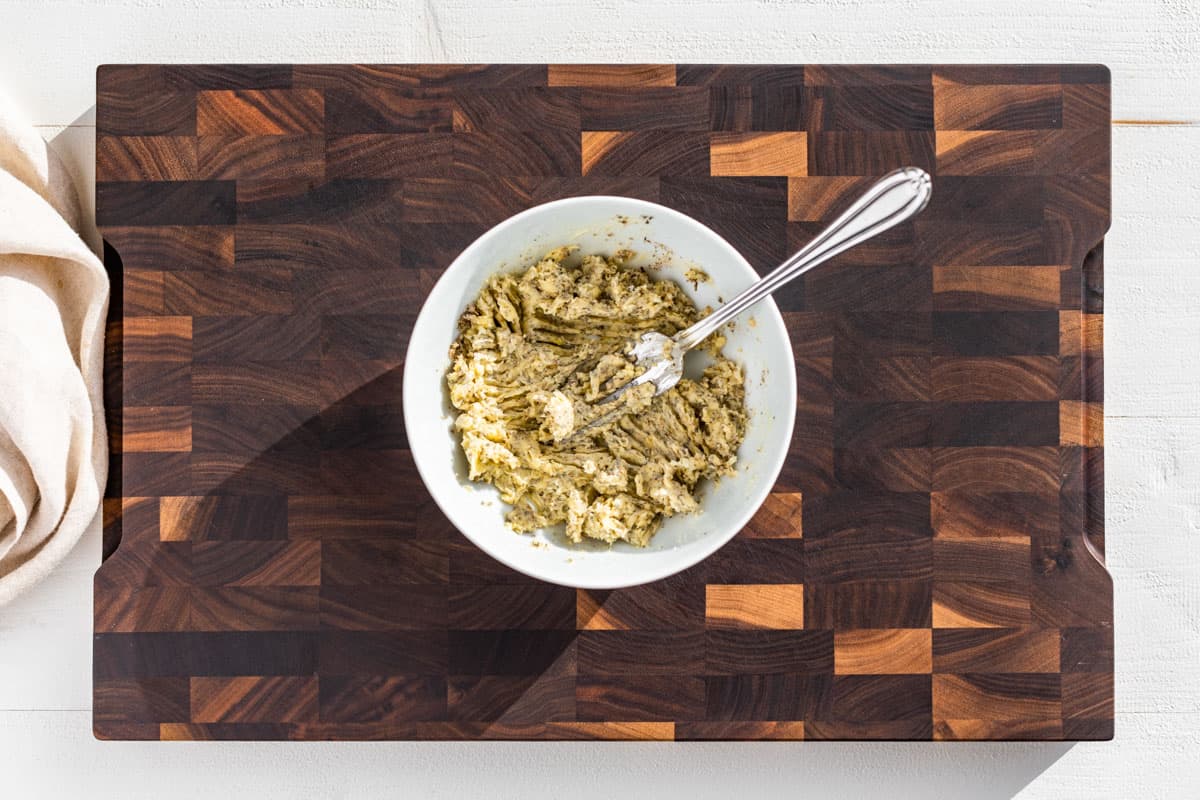 Step 1: Start by preheating the oven, then mash the softened butter together with the minced garlic and herbs of choice.
Step 2: Trim away the tough silver skin on the pork tenderloins and pat them dry with paper towels. Then spread the garlic herb butter over the surface, and pour in the broth.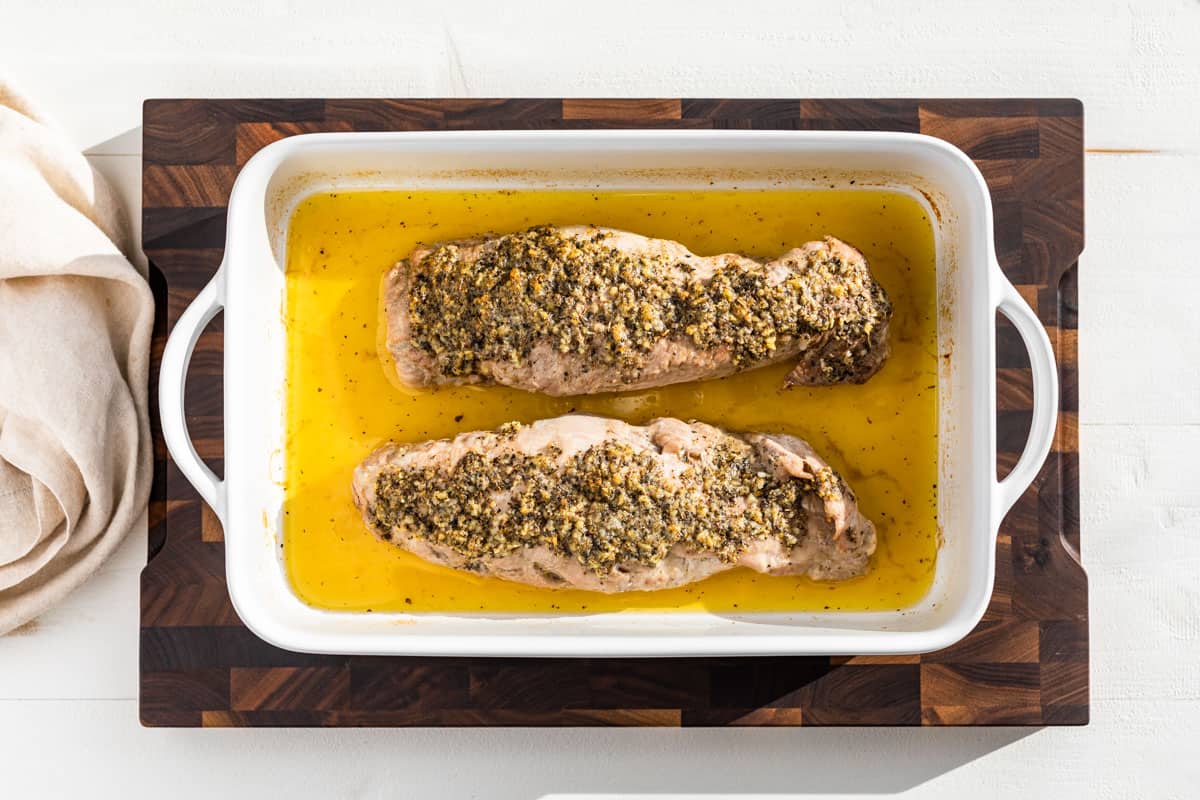 Step 3: Bake until the pork is just done, and register an internal temperature of 145ºF from an instant-read thermometer. See the recipe notes about making a quick sauce from the drippings.
Step 4: Let the roasted pork tenderloin rest covered with a foil 'tent' for 10 minutes or so, then slice and serve with the juices. If I'm not making a quick sauce from the juices, I lay the sliced pork tenderloin right in the juices to serve.
FAQ's
How do you cook Pork Tenderloin without drying it out?
Use a meat thermometer to make sure it doesn't get overcooked. Pork tenderloin is a very lean cut of meat that will dry out when it's overcooked. Pork is done when it registers 145ºF.
What is the best method of cooking pork tenderloin?
A nice hot oven at 425ºF brings out a lot of flavor in pork tenderloin, and this tender cut can handle the heat. Just use an instant-read thermometer to make sure it doesn't dry out!
Should pork tenderloin be cooked fast or slow?
Pork tenderloin is perfect for cooking fast and hot in the oven! It's a tender cut that benefits from the roasted flavor of a higher temperature.
Can you cook pork tenderloin without searing?
Yes, there's no need to sear pork tenderloin if you cook it at 425ºF, it will have plenty of nice browned flavor.
Is it better to cook pork tenderloin at 350ºF or 400ºF?
It's even better to cook pork tenderloin at 425ºF because you will get the perfect roasted flavor without the need to sear in a skillet!
Storing leftovers
To store – place any of the sliced leftovers into an airtight container and refrigerate for 4-5 days.
Make ahead – you can make the garlic herb butter up to 1 day ahead and place it in the fridge. Remove it from the refrigerator 2 hours before using so it spreads easier.
Reheating – using a cast iron or non-stick skillet sear the leftover slices in a bit of butter or oil, cooking briefly on each side to re-warm. Or you can microwave any leftovers.
To freeze – place any leftovers into an airtight sealed container, and freeze for up to 1 month.
Tips & Tricks
Use a meat probe or instant-read thermometer to make sure your pork tenderloin doesn't dry out. Lean cuts of pork are only dry when they're overcooked.
The USDA recommends 145ºF as done for pork. You sometimes see a touch of pink, but it's not raw deep pink! And your pork will be juicy if you don't go past the USDA temperature recommendation.
Try the different spice recommendations in the recipe that sound good to you. Pork is very versatile and goes well with so many different flavors!
Dietary Options & Substitutions
Dairy-free – use dairy-free butter or olive oil recommended in the recipe below.
Paleo – use ghee or olive oil in place of the butter.
You can also use the honey mustard mixture from my Roast Pork Loin on this pork tenderloin if you love the flavor of pork and Dijon mustard!
10 Variations for this Baked Pork Tenderloin Recipe
2 tsp Herbs de Provence
2 tsp Lemon Pepper and omit the black pepper
2 tbsp Cajun Seasoning + olive oil instead of butter
2 tbsp Ethiopian Berbere + olive oil instead of butter
1 tbsp Greek seasoning + olive oil instead of butter
2 tbsp Fajita Seasoning + olive oil instead of butter
2 tbsp Ranch Seasoning – olive oil or butter works
2 tbsp Blackening Seasoning + olive oil instead of butter
2 tbsp Jerk Seasoning + olive oil instead of butter
2 tsp smoked paprika + 2 tsp granulated onion + olive oil instead of butter
I really hope you enjoy this baked Pork Tenderloin! If you do get a chance to make this recipe, I'd love to hear from you in the comments.
INGREDIENTS
2.5

lbs

pork tenderloin

-

trimmed, 2 pork tenderloins

4

tbsp

salted butter

-

softened, or 2 tbsp olive oil, see notes

2

cloves

garlic

-

minced

2

tsp

Italian seasoning

-

no salt or added sugar, see notes for more options

1

tsp

sea salt

1/2

tsp

black pepper

1/2

cup

chicken broth

-

low sodium
Optional thickener for a sauce:
1

tsp

tapioca starch

-

or cornstarch mixed together with water until smooth
INSTRUCTIONS
Preheat the oven to 425ºF.

Place the butter, garlic, Italian seasoning, sea salt, and pepper in a small bowl. Mash together with the back of a spoon until completely combined.

Pat the trimmed pork tenderloins dry with paper towels.

Place the pork tenderloins into a 9"x13" baking dish and spread / pat the herb butter as evenly as possible over the tops of the pork tenderloins.

Pour the chicken broth into the bottom of the baking dish and bake the pork tenderloins until an instant read thermometer reads 145ºF, (see notes) about 30 minutes.

Remove the pork from the oven, cover with aluminum foil or a lid and let rest 5-10 minutes before slicing. Slice then lay the pork slices in the juices to serve. Or make the optional sauce.

To make a quick sauce from the pork juices, stir together the tapioca / cornstarch with just enough water to be smooth. Pour the juices into a small saucepan and bring to a boil.

Whisk in the tapioca mixture until it's the consistency you like. You may need to use an additional tsp depending on how much juices you have.
Bonus Step
If you made this recipe, please leave a rating/comment. Ratings really help us continue to bring you high-quality free recipes. Rate This Recipe!
NOTES
Use dairy free / vegan butter, or olive oil for dairy free version and ghee for paleo. If you're using olive oil, reduce the amount to 2 tablespoons.
The temperature of the pork will continue to rise as it rests, so I pull mine from the oven at 140ºF and cover to rest. The final temperature is always at least 145ºF when I go to slice it.
Instead of the Italian seasoning, try any of the variations below that sound good to you.
Different things to do with this Pork Tenderloin instead of Italian Seasoning:
2 tsp Herbs de Provence
2 tsp Lemon Pepper and omit the black pepper
2 tbsp Cajun Seasoning + olive oil instead of butter
2 tbsp Ethiopian Berbere + olive oil instead of butter
1 tbsp Greek seasoning + olive oil instead of butter
2 tbsp Fajita Seasoning + olive oil instead of butter
2 tbsp Ranch Seasoning – olive oil or butter works
2 tbsp Blackening Seasoning + olive oil instead of butter
2 tbsp Jerk Seasoning + olive oil instead of butter
2 tsp smoked paprika + 2 tsp granulated onion + olive oil instead of butter
nutrition facts
Calories:
226
kcal
|
Carbohydrates:
1
g
|
Protein:
30
g
|
Fat:
11
g
|
Saturated Fat:
5
g
|
Polyunsaturated Fat:
1
g
|
Monounsaturated Fat:
3
g
|
Trans Fat:
0.3
g
|
Cholesterol:
107
mg
|
Sodium:
414
mg
|
Potassium:
583
mg
|
Fiber:
0.3
g
|
Sugar:
0.1
g
|
Vitamin A:
187
IU
|
Vitamin C:
0.2
mg
|
Calcium:
21
mg
|
Iron:
2
mg