This recipe for Thai Yellow Chicken Curry with potatoes is based on a seriously amazing curry from a local restaurant! There's a super easy secret that makes this yellow curry restaurant quality, and it's as simple as what curry paste you use. Serve this savory curry with freshly steamed rice, chopped cilantro, and lime wedges for the best flavor.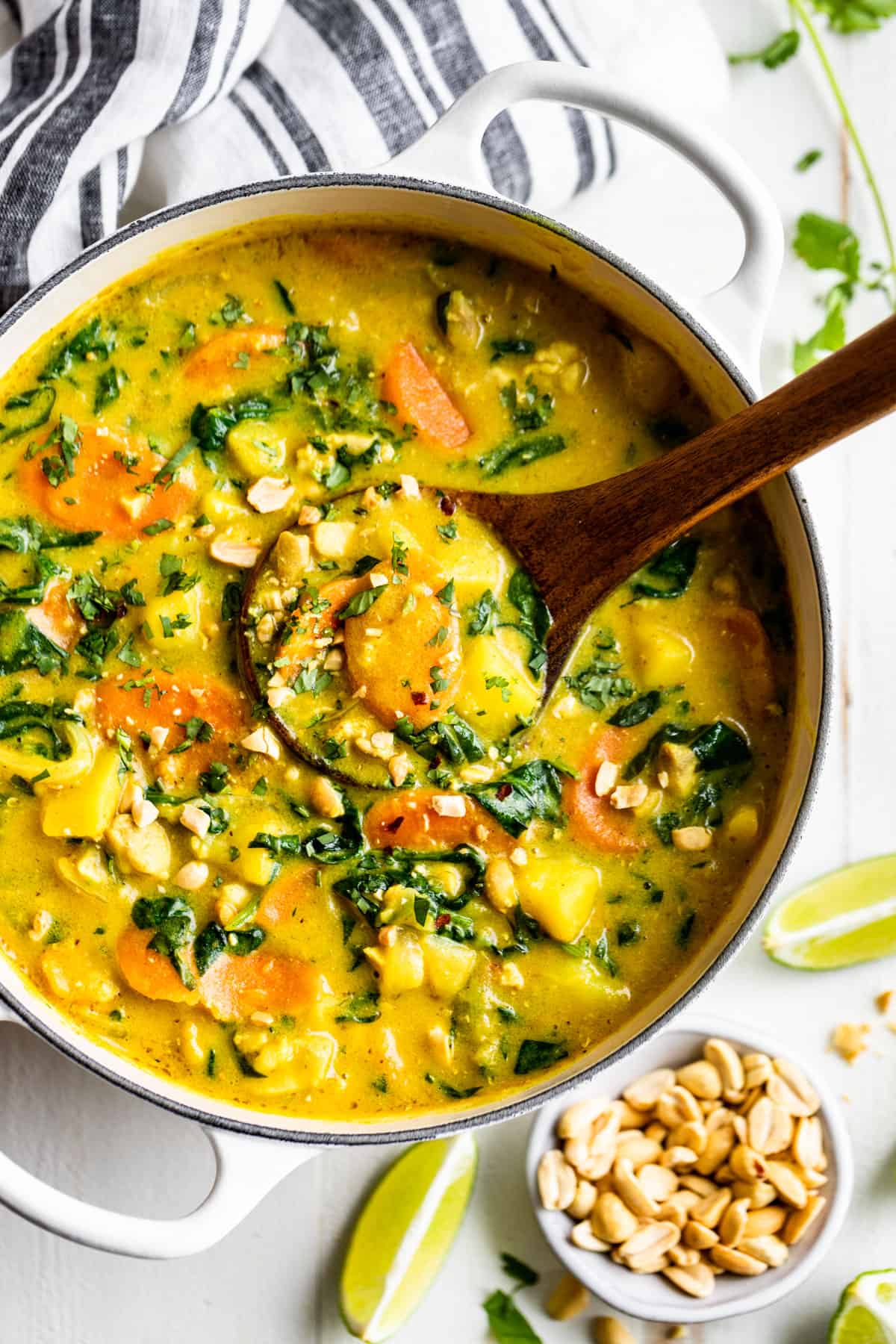 This is my favorite curry of all time, and I promise I'm not exaggerating. I love curries from all types of cuisines, but this one has always had my heart. The inspiration for this one is based on #54 on the menu at our local favorite Thai restaurant.
They make a yellow curry enriched with just a hint of peanuts that will keep you coming back again and again for more years than anyone would want to count.
Over the years I've tried to come up with a yellow curry that is even close, but I've mostly been disappointed. It wasn't until I started using a specific curry paste which we'll talk about below that I finally started getting some good results.
From there it was just a matter of getting just the right amount of peanut flavor in there without it being overwhelming. And finally, after so many years of trying to get it right, I have a recipe that rivals #54!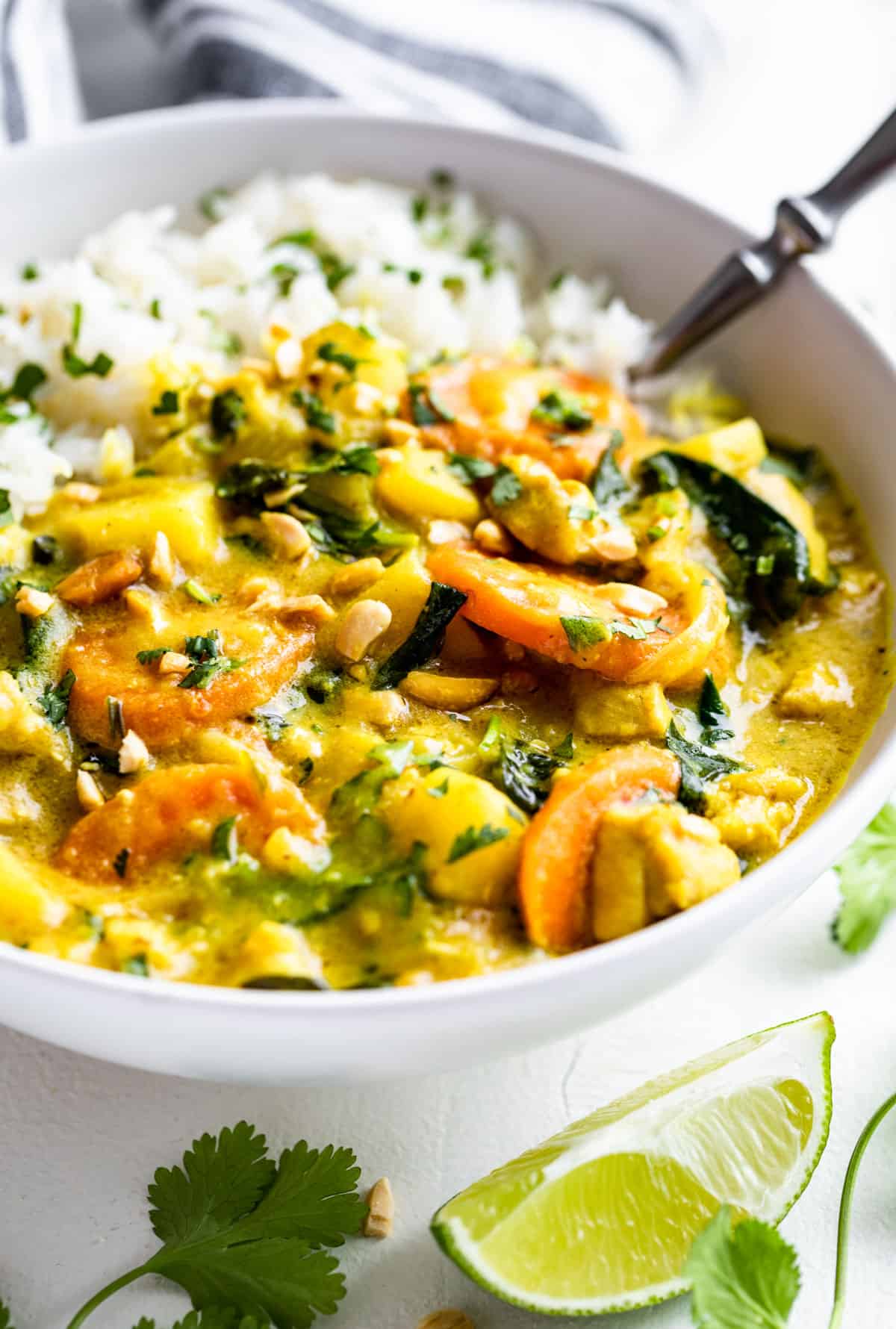 And as a quick note, you definitely don't have to make this with peanut butter. You can easily substitute cashew butter to keep it paleo, or if you have a peanut allergy. If you can't have nuts at all, just leave them out, and the curry will still be good. Nut butter just gives it a little something extra that keeps everyone coming back for more.
I should also mention that the veggies I used here are based on what our local restaurant uses, and what I had in the fridge. You can use any mix of veggies you'd like, but this is the particular combination I come back to again and again.
Watch how to make this Thai Yellow Chicken Curry
Ingredients & Substitutions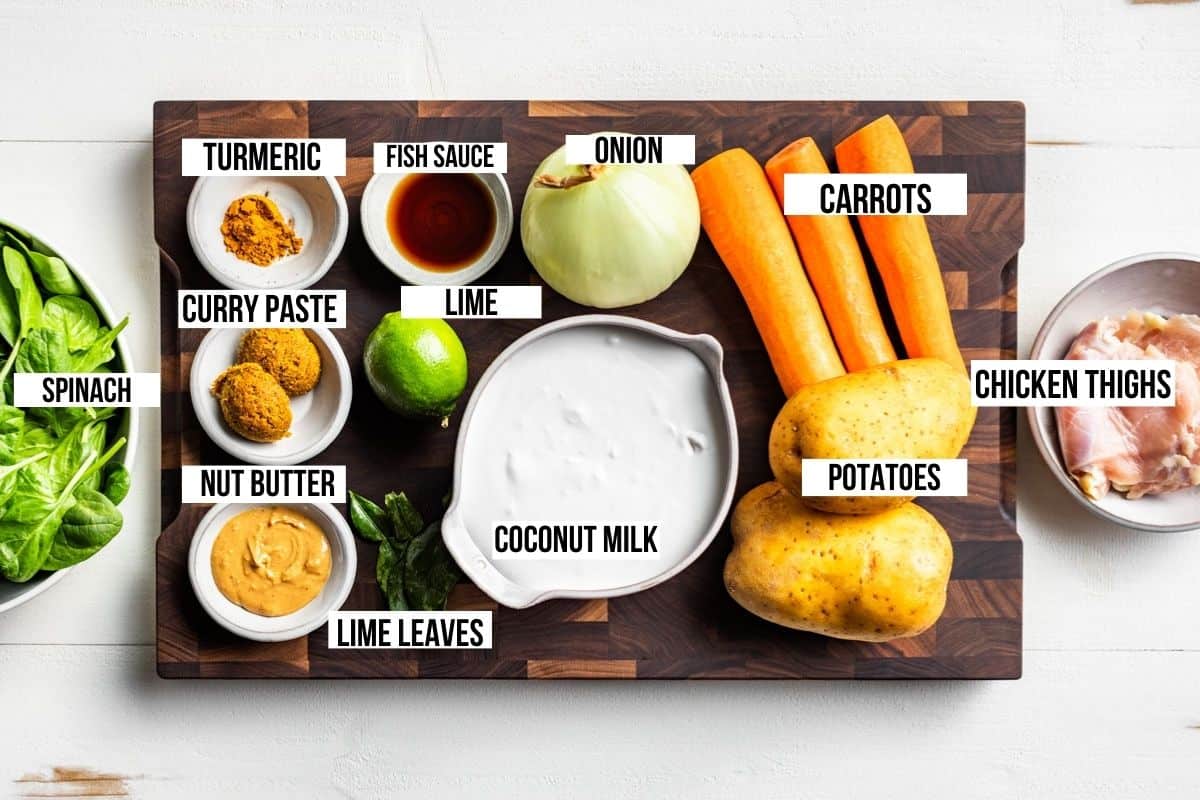 Curry paste – is everything to the flavor of your curry. Mae ploy which you can see below makes a great yellow curry paste and it's what our local Thai restaurant uses. It's nearly as good as making curry paste from scratch. Also, yellow Thai curry is made with curry pasta rather than curry powder.
Turmeric – adds a beautiful yellow color along with its anti-inflammatory benefits.
Onions, carrots, & potatoes – make up the usual veggies you'll find in yellow curries, but you can change things up to whatever vegetables you're used to. Both yellow onions and white onions work. I prefer to use Yukon gold potatoes in this recipe for yellow curry because they have the perfect texture. But you can also use any waxy potatoes. I wouldn't use Russet potatoes if possible because they're too dry.
Spinach – I like to add some chopped baby spinach for an extra veggie to this curry even though it's not traditional. Broccoli also works and is used more often, but you don't have to add anything green at all.
Nut butter – is an unusual touch, but our local restaurant uses ground peanuts in their curry. A touch of peanut butter or cashew butter if you can't have peanuts really adds a special touch. It can also easily be left out to your taste, or to keep this nut free.
Lime leaves – add a light and bright flavor. When I can't find lime leaves, I add the zest of 1 lime. It's not the same but it is delicious.
Coconut milk – or even coconut cream works here for a tasty curry. I don't recommend using anything low-fat in this recipe, and be sure the coconut milk or cream you buy is unsweetened.
Fish sauce – adds savory depth, but can be left out if you need to.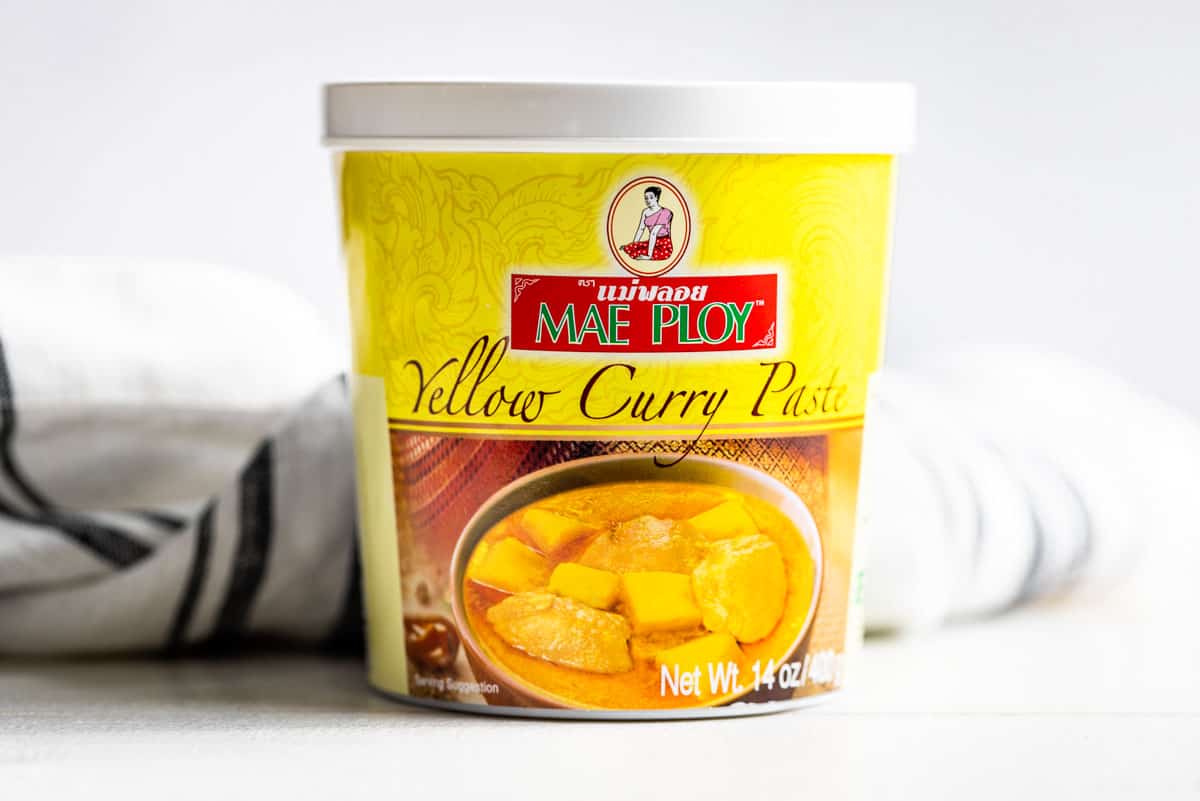 This yellow curry paste is the entire secret to this recipe, so we'll kick things off here. This Mae Ploy brand is simply the best curry paste I've ever purchased. Not only does the flavor take your curries to the 'next level', but there are also no additives, dyes, or added sugar.
It's a lot of curry paste per container, so if you don't make curry very often, split it with someone else. Or you can freeze it in ice cube trays, then place the curry paste cubes into a sealed container to freeze.
How to make this yellow curry recipe step by step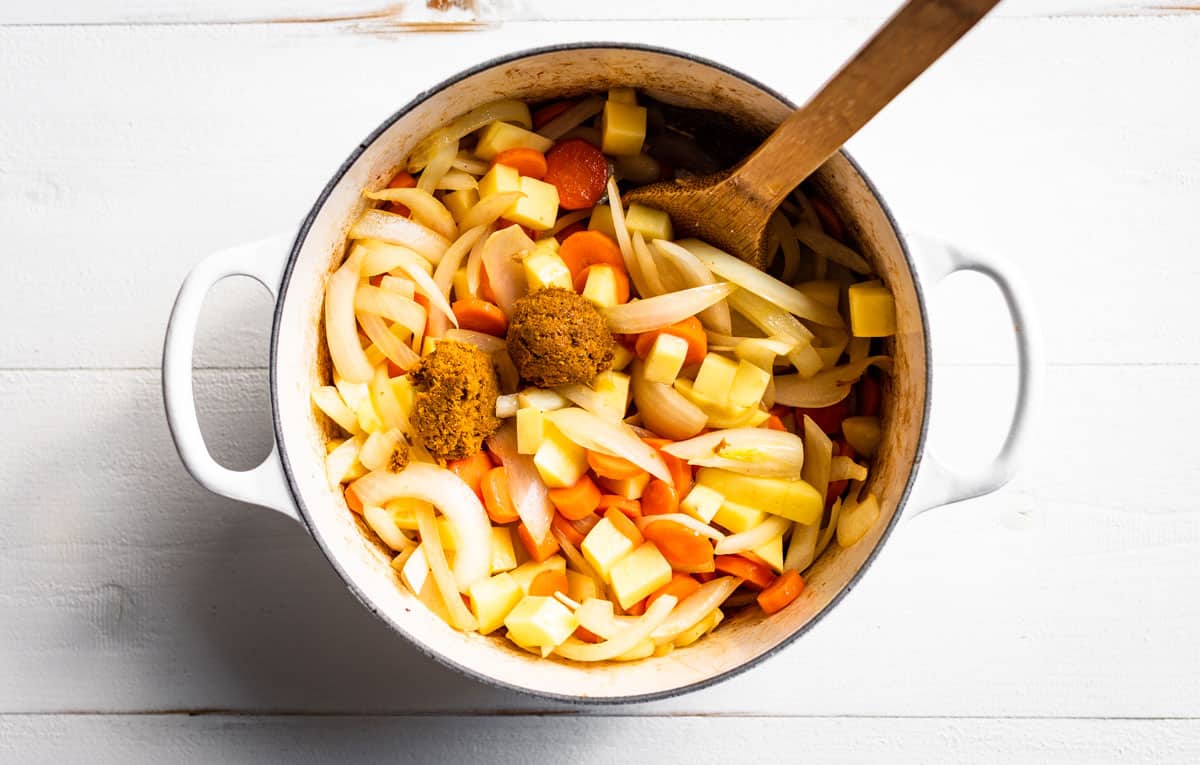 Step 2: Next sauté the chicken and remove it from the pan. (This helps to have tender chicken that's not overcooked.) Then sauté the onion and carrots before adding the potatoes and curry paste.
I like to use a medium-sized Dutch oven to make this curry, but a very large skillet works as well.
Flavor tip: You want to briefly cook the curry paste before adding the coconut milk. This is a classic and authentic technique that helps to draw out more flavors from the curry paste. Normally the curry paste is fried in oil. But I've found it works well to sauté it with the veggies just before adding the coconut milk.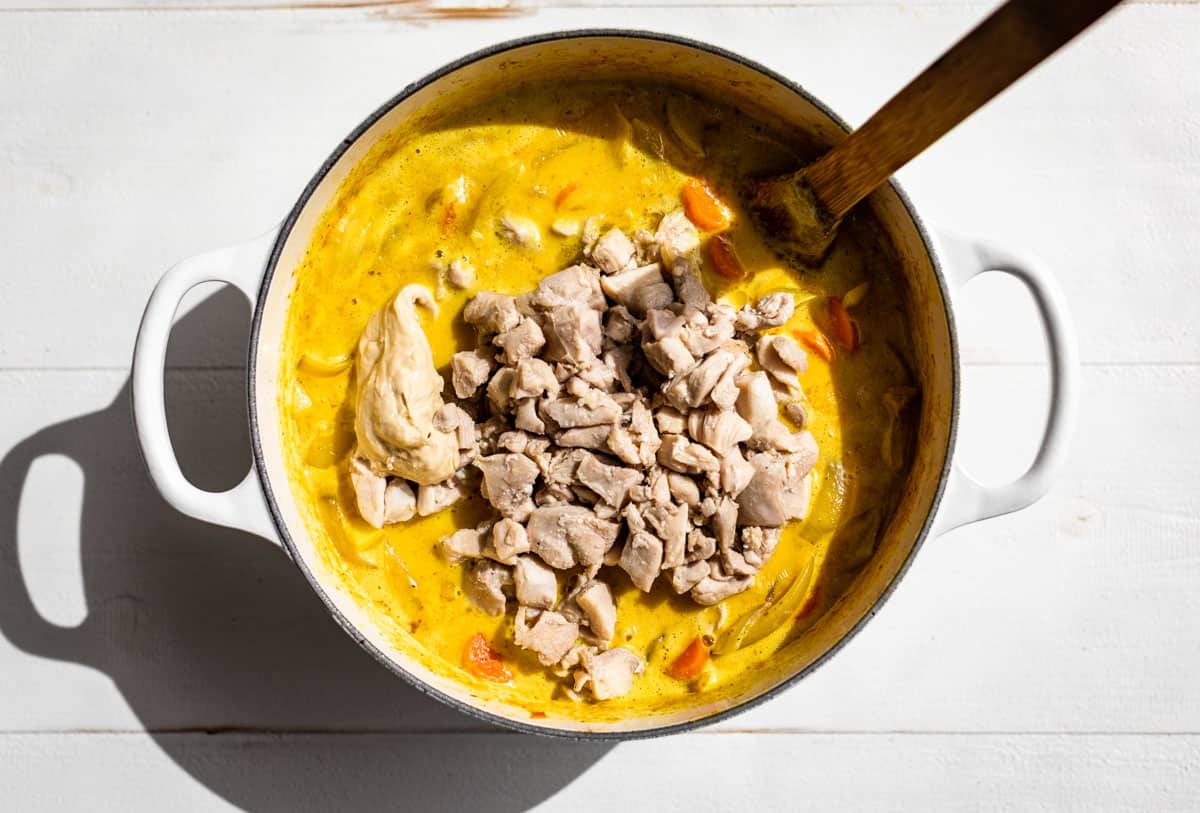 Step 3: Add the can of coconut milk with the lime zest or lime leaves if you can find them and simmer until all the veggies are tender.
Then add the chicken back to the pan along with the nut butter, lime juice, and fish sauce. Stir to combine.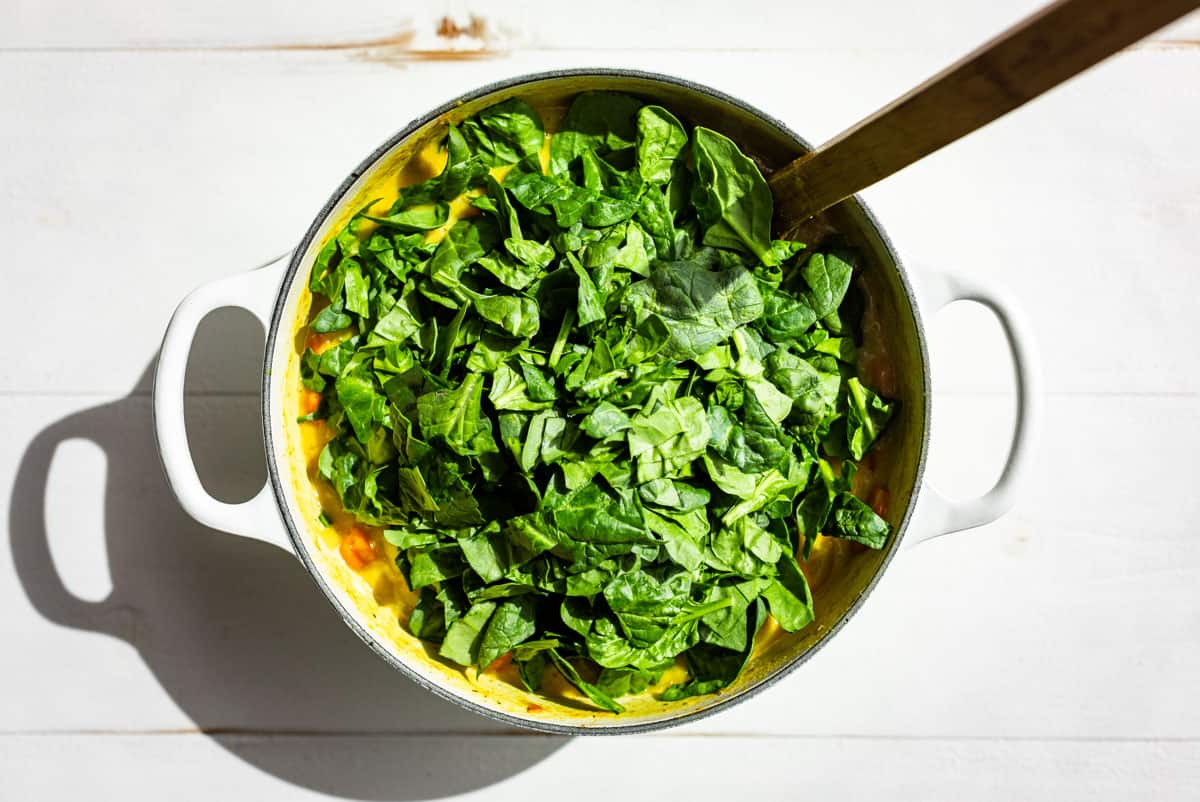 Step 4: Lastly we're going to add the chopped spinach and let the residual heat from the curry lightly wilt it. Then season to taste with fish sauce and sea salt and serve.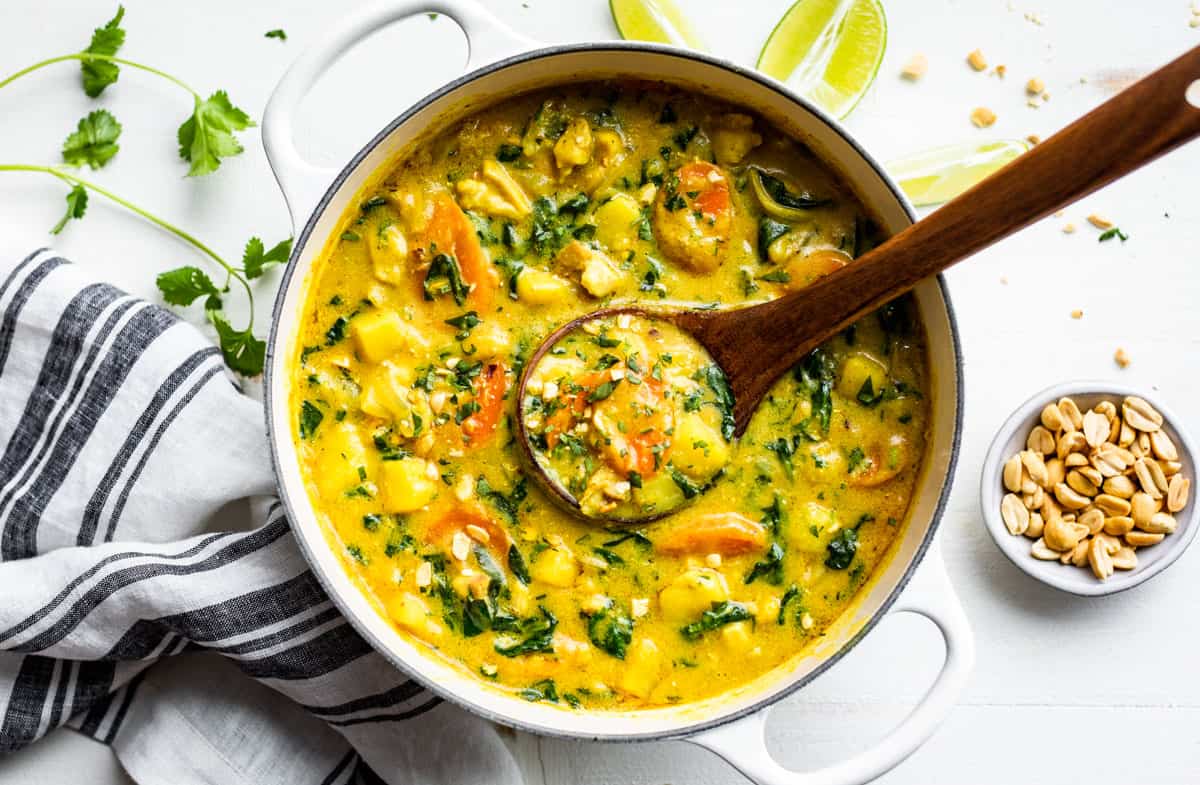 Ways to serve this
With steamed Jasmine rice, basmati rice, or cauliflower rice, I've even served this curry over sweet potato, butternut, and zucchini noodles. And each one is good in its own way!
Add my Asian Cucumber Salad on the side.
We love chopped fresh cilantro over the top, but chopped fresh Thai basil is a nice change as well.
FAQ's
Is Thai Yellow Curry very hot?
Yellow curry is the mildest Thai curry. If you're very sensitive to spice, you can try using half the amount of curry paste called for.
What is Thai Yellow Curry?
There are so many variations, but what they all have in common is turmeric powder which gives it a beautiful yellow color. Thai yellow curry is made with Thai yellow curry paste rather than curry powder. They almost always have fish sauce together with a coconut curry sauce. You will usually find yellow curry with chicken and a combination of vegetables. Most Thai versions I've had with yellow curry also have potatoes in them which is very tasty.
Can I use chicken breasts in place of chicken thighs?
Yes, you can use boneless skinless chicken breasts in this yellow curry recipe, just be careful not to overcook them because chicken breasts dry out easily.
Storing leftovers
To store – place any leftovers into a sealed container and refrigerate for up to 5 days.
To reheat – warm over low heat until hot in a skillet or microwave.
Freeze – I don't recommend freezing this one because the carrots and potatoes are mushy when thawed.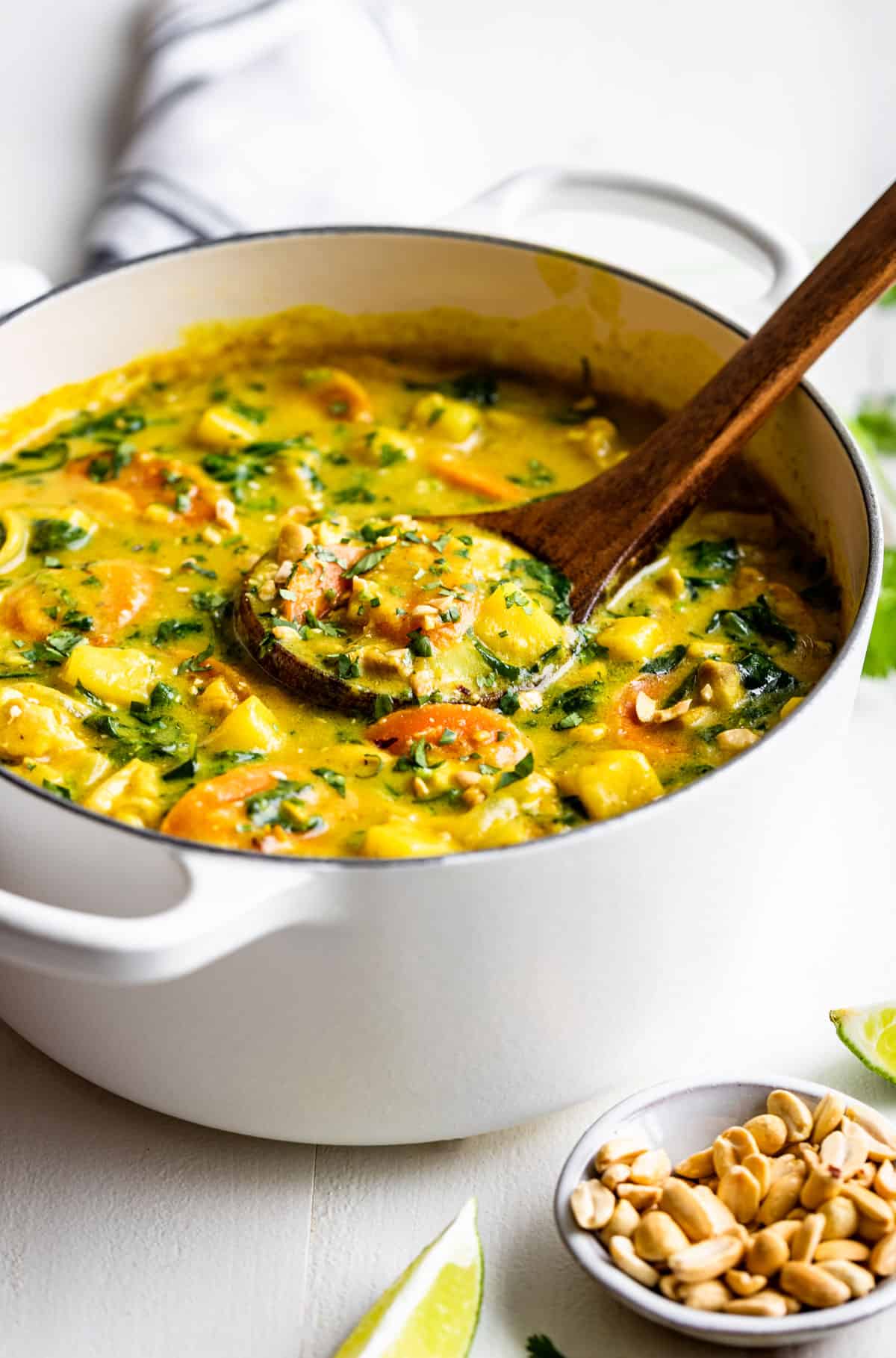 Tips & Tricks
Use full-fat coconut milk or even coconut cream, (unsweetened) for the best curry.
Mae Ploy yellow curry paste really does make all the difference in this recipe. So it's worth an online order if you don't have it at your local grocery stores! It is becoming more popular luckily. I used to only be able to find it at Asian stores, and now it's available in my small-town grocery stores.
You can customize this curry according to whatever you're used to ordering from your local Thai restaurant. If they don't use peanuts, omit the nut butter. If they use broccoli instead of spinach, go that direction instead.
If you enjoy a chicken curry with coconut milk you will also love my Indian-inspired Easy Chicken Curry.
This recipe is for a mild to medium amount of spice level for a curry that the whole family will love. If you love spicy food, add another tablespoon of curry paste. Or you can add a bit of chili paste or chili flakes to reach the perfect amount of heat.
Some Thai yellow curries are on the sweeter side. So if you love a hint of sweetness in your curry, feel free to add a bit of coconut sugar or brown sugar to taste.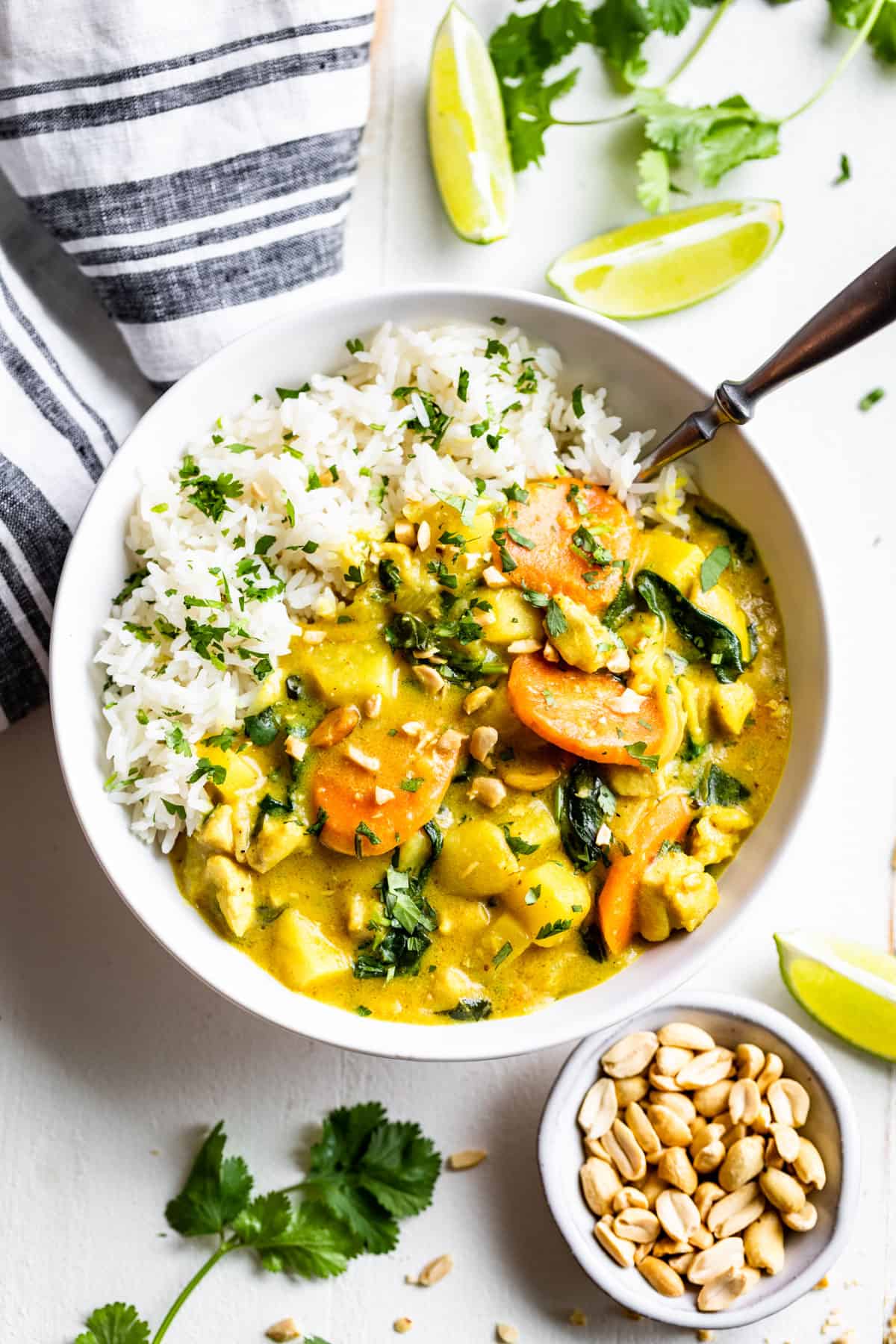 Coconut Curry Recipe inspiration
I really hope you enjoy this Thai Yellow Chicken Curry recipe! If you do get a chance to make this recipe, I'd love to hear from you in the comments.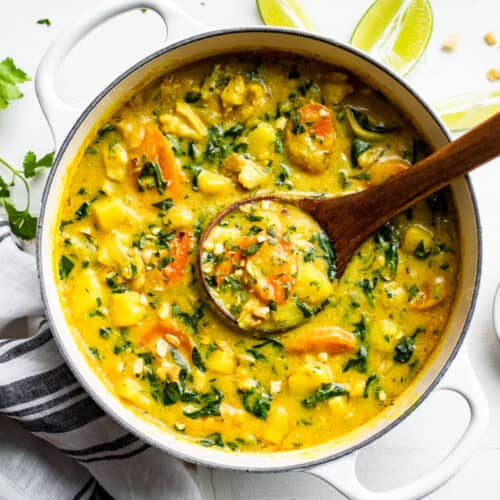 Thai Yellow Chicken Curry
---
INGREDIENTS
1

tbsp

avocado oil

-

olive oil, coconut oil, or cooking oil of choice

1.5

pounds

boneless skinless chicken thighs

-

cubed into 1/2″ pieces

1

large

onion

-

12 ounces

2

cups

thinly sliced peeled carrots

-

about 12 ounces

2

cups

cubed potatoes

-

Yukon golds, 12 ounces

2

tbsp

yellow curry paste

1

tsp

ground turmeric

2

cans

full fat coconut milk

-

13.66oz or 403ml each

1

tbsp

lime zest

-

or 2 kaffir lime leaves if available

1-2

tbsp

freshly squeezed lime juice

-

or to taste

1-2

tbsp

peanut butter

-

or to taste, or cashew butter for paleo, see notes

1

tbsp

fish sauce

-

optional

1

tsp

sea salt

-

more or less to taste if you use the fish sauce

4

cups

baby spinach

-

4-6 ounces, chopped
Optional Toppings:
Chopped fresh cilantro

roughly chopped peanuts

-

or cashews for paleo

lime wedges
INSTRUCTIONS
To prepare the onion, slice off both ends, then cut the onion in half from the top to the bottom. Peel away the tough outer layer, and place both halves flat side down on the cutting board. Then cut across the rounded top into 1/4" thick half-moon slices. Set the onion aside along with the thinly sliced carrots, and assemble the rest of the ingredients.

Place a 12" skillet or medium-sized pot, (5 1/2 quarts) over medium-high heat. When the pan is hot, add the avocado oil and cubed chicken thighs. Sauté the chicken until it's just done and browned, and remove the chicken from the pan and set it aside.

Add the onion and carrots to the pan, and cook just until crisp-tender, about 6-8 minutes. Then add the curry paste, potatoes, and turmeric. Stir to combine, breaking up the curry paste, about 1 minute. Finally, add the coconut milk and lime zest.

Bring the mixture to a boil, then lower the heat to maintain a simmer. Cook until the curry has thickened and the veggies are tender, 10-15 minutes.

To finish the curry add the chicken back to the pan along with the lime juice, nut butter of choice, and fish sauce if you're using it. Stir to combine, then add sea salt to your taste.

Turn the heat off and add the chopped baby spinach. Stir to combine and let the curry sit just long enough for the spinach to wilt, about 3-4 minutes.

Serve the curry with your choice of toppings, and your choice of veggie noodles/rice/cauliflower rice.
Bonus Step
If you made this recipe, please leave a rating/comment. Ratings really help us continue to bring you high-quality free recipes. Rate This Recipe!
NOTES
Use unsalted, unsweetened nut butter for this recipe.
I've added potatoes to this recipe recently from a reader suggestion and it's been an awesome addition!
nutrition facts
Calories:
388
kcal
|
Carbohydrates:
18
g
|
Protein:
21
g
|
Fat:
27
g
|
Saturated Fat:
20
g
|
Polyunsaturated Fat:
2
g
|
Monounsaturated Fat:
4
g
|
Trans Fat:
0.01
g
|
Cholesterol:
81
mg
|
Sodium:
594
mg
|
Potassium:
880
mg
|
Fiber:
3
g
|
Sugar:
3
g
|
Vitamin A:
7367
IU
|
Vitamin C:
20
mg
|
Calcium:
69
mg
|
Iron:
5
mg
This recipe was originally published in 2018 and has been updated with new photos, tips, and a video in 2022.