This easy-to-make Smoked Chicken Breast recipe has a whole new level of flavor, and there are endless ways to use it! They do require a pellet grill like a Traeger or Pit Boss. However if you don't have one, no worries you can make my Best Chicken Marinades instead. This recipe is just 3 ingredients, with optional seasoning mixes, and takes just 5 minutes of prep work. Then your smoker does all the rest of the work, imparting nothing but incredible flavor to these juicy chicken breasts.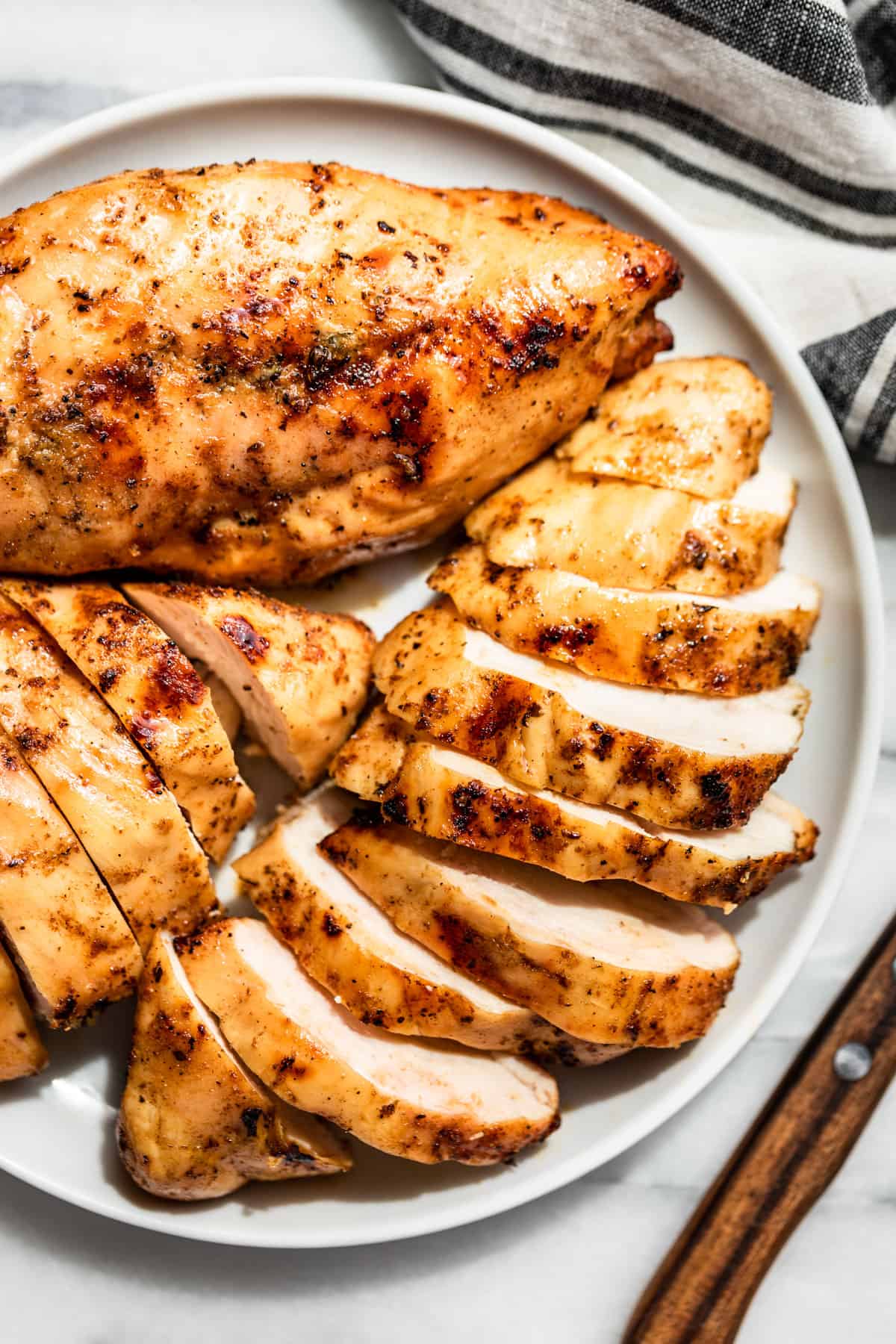 Once you try food from a pellet grill like Pit Boss or a Traeger, you're instantly hooked! In fact, you'll find yourself putting almost everything on these grills because it turns out so flavorful. So if you've been on the fence about whether or not they're worth it, they most definitely are!
We put off buying one ourselves for the longest time because we had a grill that worked perfectly fine. But several of our family members have one and so we just couldn't resist anymore! I'm starting to sound like a sales pitch, which this isn't by any means, but I hope this recipe will convince you to try one out, even if you have to borrow a grill.
Having a grill that smokes is one of the easiest ways to make flavorful healthy meals. You'll never get tired of the incredible taste. And these chicken breasts have been our go-to this summer. I love to make these for dinner sometimes, but my favorite way is to load up the grill with 6-10 pounds of chicken breasts to smoke all at once.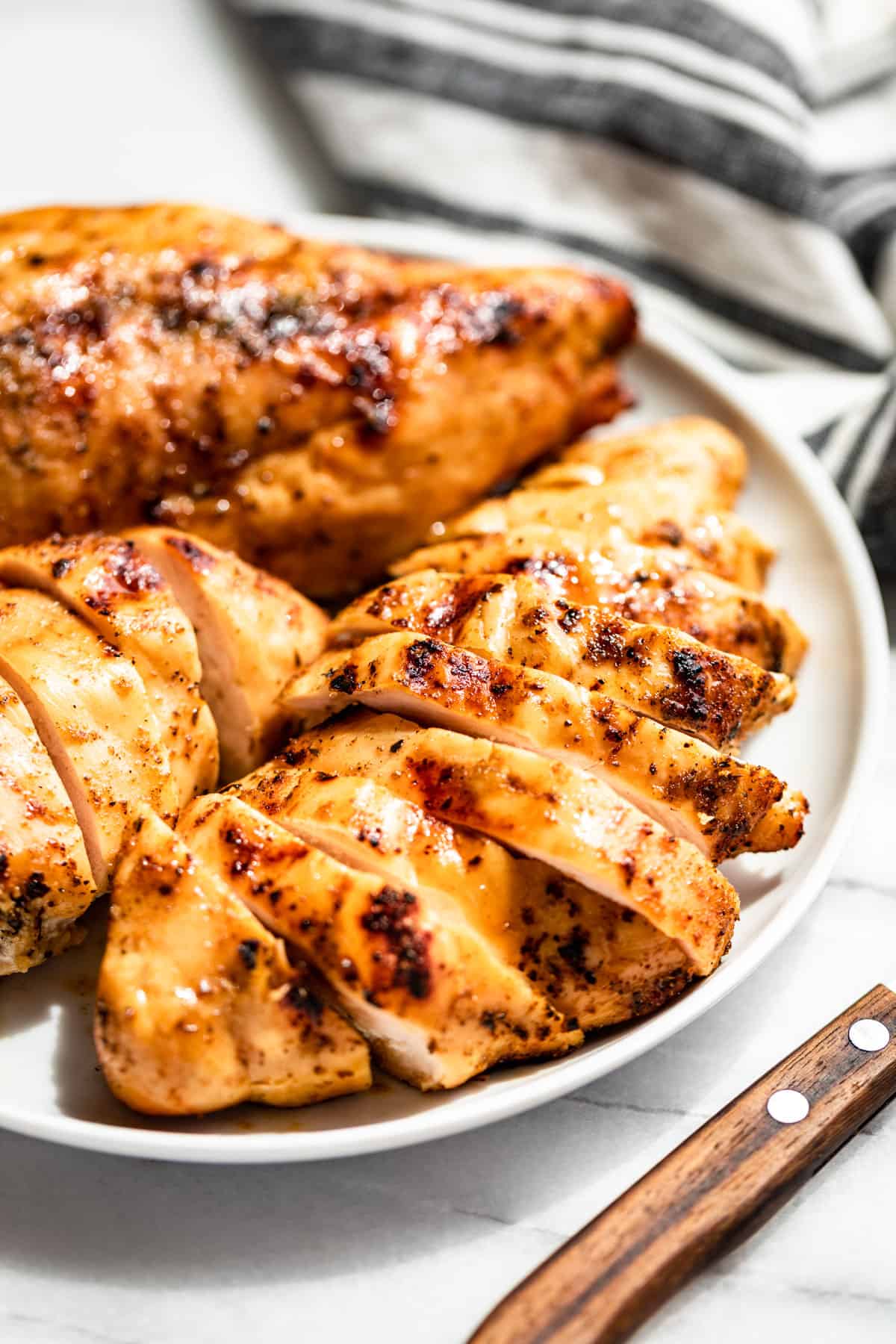 Then when they're done, I slice or dice them to freeze for quick grab-and-go meals. This smoked chicken makes amazing lunch and dinner salads, and it's incredible in my Best Classic Chicken Salad. And it makes a wonderful homemade lunchmeat for my Homemade Lunchables. Really the possibilities for how to use this recipe are endless.
I like to think of it as a 'meal prep' recipe because once you have it smoked and in the freezer, you can make any number of things with it. I have a few tips for easy meals to make below in 'how to serve this'.
Ingredients & Substitutions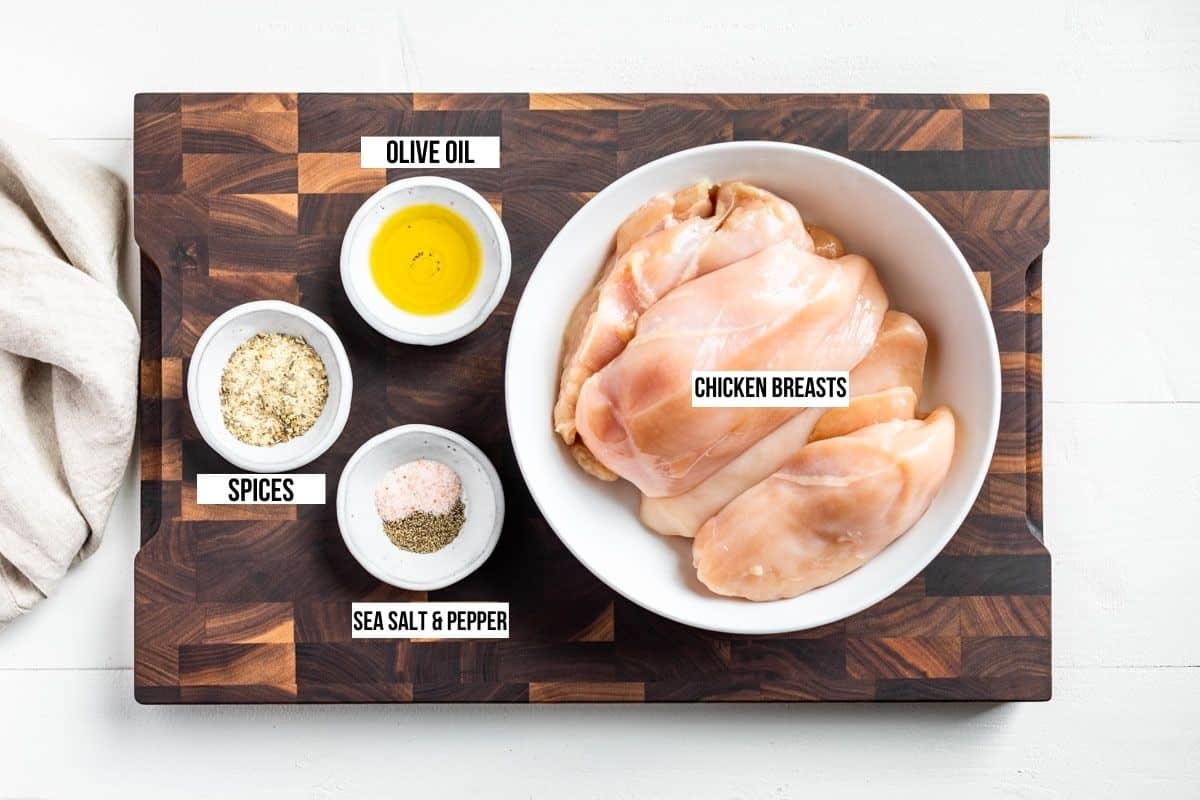 Chicken Breasts – boneless skinless chicken breasts are what we're using here for ease. However you can use bone in and skin on, but they will need to cook for much longer. You can also use chicken thighs, they take about 20-30 minutes less cooking time.
Olive oil – or any kind of neutral cooking oil like avocado oil will work here. Just a small amount coats the chicken to keep it moist and from sticking to the grill
Sea salt & pepper – seasoning the chicken breasts before they go on the grill makes sure they're full of flavor by the end of the cooking time.
Optional spices – you can use spice mixes you love here, and the measurements are listed in the recipe. Italian seasoning, garlic herb, lemon pepper, and Herb de Provence all work. I would encourage you to try them out plain first with just sea salt and pepper to enjoy the full-smoke flavor. I make these plain most of the time because they're versatile and you taste the 'smoked' flavor the best. However, it's fun to mix it up with spices sometimes!
How to make this recipe step by step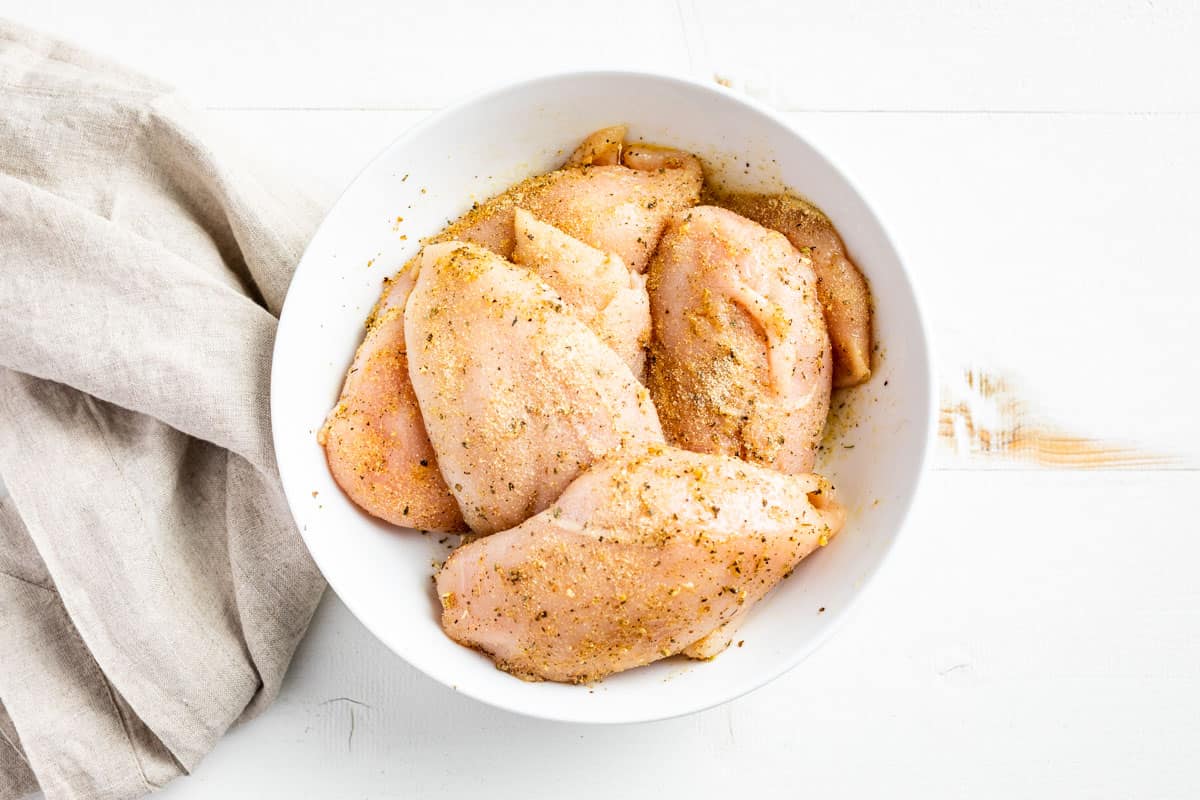 Step 1: Start by preheating the grill. Then coat the chicken breasts with olive oil, sea salt & pepper, and the optional spice mix.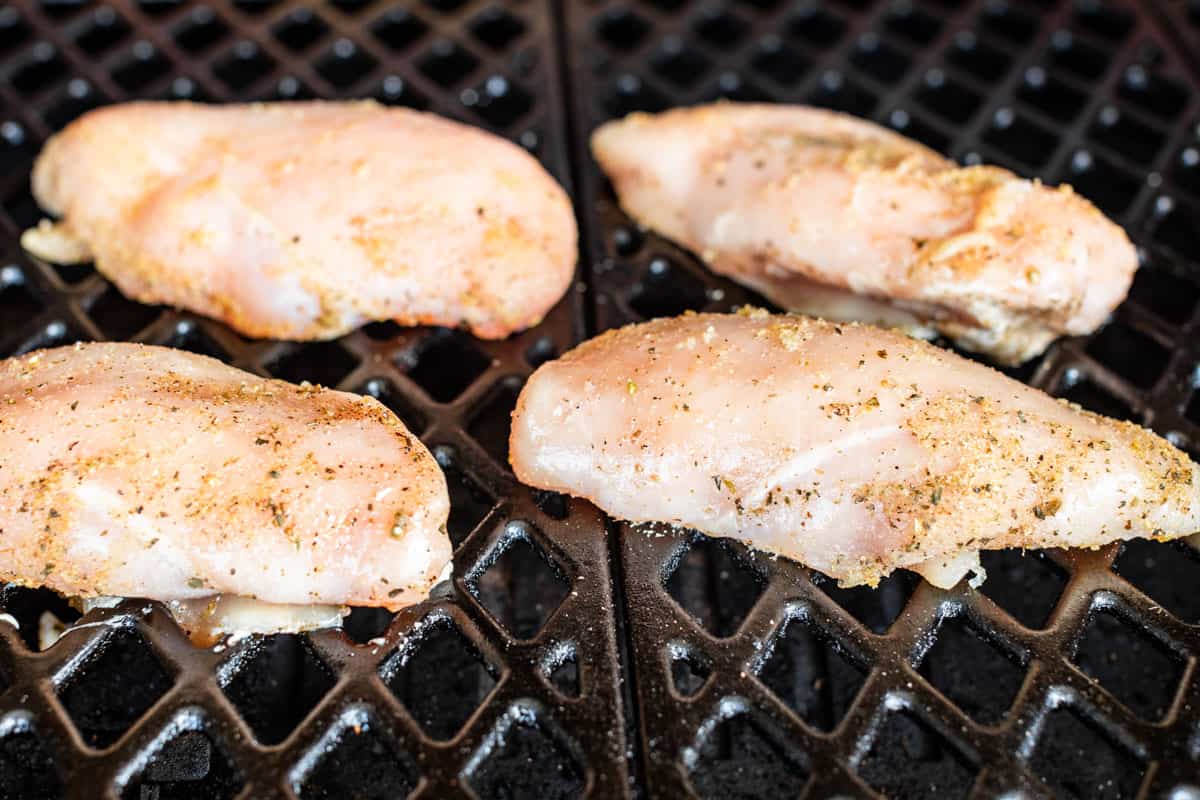 Step 2: When the grill is ready, load it up with the seasoned chicken breasts, and let the grill do all the work for the next 60-90 minutes!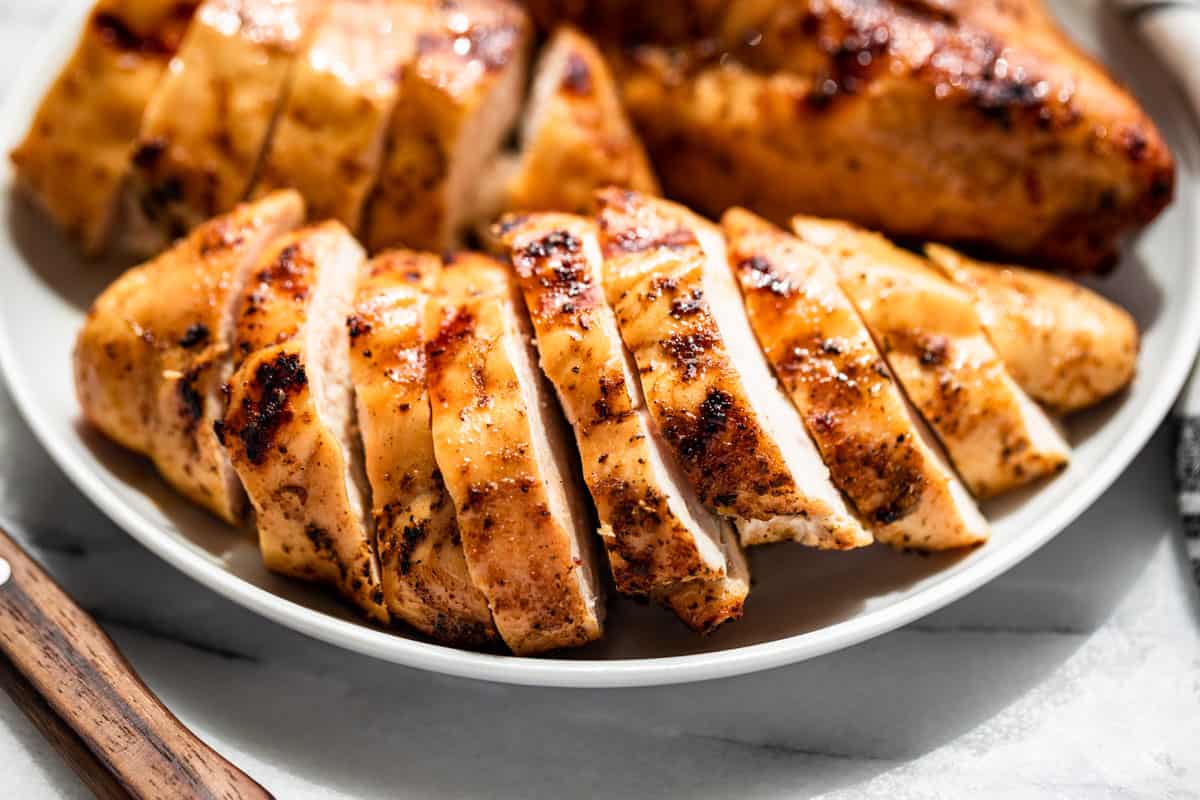 Step 3: Once the chicken is done, remove it from the grill and serve immediately. Or you can let it cool a bit to slice or dice up for the freezer.
Tip: Chicken breasts are done when there's no pink in the center and a thermometer reads 165ºF internal temperature in the thickest part. When you smoke meat there is a 'pinkish' tinge on the outer layer of the meat, but chicken should never be pink in the center.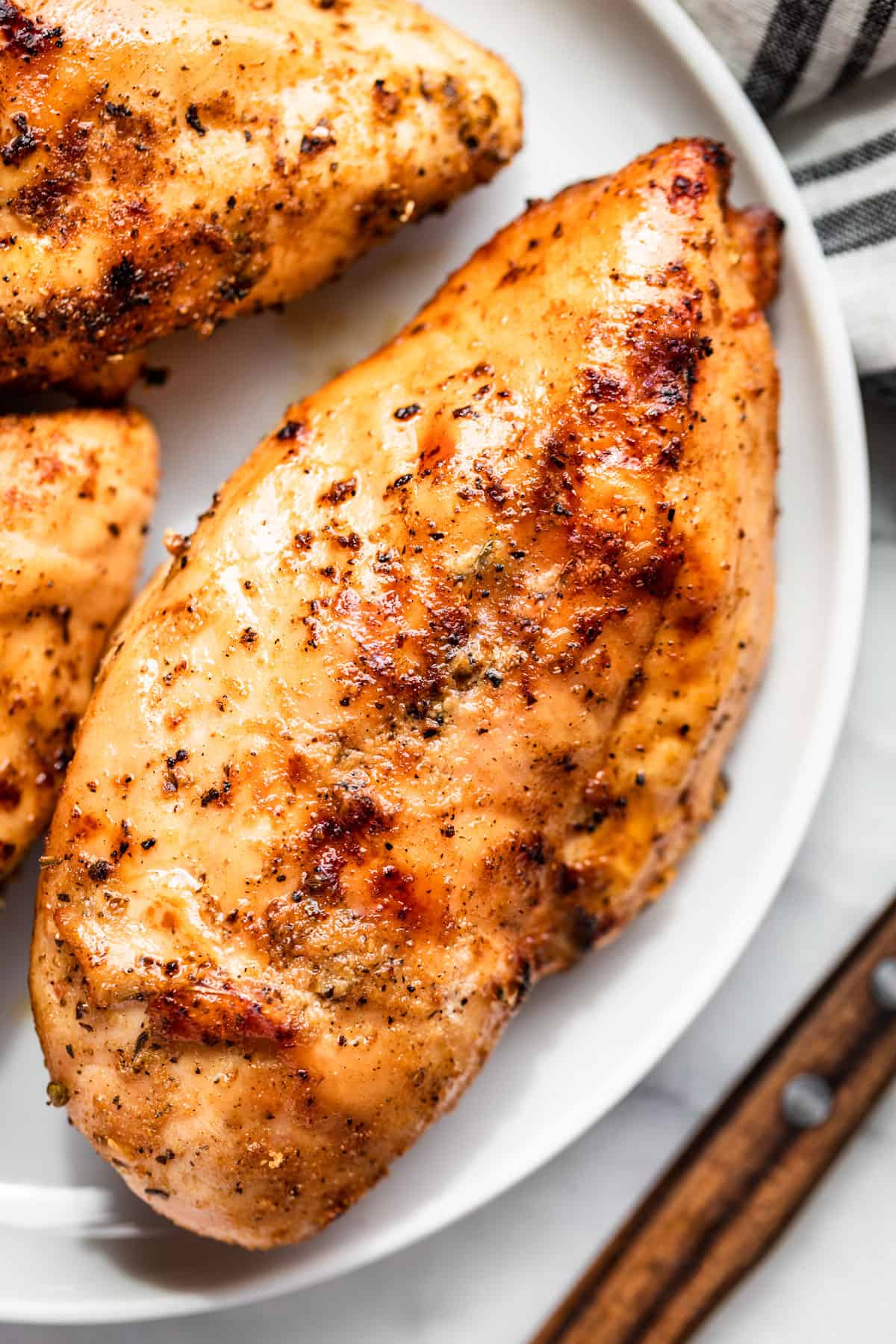 Ways to serve this
When these chicken breasts are done smoking, set them on a plate and cover them with foil to keep them warm. Turn up the temperature of the grill and grill 2-3 of my Grilled Vegetables and make some of my Grilled Potatoes. It's perfectly okay to serve this meal warm or at room temperature, don't worry about trying to time it all to come off the grill at the same time!
Use this smoked chicken in any dinner salad or in my Best Classic Chicken Salad.
These are so tasty as a homemade lunchmeat for my Homemade Lunchables. Lunchmeat has gotten really expensive. So making a very large batch of this chicken to freeze is an easy & budget-friendly answer to quick grab-and-go lunches.
FAQ's
How long does it take to smoke chicken breasts at 225ºF?
About 1 hour to smoke 8-ounce chicken breasts and up to 90 minutes to cook larger chicken breasts. You want to be sure an instant-read thermometer reads 165ºF at the largest section of the meat to know for sure it's done.
Do you need to flip chicken when you're smoking it?
No, it's not necessary to flip the chicken breasts when you're cooking on such low heat. However, I sometimes flip them if they're on the larger side and not cooked after 1 hour.
Storing leftovers
To store – place any leftovers into an airtight sealed container and refrigerate for up to 3 days.
Reheat – slice or dice the leftover chicken, then place it in a small skillet with 1 tablespoon of water and reheat over medium heat until the water is gone. Or you can microwave the leftovers.
To freeze – slice or dice the chicken before placing it into an airtight sealed container and freeze for up to 1 month. To keep for longer, freeze the chicken breasts whole in a well-sealed container. I like to slice/dice the chicken so it's ready to go quickly! You can simply sprinkle some out of the bag frozen onto a salad for lunch and it will defrost by the time you need to eat it.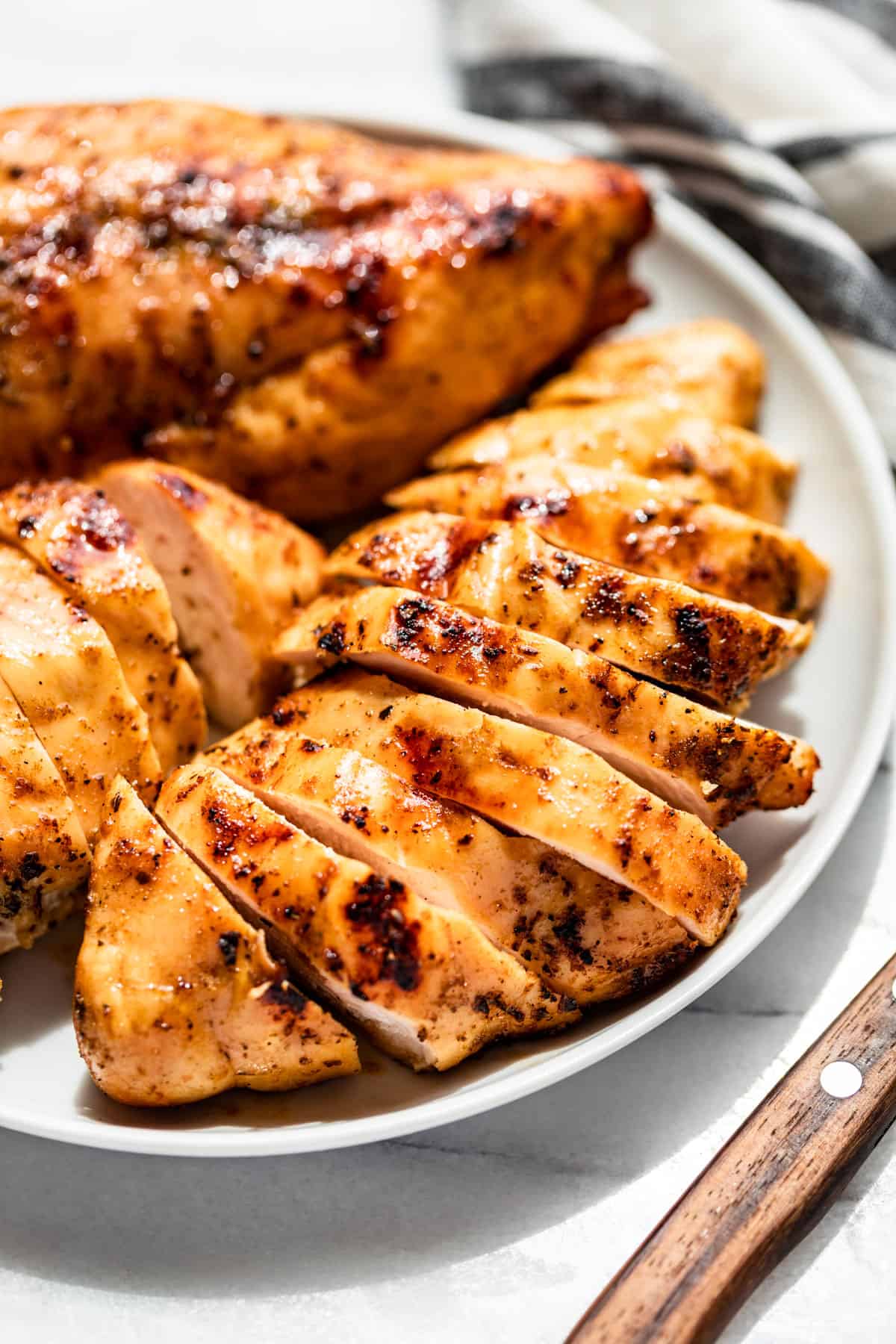 Tips & Tricks
Make sure to check your pellet hopper before making this recipe! It's a simple tip, but important because you're going to be running your pellet grill for 90 minutes.
Try making a very large batch, however much you can fit on your smoker. Ours is one of the larger ones and will fit 10 pounds of chicken. It's worth making that much because you'll have lots left over for the freezer to make your life way easier over the next few weeks! And I figure if you're going to run the grill for up to 90 minutes, it might as well be full.
Also, baby potatoes are a fun option and take about 2 hours to smoke. So it might be worth putting a pan of those on as well. I don't have a 'real' recipe yet, but I put 1.5 pounds of baby potatoes into a large cast iron skillet. Then coat them lightly with oil and add about 1/4 cup of water to the pan, place it on the smoker, and cook until tender. You want really small potatoes for this or it could take up to 3 hours!
I really hope you enjoy these Smoked Chicken Breasts! If you do get a chance to make this recipe, please leave a rating, I'd love to hear from you in the comments.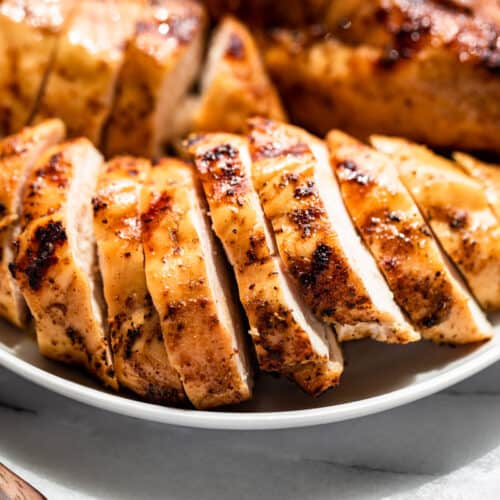 Smoked Chicken Breast Recipe
---
INGREDIENTS
2

pounds

chicken breasts

-

boneless, skinless, 4-8 ounces chicken breasts

1

tbsp

olive oil

-

or avocado oil

1/2

tsp

sea salt

-

or to taste

1/4

tsp

pepper

-

or to taste

1

tbsp

spice mix of choice like garlic herb or Italian seasoning

-

optional – try this recipe plain first!
INSTRUCTIONS
Preheat a pellet grill to 225ºF and make sure the pellet hopper is full.

Evenly coat the chicken breasts with the oil, sea salt, and pepper. Add the optional spice mix if desired, but you will taste the smoke flavor better without it, so try it both ways.

Place the chicken breasts on the pellet grill and let the grill work it's magic for about 1 hour.

Test the chicken to see if it's done by inserting an instant read thermometer. When it reaches 165ºF at the thickest part, the chicken is done. This could take up to 90 minutes total depending on the temperature outside, wind, etc.

If your chicken breasts are larger than 8 ounces, you may want to turn them over after 1 hour to cook more evenly for the next 30 minutes or so. For a nicely browned color, refer to the notes below for the searing option.

When the chicken is done, remove it from the pellet grill and serve immediately. Or let cool to room temperature and slice or dice it as part of your meal prepping.
Bonus Step
If you made this recipe, please leave a rating/comment. Ratings really help us continue to bring you high-quality free recipes. Rate This Recipe!
NOTES
This recipe is intended for a pellet grill like Pit Boss or a Traeger.
For added color you can sear the smoked chicken breasts at the end of the cooking time, if you have a sear option on your pellet grill. When the chicken breasts have reached 160ºF, turn up the temperature to 450ºF and open the sear plate on the grill. Place the chicken breasts over the direct flame and cook for a few minutes to brown each side. When they've browned and have reached 165ºF remove them from the grill to serve.
nutrition facts
Calories:
421
kcal
|
Carbohydrates:
0.01
g
|
Protein:
47
g
|
Fat:
24
g
|
Saturated Fat:
7
g
|
Polyunsaturated Fat:
5
g
|
Monounsaturated Fat:
11
g
|
Trans Fat:
0.2
g
|
Cholesterol:
145
mg
|
Sodium:
434
mg
|
Potassium:
500
mg
|
Fiber:
0.01
g
|
Sugar:
0.01
g
|
Vitamin A:
189
IU
|
Vitamin C:
0.2
mg
|
Calcium:
25
mg
|
Iron:
2
mg