Easy to make and so fresh, this Lemon Sugar Scrub is the perfect exfoliant and all-body moisturizing treatment. This scrub can be mixed together in just minutes and lasts up to 1 year. It makes the perfect gift as well with a nice homemade touch.
Sugar scrubs are a lifesaver for my skin year-round, so I'm always experimenting with different scents. This Lemon Sugar Scrub has been my official year-round scent because it's so bright. And its lemony sweet smell reminds me of Girl Scout lemon cookies which is a nice bonus.
I might be exceptionally lazy about keeping up my skin, but I love sugar scrubs for their ability to both exfoliate and moisturize at the same time. Time always seems like a premium, so I love anything that's a 2-for-1! And this sugar scrub always leaves my skin perfectly moisturized and glowing.
Sugar scrubs also make great gifts. Whenever I can't figure out how to add a personal touch to a bridal or baby shower gift, I always turn to sugar scrubs. Handmade gift ideas are so nice and personal.
Simply place the sugar scrub into a nice jar and tie a ribbon around it. It makes a wonderful addition to whatever else you might be bringing as a gift.
(Just to clarify, sugar scrubs would be for the mom at baby showers. And they're definitely not suitable for children or infants as they're too abrasive for their soft skin.)
Ingredients & Substitutions
Sugar – I like to use organic cane sugar because it has a bit more texture than regular white sugar. But either cane sugar works fine, so use whatever you have.
Lemon – I use the zest to add an extra lemon smell to this sugar scrub. It also looks nice in a jar this way if you give it as a gift. But you can omit it if you don't have a lemon on hand.
Coconut oil – is one of my favorite oils to use in sugar scrubs, but you can use any oil you know works well for your skin. Coconut oil also adds a nice scent. But I often use jojoba oil because it's extra quick and easy to mix into the sugar. Olive oil also works, but I find it to be too heavy for my skin. Overall lighter oils like jojoba, coconut oil, and sweet almond oil seem to work the best for most people.
Lemon essential oil – this can also be omitted if you find essential oils to be irritating to your skin. You can also use any scent you'd like in this recipe rather than lemon. If you change the scent of the essential oil, omit the lemon zest if it doesn't complement the essential oil you've chosen.
How to make this recipe step by step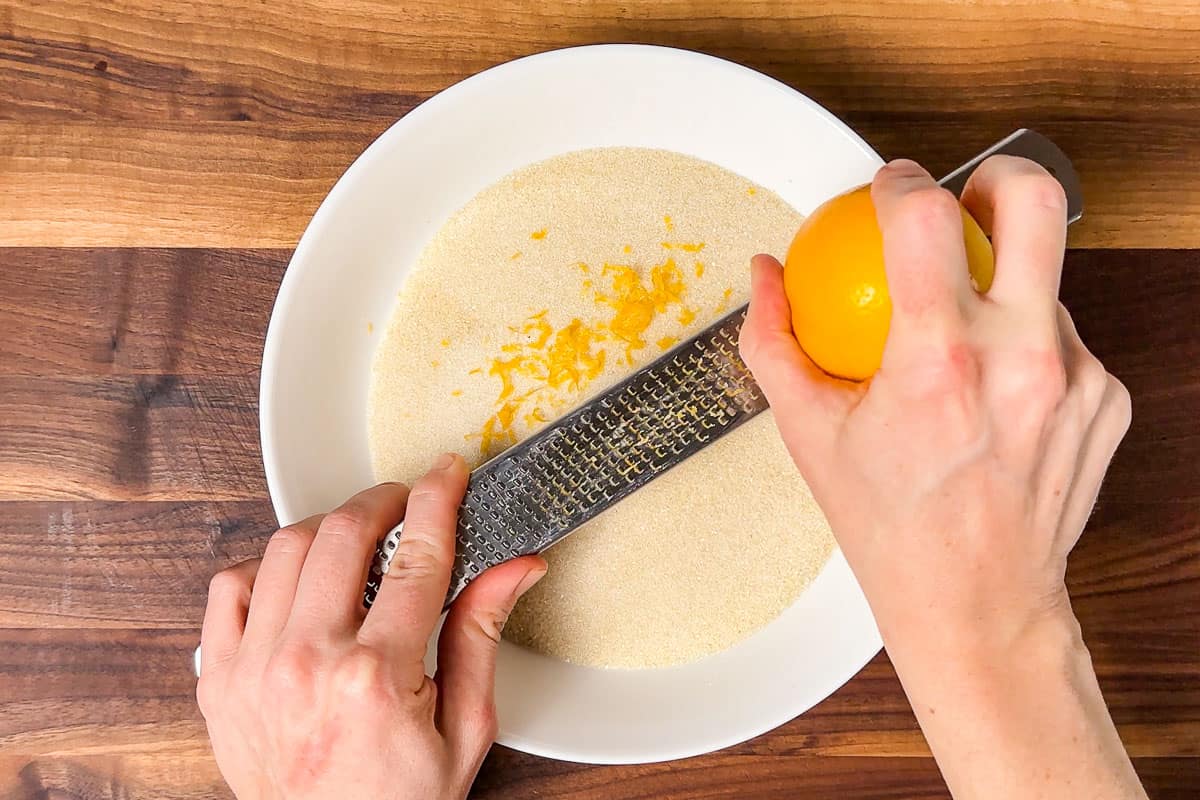 Step 1: Start by testing the lemon into the bowl of sugar. I like to use a microplane grater for this because the zest is very fine.
Step 2: Next add coconut oil or oil of your choice and mash it into the sugar and lemon zest with the back of a spoon.
Step 3: As you work the coconut oil into the sugar, the mixture will take on the consistency of wet sand.
Step 4: Once the oil has been thoroughly mashed in, add the essential oil and mix in well. Store in an airtight container, I love using a mason jar to store my sugar scrub.
Ways to use this
This sugar scrub recipe is perfect for your whole body, but sugar scrubs are generally not recommended for your face because they can be too abrasive. Sugar scrubs are especially good for dry feet and hands as well as elbows.
Try this sugar scrub as a body treatment for a spa day following a DIY Facial.
Add the lemon experience by having a glass of Lemon Water. Making sure you're hydrated from the inside out is the ultimate way to hydrate your skin. Sugar scrubs are just a little extra TLC!
FAQ's
What does sugar scrub do?
Sugar scrub is a gentle exfoliant that works both to remove the outer layer of dead skin and moisturize at the same time.
Are sugar scrubs good for your skin?
They are generally considered very good for your skin helping to exfoliate gently and moisturize. However, if you have any skin conditions present, sunburn, or irritated areas you want to avoid sugar scrubs. Just like any skin product, this is on a case-by-case basis depending on your particular situation.
Do you wash after a sugar scrub?
You want to rinse off the sugar granules in a warm/hot shower, then use a towel to pat your skin dry. I personally avoid using soap after I've used a sugar scrub so I don't wash away the moisturizing effects, just water to wash away the sugar.
Storing leftovers
To store – store your sugar scrub in an airtight sealed container in a dark place for up to 1 month. You can leave out the lemon zest and keep this sugar scrub for up to 1 year.
Make ahead – this is the perfect make-ahead recipe to have on hand for gifts. If you want to make it ahead I recommend leaving out the lemon zest so you can keep it for up to 1 year in a cool dark environment like a drawer or cupboard.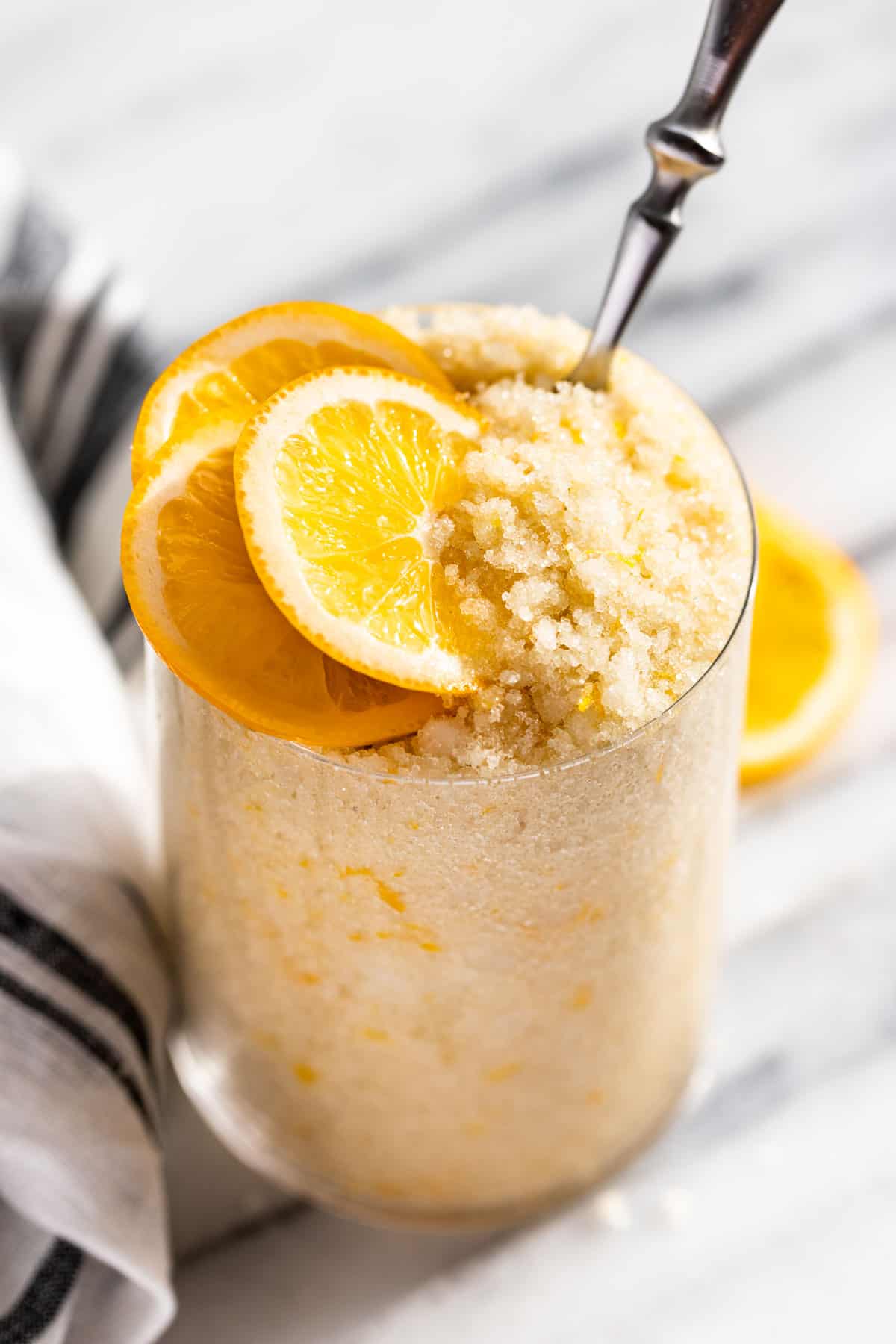 More DIY Recipe Inspiration
I really hope you enjoy this DIY Lemon Sugar Scrub! If you do get a chance to make this recipe, I'd love to hear from you in the comments.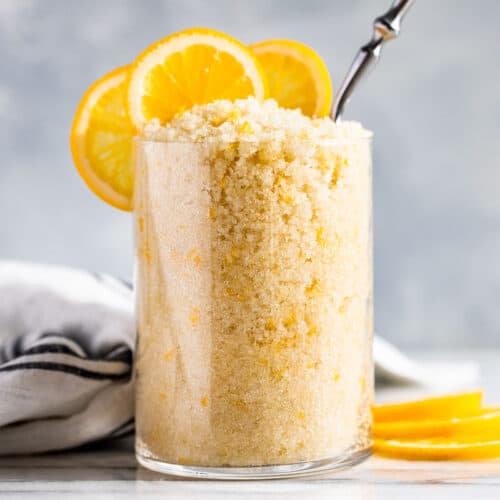 Lemon Sugar Scrub
---
Yield:
5
1/4 cup servings
INGREDIENTS
Lemon Sugar Scrub:
1

cup

organic cane sugar

1/4

cup

coconut oil

-

room temperature

2

tbsp

lemon zest

1/5

tsp

lemon essential oil
Raspberry Variation:
Take 1/4 cup of the Lemon Sugar Scrub and mash it together with 4-5 fresh raspberries – use immediately
INSTRUCTIONS
Place the sugar and coconut oil into a medium sized mixing bowl, and mash them together with the back of a spoon until the coconut oil is completely mixed in.

Add the lemon zest and essential oil, and stir until completely combined.

Transfer the sugar scrub into airtight containers and store up to 3 months.

Note: Sugar scrubs are not meant to be used on your face as the facial tissue is too delicate for that much abrasion. Try my

Pineapple Facial

for a non-abrasive facial exfoliation.
Bonus Step
If you made this recipe, please leave a rating/comment. Ratings really help us continue to bring you high-quality free recipes. Rate This Recipe!
NOTES
This recipe makes 1 1/4 cups sugar scrub but can easily be doubled.
You can also use any oil you like for your skin in place of coconut oil like jojoba or sweet almond oil.
This recipe was originally published in 2017 but has been updated with more information, tips, and new photos in 2023.