This easy-to-make Best Baked Cod is sure to become your new favorite way to eat fish for dinner. It's a simple recipe, but full of flavor thanks to the herbed garlic butter mixture with a hint of lemon. Not to worry though, there's also a completely dairy-free version listed below as well. Try this tasty dinner with my Creamy Mashed Cauliflower and Oven Roasted Broccoli.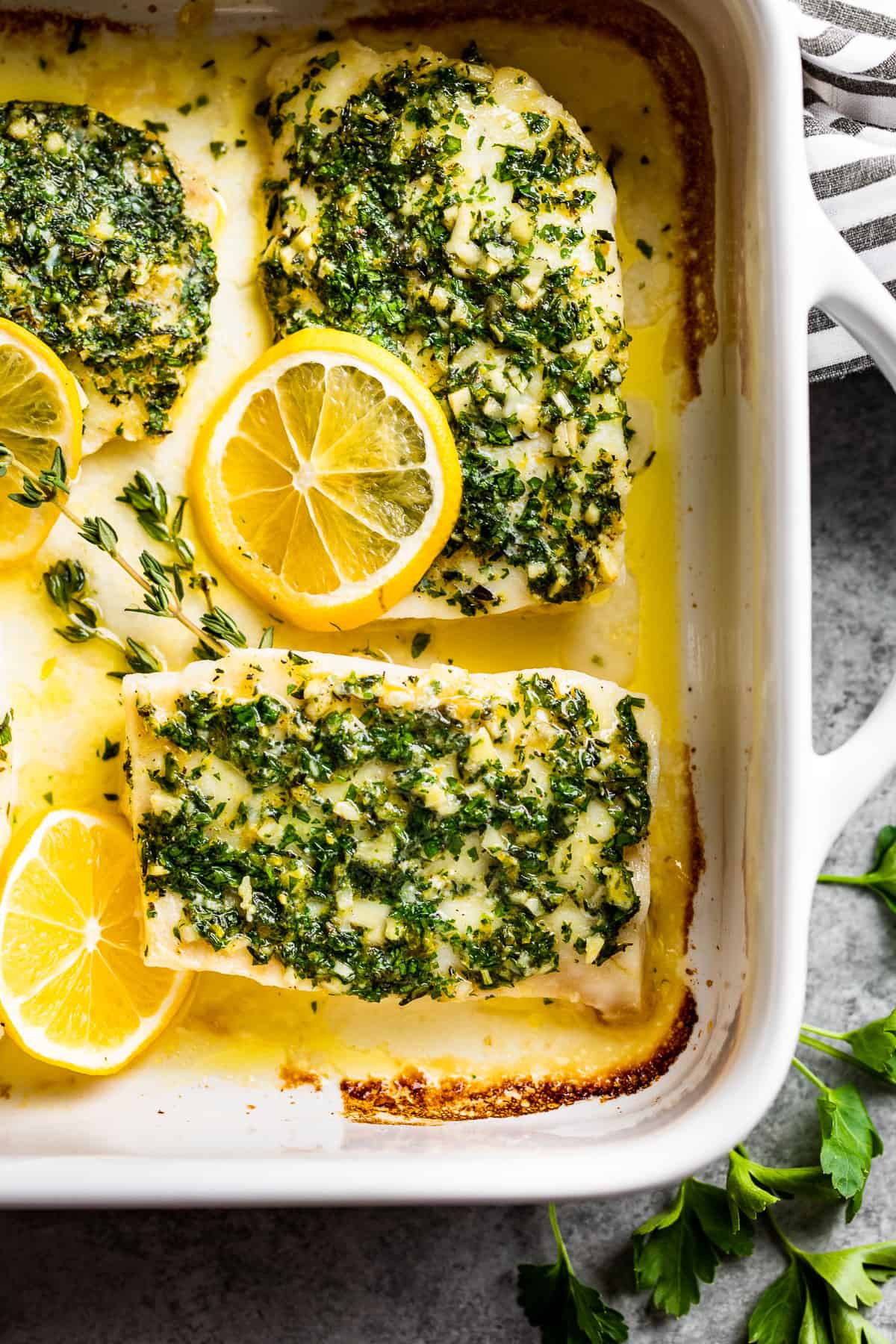 Fresh and perfectly light for spring, but definitely not lacking in savory flavor! This simple baked cod is based on something I remember making ages ago. I have no idea where that recipe went, but it was a baked fish in parchment paper (en papillote). It was always a hit but took a bit of time to put together.
So this recipe is inspired by a memory of that recipe but simplified to make it easy and accessible for weeknight dinners. No fiddling around with parchment paper packages here! Just a yummy herbed garlic butter that melts into the fish as it bakes, infusing it with flavor and keeping it perfectly moist.
There's also a version listed below made with olive oil if you're dairy-free. I've made it both ways and you can't go wrong! You can also make this with different types of fish as well so the sky's the limit with this one. It's such a tasty and fast way to cook fish, I know you'll love it.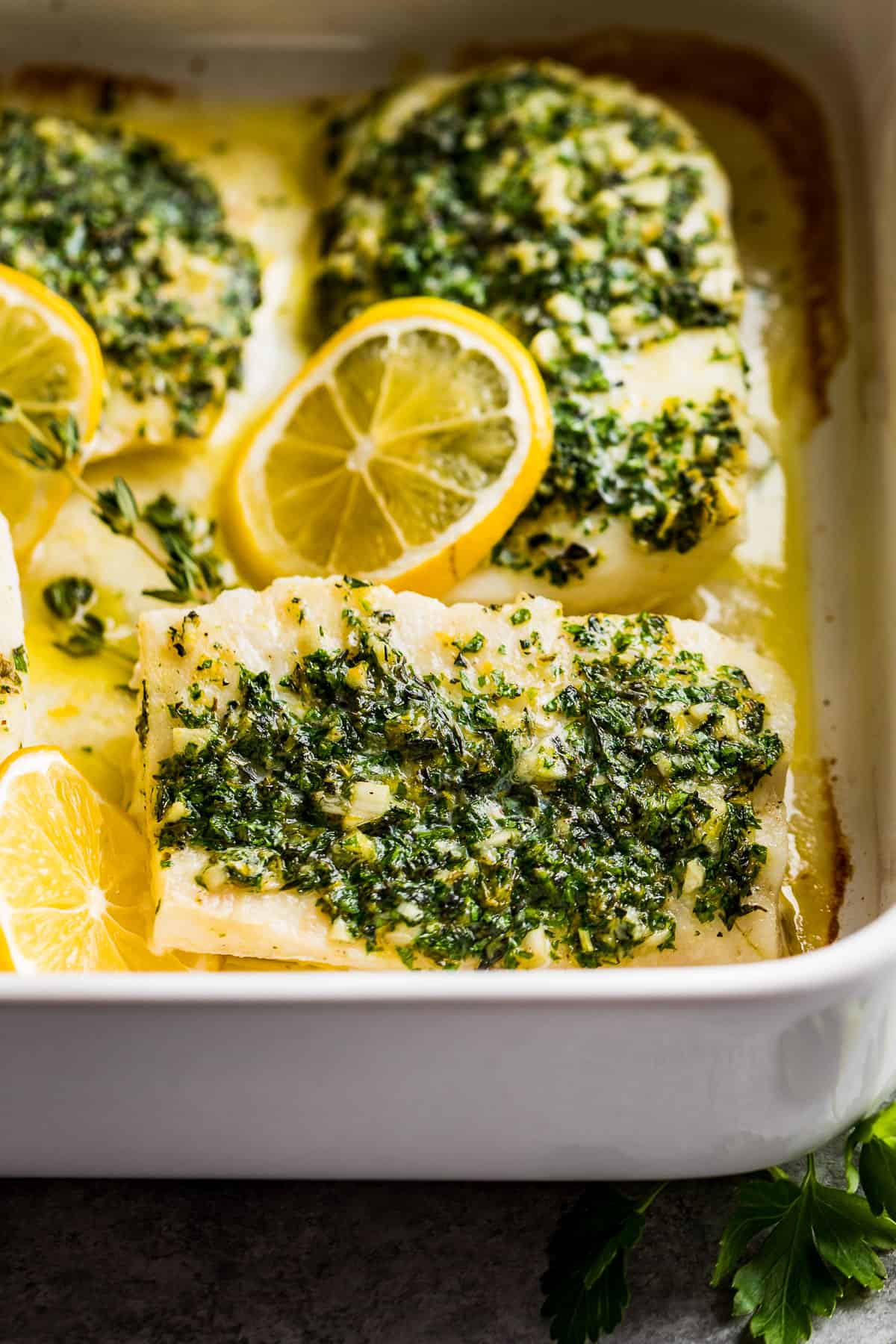 Ingredients & Substitutions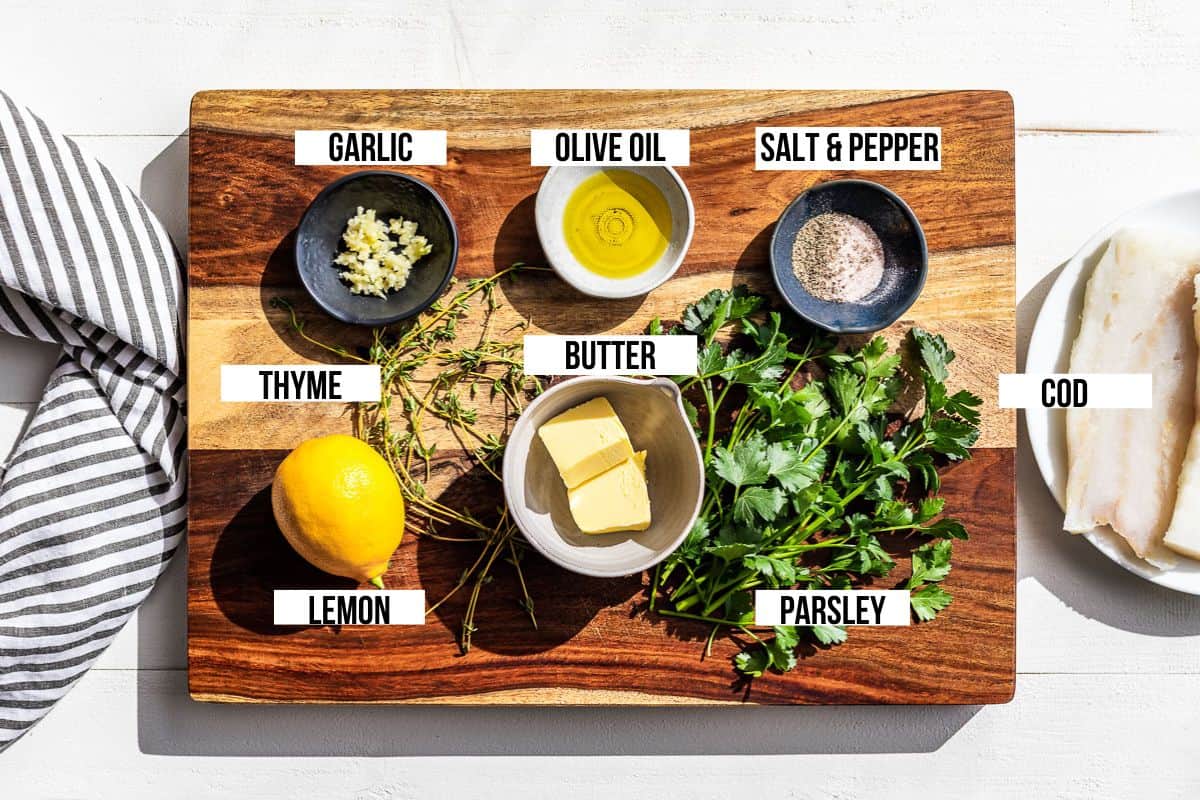 Cod – is easily available and affordable too. But you can use any white-fleshed fish you'd like if you adjust the baking time accordingly. You'll know the fish is done when it flakes apart with a fork. There's no way to estimate the baking time because it would vary so much between something like tilapia vs. halibut which tends to be quite a bit thicker. Salmon is also a good choice with this herbed butter mixture.
Butter – ghee, or olive oil can all be used here. I do think the butter mixed with the olive oil below is the best in terms of flavor. But I have made this recipe without using butter and it's a touch lighter. But there's more than enough flavor to go around.
Olive oil – you want to use the best quality you can here because it adds a lot of flavor to this dish, especially if you're making the dairy-free version.
Garlic – a little bit of freshly minced garlic adds the perfect amount of savory flavor without being overwhelming when combined with the herbs below.
Thyme – is my favorite here because it goes so well with fish. Rosemary and sage could work as well, but they tend to take over with their powerful flavors.
Parsley – combines well with the thyme, and adds a touch of freshness to the final dish. It also looks incredible with its bright green color.
Lemon zest – also adds a depth of flavor and a bright note of lemon without too much sourness.
Sliced lemon – is placed right on the fish as it bakes which takes the edge off the sourness of the lemon. Any extras can be served alongside the finished fish to squeeze over the top.
Make this recipe step by step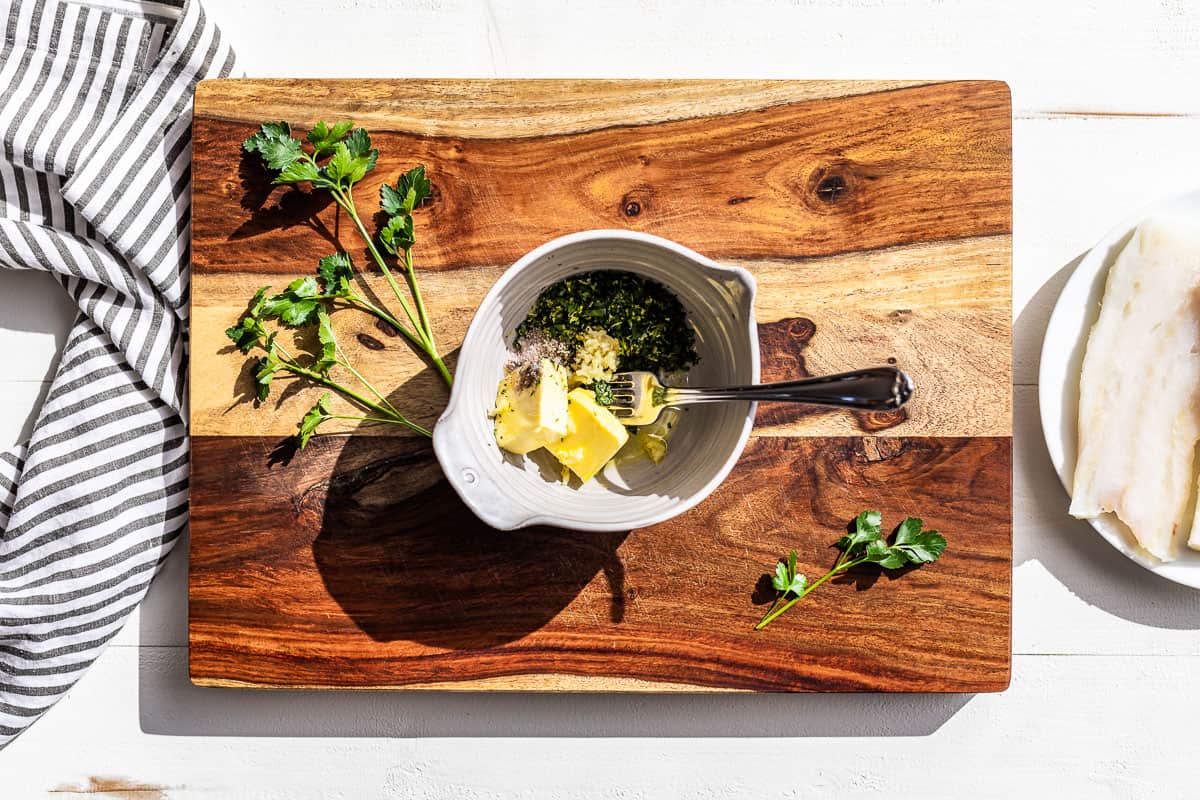 Step 1: Start by prepping all of your ingredients and preheating the oven. Then mince up the herbs and garlic, and add them to a small bowl.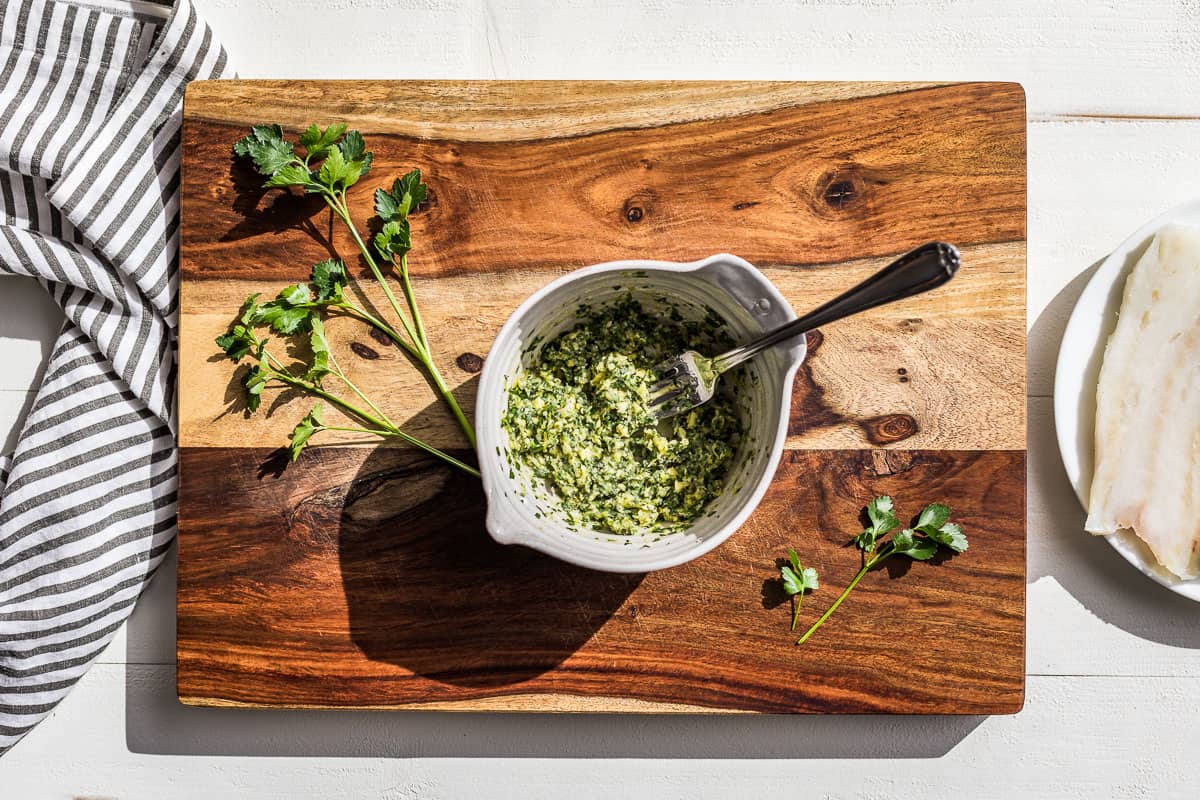 Step 2: Mash the herbs, butter, garlic, and olive oil together until completely combined.
If you're dairy free, mix the garlic and herbs together with olive oil as listed in the recipe, or use dairy-free butter.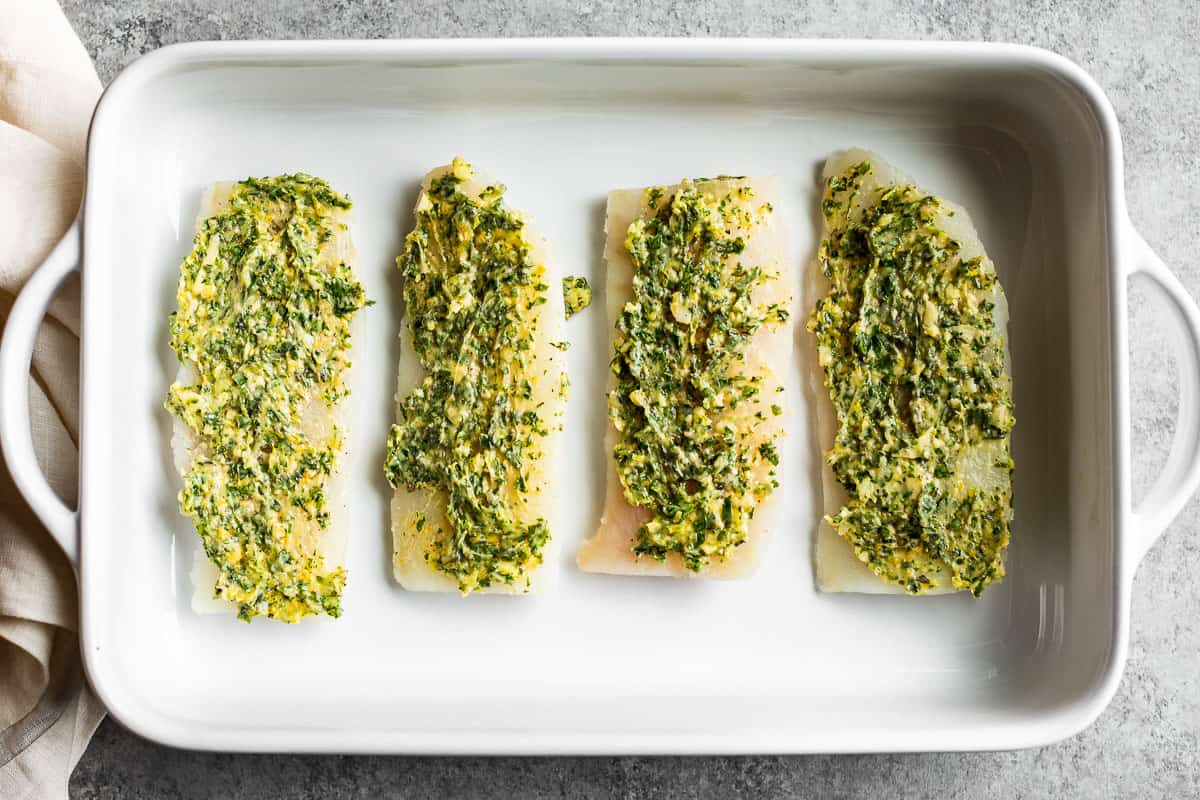 Step 3: Spread the herb butter paste evenly over the fish fillets, and top with 4 slices of lemon.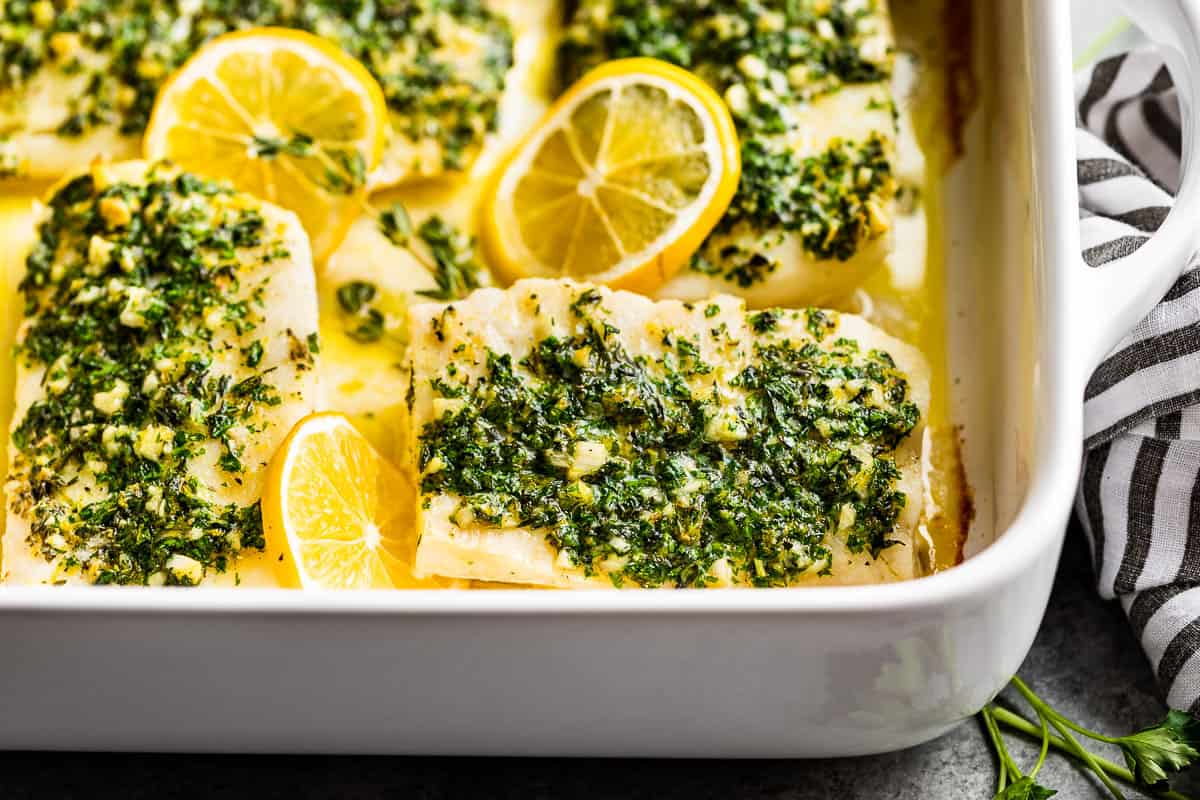 Step 4: Bake until the fish is just done in the center and flakes apart easily on the edges.
Ways to serve this
FAQ's
What temperature should cod be baked at?
I like to cook cod at 400ºF which has a nice balance of heat for a roasted flavor, but it's still low enough for a tender flaky fish that doesn't come out dry. You want to look for an internal temperature of 145ºF when it's done, this helps you avoid overcooking fish.
What can I use instead of cod?
Halibut is a good choice in place of cod because the fillets are usually a similar thickness for a similar cooking time. But you can use any white-fleshed fish like tilapia, rockfish, etc. just adjust the cooking time accordingly.
How do you know when cod is fully baked?
It will feel firm when you press down on the fillet and it will flake apart easily with a fork. Using an instant-read thermometer will help you not overcook fish, the temperature should read 145ªF when it's done. The fillets will also be opaque in the centers.
Storing leftovers
To store – place any leftovers into an airtight sealed container and store them in the fridge for 2 days.
Reheating – place the leftovers into a small skillet with 1-2 tablespoons of water, cover, and simmer until heated through. Or you can also heat this in the microwave. If you have any other leftover side dishes like steamed rice and vegetables, try heating the rice and veggies together in a small skillet. Add a touch of water as needed, then when the rice is hot, add the leftover fish flaked apart and mix it in just to warm. This works great so your leftovers don't overcook so much.
Repurpose – I like to flake apart the leftover cod and use it in place of tuna in my Healthy Tuna Salad.
To freeze – place the leftovers into an airtight sealed container and freeze for up to 1 month. Thaw in the refrigerator overnight before reheating.
Tips & Tricks
Any time you can find Alaskan cod, definitely use that! Alaskan cod is my favorite with a wonderful light flavor and it's incredibly flaky. It's hard to describe, but once you taste it, you'll know exactly what I mean.
An easy way to tell when fish is done is the juices will start to come to the surface and the edges will begin to flake.
The best way to tell if the fish is done is to use an instant-read thermometer which will register a temperature of 145ºF when your fish is done.
Fresh herbs really are a must in this recipe, don't substitute dried parsley and dried thyme. Instead, use just 1 if that's what you have, or leave them out and you'll have a garlic butter fish with a hint of lemon. You can't go wrong with those flavors!
Dietary Options & Substitutions
Dairy-free – use dairy-free butter or the olive oil option in the recipe.
Paleo & Whole30 – use the olive oil option in the recipe, or ghee also works here.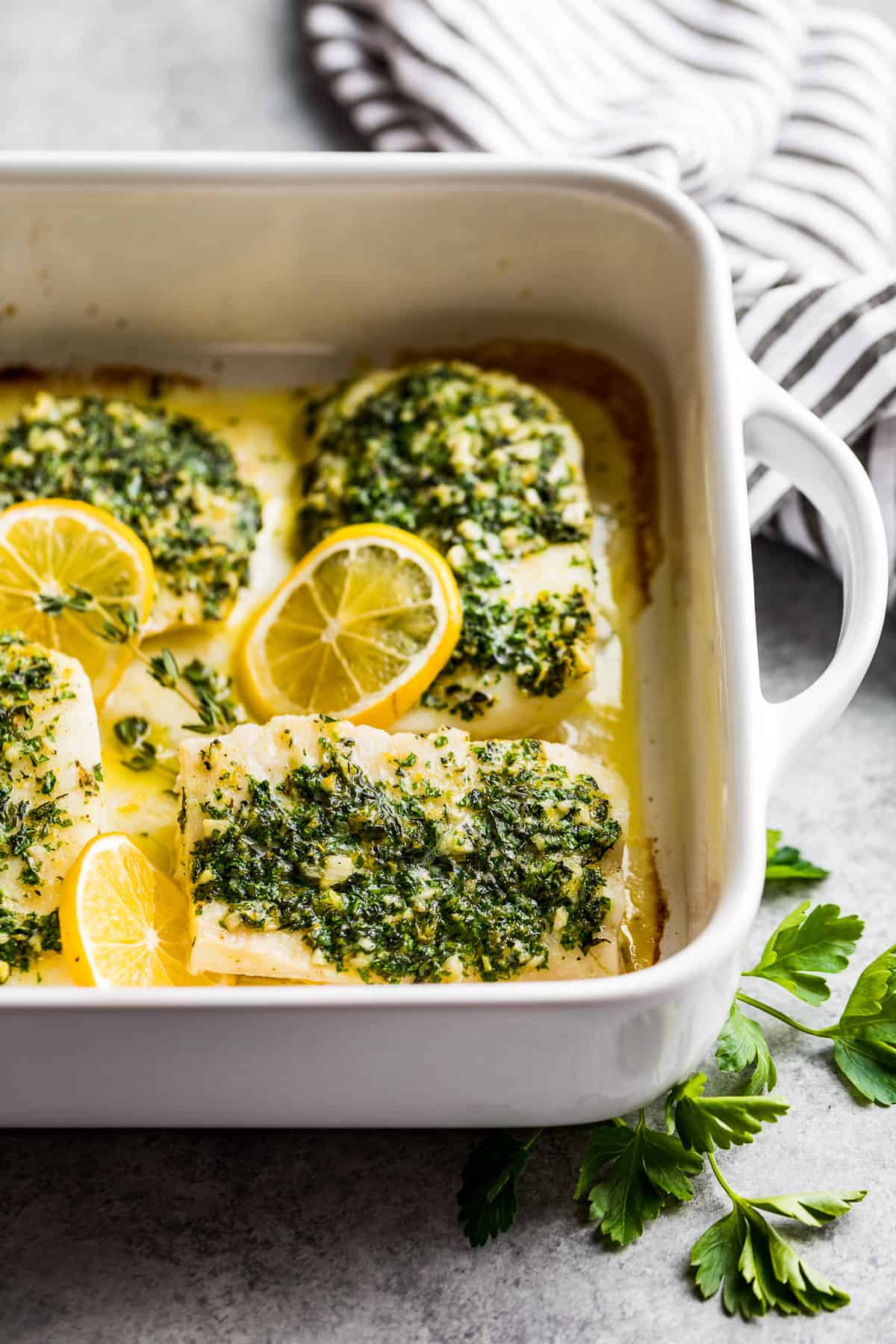 Seafood Recipe Inspiration
I really hope you enjoy this simple and brightly flavored dinner. And if you do get a chance to make it, I hope you'll leave me a comment/rating below. I always love hearing from you here!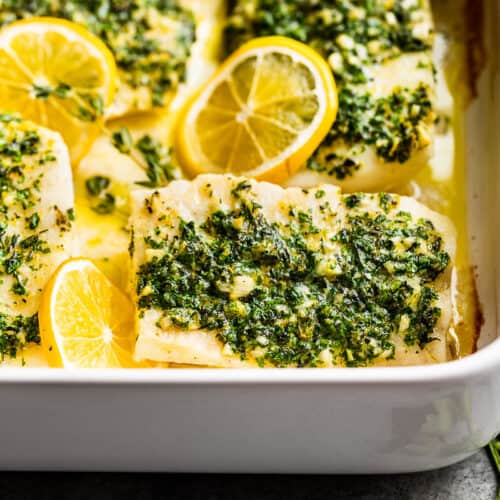 INGREDIENTS
1.5

pounds

cod fillets

-

4-6 oz fillets, fresh or thawed from frozen

2

tbsp

butter

-

ghee or olive oil

1

tbsp

olive oil

1

clove

garlic

-

minced

1

tbsp

chopped fresh thyme

-

see notes

1

tbsp

chopped fresh parsley

1

tsp

lemon zest

1/2

tsp

sea salt

-

or to taste

1/4

tsp

ground black pepper

1

lemon

-

sliced
INSTRUCTIONS
Preheat the oven to 400ºF. 

Add the butter, olive oil, garlic, thyme, parsley, lemon zest, sea salt, and pepper into a small bowl. Mash the mixture together with a fork until fully combined.

Place the fish fillets in a baking dish, (I used a 9″x13″) and evenly spread the herbed butter mixture over the top. Add 4 slices of lemon on the sides or top of the fish fillets.

Bake until the fish is just done in the center and easily flakes apart with a fork on the edges, 15-20 minutes. An instant read thermometer will read 145ºF.

Serve with the remaining lemon slices.
Bonus Step
If you made this recipe, please leave a rating/comment. Ratings really help us continue to bring you high-quality free recipes. Rate This Recipe!
NOTES
To chop fresh thyme, first remove the leaves from the tough stems, then roughly chop them.
nutrition facts
Serving:
6
oz
|
Calories:
232
kcal
|
Carbohydrates:
3
g
|
Protein:
31
g
|
Fat:
10
g
|
Saturated Fat:
4
g
|
Polyunsaturated Fat:
1
g
|
Monounsaturated Fat:
4
g
|
Trans Fat:
0.2
g
|
Cholesterol:
88
mg
|
Sodium:
429
mg
|
Potassium:
763
mg
|
Fiber:
1
g
|
Sugar:
1
g
|
Vitamin A:
417
IU
|
Vitamin C:
21
mg
|
Calcium:
47
mg
|
Iron:
1
mg
This recipe was originally published in 2021 but has been updated in 2023 with new tips, more information, and nutritional facts.