This Healthy Chicken Salad has all the goodness of the classic recipe but with lighter and brighter flavors. I make this chicken salad with 2 dressing options listed below. The Greek yogurt dressing has more classic flavors and keeps well for meal-prepped lunches. But the avocado dressing is also very tasty, dairy-free, and perfect served the day it's made. Either way, this Healthy Chicken Salad is bound to become a household staple.
I love making chicken salad for meal prep because it keeps so well and makes a nice easy lunch option. But it's also really great for entertaining as well.
It's simple to make ahead which leaves you free to enjoy your guests. You can also serve this in all sorts of ways from sandwiches and wraps to a bed of greens.
And if you want to mix up this recipe, definitely try it with my Smoked Chicken Breasts. The smoky flavor makes a nice change of pace.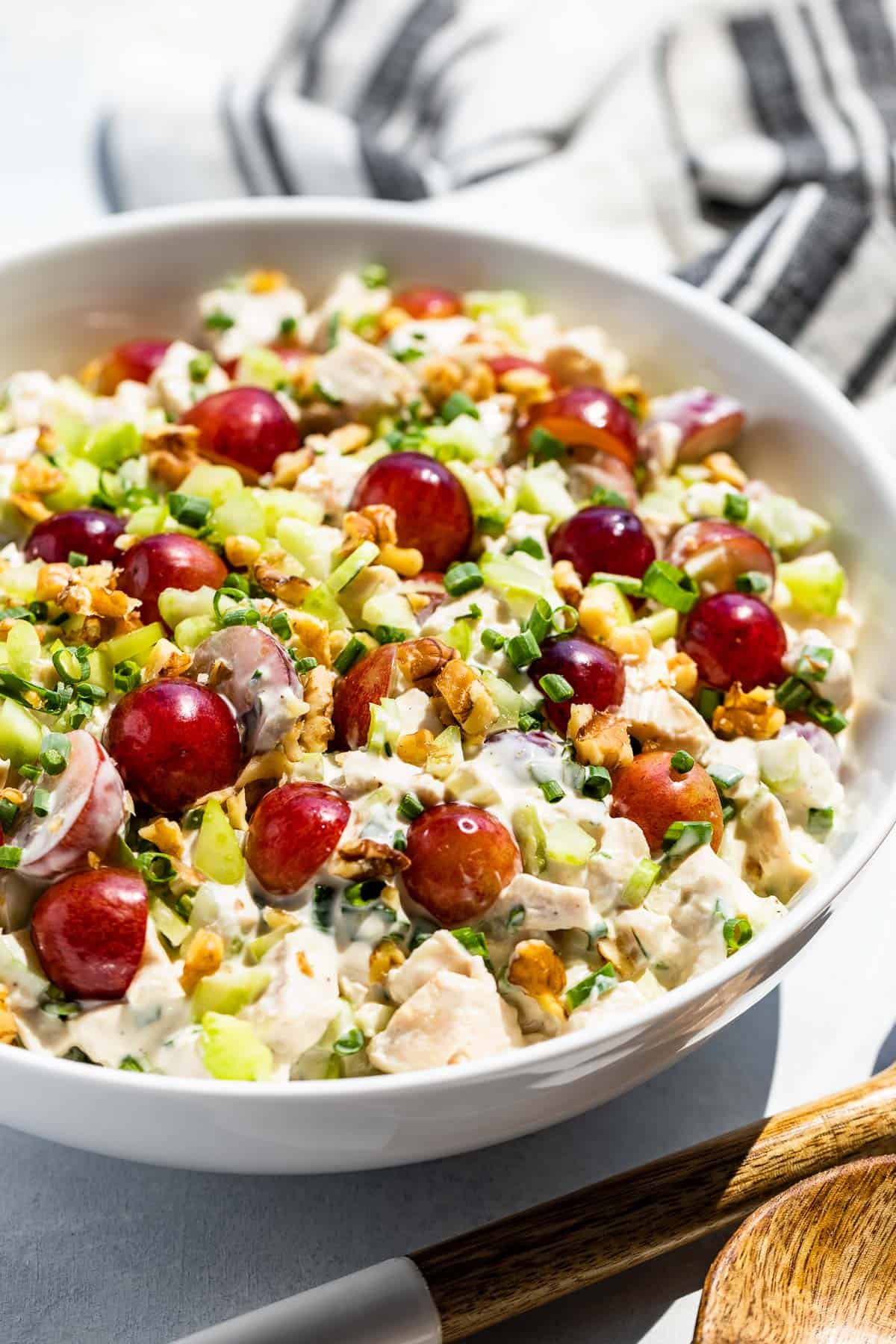 Ingredients & Substitutions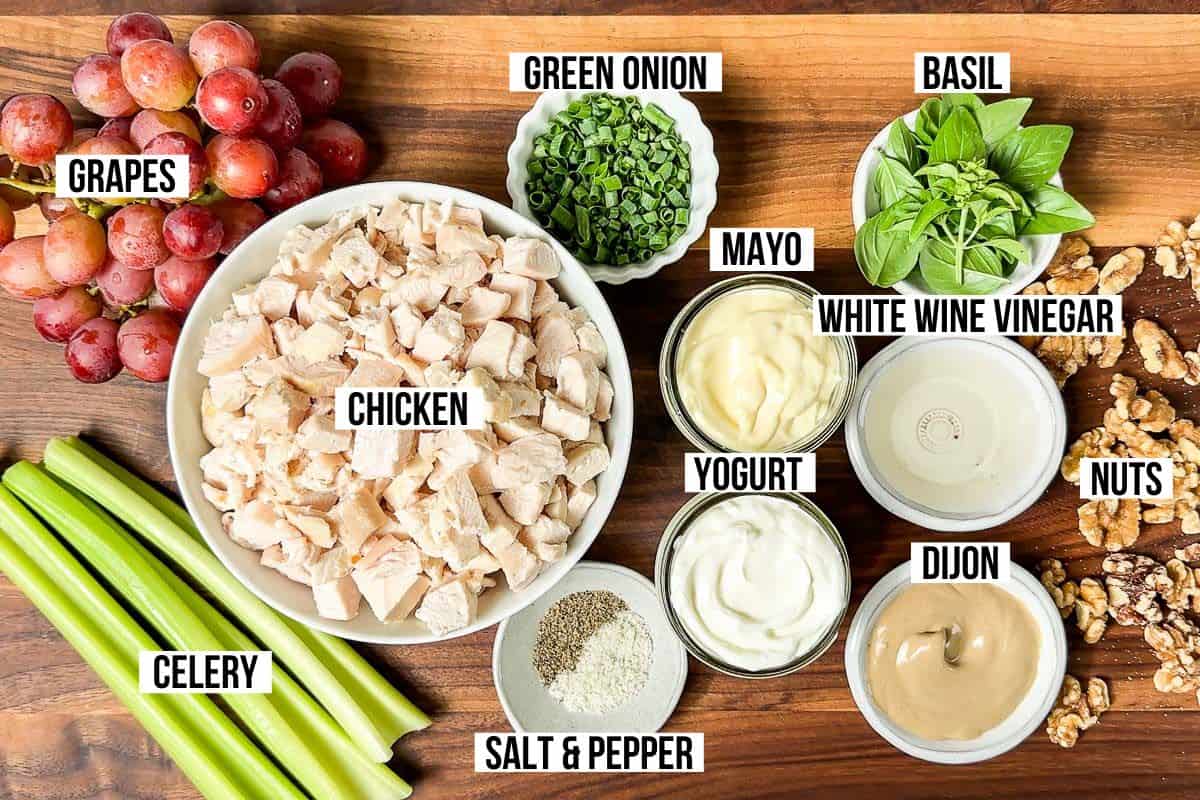 Chicken – cooked chicken breast is classic in chicken salad, but you can use leftover Roast Chicken or rotisserie chicken. I've also used chopped cooked chicken thighs as well.
Greek yogurt dressing – is made of 50/50 mayo and plain Greek yogurt along with some Dijon mustard and white wine vinegar to add depth of flavor. The combination of Greek yogurt together with the mayo makes for the best flavor and creaminess. But you can use straight Greek yogurt as well.
Avocado dressing – is perfect if you're dairy-free and made up of avocado, lemon juice, and sea salt. It's super simple and adds a lot of fresh flavor to the chicken salad along with healthy fats. The only downside to this option is it doesn't keep very well with the avocado.
Grapes – fresh juicy grapes add a nice sweetness and are also classic in chicken salad, but I also use chopped fruit juice-sweetened cranberries in the winter months. You'll find the measurements in the recipe below.
Celery – adds another veggie and a lot of crunch and texture.
Nuts – chopped toasted pecans, almonds, cashews, or walnuts are all nice over chicken salad. But you can leave them out if you're nut-free.
Green onion & basil – green onion adds a nice savory flavor. Chives also work and you can use red onion if necessary but add it sparingly so it's not overwhelming. I like to add chopped fresh basil when I have it. Tarragon, dill, and fresh parsley also work or you can omit the fresh herbs altogether if you don't have them on hand.
How to make this recipe step by step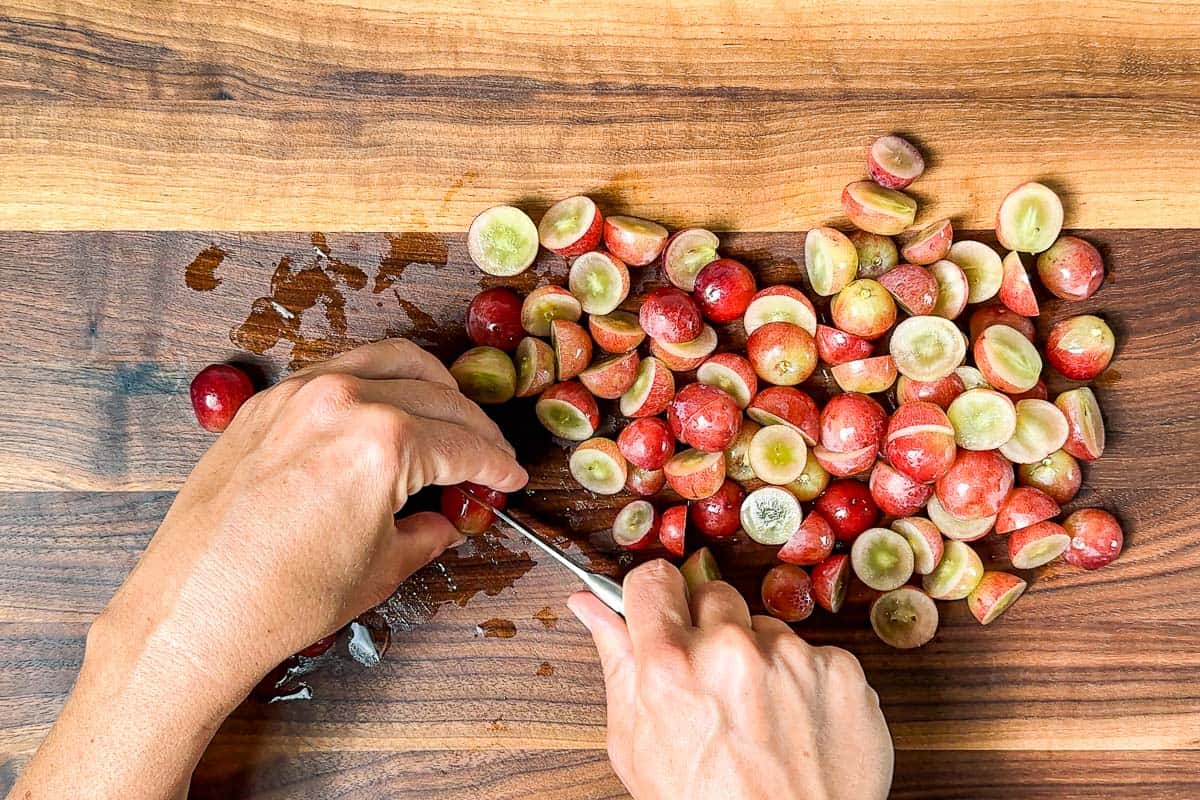 Step 1: Start by cutting the grapes in half to make them small bite-sized pieces. This makes for more juicy grapes in every bite.
Step 3: Next stir together the dressing.
Or if you choose to make the avocado dressing, a small processor or blender works well to create a smooth dressing. But you can also mash it together by hand to be mostly smooth.
Step 4: Add the cooked chicken, grapes, celery, and dressing to a bowl.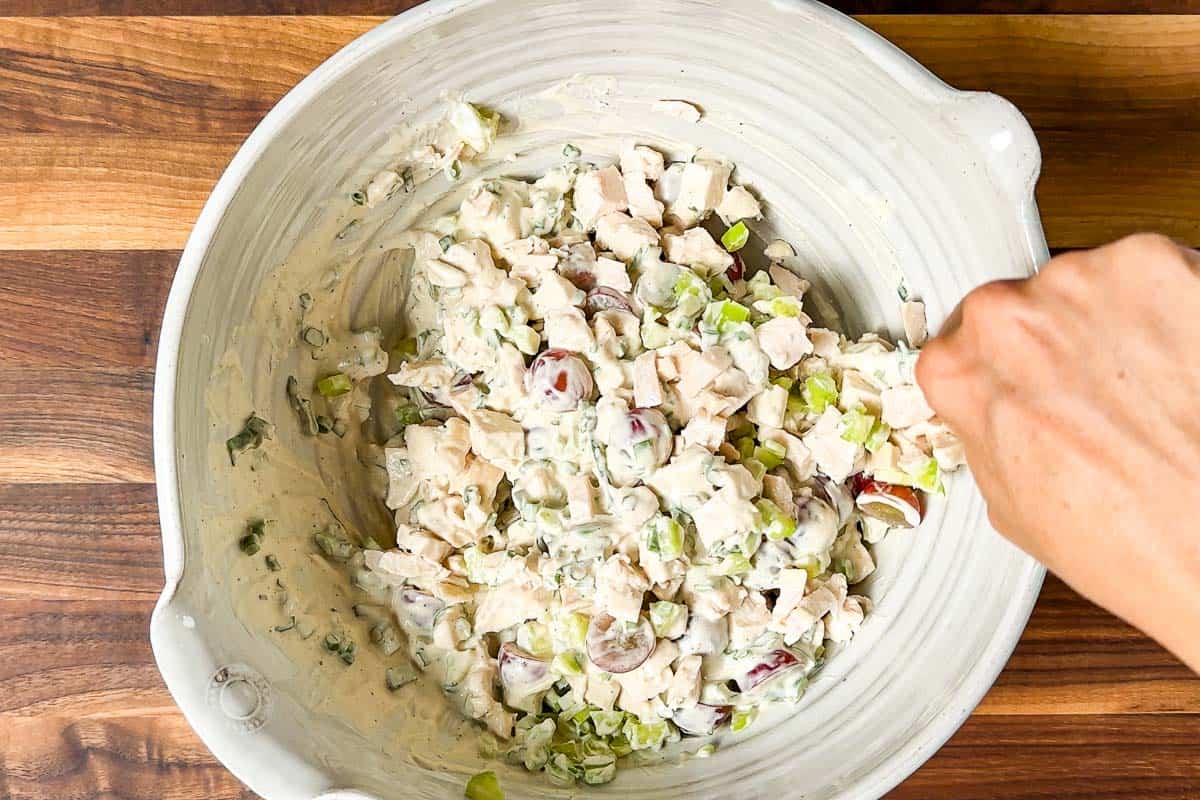 Step 5: Mix the chicken salad together and then season to taste with sea salt and pepper.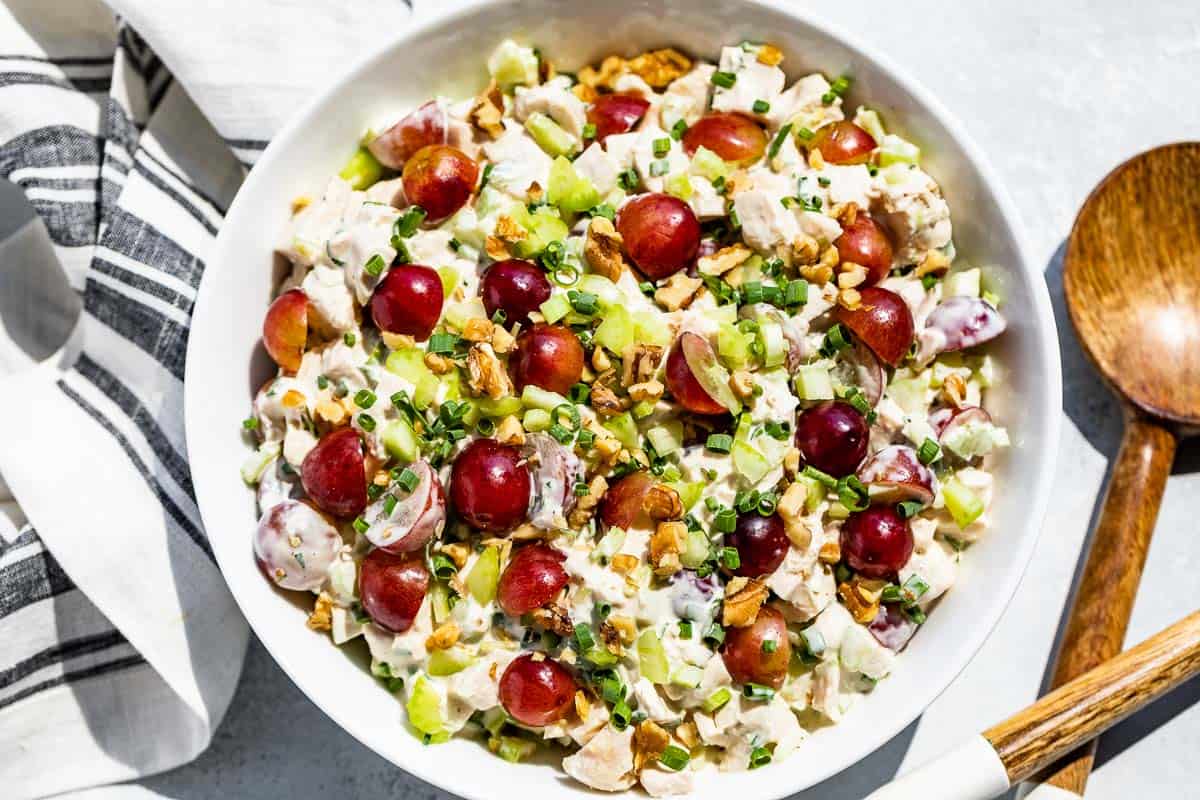 Ways to serve this
We love to eat this Healthy Chicken Salad over a pile of mixed greens, chopped-up lettuce, and spinach and arugula are great too. Or turn this chicken salad into a lettuce wrap.
This recipe is also good rolled into a wrap with mixed greens. A local coffee shop where I live serves a chicken salad wrap like I described above with blue cheese dressing in place of the mayo dressing and it's incredible as well!
Make it into a healthy chicken salad sandwich with or without greens. Or serve with your choice of crackers or chips.
You can serve this salad as a snack like my 3 Quick and Easy Apple Slice Snacks. Slice the apple in circles, and use a small round cutter to remove the core, then pile on some of this chicken salad.
FAQ's
Is chicken salad healthy?
This chicken salad recipe is made with a healthy dressing and is packed with protein, fruits, and veggies. You can make this healthy chicken salad even healthier by serving it over a bed of greens.
What part of the chicken is beast for salads?
Overall chicken breasts are the best part of the chicken for salads because it has the perfect texture to soak up the dressing. However, chicken thighs also work and are easier not to overcook.
Why is my chicken salad dry?
The most common reason a chicken salad turns out dry is overcooked chicken breasts. You can add a bit more dressing to try and compensate a bit. But it's essential to cook the chicken perfectly for the best chicken salad. The easiest way to do this is to use a meat thermometer. Chicken is done when a thermometer reads 165ºF and is no longer pink in the center. This way you are guaranteed juicy chicken which will make the best chicken salad.
Storing leftovers
To store – place any leftovers into an airtight container and store them in the refrigerator for 3-4 days.
Make ahead – this salad keeps well with the chopped nuts on the side. The grapes will also shed some juices as the salad sits so you can keep them out as well until you're ready to serve this chicken salad. If you use the avocado dressing option, it's best eaten the same day you make it. But if the avocado isn't overripe, the salad will keep 1 day in the fridge.
To freeze – Chicken salad doesn't freeze well. But you can prep by cooking the chicken ahead of time and freezing it cubed up. Then you're most of the way there to making a chicken salad at a moment's notice.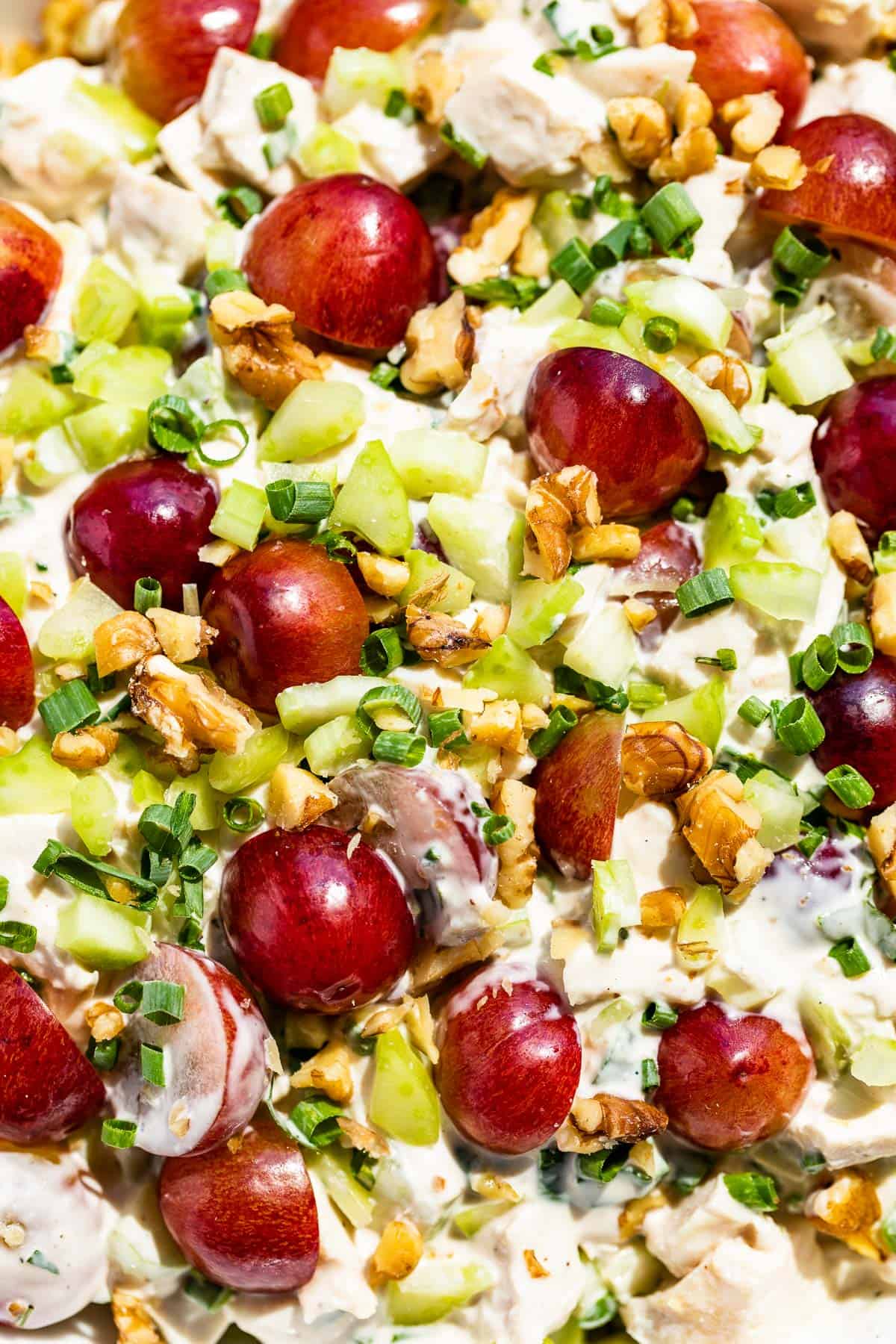 Tips & Tricks
To make this for meal prep, I definitely recommend keeping the nuts separate and adding them as you eat the salad for the best crunch. If you're using basil, it's best to add it as you eat the salad too because it has a tendency to turn brown after 2 days. When I meal prep this, I like to use dill which keeps the best in my opinion.
Use leftover chopped rotisserie chicken if you have it on hand or leftover chicken from any recipe like my Roast Chicken and Vegetables.
Try making this chicken salad with my Smoked Chicken Breasts for a different flavor.
If you love chicken salad, try my Meal Prep Tuna Salad or Sriracha Tuna Salad.
Dietary Options & Substitutions
Dairy-free – use all mayo like my Classic Chicken Salad. Or try the avocado dressing listed below in the recipe card.
Paleo – use the avocado dressing option or all mayo.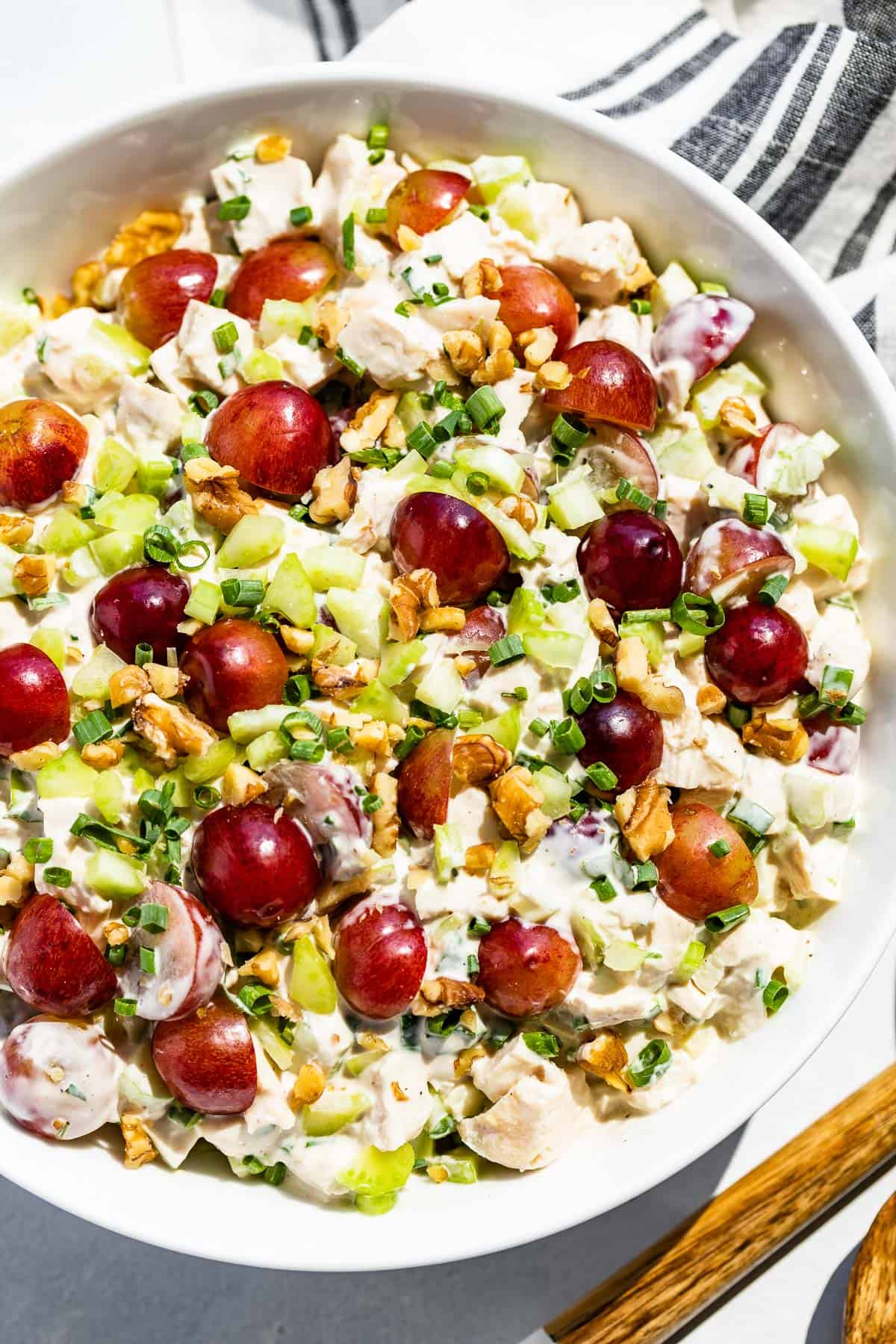 More Chicken Salad Recipes
I really hope you enjoy this Healthy Chicken Salad! If you do get a chance to make this recipe, I'd love to hear from you in the comments.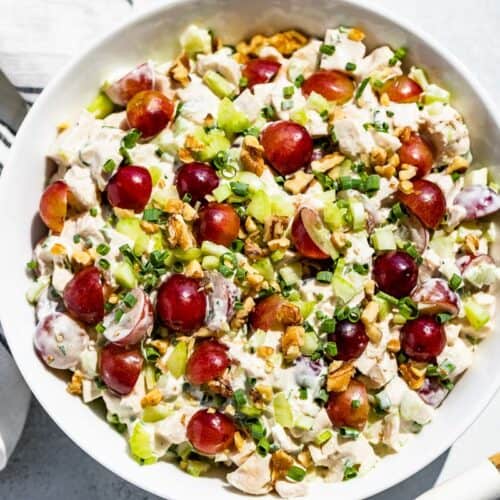 INGREDIENTS
Greek Yogurt Dressing
1/2

cup

plain Greek yogurt

-

see avocado dressing below for dairy free

1/2

cup

mayonnaise

2

tbsp

Dijon mustard

1

tbsp

lemon juice

-

freshly squeezed

1/2

tsp

sea salt

-

or to taste

1/4

tsp

black pepper

1/2

cup

green onions

-

thinly sliced, or chives

2

tbsp

basil

-

chopped, or fresh dill, tarragon, or parsley – can be omitted
Chicken Salad Ingredients
1

pound

chicken

-

breasts or thighs, cooked and diced

1.5

cups

celery

-

diced, 3 ribs

2

cups

red grapes

-

halved (11 oz), or 1/2 cup chopped dried cranberries

1/2

cup

walnuts

-

roughly chopped, or almonds, pecans, or omit for nut-free
INSTRUCTIONS
In a small bowl, stir together the Greek yogurt, mayonnaise, Dijon mustard, lemon juice, sea salt, pepper, green onions, and basil until combined. Set the dressing aside.

Add the cooked diced chicken to a large bowl along with the celery and grapes.

Pour the dressing over the chicken mixture and stir to combine. Taste to adjust the salt and refrigerate for 1-2 hours to allow the flavors to develop.

Or serve the chicken salad right away with the chopped walnuts or nut of choice.
Bonus Step
If you made this recipe, please leave a rating/comment. Ratings really help us continue to bring you high-quality free recipes. Rate This Recipe!
NOTES
Avocado Dressing: 1 ripe avocado, 2 tbsp freshly squeezed lemon juice, and 1 tsp sea salt. Process together in a small food processor until smooth and mix into the chicken salad ingredients, omitting the Greek yogurt dressing.
The walnuts can be raw or untoasted, we love them both ways. When I use almonds or pecans I always toast them for more flavor. But walnuts have a nice buttery flavor untoasted that is really nice in chicken salad.
nutrition facts
Calories:
498
kcal
|
Carbohydrates:
20
g
|
Protein:
31
g
|
Fat:
34
g
|
Saturated Fat:
5
g
|
Polyunsaturated Fat:
20
g
|
Monounsaturated Fat:
7
g
|
Trans Fat:
0.1
g
|
Cholesterol:
86
mg
|
Sodium:
726
mg
|
Potassium:
822
mg
|
Fiber:
3
g
|
Sugar:
14
g
|
Vitamin A:
460
IU
|
Vitamin C:
9
mg
|
Calcium:
89
mg
|
Iron:
2
mg
This recipe was originally published in 2014 and updated in 2023 with new photos more dressing recipe options and tips.