The perfect dinner for weeknights, this Instant Pot Salsa Chicken is family-friendly and versatile. It's made with just 3 ingredients and the Instant Pot does all the work. It's gluten-free, dairy-free, and perfect for tacos, burrito bowls, and quesadillas. We love to meal prep it for the freezer for even faster meals in the future.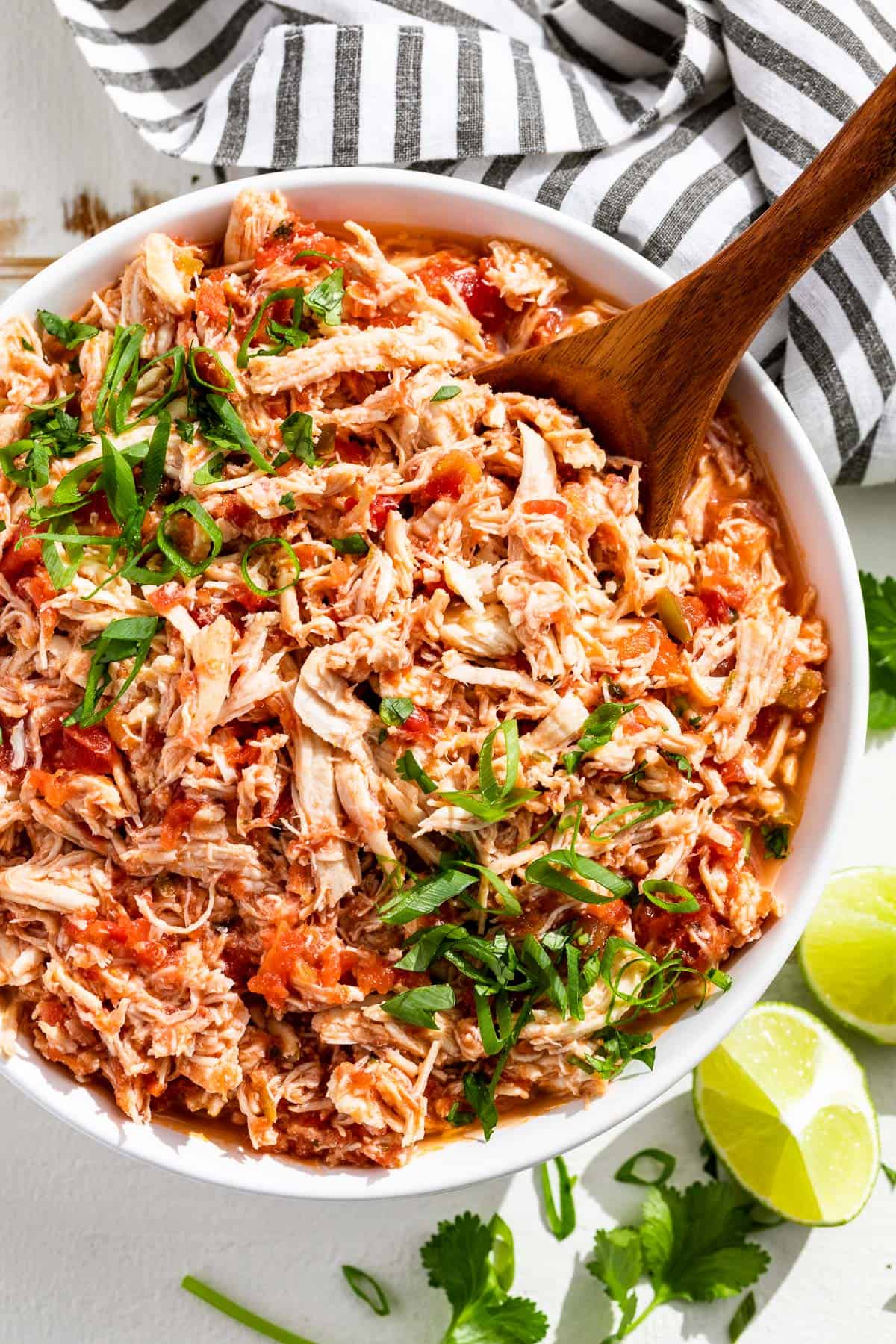 Meet one of my favorite meal-prepping recipes. This shredded salsa chicken is so versatile we love to have it on hand in the freezer for quick and easy Mexican-inspired meals.
It's also so easy to make it's perfect for weeknight meals when you're running short on time. It comes together with pantry ingredients and almost no prep time.
While the instant pot turns it into flavorful shredded chicken, you can prep any sides and toppings you'd like to serve it with. You'll find lots of suggestions below about how to turn this chicken into taco bowls, burrito bowls, quesadillas, and more.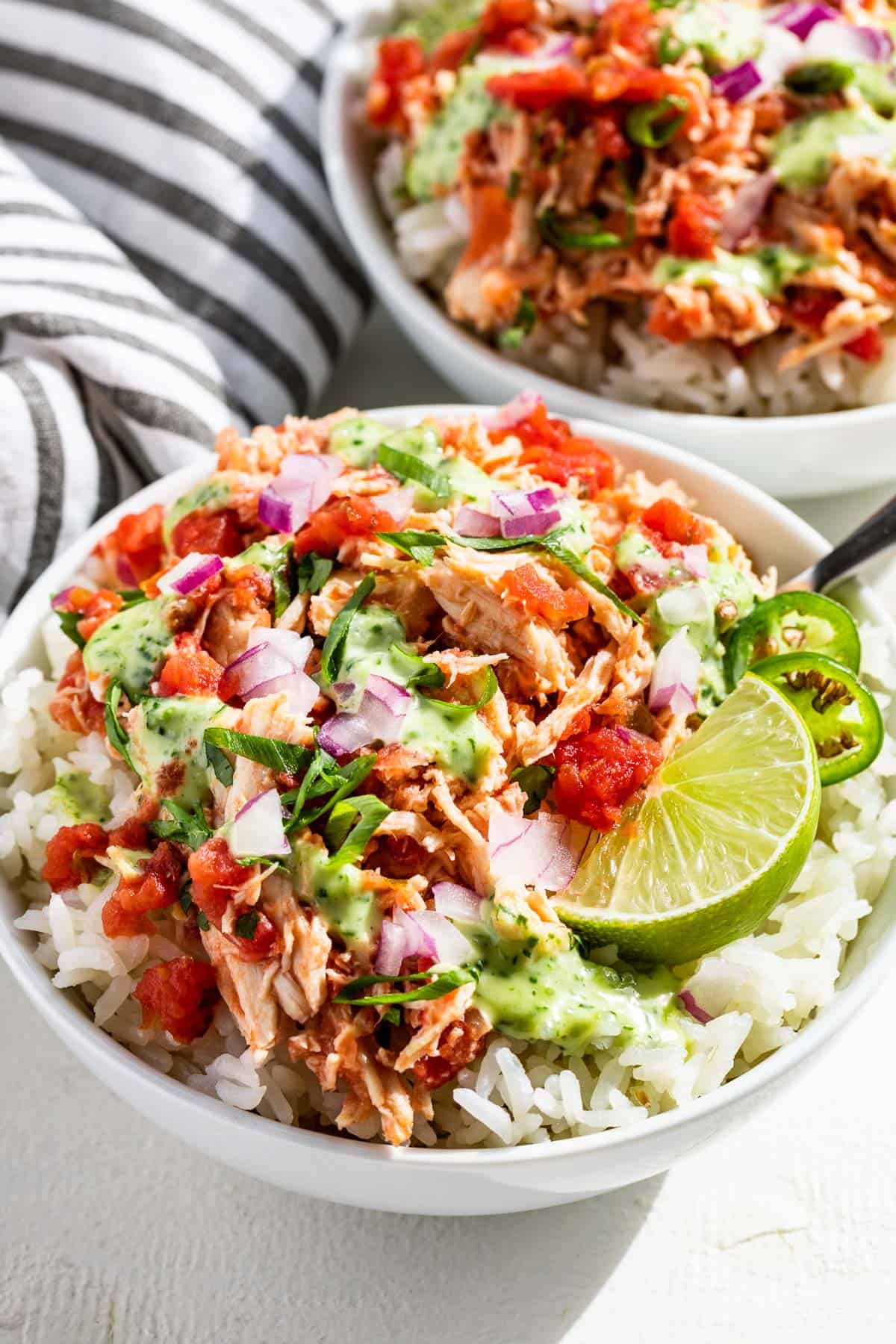 Ingredients & Substitutions
Chicken breasts – thawed chicken breasts work best in this recipe although there are instructions for how to make this from frozen. You can use chicken thighs, but they are a bit harder to shred and cook faster.
Salsa – I really think fresh salsa tastes best in this recipe, but I do use the shelf-stable jarred salsa when it's all I have and it's still good.
Broth – look for low-sodium chicken broth or chicken stock so you can control the amount of salt used.
Seasonings – I prefer to keep this recipe simple with pure salsa flavor, but I have added 2 tbsp of homemade taco seasoning sometimes to mix it up. You could also add 1/2 tsp garlic powder and 1 tsp cumin instead of taco seasoning to enhance the salsa flavors.
How to make this recipe step by step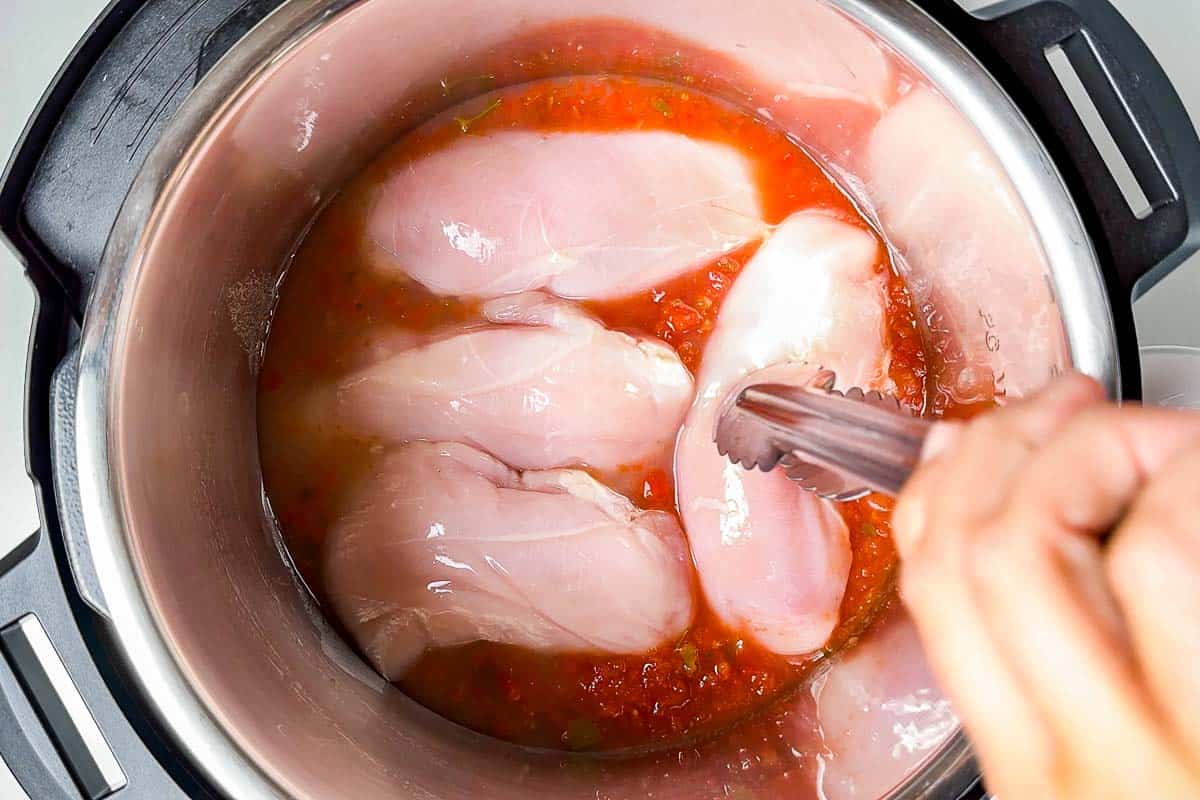 Step 1: Pour the broth and salsa into the Instant Pot cooking bowl (inner pot) and mix to combine.
Add the chicken breast on top of the salsa mixture and press to lightly submerge. Set the pressure cooker to cook at high pressure.
Salsa Chicken in the Crock Pot: Mix together the broth and salsa in your slow cooker bowl. Add the chicken breasts and press them down to submerge in the liquid. Cook on low for 6-8 hours, or until the chicken easily shreds. Shred the chicken and add it back to the liquid, or mix it with more salsa and season to taste with sea salt if needed.
Step 2: When the cooking time is up and the Instant Pot has come down from pressure, shred the chicken with two forks. Or follow my shortcut tip below.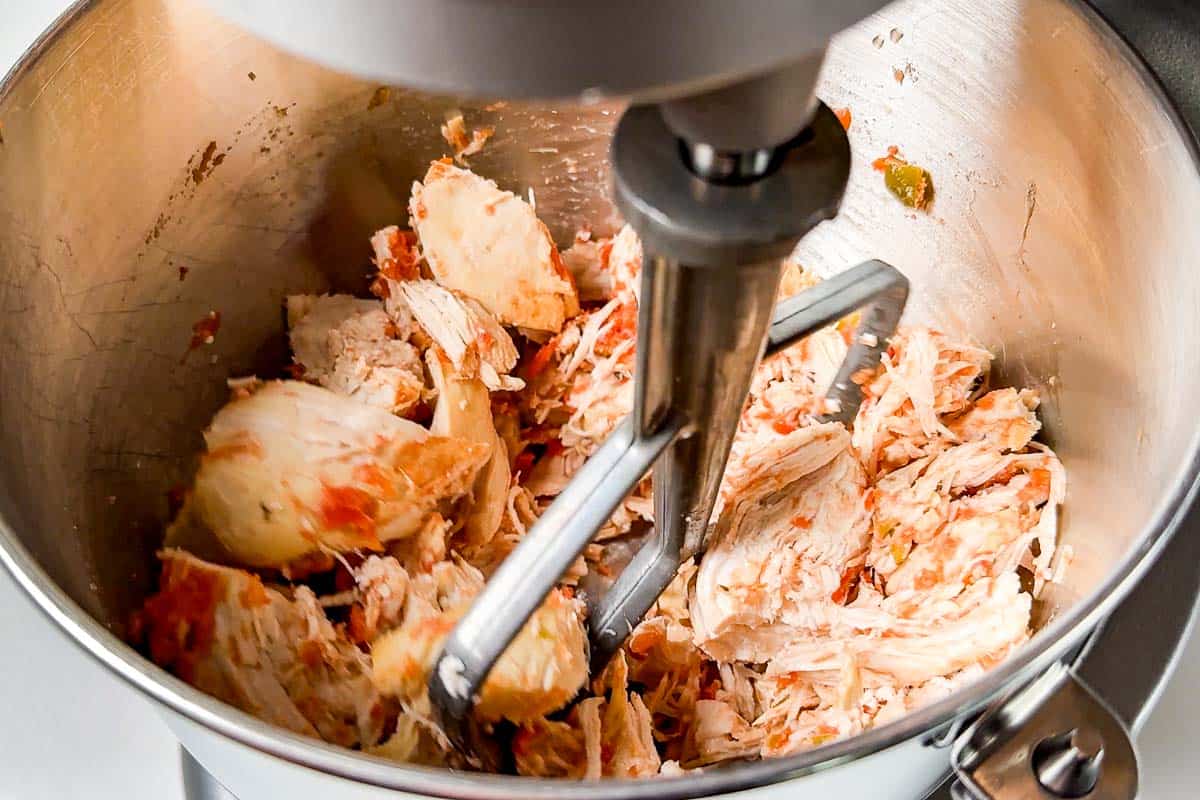 Meat Shredding Shortcut: Carefully remove the finished chicken breasts from the Instant Pot and place them into the bowl of an electric mixer. Using the paddle attachment, mix on low speeds until the chicken is shredded, 1-2 minutes.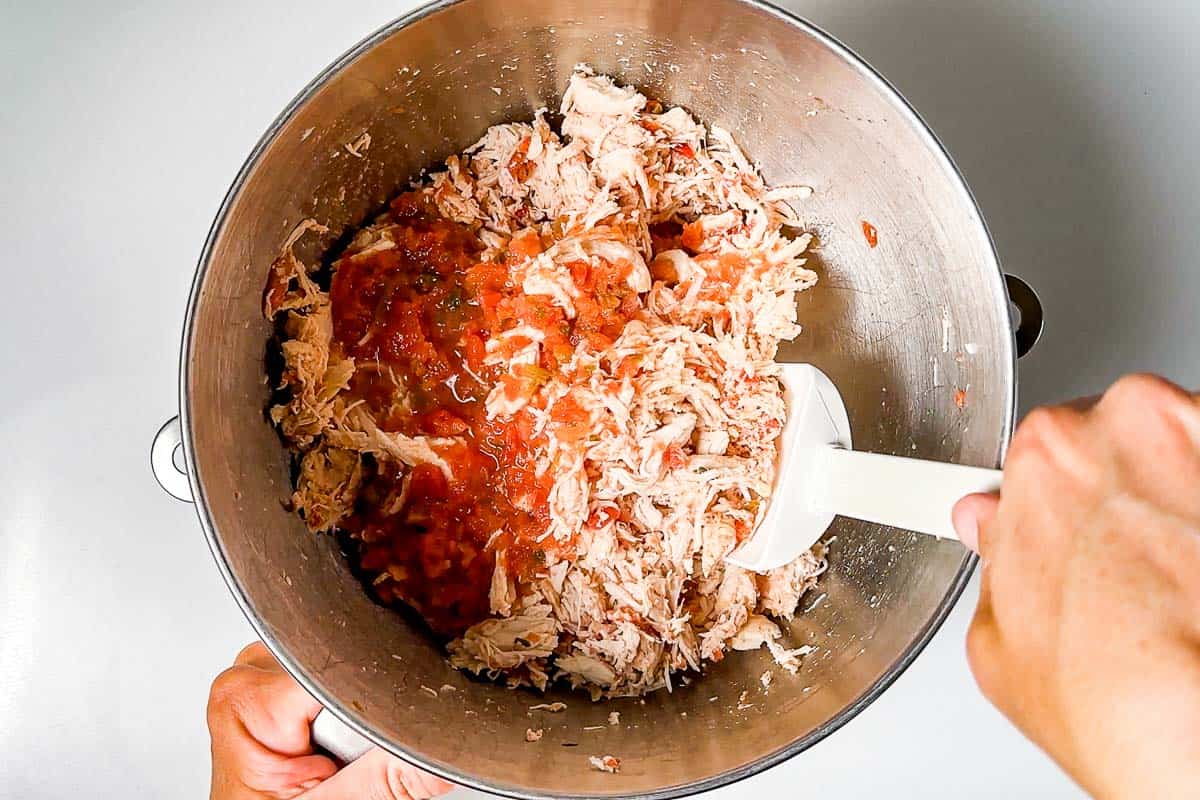 Step 3: Season the shredded chicken to taste with sea salt if needed and add more fresh salsa if desired.
Ways to serve this
Serve this as a taco bowl over steamed rice as pictured here with my Cilantro Lime Dressing, chopped red onion, more salsa, and avocado. Feel free to add more toppings like corn and black beans or pinto beans along with grated cheddar cheese and sour cream.
Or try it over Baked Sweet Potatoes as pictured below with Pico de Gallo or Fire Roasted Salsa and sliced avocado. Add beans, corn, shredded cheese, and sour cream if desired.
Use this salsa chicken in burritos or in place of the chipotle chicken in my burrito bowls.
Use this recipe as a filling for chicken quesadillas or on tortilla chips with jalapeno jack cheese to make nachos. Pile it into your choice of tortilla and make chicken tacos with your favorite toppings like my Mango Salsa.
Add homemade guacamole to any of the combinations listed above instead of sliced avocado.
I like to eat the leftovers in salads with my Cilantro Lime Dressing. You can also add it to chicken stock as a 'quick' tortilla soup and top with tortilla chips, avocado, and fresh lime juice.
Add a squeeze of fresh lime juice over the top of whatever you end up making with this salsa chicken.
FAQ's
Do I need to thaw chicken before cooking in the Instant Pot?
You do not need to thaw the chicken before placing it in the Instant Pot for this salsa chicken recipe. I think thawed chicken has a slightly better texture, but I have instructions for how to cook this from frozen as well.
Why is my Instant Pot shredded chicken rubbery?
Shredded chicken can become rubbery in the Instant Pot for 2 reasons. The first reason chicken can become rubbery is too much cooking time, and the second reason is cooking from frozen. You can cook chicken from frozen but there is more margin for error and it can result in rubbery chicken if your chicken breasts are on the small side and get overcooked.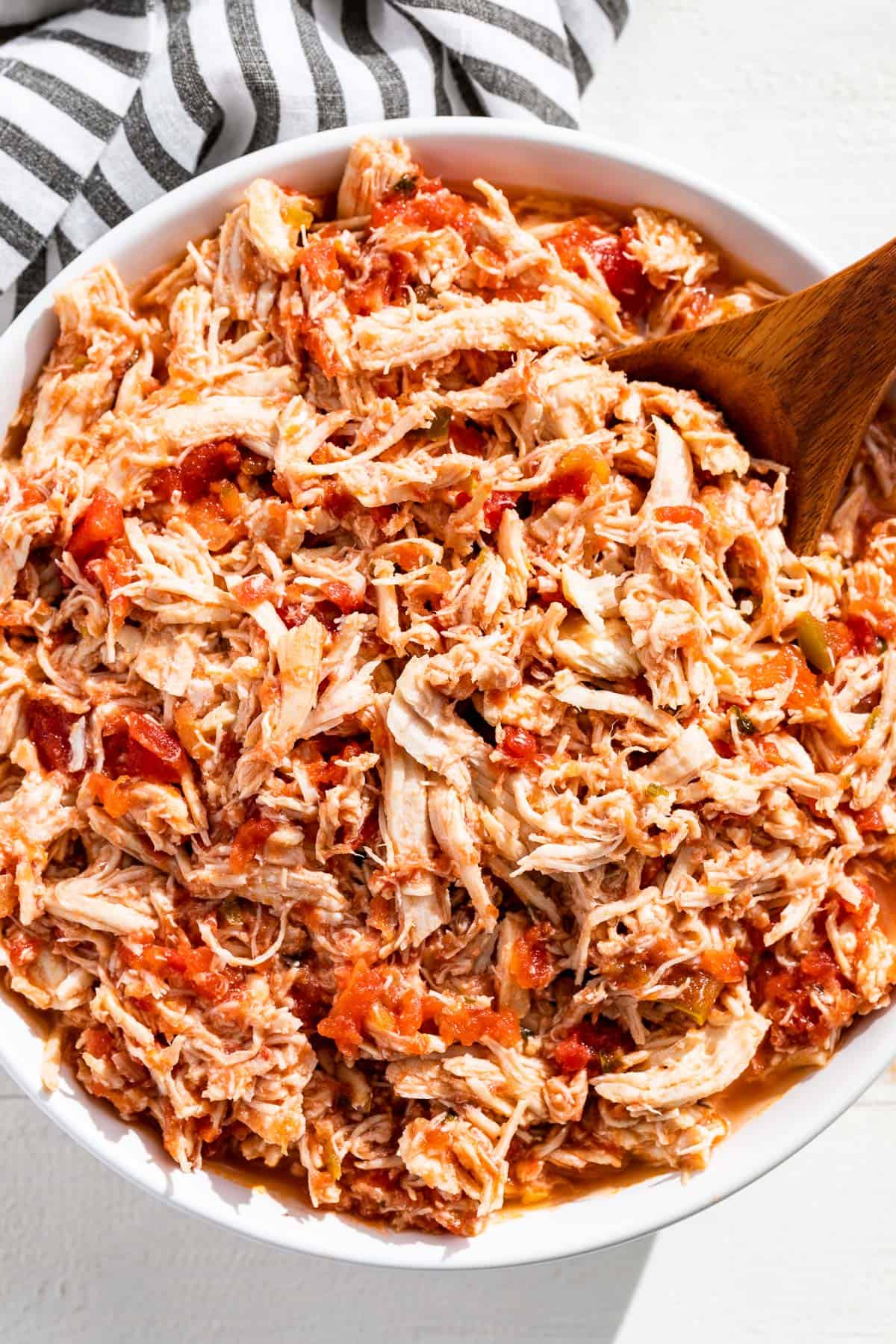 Storing leftovers
To store – place any leftovers into an airtight container and refrigerate for 3-4 days.
Make ahead – this recipe is perfect to make ahead and reheats wonderfully. It keeps 3-4 days in the fridge or you can freeze it for the future as well.
Reheating – place the leftovers into a skillet and heat over medium heat stirring often until heated through. Add 1-2 tbsp of water to prevent sticking if necessary.
To freeze – place any cooled leftover salsa chicken into an airtight container and freeze for up to 6 months. Defrost the chicken in the fridge overnight before reheating. If you freeze it in a Ziplock, place the bag on a tray or in a bowl to catch any leaks as it defrosts.
Tips & Tricks
I love making this recipe with my Fire Roasted Salsa. That recipe freezes really well so I make big batches to have on hand for Mexican-inspired dinners.
My second favorite salsa to use is the Garden Fresh Organic Jack's Cantina Salsa that's in the refrigerator section at our Costco. It's widely available and a good price. I also think fresh salsa rather than jarred (shelf-stable) salsa tastes a bit better in this recipe.
Mix in a bit more salsa once the chicken is done and shredded for even more flavor.
Make this recipe in your slow cooker on low for 6-8 hours.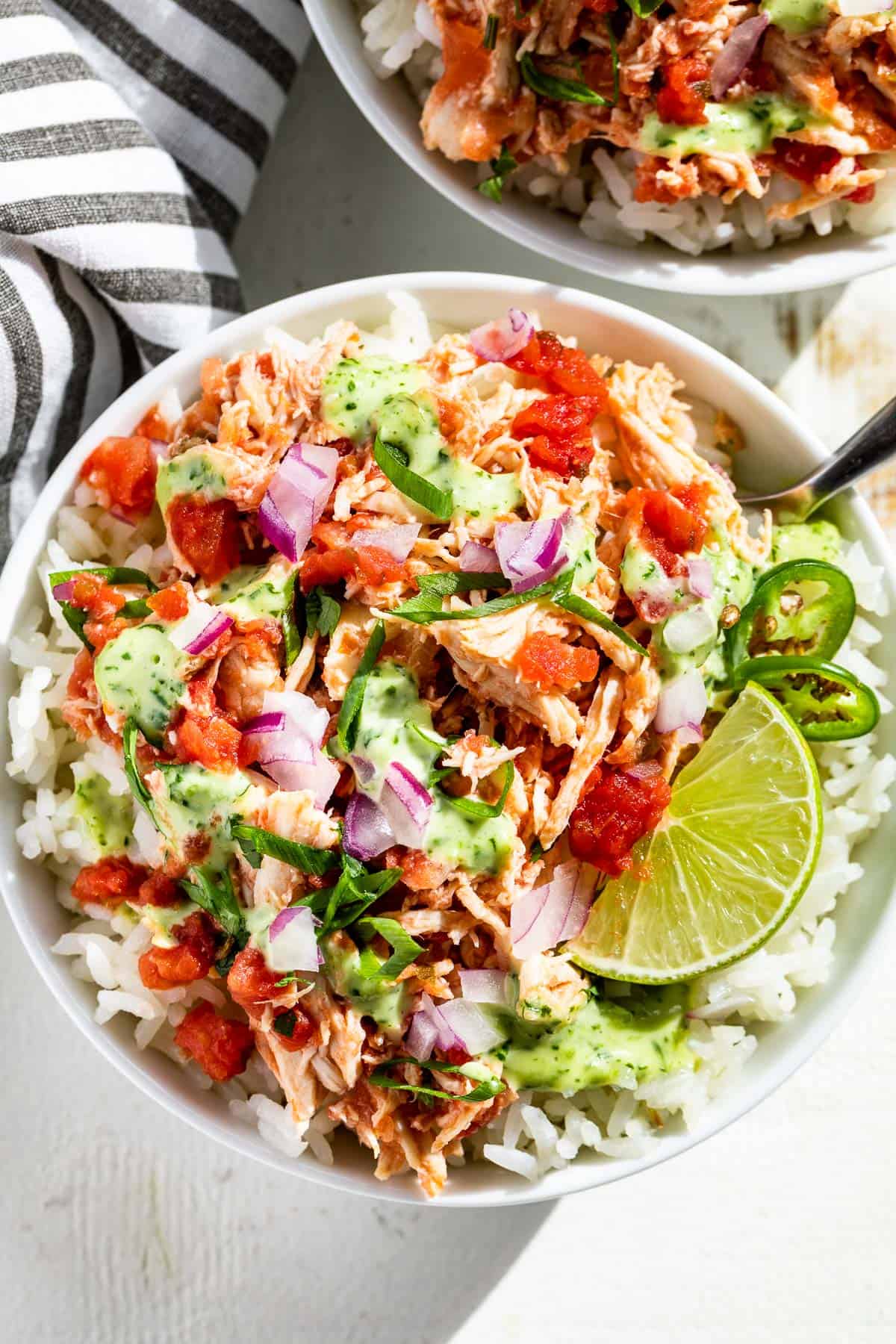 More Instant Pot Recipe Inspiration
I really hope you enjoy this Instant Pot Salsa Chicken recipe! If you do get a chance to make this recipe, I'd love to hear from you in the comments.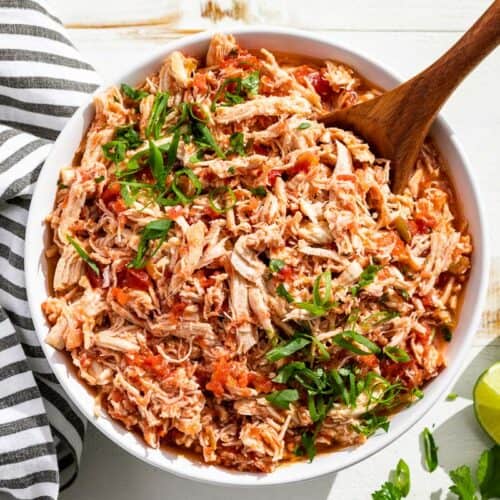 Instant Pot Salsa Chicken
---
INGREDIENTS
3

cups

your favorite salsa

- I used my Easy Fire Roasted Blender Salsa, see notes

1/2

cup

low-sodium chicken broth

-

or water

3

pounds

boneless skinless chicken breasts

-

see notes

Sea salt to taste
INSTRUCTIONS
Add the salsa and chicken broth/water to a 6-quart Instant Pot. Mix to combine, then place the chicken breasts on top. Press down to lightly submerge.

Secure the lid, set the valve to sealing, and turn the machine on to pressure cook on high for 10 minutes (45 minutes if cooking from frozen).

While the chicken cooks, prepare the rest of the ingredients you want to serve it with.

When the chicken has finished cooking, let the pressure release naturally for 10 minutes, then use the quick release.

Carefully remove the chicken breasts from the juices and shred. You can either use 2 forks and hand shred the chicken, or place it in an electric mixer. Then using the paddle attachment on low speeds, shred the chicken.

Mix the shredded chicken back into the juices and season to taste with sea salt. The amount of salt will vary depending on what salsa you use. Add more fresh salsa if desired.

Serve the chicken with your choice of sides and toppings.

Refrigerate the leftover chicken until it's thoroughly chilled. Then portion it out as desired and freeze in airtight containers for up to 6 months for another quick and easy meal.
Bonus Step
If you made this recipe, please leave a rating/comment. Ratings really help us continue to bring you high-quality free recipes. Rate This Recipe!
NOTES
This recipe is best with thawed chicken breasts. But if you're cooking from frozen, each package of chicken I used contained 2 frozen chicken breasts stuck together. The time needed to cook this recipe might be a bit less if your chicken breasts are frozen individually.
I love freezing my Easy Fire Roasted Blender Salsa which makes it really easy to have on hand for recipes like this.
This recipe likely makes more than you'll need for one dinner. I like to freeze my extras for another meal within the next 6 months of making this.
The recipe cooking time is only 10 minutes, but the total time in the Instant Pot coming up to pressure etc, it's more like 30 minutes total.
nutrition facts
Calories:
150
kcal
|
Carbohydrates:
4
g
|
Protein:
25
g
|
Fat:
3
g
|
Saturated Fat:
1
g
|
Polyunsaturated Fat:
1
g
|
Monounsaturated Fat:
1
g
|
Trans Fat:
0.01
g
|
Cholesterol:
73
mg
|
Sodium:
561
mg
|
Potassium:
596
mg
|
Fiber:
1
g
|
Sugar:
2
g
|
Vitamin A:
346
IU
|
Vitamin C:
3
mg
|
Calcium:
24
mg
|
Iron:
1
mg
This recipe was originally published in 2018 and updated in 2023 to be simpler with more tips and information.