I hope you'll find some extra inspiration with these Healthy Spring Meal Prep ideas with extra recipes listed below as well!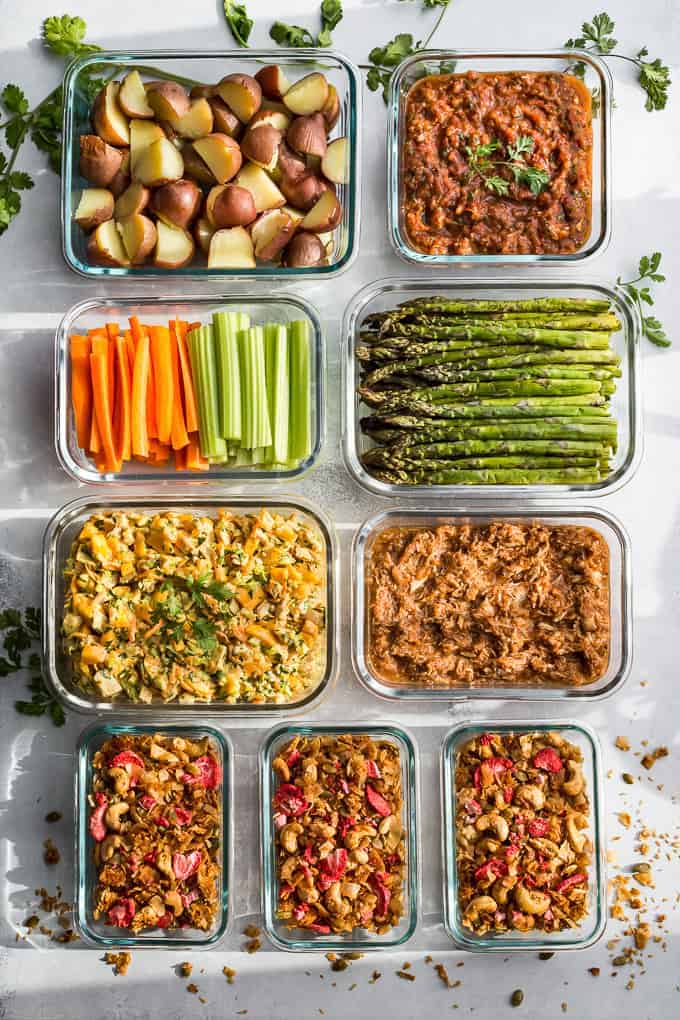 I've been getting so many requests for more meal prepping that I'm going to be doing a seasonal meal prep for each season this year. First up of course is a spring meal prep, and it's hard not to get overly excited because when that first spring produce arrives after a long winter, I do get a little crazy buying all the things!
My style of meal prepping is mostly just to prep a few ingredients each week to make meals a bit easier. Although I do prep a few things depending on the week that are full blown meals. So today I have a mix of both types of meal prepping for you along with some meals I made.
Full Meal Prep Breakdown:
Top left: potatoes prepped ahead in the Instant Pot. You can also boil them until tender, but I love using the Instant Pot to meal prep potatoes because they cook in 6-7 minutes.
Top right: my Easy Fire Roasted Blender Salsa which I meal prep often to go along with anything Mexican-inspired I might make that week, or as a snack.
Next level down on the left: cut-up veggie sticks along with my Whole30 Ranch Dressing which isn't pictured. This classic childhood snack has been a favorite lately. To keep cut veggies fresh place them in a container and cover with water. Refrigerate and change the water every couple of days. This works best for firmer veggies, and things like cucumbers, I just slice them up fresh.
Next level down on the right: grilled asparagus which you could also oven roast instead. Grilled or oven-roasted seasonal veggies are the foundation of my meal prepping. I find it's tough to include veggies in my meals if I don't have them prepared ahead. Simply having some cooked veggies on hand has more than doubled my veggie intake.
3rd level down on the left: this is my Curried Mango Chicken Salad which is so great to have on hand for lunches or light dinners on those nights when things get extra crazy.
3rd level down on the right: I've been making my Chicken Tinga to make these easy Lettuce Tacos again for easy lunches and light dinners.
The bottom row is my Grain Free Strawberry Granola. I like to have something snack-like available during the work week and even more so on the weekends. So I usually have either one of my granola recipes or an energy bite/bar recipe made to grab and go.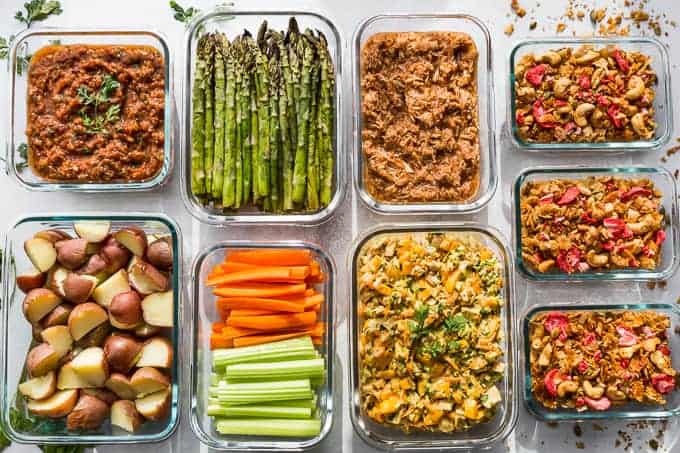 More Spring Meal Prep Inspiration: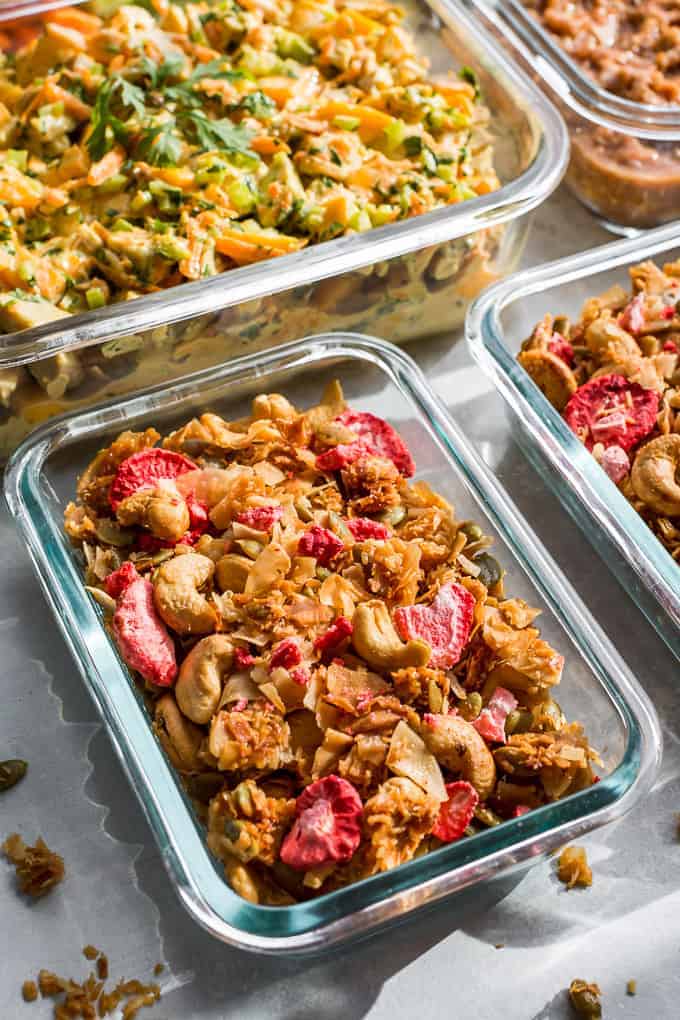 What I made from this meal prep:
With the prepped potatoes I love to pan-fry them in butter adding thinly sliced green onions in towards the end. Then I top them with over-easy eggs letting the yolk run all in and around the crispy potatoes for breakfast.
With the Blender Salsa, I used it over scrambled eggs and veggies along with cubed avocado. Then I also used some in my Taco Sweet Potato Bowls, and finally, I used it in place of the fresh Pico de Gallo in my Chicken Tinga Tacos which is also where all the Chicken Tinga went as well.
The cut-up veggies disappeared in just a couple of days for snacks along with my Blender Whole30 Ranch Dressing.
The grilled asparagus was sliced up and added in at the end of the cooking time for my Easy Green Thai Curry. Then I used the rest, (I grilled 3 pounds total) thinly sliced up and added to cooked 100% brown rice penne pasta, along with some mushrooms sautéed in butter along with fresh rosemary and thyme. Then at the end, I added a bit of the pasta cooking water along with creme fraiche and grated parmesan for a weekend treat!
The Grain Free Strawberry Granola actually lasted a full month and I used it as snacks, as a topping for this acai bowl, and over Siggi's Icelandic yogurt with berries and thinly sliced banana.