Too hot to cook? Enjoy these Summer Meal Prep ideas plus recipes for the heat of the summer. These ideas can be made on the grill and there's no need to cook inside if you don't want to. Enjoy the healthy fresh fruits and veggies in abundance with light but filling gluten-free meals that are perfect when the weather is too hot.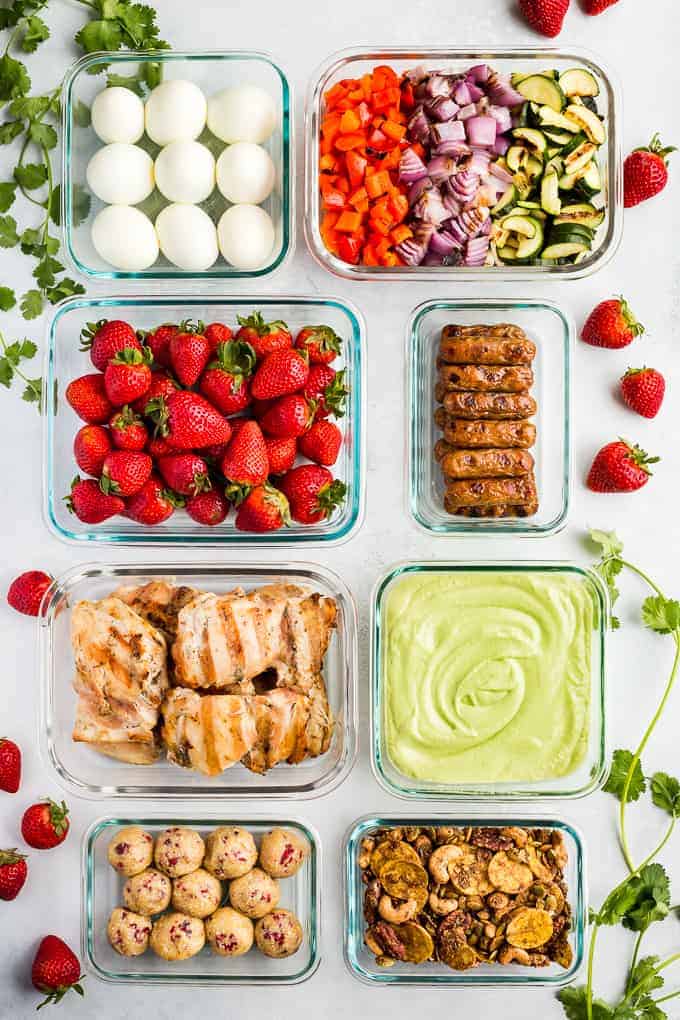 Today's meal prep is the next step in the seasonal meal prepping I've been doing here on the blog. With so many requests for meal prep, I thought it might be fun to take you along through each season showing you what we make, and how we meal prep from week to week!
I'll link below at the end for all the seasonal meal prepping I've done so far. But today let's talk about summer meal prep. My main focus in the summer months is to cook inside as little as possible as temperatures heat up. So with that in mind, I have a breakdown below of what I prepped, along with meals I made from the meal prep.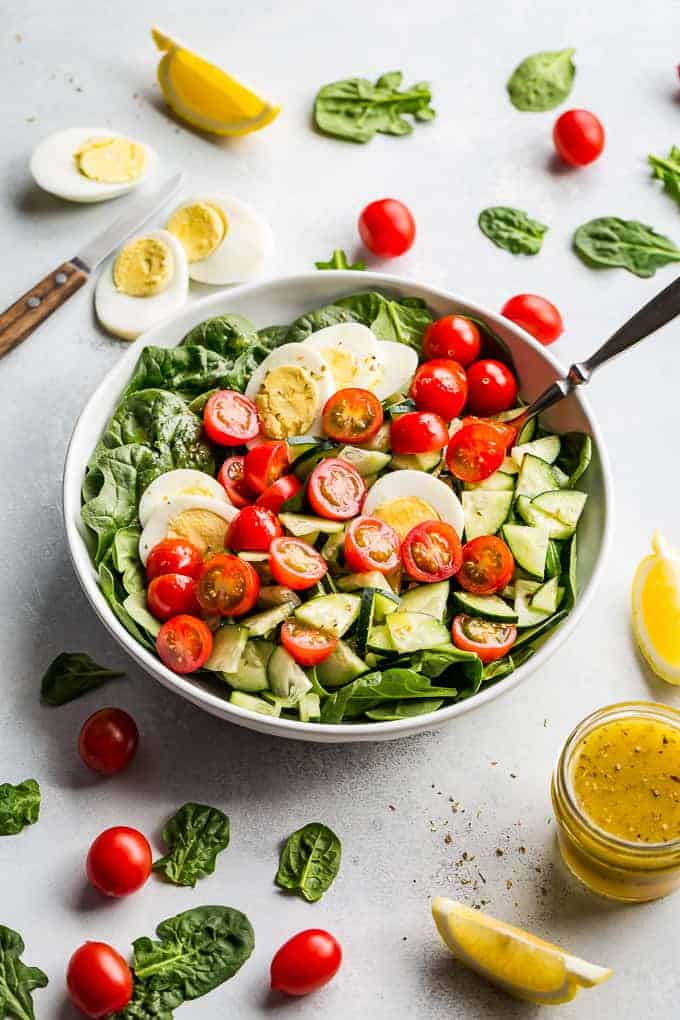 Summer Meal Prep Ideas:
Hard boiled eggs made in the Instant Pot, (top left corner 1st photo).
Grilled and chopped zucchini, peppers, and red onion.
Washed strawberries.
Grilled breakfast sausages.
Grilled chicken thighs.
Lemon Meringue Pie Energy Bites with freeze dried raspberries.
Not pictured – Grain Free Strawberry Granola.
Not pictured – 2-Ingredient Balsamic Dressing and the lemon dressing from my Greek Inspired Grill Platter.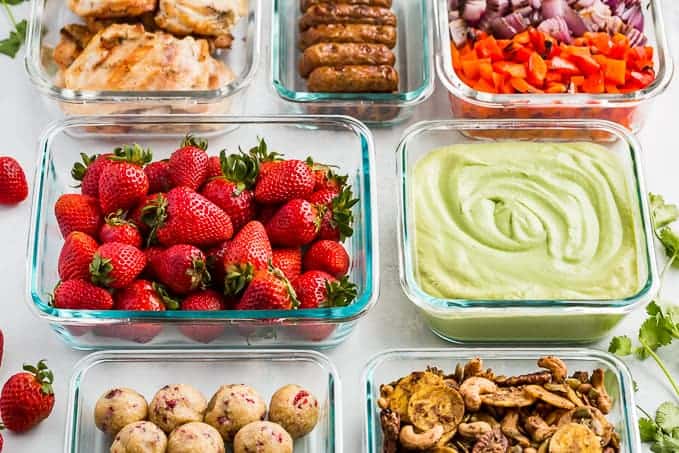 What I made with this meal prep:
The spinach salad pictured above – pre-washed baby spinach with chopped cucumbers, halved cherry tomatoes, sliced hardboiled eggs from meal prep, and the lemon dressing mentioned above. I made this a couple of times and started adding crumbled sheep's milk feta, which is really nice too.
Also for lunch salads, I did a bed of baby spinach, topped with some of the grilled veggie mixture, chopped grilled chicken, and alternated between the lemon and balsamic dressing. If you go with the lemon dressing, a large dollop of the avocado hummus is good with this combination.
Sometimes I just eat the breakfast sausages cold out of the fridge as a super light and simple breakfast. But other times, I'll thinly slice and add them to scrambled eggs along with spinach or the grilled veggie mixture, and cheddar or feta cheese.
Some of the strawberries were just for snacking, and the rest were sliced up on a spinach salad with balsamic dressing and grilled chicken. Also, they make a great fast dessert to dip them into melted chocolate, which we do fairly often in the summer.
For the energy bites, I put a few of them into small containers in the refrigerator for grab and go snacks. And the rest of the batch will be used over the next few weeks, so I freeze whatever I don't portion out. The trail mix and granola also lasts for weeks or even as long as 1 month, which makes meal prepping in the following weeks even easier if you already have snacks made.
The hummus went into salads, as a dip for sliced veggies, and finally as a veggie wrap at lunch. I like to pile cucumber, tomato, sprouts, hummus and a little lemon dressing into a lettuce wrap for a light lunch.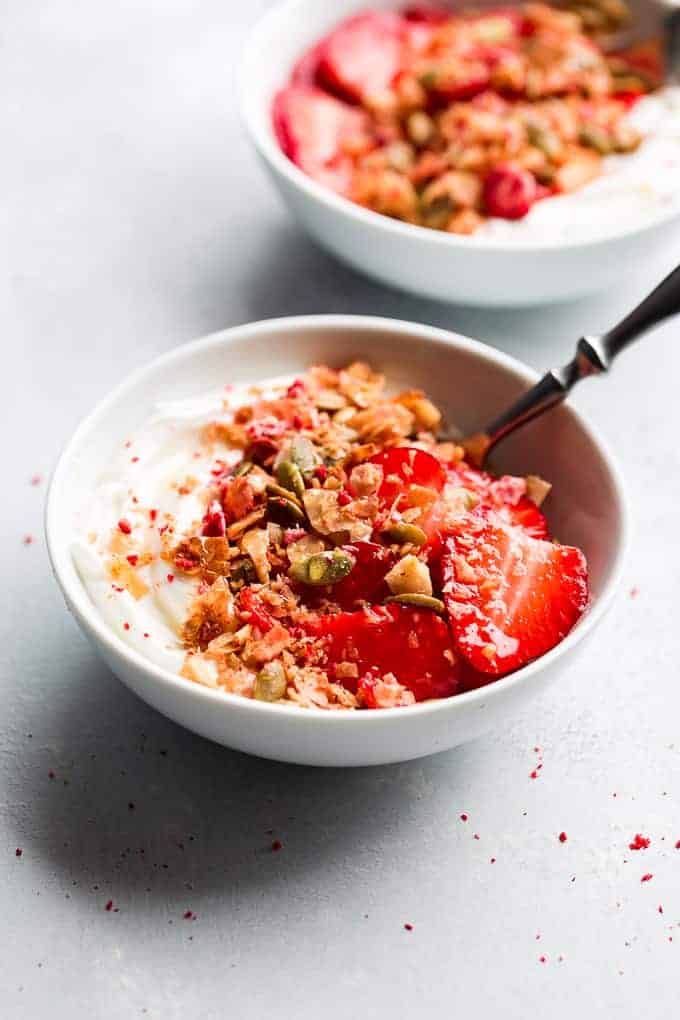 Extra Summer Meal Prep Recipe Inspiration: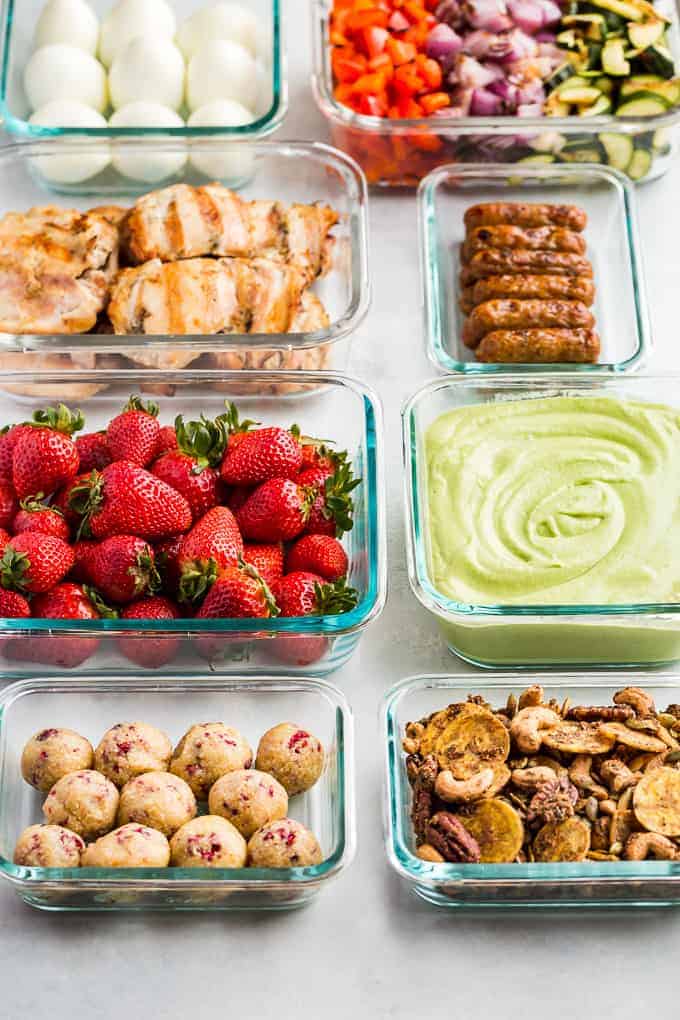 You can find all my posts about Meal Prepping and you may also find my Meal Prepping for healthy snacks helpful as well.
So that's a wrap on some typical things I like to meal prep during the summer months. And I'd love to hear from you what your favorite warm weather meal prepping recipes are?