This easy stuffed Pizza Chicken is a naturally gluten-free way to celebrate all the flavors of pizza. It's a family-friendly, super easy weeknight dinner that always gets rave reviews. It's also great for weekend cravings as a low-carb pizza flavor option as well. And you can mix things up by adding your favorite pizza toppings to customize this dish. Try sausage and black olives, or Canadian bacon and pineapple, the sky's the limit!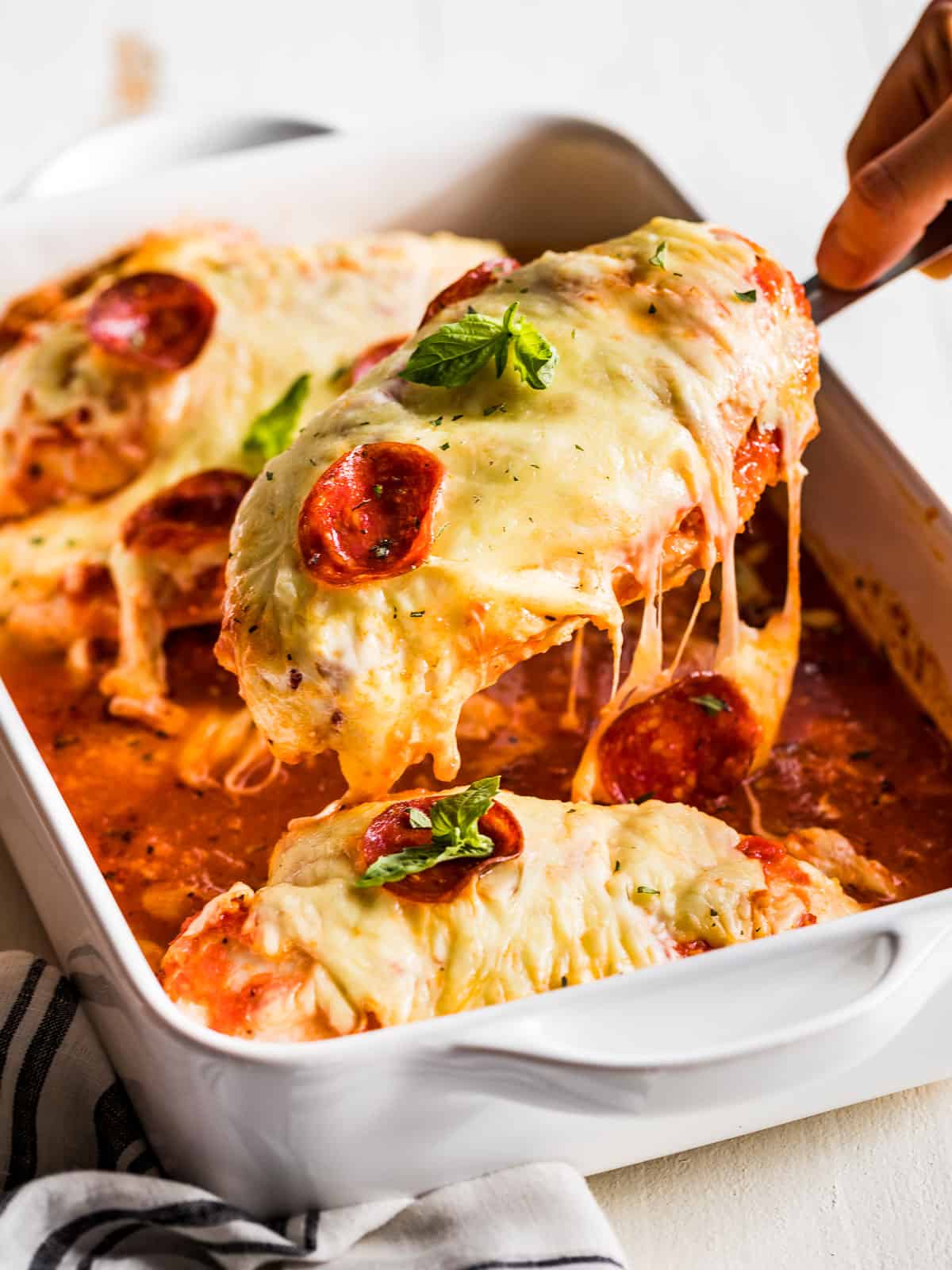 Do you have a pizza night tradition in your house? Ours is usually on the weekends, and it's something we always look forward to! Our longest-standing tradition is to go out hiking in the mountains, then come home to make pizza and relax. But any day definitely works for a pizza night in my book.
We do eat the 'real thing' sometimes, but other times we do some sort of a different take on pizza flavors. And so today I have a brand new one to share with you – stuffed Pizza Chicken! It's a super easy way to have all the flavors of pizza, but it's also naturally gluten-free.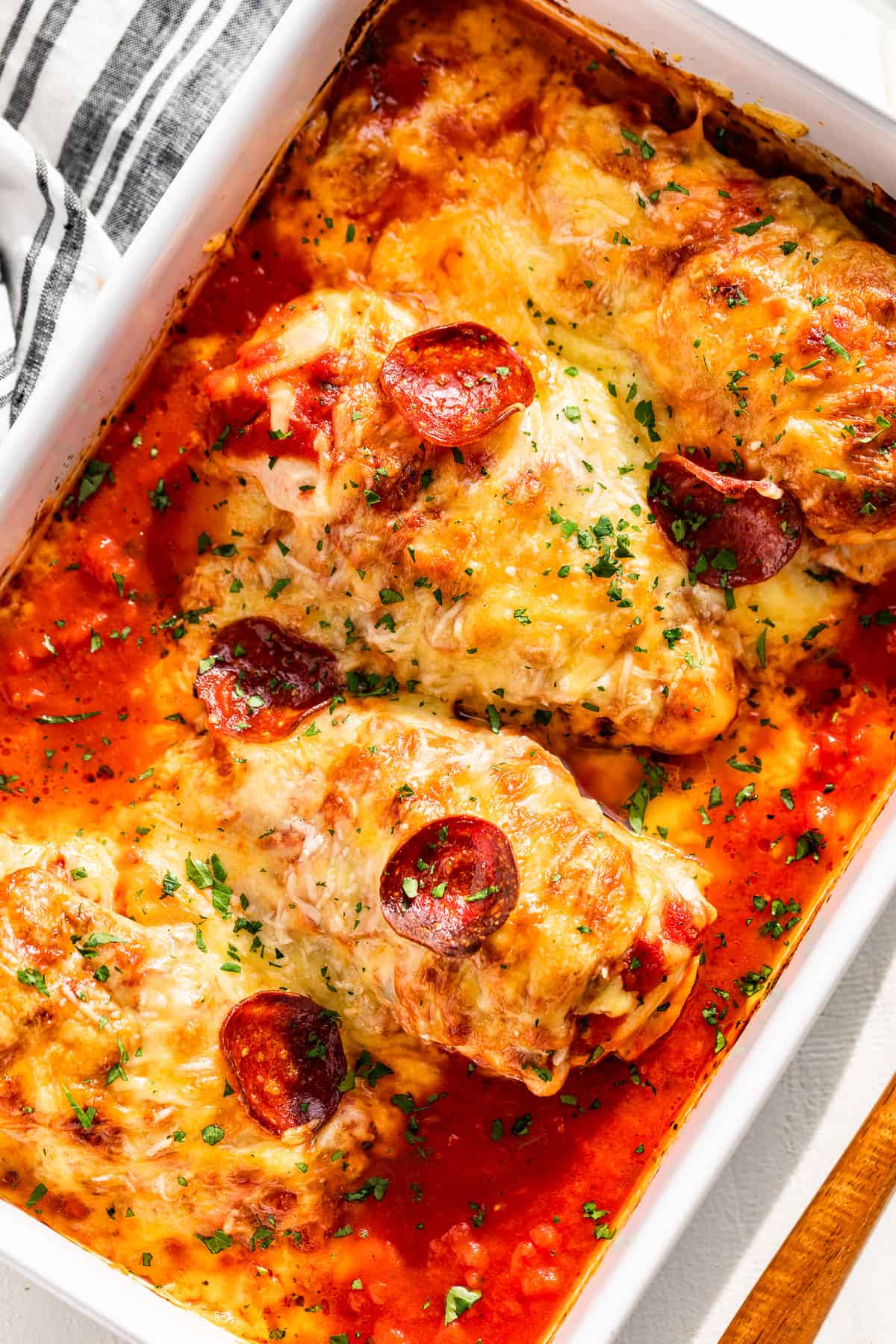 I don't know about you, but gluten-free pizza crusts can bring me to tears. They're just so bad… and so I'd rather not have a crust at all.
It may sound like I'm joking, but bread baking was my all consuming passion before I started have trouble with gluten. So pizza crust is something I probably take too seriously!
And while I'm now able to eat a bit of wheat on a rare occasion, I know so many who are Celiac and can't have it at all. So I hope whether or not you're gluten-free you'll give this recipe a whirl because it's so good!
Ingredients & Substitutions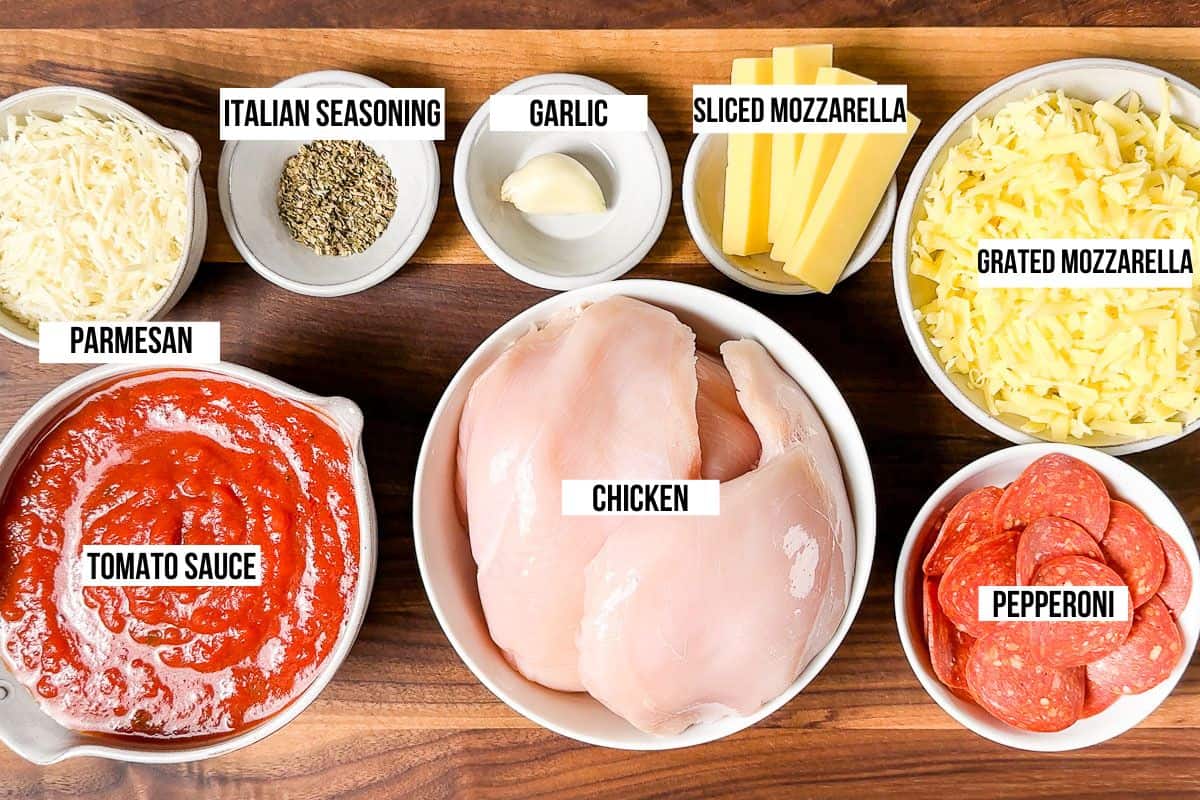 Chicken breasts – you want boneless skinless chicken breasts for this recipe since they're stuffed with pizza ingredients. Chicken thighs could work here, just omit the stuffing step and sliced mozzarella, and pile all the pepperoni on top instead. They will also bake more quickly, so keep an eye on them.
Pepperoni – choose any sliced pepperoni you'd like. I like to use the Applegate Farms pepperoni as a natural option.
Tomato sauce – a jar of your favorite pasta tomato sauce is perfect here. Tomato basil, garlic, Arrabiate, or even jarred Vodka sauce all work here. Tomato basil is our favorite. This recipe uses 1 jar of pasta sauce to make the measurements easy and there's lots of sauce that way to go with your side dishes of choice.
Garlic – I like to add a little fresh garlic to the pasta sauce to 'jazz' it up a bit, but I leave it out when I'm in a hurry!
Italian seasoning – I also like to add a bit of Italian seasoning to jarred pasta sauce, again to add a bit more flavor, but you can leave it out if you'd like.
Mozzarella – sliced mozzarella goes into the center of the chicken as part of the stuffing. Then the chicken is topped with grated mozzarella. You can also use any good melting cheese you have on hand like Monterey Jack, Fontina, or a young Gouda, (not the aged kind). We love using smoked mozzarella or smoked gouda sliced for the center of the chicken as well for a variation.
Parmesan – adds a bit more flavor to the grated mozzarella.
Make this recipe step by step
Step 1: First 'butterfly' the chicken breasts. This means cutting the chicken breasts in half lengthwise, but don't cut all the way through. That way you can open them up as shown in the above photo to put the pizza ingredients in the middle.
Add the sliced cheese and 5 slices of pepperoni to each butterflied chicken breast.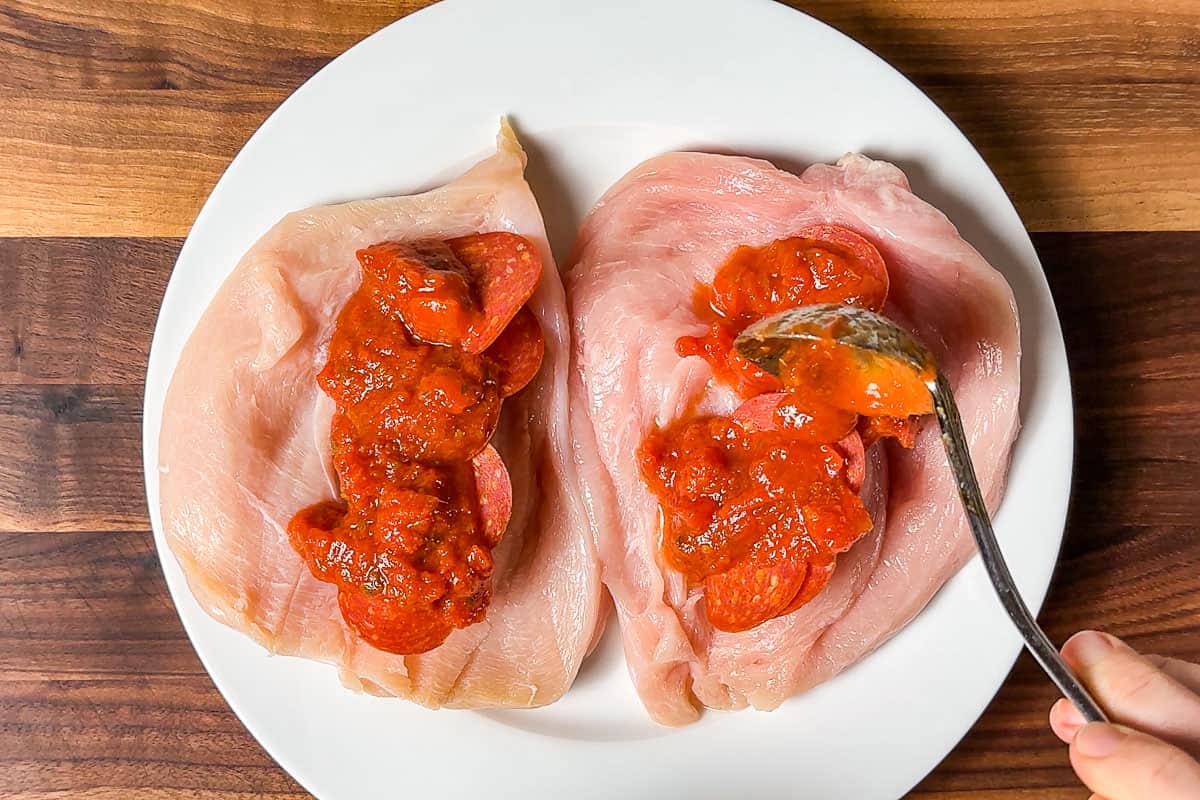 Step 2: Spoon a little of the tomato sauce over the pepperoni on each chicken breast.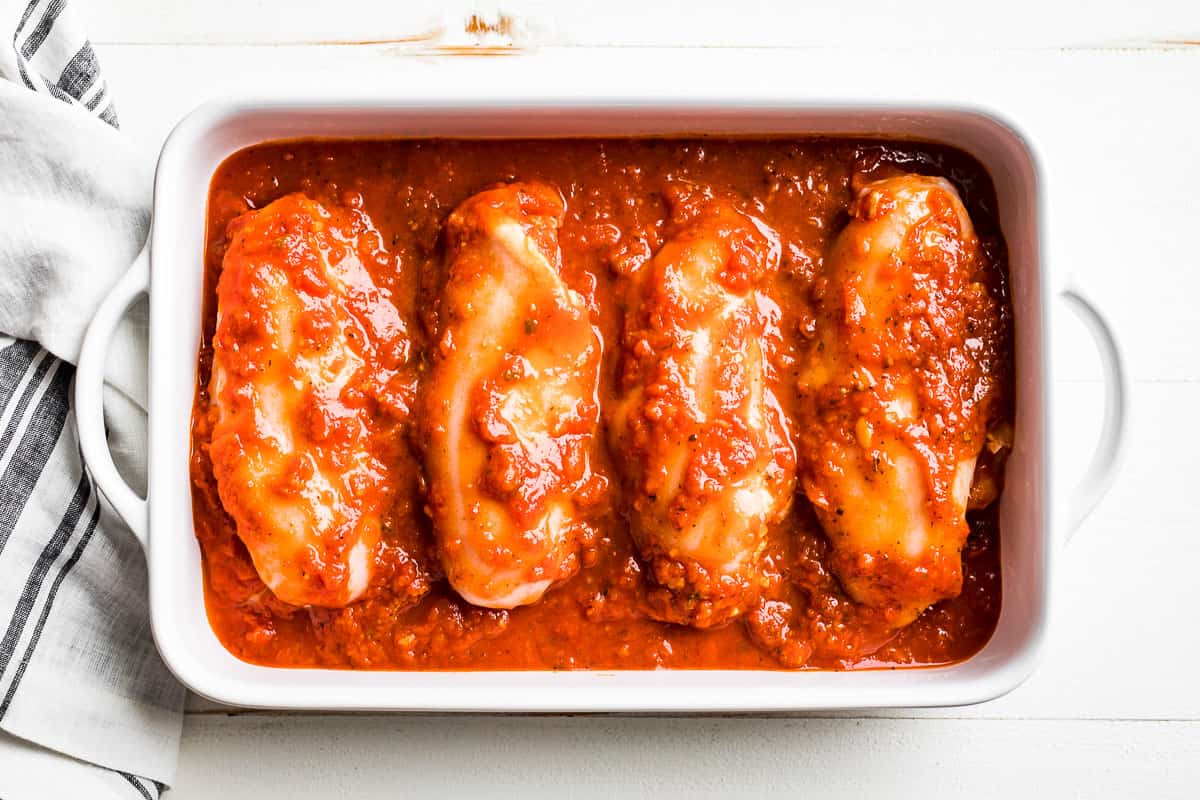 Step 3: Then fold the chicken closed over the pepperoni stuffing ingredients, and place them into a baking pan. Then top with the remaining tomato sauce.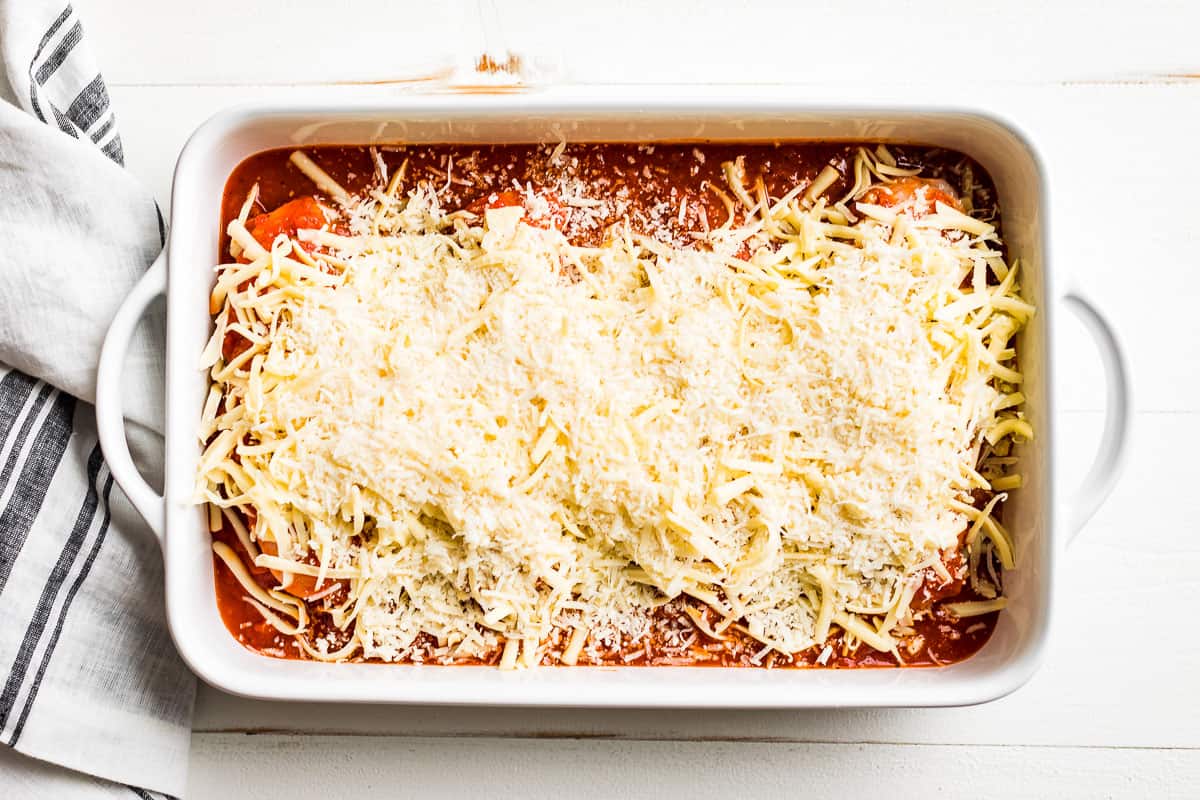 Step 4: Finally sprinkle the shredded mozzarella and grated parmesan over the top.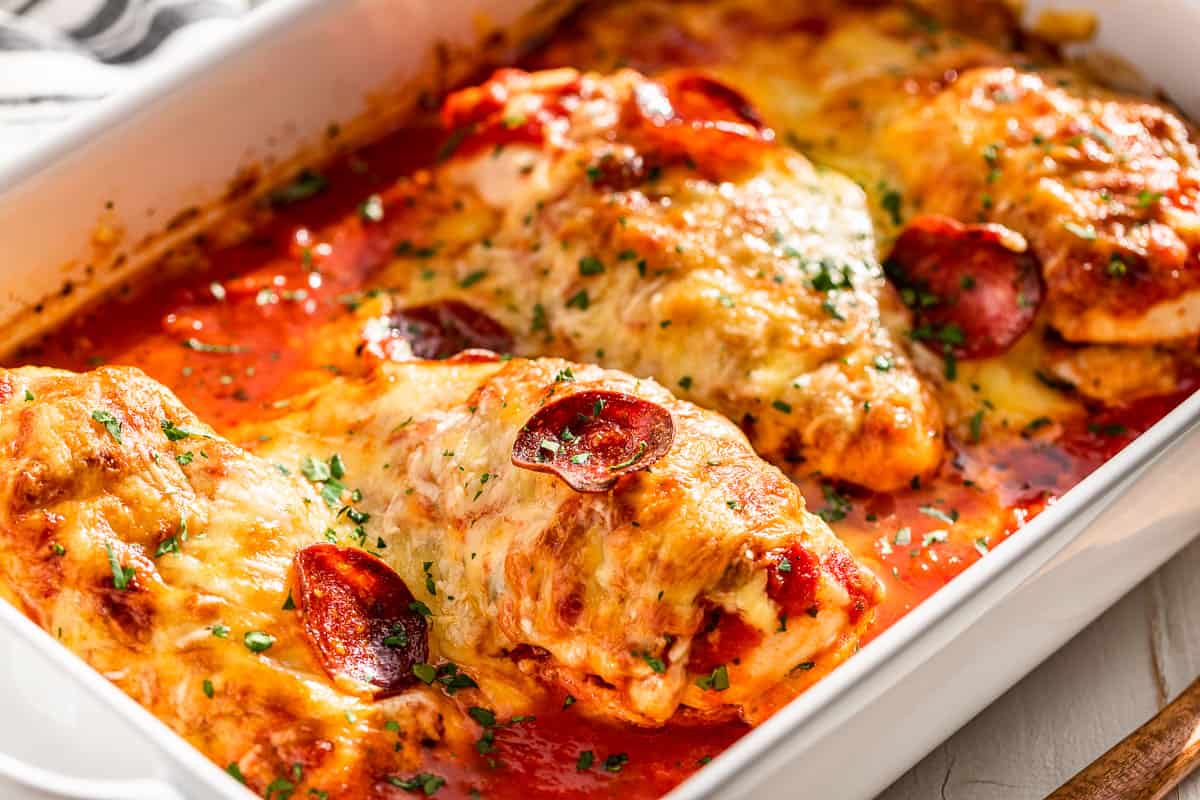 Step 5: Bake until golden brown and bubbly and the chicken is done. Sprinkle with chopped parsley for a bright pop of color and serve.
FAQ's
Can I use pre-shredded cheese for this recipe?
I don't recommend it because the texture of pre-shredded cheese is never as good. It only takes a couple of minutes to grate some mozzarella, but if it's what you have, you can use it.
Can I use pizza sauce for this Pizza Chicken?
I recommend using your favorite tomato pasta sauce rather than pizza sauce. Pizza sauce has a strong oregano flavor which would be overwhelming in these quantities. If you do want to use it, I would reduce the amount of sauce by half.
What can I use in place of pepperoni for pizza chicken?
You can use any pizza toppings you like for this pizza chicken. Try supreme pizza toppings with bell pepper, mushrooms, onions, and sausage. Or Canadian bacon and pineapple work well here too.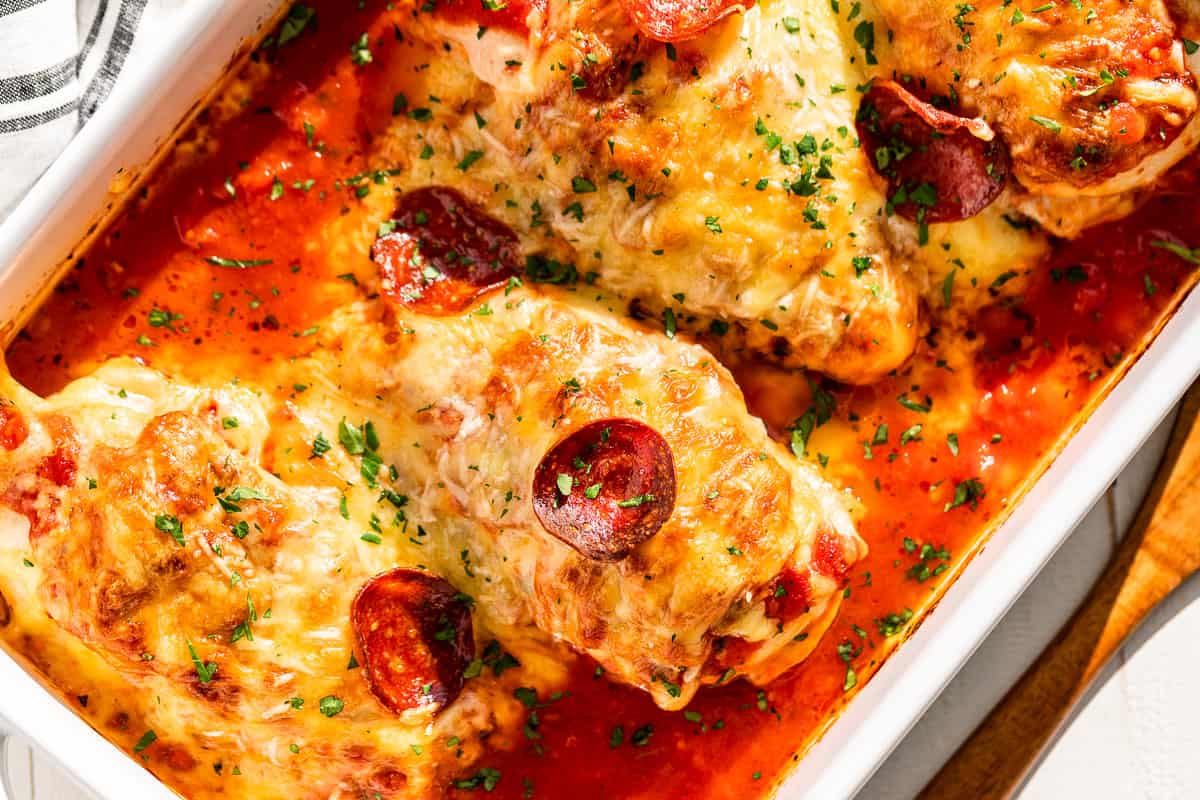 Storing leftovers
To store – place any leftovers into an airtight container and refrigerate for up to 3-4 days.
Make ahead – this recipe can be made ahead and reheated, but be careful not to dry out the chicken too much. I recommend baking it fresh so the chicken is juicy, but you can grate the cheese a day or 2 ahead to speed things up as well.
Reheating – place any leftovers into a skillet and warm over medium heat until heated through. I like to slice up the leftover pizza chicken about 1″ thick and reheat it in a skillet until hot. Spoon some sauce around it, cover, and simmer over medium heat just until heated through. This way the chicken heats up easily without overcooking.
To freeze – you can freeze the baked pizza chicken in an airtight container for up to 3 months. Defrost in the fridge overnight before reheating in the oven. Cover and bake at 300ºF until heated through. Or you can also reheat as directed above by slicing up the chicken.
Tips & Tricks
Use a jarred pasta sauce and mix and match flavors to create new combinations. I used a tomato basil pasta sauce, but any marinara or even spicy tomato sauce (Arrabiata) would work great.
Use pre-shredded/grated cheese when you're really in a hurry, or just when you need a break. The texture isn't as good, but sometimes you really need the shortcut.
Try your favorite pizza flavors instead of the pepperoni here. Supreme pizza flavors like sausage, onions, peppers, mushrooms, and olives are yummy. Canadian bacon and pineapple are a good combo too.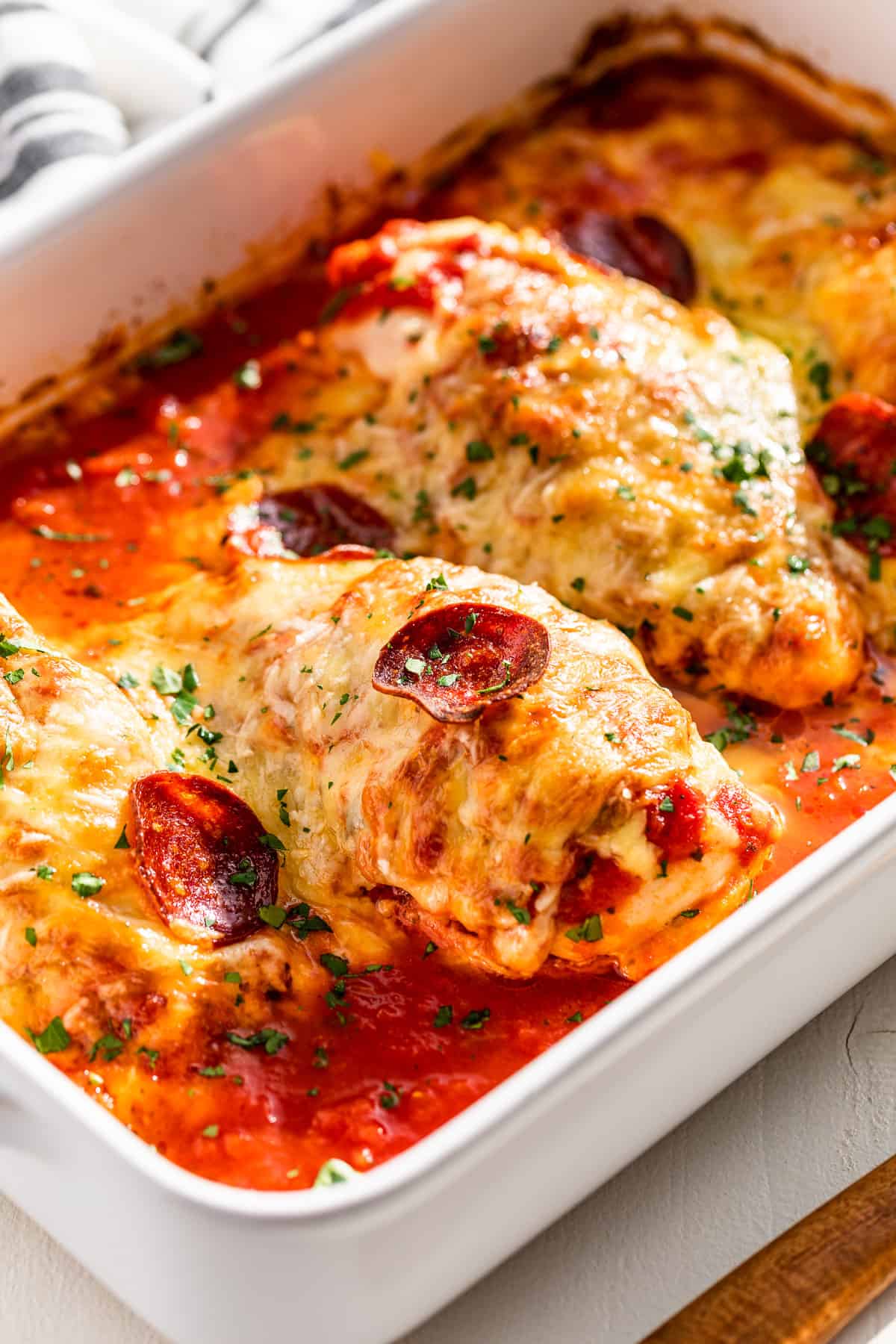 More pizza-inspired recipes
I sure hope you get a chance to make this Pizza Chicken soon, and if you do, I hope you'll leave me a comment/rating below. I always love hearing from you here in the comments.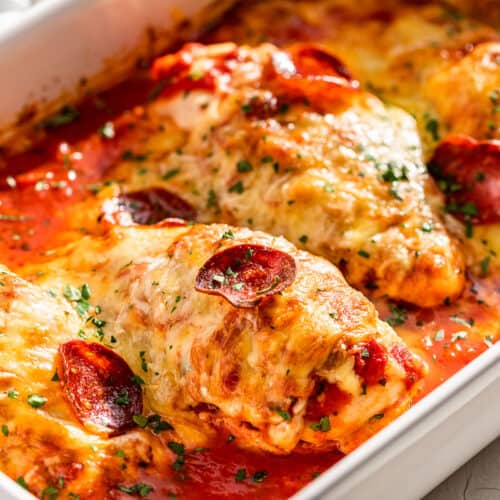 INGREDIENTS
2

pound

boneless skinless chicken breasts

-

4

25

slices

pepperoni

-

see notes

4

oz

mozzarella

-

cut into 4 slices, smoked mozzarella is nice too.

3

cups

tomato basil sauce

-

or marinara, 1-24 oz jar

1

clove

garlic

-

minced, or 1/2 teaspoon garlic powder

1

tsp

Italian seasoning

2

cups

mozzarella cheese

-

grated

1/4

cup

parmesan cheese

-

grated

Chopped fresh basil or parsley for garnish
INSTRUCTIONS
Preheat the oven to 400ºF, and rub the olive oil evenly around a 9×13″ baking dish.

Butterfly each chicken breast by placing your hand on top of the chicken, and using a sharp knife cut horizontally through the chicken breast, leaving about 1/2" not cut.

Lay 5 slices of pepperoni on one side of each chicken breast along with 1 slice each of the mozzarella.

Then mix your choice of sauce with the garlic and Italian seasoning. Spoon about 1 tablespoon of sauce over pepperoni and cheese on the chicken breasts.

Fold the chicken breasts over to close, and carefully transfer them one by one to the baking dish.

Pour the remaining sauce over the top. Then sprinkle evenly with the grated mozzarella and parmesan. Lay the remaining 5 pepperoni slices across the top of the cheese.

Bake until the chicken reaches and internal temperature 165ºF on a thermometer, and is no longer pink, about 25 minutes.

Sprinkle with chopped basil or parsley and serve immediately.
Bonus Step
If you made this recipe, please leave a rating/comment. Ratings really help us continue to bring you high-quality free recipes. Rate This Recipe!
NOTES
I use the Applegate Farms brand for a natural pepperoni and 1 package is more than enough to make this recipe. 
This dish is purposefully extra saucy which goes wonderfully with side dishes. Mop up the extra sauce with mashed potatoes, my cauliflower 'polenta', spaghetti squash, steamed rice, or crusty bread!
This recipe serves 4 with 1 chicken breast per person which is a very large serving. You could also cut each chicken breast in half after it's baked and serve to 8 with plenty of side dishes for a 4-ounce portion of chicken each.
nutrition facts
Serving:
1
chicken breast
|
Calories:
669
kcal
|
Carbohydrates:
13
g
|
Protein:
73
g
|
Fat:
34
g
|
Saturated Fat:
16
g
|
Polyunsaturated Fat:
2
g
|
Monounsaturated Fat:
10
g
|
Trans Fat:
0.2
g
|
Cholesterol:
228
mg
|
Sodium:
1442
mg
|
Potassium:
1253
mg
|
Fiber:
3
g
|
Sugar:
8
g
|
Vitamin A:
1258
IU
|
Vitamin C:
7
mg
|
Calcium:
553
mg
|
Iron:
2
mg
This recipe was originally published in 2020 but has been updated with new photos and information in 2023.