Just 10 minutes to make this tasty Air Fryer Asparagus, and it goes with any dinner recipe you can think of. It's lightly flavored with a hint of garlic which makes it incredibly versatile. But you can also try our favorite option below with a sprinkle of parmesan cheese and a squeeze of fresh lemon. Perfectly tender and lightly browned with a hint of crispiness, this asparagus is a go-to side dish for any spring meal.
Asparagus is our favorite veggie, so naturally, it was the first veggie I threw in my brand-new air fryer. It turned out so yummy I've been air-frying asparagus almost every single day since. We can't get enough of this super simple side dish, and I know you're going to love it too.
Just a quick side note, if you don't have an air fryer, head on over and make my Perfect Roasted Asparagus. But if you're like us and air frying 'all the things', this asparagus is going to be a winner.
The air fryer turns asparagus perfectly crisp and tender with just the right amount of roasted browned flavor. We like to keep it ultra simple with just a light olive oil garlic mixture to flavor it. But you'll also find my lemon and parmesan options below as well.
And finally while this recipe 'technically' makes 4 servings, the 2 of us usually eat all 4 servings. You'll find this asparagus is so tasty you're excited to eat your vegetables.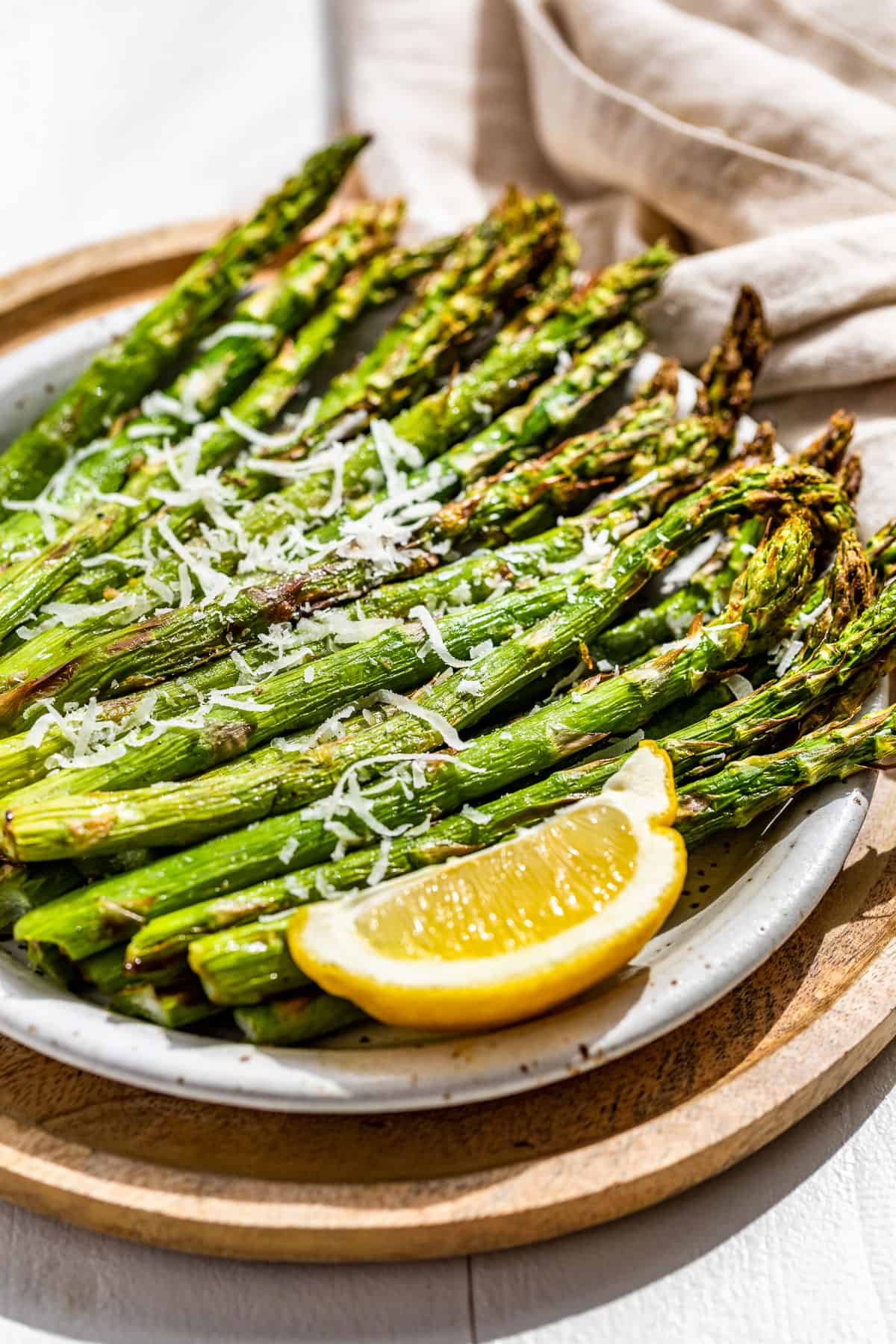 Ingredients & Substitutions
Asparagus – fresh asparagus just under 1/2″ spears work best in the air fryer. You can cook smaller asparagus spears, just reduce the time so the tips don't burn.
Olive oil – just a touch of olive oil helps the garlic, salt, and pepper stick to the asparagus and adds flavor too.
Garlic – a small clove of minced garlic adds a lot of flavor to asparagus but keeps it simple enough to pair with just about any dinner you can think of. You can also sub in granulated garlic, (unsalted) for the fresh garlic. Granulated garlic has a nice toasty flavor that works well with air fryer asparagus. It's a bit different than garlic powder, (more texture) and it has a subtle flavor as well. While I definitely prefer granulated garlic, you can also use 1/2 teaspoon garlic powder.
Sea salt & pepper – to taste adds all the depth of flavor to this simple dish.
How to make this recipe step by step
Step 1: Start by snapping off the tough woody ends of cut off the tough ends of asparagus on a cutting board. I find it's quick and easy to snap them off by hand, but you can also use a chef's knife to cut the ends.
If you snap them by hand, you'll naturally feel the easy breaking point where the tough stem ends and the tender spears begin. To reduce waste, refer to the FAQ's below for how to peel them instead.
Step 2: Next stir together the olive oil, garlic, sea salt, and pepper in a small bowl until combined.
If you're using the garlic granules, you can skip mixing them together with the olive oil and move to step 3.
Step 3: Toss the asparagus with a garlic olive oil mixture until thoroughly coated.
Step 4: Add the asparagus spears to the air fryer basket doing your best to keep the spears in a single layer for even cooking.
I have a 5.5 quart that fits about 1 pound of asparagus. If you're cooking asparagus for more people, I recommend either working in batches or just cook a large batch in the oven with my Roasted Asparagus Recipe.
Step 5: Toss the asparagus about halfway through the cooking time. Continue to cook just until lightly browned and tender.
Serve immediately with your favorite main dish recipes.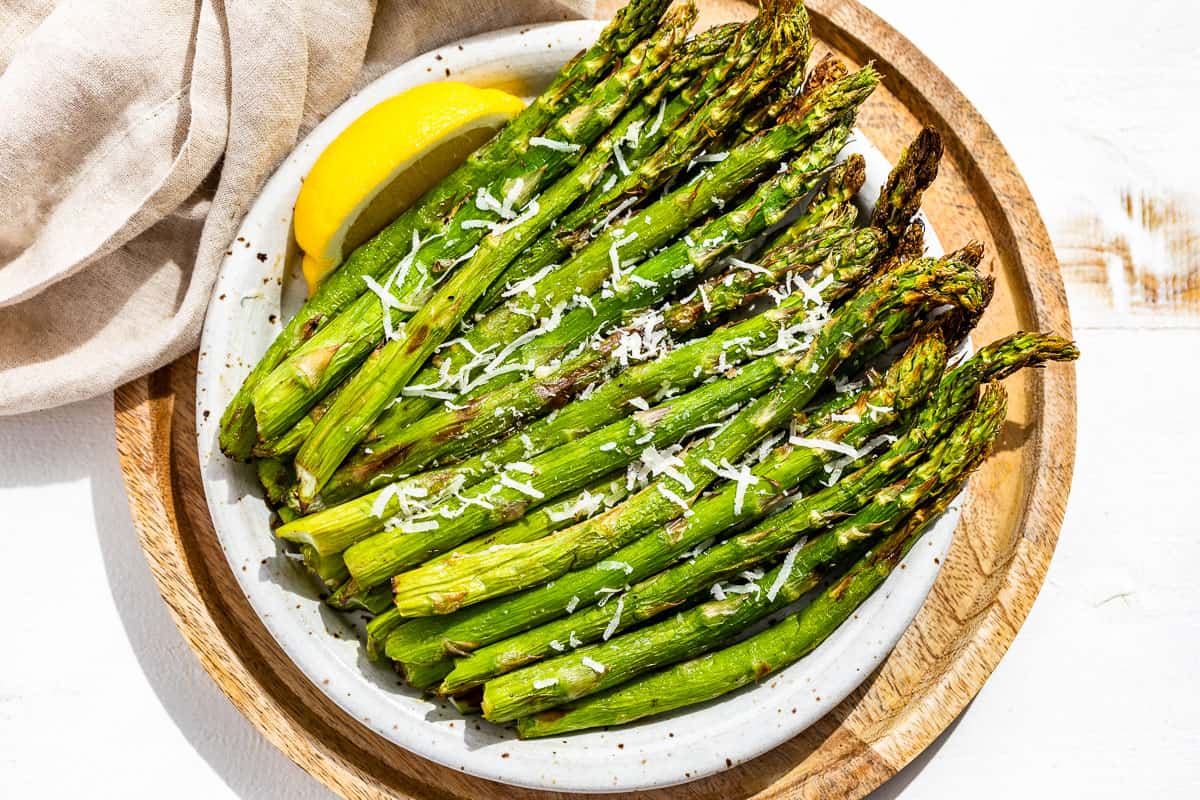 FAQ's
How do you make asparagus crispy not soggy?
Perfectly cooked crispy asparagus needs to be cooked at a high temperature. Cooking at 400ºF in the air fryer works really well, or my oven-roasted asparagus is perfect at 425ºF. Soggy asparagus happens when the asparagus is overcooked before it can get nice and crispy at the tips.
Why shouldn't you snap the ends of asparagus?
Because you lose a lot of asparagus this way, however, it's the best fast way to ensure tender asparagus. If you want to reduce waste, cut 1/2-1″ off the woody ends then use a vegetable peeler to peel away the stringy ends. This is way more time-consuming, but it works to reduce waste.
Storing leftovers
To store – place any leftovers into an airtight container and store them in the refrigerator for 3-4 days.
Make ahead – asparagus is best right away, but it does reheat ok.
Reheating – you can reheat the asparagus in the air fryer or microwave. I usually cut mine into bite-sized pieces and add them to a covered small skillet and heat with a touch of water until heated through.
To freeze – I don't recommend freezing asparagus.
Tips & Tricks
The parmesan sprinkle is a fun variation, but keeping it plain with just the garlic olive oil mixture is the way we make this the most often because it's very versatile. It pairs well with just about any cuisine you can think of.
I think air fryer asparagus is best with medium-sized spears just under 1/2″. You can cook thin spears, but you'll have to watch the tips carefully because they have a tendency to burn. But this is true with thin asparagus when you grill or roast it as well. If you don't like browned asparagus tips, try steaming or sautéing it instead.
If you can find local asparagus at the farmer's market, chances are it may be a better deal. Asparagus stalks at our local farmers market has been hand-picked which means the entire spear is tender. Uneven ends are usually a clue they've picked the asparagus at the natural tender point. When it's cut, you'll have quite a bit of woody/stringy ends that need to be cut or snapped off. When I get store-bought asparagus it has very woody stems and sometimes as much as 1/3 of it is inedible (unless you peel it).
Dietary Options & Substitutions
Dairy-free, Paleo, Vegan, or Vegetarian – this air fryer asparagus is all of the former labels when made with the garlic olive oil mixture, just be sure to omit the optional parmesan sprinkle. Or you can use a dairy-free/vegan parmesan if desired. This asparagus is also naturally low-carb and keto.
More Side Dish Recipe Inspiration
If you're loving all things in your air fryer right now, you may also enjoy my Air Fryer Ribeye.
I really hope you enjoy this Air Fryer Asparagus recipe! If you do get a chance to make this recipe, I'd love to hear from you in the comments. And let me know if you're interested in more air fryer vegetable recipes.
INGREDIENTS
1

pound

asparagus

-

woody ends snapped/cut off

1

clove

garlic

-

minced, see notes

1

tbsp

olive oil

-

or avocado oil

1/2

tsp

sea salt

-

or to taste

1/4

tsp

black pepper
Optional:
1/4

wedge of lemon

-

cut into a wedge to squeeze over the top to taste

1/4

cup

freshly grated parmesan

-

see notes
INSTRUCTIONS
Snap or cut off the tough woody ends of the asparagus.

Next stir together the olive oil, minced garlic, sea salt and pepper. Toss the olive oil mixture together with the trimmed asparagus.

Place the coated asparagus into the air fryer basket. Cook on the 'air fryer' setting at 400ºF for 6-7 minutes or 4-5 for thinner spears. Shake the basket halfway through to rotate the asparagus for even cooking.

Serve immediately with your favorite dinner recipes.
Bonus Step
If you made this recipe, please leave a rating/comment. Ratings really help us continue to bring you high-quality free recipes. Rate This Recipe!
NOTES
You can also use 1/2 tsp garlic granules in place of the fresh garlic, just be sure it's unsalted or adjust accordingly.
For the parmesan variations you can sprinkle freshly grated parmesan over the finished asparagus, or you can sprinkle it on when you turn the asparagus halfway through the cooking time for a toasted flavor. Either way is very good.
The nutrition facts were calculated without the optional ingredients for the parmesan variation. Also while this does technically serve 4, the 2 of us regularly eat all 4 servings because it's so tasty.
nutrition facts
Calories:
55
kcal
|
Carbohydrates:
5
g
|
Protein:
3
g
|
Fat:
4
g
|
Saturated Fat:
1
g
|
Polyunsaturated Fat:
0.4
g
|
Monounsaturated Fat:
3
g
|
Sodium:
293
mg
|
Potassium:
234
mg
|
Fiber:
2
g
|
Sugar:
2
g
|
Vitamin A:
858
IU
|
Vitamin C:
7
mg
|
Calcium:
29
mg
|
Iron:
2
mg